Discussions
Reading Challenge
Kindle Notes & Highlights
Favorite genres
Friends' recommendations
Account settings
Picture Book Biography Books
Videos Tagged "Picture Book Biography"
Welcome back. Just a moment while we sign you in to your Goodreads account.
25 Wonderful Picture Book Biographies for Readers of All Ages
by AuthorAmy
Picture book biographies are one of my favorite genres. They chronicle the life and times of some of the most famous people in the world, including the people behind beloved inventions. They are accessible to all levels of students – even high schoolers! Readers get a broad overview in picture book form, and then authors generously include ample back matter for further research and reading.
Take a look through this list of my top 25 favorite picture book biographies. You will find the stories behind the invention of the super soaker, the fascinating life of the first Black ballerina to dance for the American Ballet Theatre, the man behind ramen noodles, and so much more.
Just so you know, we may get a small share of the sales made through affiliate links on this page.
1. The Brilliant Deep : The Story of Ken Nedimeyer and the Coral Restoration Foundation
By Kate Messner
Environmental scientist Ken Nedimeyer is working to rebuild coral reefs by hand. The efforts are surprising, involving gluing grafted corals to barren sea floors and tending them. It is an education in the importance of coral reefs to our planet's seas and also a treatise to human hope for a brighter, greener future.
2. Queen of Physics , How Wu Chien Shiung Helped Unlock the Secrets of the Atom  
By Teresa Robeson
At a time when girls were not routinely educated in China, Wu Chien Shiung's parents encouraged her love of science. She became an accomplished physicist and the first female instructor at Princeton University, among many other accolades.
3. Magic Ramen: The Story of Momofuku Ando  
Written by Andrea Wang and illustrated by Kana Urbanowicz
This is the story of the invention of ramen, one of the world's most famous foods, after Momofuku Ando saw long crowds in food lines after World War II.
4. The Crayon Man: The True Story of the Invention of Crayola Crayons  
Written by Natascha Biebow and illustrated by Steven Salerno
The Crayon Man tells the story of Edwin Binney, the inventor of Crayola Crayons. Binney wished to bring the magic of nature's vibrant colors into the lives of children, succeeding with his famous box of crayons that originally sold for five cents.
5. Joan Procter, Dragon Doctor: The Woman Who Loved Reptiles
Written by Patricia Valdez and illustrated by Felicita Sala
Joan Proctor was the Curator of Reptiles at the British Museum and the designer of London Zoo's famous Reptile House. She grew up hosting tea parties for her favorite reptiles, a tradition she continued in the Reptile House, where she hosted children's tea parties complete with a Komodo dragon guest.
6. Shark Lady: The True Story of How Eugenie Clark Became the Ocean's Most Fearless Scientist  
Written by Jess Keating and illustrated by Marta Alvarez Miguens
Eugenie Clark earned herself the nickname "Shark Lady" after devoting her life to them. She faced the dual challenges of people who feared and hated sharks and people who didn't think women should be scientists.
7. Planting Stories: The Life of Librarian and Storyteller Pura Belpré 
Written by Aneka Aldamuy Denise and illustrated by Paola Escobar
Pura Belpré, New York City's first Puerto Rican librarian, immigrated to America in 1921. She began her library career as a bilingual library assistant, where her Spanish retellings of stories were wildly popular. Her distinguished career still influences readers today, and the Amerian Library Association named an award after her given annually to a Latino/Latina writer and illustrator "whose work best portrays, affirms, and celebrates the Latino cultural experience in an outstanding work of literature for children and youth."
8. Balloons Over Broadway: The True Story of the Puppeteer of Macy's Parade  
By Melissa Sweet
Puppeteer Tony Sarg is the inventor of the famous parade balloons that are part of the Macy's Thanksgiving Day Parade. This is a great STEM title that goes into detail about the mechanics of the balloons as well as delving into the joy they bring to millions each year.
9. It Began with a Page: How Gyo Fujikawa Drew the Way
Written by Kyo Maclear and illustrated by Julie Morstad
During WWII, Gyo Fujikawa's family was taken to a Japanese internment camp while she worked as an illustrator in New York City. Watching the nation's prejudice tear apart her family, she wanted to find a way to include diverse children in her illustrations. She wrote and illustrated the book Babies , which was initially rejected but once published sold nearly 2 million copies. She was a trailblazer in children's literature in an era when we are still striving for inclusive texts.
10. Mae Among the Stars  
Written by Roda Ahmed and illustrated by Stasia Burrington
Mae Jemison was the first Black woman to travel in space. Mae Among the Stars encourages children to follow their dreams no matter what detractors may say.
11. Between the Lines: How Ernie Barnes Went from the Football Field to the Art Gallery
Written by Sandra Neil Wallace and illustrated by Bryan Collier
Ernie Barnes grew up in the segregated South. While he was recruited to play football for an all-black university and eventually played in the NFL for the Colts, his true passion was in creating art. He got his opportunity after leaving the NFL when he was hired as the first official artist for the American Football League.
12. The Girl Who Thought in Pictures: The Story of Dr. Temple Grandin  
Written by Julia Finley Mosca and illustrated by Daniel Rieley
Temple Grandin, who was diagnosed with autism as a young child, has a unique and powerful connection with animals. She has used this connection and the unique way her mind works to improve the lives of farm animals all over the world.
13. Before There Was Mozart: The Story of Joseph Boulogne, Chevalier de Saint-George
Written by Lesa Cline-Ransome and illustrated by James E. Ransome
Joseph Boulogne was the child of a Black slave and her white slaveowner. He was able to study music in Paris, where he became a master violinist and eventually composed operas. The illustrations in this book are exquisite.
14. What Miss Mitchell Saw
Written by Hayley Barrett and illustrated by Diana Sudyka
The subject of this picture book biography, Maria Mitchell, will be an inspiration to girls everywhere. Mitchell was the first American scientist to discover a comet, which was named after her. She used her acclaim to advocate for science and math education for girls.
15. Just Being Audrey  
Written by Margaret Cardillo and illustrated by Julia Denos
Audrey Hepburn was America's sweetheart and a film icon, but she did much beyond acting. Growing up in Nazi Germany inspired in her a lifelong desire to spread kindness, and she used her fame to do humanitarian work through UNICEF.
16. Ron's Big Mission
Written by Rose Blue and Corinne Naden and illustrated by Don Tate
This is the story of Ron McNair, a young boy who grew up to be an astronaut on the Challenger mission. As a young boy in the segregated South, Ron found himself unable to check out books from the public library. His was able to obtain a library card through peaceful resistance, which in turn fed his love of flight.
17. The Day-Glo Brothers: The True Story of Bob and Joe Switzer's Bright Ideas and Brand New Colors  
Written by Chris Barton and illustrated by Tony Persiani
Joe and Bob Switzer invented fluorescent colors, which didn't exist prior to 1935. Like many great inventions, their brand-new colors were invented by accident when the brothers were experimenting for a magic act. Their colors went on to be used in WWII, street signs, advertisements, and more the world over. The book itself cleverly reflects the story, as it is largely black and white until the end culminates in color.
18. Buzzing with Questions
Written by Janice N. Harrington and illustrated by Theodore Taylor III
Charles Henry Turner is notable as the first Black entomologist. His lifelong fascination with bugs, animals, plants, and all things science is chronicled in this fun book. The author includes extensive back matter for further reading.
19. John Ronald's Dragons: The Story of J.R.R. Tolkien  
Written by Caroline McAlister and illustrated by Eliza Wheeler
The man we known as J.R.R. Tolkien is John Ronald in this delightful and surprising picture book about the boy who grew into the man behind the most famous fantasy series of all time. As a child, John Ronald loved dragons and imagined them everywhere he went. As an adult, his imagination only grew stronger, and he used his early love of dragons to create The Hobbit .
20. Whoosh!: Lonnie Johnson's Super-Soaking Stream of Inventions
Written by Chris Barton and illustrated by Don Tate
Just like the invention of fluorescent colors, the invention of the iconic toy called the Super Soaker happened by accident. Engineer Lonnie Johnson was working on cooling mechanisms when he inadvertently created what has become one of the top twenty toys of all time.
21. On a Beam of Light: A Story About Albert Einstein
Written by Jennifer Berne, illustrated by Vladimir Radunsky
On a Beam of Light is the story of the child who grew up to be Albert Einstein. As a child, Einstein didn't really fit in with the other children. His wild imagination made him endlessly curious about the world around him. This is a great picture book to encourage children to use their imaginations and embrace who they are inside.
22. She Made a Monster: How Mary Shelley Created Frankenstein  
Written by Lynn Fulton and illustrated by Felicita Sala
On a dark and stormy night, a young girl drifts off to sleep dreaming of a monster. She is determined to beat Lord Byron in their competition to see who can write the best ghost story. She eventually goes on to write one of the great gothic novels of our time, Frankenstein .
23. Firebird
Written by Misty Copeland and illustrated by Christopher Myers
Misty Copeland was the first African-American dancer to be promoted to principal dancer in the American Ballet Theatre. In her picture book debut, she imagines a conversation between herself and an aspiring ballerina who struggles with self-confidence. The resulting book is a positive and empowering story for children everywhere.
24. Just Like Rube Goldberg: The Incredible True Story of the Man Behind the Machines
Written by Sarah Aronson and illustrated by Robert Neubecker
Rube Goldberg's father encouraged him to find a career more practical than art, so Goldberg became an engineer. After college, he decided that his passion for art could not be denied and took a job as a newspaper cartoonist. He became famous for his elaborate machines which performed simple tasks in complicated fashion.
25. The Polio Pioneer:   Dr. Jonas Salk and the Polio Vaccine  
Written by Linda Elovitz Marshall and illustrated by Lisa Anchin
This picture book biography feels particularly appropriate to read during the Covid-19 pandemic. It chronicles the life of Dr. Jonas Salk, the inventor of the polio vaccine. Dr. Salk's legacy lives on at the medical research facility, the Salk Institute.
Other Amy's Book Lists You'll Love:
30 Books About Voting And Elections For Kids of All Ages
42 Books Featuring Black Protagonists to Read Immediately
30 Banned Books You Should Totally Read
30 Most Anticipated 2021 Books For Students of All Ages
Children's Literature Book Awards and Their 2020 Winners!
TREAT YO' INBOX!
All the trending teacher stories, resources, videos, memes, podcasts, deals, and the laughter you need in your life!
Skip to primary navigation
Skip to main content
Skip to primary sidebar
Skip to footer
Download Top 60 Middle Grade Mystery Picks! Send it!
Join our free KidLit Facebook Group
Reading Middle Grade
Books for Kids and Grown Ups
Best Picture Book Biographies
Biographies helped build my love for reading and I remember reading Hilary Clinton's biography as a young teen (I skipped lots of portions and loved the pictures and family stories the most). These picture book biographies can teach kids about history, historical figures, and inspiring examples of people who beat the odds in different spheres of life. What a plus that they have beautiful pictures to look at as they enjoy these stories.
Inspiring Picture Book Biographies to Read
Here are 45 best picture book biographies to have on your radar:
I Color Myself Different
Published: April 5, 2022
When Colin Kaepernick was five years old, he was given a simple school assignment: draw a picture of yourself and your family. What young Colin does next with his brown crayon changes his whole world and worldview, providing a valuable lesson on embracing and celebrating his Black identity through the power of radical self-love and knowing your inherent worth.
Balloons Over Broadway: The True Story of the Puppeteer of Macy's Parade
Published: November 1, 2011
2012 Robert F. Sibert Medal Winner
Winner of the 2012 NCTE Orbis Pictus Award Everyone's a New Yorker on Thanksgiving Day, when young and old rise early to see what giant new balloons will fill the skies for Macy's Thanksgiving Day Parade. Who first invented these "upside-down puppets"? Meet Tony Sarg, puppeteer extraordinaire! In brilliant collage illustrations, the award-winning artist Melissa Sweet tells the story of the puppeteer Tony Sarg, capturing his genius, his dedication, his zest for play, and his long-lasting gift to America—the inspired helium balloons that would become the trademark of Macy's Parade.
My Little Golden Book About Betty White
Published: September 28, 2021
This Little Golden Book about Betty White–television star, comedian, animal lover, and game show competitor–is a celebration of the beloved woman! A great read-aloud for young girls and boys–as well as their parents and grandparents who grew up watching Betty on The Mary Tyler Moore Show and The Golden Girls .
Stacey's Extraordinary Words
Published: December 28, 2021
Stacey is a little girl who loves words more than anything. She loves reading them, sounding them out, and finding comfort in them when things are hard.
But when her teacher chooses her to compete in the local spelling bee, she isn't as excited as she thought she'd be. What if she messes up? Or worse, if she can't bring herself to speak up, like sometimes happens when facing bullies at school?
Stacey will learn that win or lose . . . her words are powerful, and sometimes perseverance is the most important word of all.
Respect: Aretha Franklin, the Queen of Soul
Published: August 25, 2020
Aretha Franklin was born to sing. The daughter of a pastor and a gospel singer, her musical talent was clear from her earliest days in her father's Detroit church where her soaring voice spanned more than three octaves.
Her string of hit songs earned her the title "the Queen of Soul," multiple Grammy Awards, and a place in the Rock & Roll Hall of Fame. But Aretha didn't just raise her voice in song, she also spoke out against injustice and fought for civil rights.
Schomburg: The Man Who Built a Library
Published: September 12, 2017
Where is our historian to give us our side? Arturo asked. Amid the scholars, poets, authors, and artists of the Harlem Renaissance stood an Afro–Puerto Rican named Arturo Schomburg. This law clerk's life's passion was to collect books, letters, music, and art from Africa and the African diaspora and bring to light the achievements of people of African descent through the ages. When Schomburg's collection became so big it began to overflow his house (and his wife threatened to mutiny), he turned to the New York Public Library, where he created and curated a collection that was the cornerstone of a new Negro Division. A century later, his groundbreaking collection, known as the Schomburg Center for Research in Black Culture, has become a beacon to scholars all over the world.
Joey: The Story of Joe Biden
Published: June 30, 2020
Joe Biden grew up in Scranton, Pennsylvania, the oldest of four children. His parents always encouraged him and his siblings to be independent and strong. The family moved to Wilmington, Delaware, where at twenty-nine, Biden was elected one the youngest United States Senators ever elected. This is his story.
Kamala Harris: Rooted in Justice
When Kamala Harris was young, she often accompanied her parents to civil rights marches—so many, in fact, that when her mother asked a frustrated Kamala what she wanted, the young girl responded with: "Freedom!"
As Kamala grew from a small girl in Oakland to a senator running for president, it was this long-fostered belief in freedom and justice for all people that shaped her into the inspiring figure she is today. From fighting for the use of a soccer field in middle school to fighting for the people of her home state in Congress, Senator Harris used her voice to speak up for what she believed in and for those who were otherwise unheard. And now this dedication has led her all the way to being elected Vice President of the United States.
The Noisy Paint Box
Published: February 11, 2014
Vasya Kandinsky was a proper little boy: he studied math and history, he practiced the piano, he sat up straight and was perfectly polite. And when his family sent him to art classes, they expected him to paint pretty houses and flowers—like a proper artist. But as Vasya opened his paint box and began mixing the reds, the yellows, the blues, he heard a strange sound—the swirling colors trilled like an orchestra tuning up for a symphony! And as he grew older, he continued to hear brilliant colors singing and see vibrant sounds dancing. But was Vasya brave enough to put aside his proper still lifes and portraits and paint . . . music?
Who Was Martin Luther King, Jr.?
Published: December 8, 2020
The chronology and themes of Dr. Martin Luther King Jr.'s meaningful life are presented in a masterfully succinct text, with just a few sentences per page. The fresh, stylized illustrations are sure to captivate young readers and adults alike. With a read-aloud biographical summary in the back, this age-appropriate introduction honors and shares the life and work of one of the most influential civil rights activists of our time.
Baseball Biographies for Kids
Published: May 17, 2022
It's the bottom of the ninth, bases are loaded, and your team is down by three―who do you want coming up to bat? Baseball Biographies for Kids answers this question and more!
Bursting with statistics and impressive feats from the greatest players of the last 60 years, this lineup of inspirational baseball biographies shows you what it takes to be a real MVP. Discover the ultimate dream team as you explore the best pros for each position. You'll also get quick looks into some truly legendary baseball players and lots of fun facts!
Itzhak: The Boy Who Loved the Violin
Published: May 12, 2020
Before becoming one of the greatest violinists of all time, Itzhak Perlman was simply a boy who loved music. Raised by a poor immigrant family in a tiny Tel Aviv apartment, baby Itzhak was transformed by the sounds from his family's kitchen radio—graceful classical symphonies, lively klezmer tunes, and soulful cantorial chants. The rich melodies and vibrant rhythms spoke to him like magic, filling his mind with vivid rainbows of color. After begging his parents for an instrument, Itzhak threw his heart and soul into playing the violin. Despite enormous obstacles—including a near-fatal bout of polio that left him crippled for life—Itzhak persevered, honing his extraordinary gift. When he performed on the Ed Sullivan Show sat only 13, audiences around the world were mesmerized by the warmth, joy, and passion in every note. Gorgeously illustrated with extensive back matter, this picture-book biography recounts Itzhak's childhood journey—from a boy with a dream to an internationally acclaimed violin virtuoso.
All the Way to the Top
Published: March 10, 2020
Jennifer Keelan was determined to make a change―even if she was just a kid. She never thought her wheelchair could slow her down, but the way the world around her was built made it hard to do even simple things. Like going to school, or eating lunch in the cafeteria.
Jennifer knew that everyone deserves a voice! Then the Americans with Disabilities Act, a law that would make public spaces much more accessible to people with disabilities, was proposed to Congress. And to make sure it passed, Jennifer went to the steps of the Capitol building in Washington DC to convince them.
And, without her wheelchair, she climbed.
How to Solve a Problem: The Rise (and Falls) of a Rock-Climbing Champion
Published: April 7, 2020
From Ashima Shiraishi, one of the world's youngest and most skilled climbers, comes a true story of strength and perseverance–in rock climbing and in life. To a rock climber, a boulder is called a "problem," and you solve it by climbing to the top. There are twists and turns, falls and scrapes, and obstacles that seem insurmountable until you learn to see the possibilities within them. And then there is the moment of triumph, when there's nothing above you but sky and nothing below but a goal achieved. Ashima Shiraishi draws on her experience as a world-class climber in this story that challenges readers to tackle the problems in their own lives and rise to greater heights than they would have ever thought possible.
A is for Awesome!: 23 Iconic Women Who Changed the World
Published: February 5, 2019
Why stick with plain old A , B , C when you can have Amelia (Earhart), Malala , Tina (Turner), Ruth (Bader Ginsburg), all the way to eXtraordinary You —and the Zillion of adventures you will go on? Instagram superstar Eva Chen, author of Juno Valentine and the Magical Shoes , is back with an alphabet board book depicting feminist icons in A Is for Awesome: 23 Iconic Women Who Changed the World , featuring spirited illustrations by Derek Desierto.
The Cat Man of Aleppo
Published: April 14, 2020
Aleppo's city center no longer echoes with the rich, exciting sounds of copper-pot pounding and traditional sword sharpening. His neighborhood is empty–except for the many cats left behind. Alaa loves Aleppo, but when war comes his neighbors flee to safety, leaving their many pets behind. Alaa decides to stay–he can make a difference by driving an ambulance, carrying the sick and wounded to safety. One day he hears hungry cats calling out to him on his way home. They are lonely and scared, just like him. He feeds and pets them to let them know they are loved. The next day more cats come, and then even more! There are too many for Alaa to take care of on his own. Alaa has a big heart, but he will need help from others if he wants to keep all of his new friends safe.
Paper Son: The Inspiring Story of Tyrus Wong, Immigrant, and Artist
Published: September 24, 2019
Before he became an artist named Tyrus Wong, he was a boy named Wong Geng Yeo. He traveled across a vast ocean from China to America with only a suitcase and a few papers. Not papers for drawing–which he loved to do–but immigration papers to start a new life. Once in America, Tyrus seized every opportunity to make art, eventually enrolling at an art institute in Los Angeles. Working as a janitor at night, his mop twirled like a paintbrush in his hands. Eventually, he was given the opportunity of a lifetime–and using sparse brushstrokes and soft watercolors, Tyrus created the iconic backgrounds of Bambi . Julie Leung and Chris Sasaki perfectly capture the beautiful life and work of a painter who came to this country with dreams and talent–and who changed the world of animation forever.
My Little Golden Book About Ruth Bader Ginsburg
Published: December 1, 2020
This Little Golden Book is a compelling introduction to an inspiring woman, written for the youngest readers. From a young age, Ruth Bader Ginsburg knew that she wanted to fight for girls and women to have equal rights. She studied and worked very hard and became just the second woman–and the first Jewish woman–to be a United States Supreme Court Justice. This is a terrific read for future trailblazers and their parents!
The Story of Jane Goodall: A Biography Book for New Readers
Published: September 14, 2021
Jane Goodall is a celebrated scientist for her studies of chimpanzees in the forests of Africa. Before she observed chimps and helped save them from losing their home, Jane was a curious kid who loved learning about animals. She showed people that women could be scientists, just like men, and fought to follow her dream of working with wild chimps. Explore how Jane Goodall went from being a young nature lover in England to the most important chimpanzee expert in the world.
Queen of Physics: How Wu Chien Shiung Helped Unlock the Secret of the Atom
Published: October 8, 2019
When Wu Chien Shiung was born in China 100 years ago, most girls did not attend school; no one considered them as smart as boys. But her parents felt differently. Giving her a name meaning "Courageous Hero," they encouraged her love of learning and science. This engaging biography follows Wu Chien Shiung as she battles sexism and racism to become what Newsweek magazine called the "Queen of Physics" for her work on beta decay. Along the way, she earned the admiration of famous scientists like Enrico Fermi and Robert Oppenheimer and became the first woman hired as an instructor by Princeton University, the first woman elected President of the American Physical Society, the first scientist to have an asteroid named after her when she was still alive, and many other honors.
The Story of Simone Biles: A Biography Book for New Readers
Published: September 29, 2020
Simone Biles has been called the greatest gymnast of all time, winning five Olympic and 25 World Champion medals by age 22. Before she wowed the world with her incredible gymnastics skills, Simone was an energetic young girl who dreamed of becoming a top gymnast. She trained for hours every day and made many sacrifices to pursue her goals. Explore how Simone Biles went from being a kid growing up in Texas to an Olympic athlete who has won more gymnastics medals than anyone in history.
Exquisite: The Poetry and Life of Gwendolyn Brooks
Gwendolyn Brooks (1917–2000) is known for her poems about "real life." She wrote about love, loneliness, family, and poverty—showing readers how just about anything could become a beautiful poem. Exquisite follows Gwendolyn from early girlhood into her adult life, showcasing her desire to write poetry from a very young age. This picture-book biography explores the intersections of race, gender, and the ubiquitous poverty of the Great Depression—all with a lyrical touch worthy of the subject. Gwendolyn Brooks was the first Black person to win the Pulitzer Prize, receiving the award for poetry in 1950. And in 1958, she was named the poet laureate of Illinois. A bold artist who from a very young age dared to dream, Brooks will inspire young readers to create poetry from their own lives
The Secret Garden of George Washington Carver
Published: January 14, 2020
When George Washington Carver was just a young child, he had a secret: a garden of his own.
Here, he rolled dirt between his fingers to check if plants needed more rain or sun. He protected roots through harsh winters, so plants could be reborn in the spring. He trimmed flowers, spread soil, studied life cycles. And it was in this very place that George's love of nature sprouted into something so much more—his future.
Gene Barretta's moving words and Frank Morrison's beautiful paintings tell the inspiring life and history of George Washington Carver, from a baby born into slavery to celebrated botanist, scientist, and inventor. His passion and determination are the seeds to this lasting story about triumph over hardship—a tale that begins in a secret garden.
Dancing Hands: How Teresa Carreno Played The Piano for President Lincoln
Published: August 27, 2019
As a little girl, Teresa Carreño loved to let her hands dance across the beautiful keys of the piano. If she felt sad, music cheered her up, and when she was happy, the piano helped her share that joy. Soon she was writing her own songs and performing in grand cathedrals. Then a revolution in Venezuela forced her family to flee to the United States. Teresa felt lonely in this unfamiliar place, where few of the people she met spoke Spanish. Worst of all, there was fighting in her new home, too—the Civil War.
Still, Teresa kept playing, and soon she grew famous as the talented Piano Girl who could play anything from a folk song to a sonata. So famous, in fact, that President Abraham Lincoln wanted her to play at the White House! Yet with the country torn apart by war, could Teresa's music bring comfort to those who needed it most?
Six Dots: A Story of Young Louis Braille
Published: September 6, 2016
Louis Braille was just five years old when he lost his sight. He was a clever boy, determined to live like everyone else, and what he wanted more than anything was to be able to read. Even at the school for the blind in Paris, there were no books for him. And so he invented his own alphabet—a whole new system for writing that could be read by touch. A system so ingenious that it is still used by the blind community today.
It Began with a Page: How Gyo Fujikawa Drew the Way
Published: January 1, 2019
Growing up quiet and lonely at the beginning of the twentieth century, Gyo learned from her relatives the ways in which both women and Japanese people lacked opportunity. Her teachers and family believed in her and sent her to art school and later Japan, where her talent flourished. But while Gyo's career grew and led her to work for Walt Disney Studios, World War II began, and with it, her family's internment. But Gyo never stopped fighting — for herself, her vision, her family and her readers — and later wrote and illustrated the first children's book to feature children of different races interacting together.
Planting Stories: The Life of Librarian and Storyteller Pura Belpré
Published: January 15, 2019
When she came to America in 1921, Pura Belpré carried the cuentos folklóricos of her Puerto Rican homeland. Finding a new home at the New York Public Library as a bilingual assistant, she turned her popular retellings into libros and spread story seeds across the land. Today, these seeds have grown into a lush landscape as generations of children and storytellers continue to share her tales and celebrate Pura's legacy.
Joan Procter, Dragon Doctor: The Woman Who Loved Reptiles
Published: March 13, 2018
Back in the days of long skirts and afternoon teas, young Joan Procter entertained the most unusual party guests: slithery and scaly ones, who turned over teacups and crawled past the crumpets…. While other girls played with dolls, Joan preferred the company of reptiles. She carried her favorite lizard with her everywhere–she even brought a crocodile to school! When Joan grew older, she became the Curator of Reptiles at the British Museum. She went on to design the Reptile House at the London Zoo, including a home for the rumored-to-be-vicious komodo dragons. There, just like when she was a little girl, Joan hosted children's tea parties–with her komodo dragon as the guest of honor.
The Oldest Student: How Mary Walker Learned to Read
Published: January 7, 2020
In 1848, Mary Walker was born into slavery. At age 15, she was freed, and by age 20, she was married and had her first child. By age 68, she had worked numerous jobs, including cooking, cleaning, babysitting, and selling sandwiches to raise money for her church. At 114, she was the last remaining member of her family. And at 116, she learned to read. From Rita Lorraine Hubbard and rising star Oge More comes the inspirational story of Mary Walker, a woman whose long life spanned from the Civil War to the Civil Rights Movement, and who–with perseverance and dedication–proved that you're never too old to learn.
Dinosaur Lady: The Daring Discoveries of Mary Anning, the First Paleontologist
Published: July 7, 2020
Mary Anning loved scouring the beach near her home in England for shells and fossils. She fearlessly climbed over crumbling cliffs and rocky peaks, searching for new specimens. One day, something caught Mary's eye.
Bones. Dinosaur Bones.
Mary's discoveries rocked the world of science and helped create a brand-new field of study: paleontology. But many people believed women couldn't be scientists, so Mary wasn't given the credit she deserved. Nevertheless, Mary kept looking and learning more, making discoveries that reshaped scientific beliefs about the natural world.
Little Leaders: Bold Women in Black History
Published: December 5, 2017
An important book for all ages, Little Leaders educates and inspires as it relates true stories of forty trailblazing black women in American history. Illuminating text paired with irresistible illustrations bring to life both iconic and lesser-known female figures of Black history such as abolitionist Sojourner Truth, pilot Bessie Coleman, chemist Alice Ball, politician Shirley Chisholm, mathematician Katherine Johnson, poet Maya Angelou, and filmmaker Julie Dash. Among these biographies, readers will find heroes, role models, and everyday women who did extraordinary things – bold women whose actions and beliefs contributed to making the world better for generations of girls and women to come. Whether they were putting pen to paper, soaring through the air or speaking up for the rights of others, the women profiled in these pages were all taking a stand against a world that didn't always accept them. The leaders in this book may be little, but they all did something big and amazing, inspiring generations to come.
Whoosh!: Lonnie Johnson's Super-Soaking Stream of Inventions
Published: May 3, 2016
You know the Super Soaker. It's one of top twenty toys of all time. And it was invented entirely by accident. Trying to create a new cooling system for refrigerators and air conditioners, impressive inventor Lonnie Johnson instead created the mechanics for the iconic toy. A love for rockets, robots, inventions, and a mind for creativity began early in Lonnie Johnson's life. Growing up in a house full of brothers and sisters, persistence and a passion for problem solving became the cornerstone for a career as an engineer and his work with NASA. But it is his invention of the Super Soaker water gun that has made his most memorable splash with kids and adults.
She Persisted: 13 American Women Who Changed the World
Published: May 30, 2017
Throughout United States history, there have always been women who have spoken out for what's right, even when they have to fight to be heard. In this book, Chelsea Clinton celebrates thirteen American women who helped shape our country through their tenacity, sometimes through speaking out, sometimes by staying seated, sometimes by captivating an audience. They all certainly persisted. She Persisted is for everyone who has ever wanted to speak up but has been told to quiet down, for everyone who has ever tried to reach for the stars but was told to sit down, and for everyone who has ever been made to feel unworthy or unimportant or small. With vivid, compelling art by Alexandra Boiger, this book shows readers that no matter what obstacles may be in their paths, they shouldn't give up on their dreams. Persistence is power.
Mae Among the Stars
Published: January 9, 2018
A great classroom and bedtime read-aloud, Mae Among the Stars is the perfect book for young readers who have big dreams and even bigger hearts.
When Little Mae was a child, she dreamed of dancing in space. She imagined herself surrounded by billions of stars, floating, gliding, and discovering.
She wanted to be an astronaut.
Her mom told her, "If you believe it, and work hard for it, anything is possible."
Little Mae's curiosity, intelligence, and determination, matched with her parents' encouraging words, paved the way for her incredible success at NASA as the first African American woman to travel in space.
Hidden Figures: The True Story of Four Black Women and the Space Race
Published: January 16, 2018
Dorothy Vaughan, Mary Jackson, Katherine Johnson, and Christine Darden were good at math… really good.
They participated in some of NASA's greatest successes, like providing the calculations for America's first journeys into space. And they did so during a time when being black and a woman limited what they could do. But they worked hard. They persisted. And they used their genius minds to change the world.
In this beautifully illustrated picture book edition, we explore the story of four female African American mathematicians at NASA, known as "colored computers," and how they overcame gender and racial barriers to succeed in a highly challenging STEM-based career.
"Finally, the extraordinary lives of four African American women who helped NASA put the first men in space is available for picture book readers," proclaims Brightly in their article "18 Must-Read Picture Books of 2018." "Will inspire girls and boys alike to love math, believe in themselves, and reach for the stars."
Emmanuel's Dream: The True Story of Emmanuel Ofusu Yeboah
Published: January 6, 2015
Born in Ghana, West Africa, with one deformed leg, he was dismissed by most people—but not by his mother, who taught him to reach for his dreams. As a boy, Emmanuel hopped to school more than two miles each way, learned to play soccer, left home at age thirteen to provide for his family, and, eventually, became a cyclist. He rode an astonishing four hundred miles across Ghana in 2001, spreading his powerful message: disability is not inability. Today, Emmanuel continues to work on behalf of the disabled.
Thompson's lyrical prose and Qualls's bold collage illustrations offer a powerful celebration of triumphing over adversity.
Counting on Katherine: How Katherine Johnson Saved Apollo 13
Published: June 19, 2018
You've likely heard of the historic Apollo 13 moon landing. But do you know about the mathematical genius who made sure that Apollo 13 returned safely home?
As a child, Katherine Johnson loved to count. She counted the steps on the road, the number of dishes and spoons she washed in the kitchen sink, everything! Boundless, curious, and excited by calculations, young Katherine longed to know as much as she could about math, about the universe.
The Crayon Man: the True Story of the Invention of Crayola Crayons
Published: March 19, 2019
What child doesn't love to hold a crayon in their hands?  But children didn't always have such magical boxes of crayons.  Before Edwin Binney set out to change things, children couldn't really even draw in color. Here's the true story of an inventor who so loved nature's vibrant colors that he found a way to bring the outside world to children – in a bright green box for only a nickel! With experimentation, and a special knack for listening, Edwin Binney and his dynamic team at Crayola created one of the world's most enduring, best-loved childhood toys – empowering children to dream in COLOR!
Shark Lady: The True Story of How Eugenie Clark Became the Ocean's Most Fearless Scientist
Published: June 6, 2017
Eugenie Clark fell in love with sharks from the first moment she saw them at the aquarium. She couldn't imagine anything more exciting than studying these graceful creatures. But Eugenie quickly discovered that many people believed sharks to be ugly and scary―and they didn't think women should be scientists.
Determined to prove them wrong, Eugenie devoted her life to learning about sharks. After earning several college degrees and making countless discoveries, Eugenie wrote herself into the history of science, earning the nickname "Shark Lady." Through her accomplishments, she taught the world that sharks were to be admired rather than feared and that women can do anything they set their minds to.
The Tree Lady
Published: September 17, 2013
Katherine Olivia Sessions never thought she'd live in a place without trees. After all, Kate grew up among the towering pines and redwoods of Northern California. But after becoming the first woman to graduate from the University of California with a degree in science, she took a job as a teacher far south in the dry desert town of San Diego. Where there were almost no trees.
Kate decided that San Diego needed trees more than anything else. So this trailblazing young woman singlehandedly started a massive movement that transformed the town into the green, garden-filled oasis it is today. Now, more than 100 years after Kate first arrived in San Diego, her gorgeous gardens and parks can be found all over the city.
The Girl Who Thought in Pictures: The Story of Dr. Temple Grandin
Published: August 29, 2017
When young Temple was diagnosed with autism, no one expected her to talk, let alone become one of the most powerful voices in modern science. Yet, the determined visual thinker did just that. Her unique mind allowed her to connect with animals in a special way, helping her invent groundbreaking improvements for farms around the globe! The Girl Who Thought in Pictures: The Story of Dr. Temple Grandin is the first book in a brand new educational series about the inspirational lives of amazing scientists. In addition to the illustrated rhyming tale, you'll find a complete biography, fun facts, a colorful timeline of events, and even a note from Temple herself!
Stephen Curry: The Boy Who Never Gave Up
Published: August 16, 2016
The Boy Who Never Gave Up  is the inspiring true story of NBA superstar Stephen Curry. This Fully illustrated picture book biography tells the story of a young boy who many said was too short to play in high school, too weak to play in college and not good enough to play in the NBA.
Against all odds, this small boy who follows his dream, not only makes it to the NBA, but becomes one of the greatest players to ever play the game of basketball.
Before She Was Harriet
Published: November 7, 2017
We know her today as Harriet Tubman, but in her lifetime she was called by many names. As General Tubman she was a Union spy. As Moses she led hundreds to freedom on the Underground Railroad. As Minty she was a slave whose spirit could not be broken. As Araminta she was a young girl whose father showed her the stars and the first steps on the path to freedom.
An evocative poem and stunning watercolors come together to honor a woman of humble origins whose courage and compassion make her a larger than life hero.
Nelson Mandela
Published: January 2, 2013
In this lush, acclaimed book, award-winning author-illustrator Kadir Nelson tells the story of global icon and Nobel Peace Prize winner Nelson Mandela in poignant free verse and glorious illustrations.
It is the story of a young boy's determination to change South Africa, and of the struggles of a man who eventually became the president of his country. Mandela believed in equality for all people, no matter the color of their skin. Readers will be inspired by Mandela's triumph and his lifelong quest to create a more just world.
Published: October 1, 2005
Fifty years after her refusal to give up her seat on a Montgomery, Alabama, city bus, Mrs. Rosa Parks is still one of the most important figures in the American civil rights movement. This picture- book tribute to Mrs. Parks is a celebration of her courageous action and the events that followed.
There they are: 45 of the best picture book biographies to read today! Which of these books have you read and loved? What did I miss?
More Picture Book Lists
Picture books by Asian authors
More non-fiction picture books
Picture books by Black authors
Pin This Post – Best Picture Book Biographies
Don't Forget to Share!
Afoma Umesi is the founder and editor of Reading Middle Grade where she curates book lists and writes book reviews for kids of all ages. Her favorite genre to read is contemporary realistic fiction and she'll never say no to a graphic novel.
Related Posts
Afoma Umesi
FREE DOWNLOAD
Join My Friday Kidlit Newsletter
Sign up to receive weekly roundups, kidlit resources, and more! I'll send you my printable list of STEM middle-grade books to start!
Reader Interactions
What do you think leave a comment cancel reply, join reading middle grade on instagram.
Sharing the best middle grade (and adult) book recommendations @ whatafomareads
MOST SEARCHED
Book Reviews
Middle Grade Book Reviews
Middle Grade Books
Picture Books
Book Lists By Grade
Early Chapter Books
Books for Teens
QUICK LINKS
Book Lists by Age
Books by Theme
LET'S CONNECT
Authors & Events
Recommendations
New & Noteworthy
Bestsellers
Popular Series
The Must-Read Books of 2023
Popular Books in Spanish
Coming Soon
Literary Fiction
Mystery & Thriller
Science Fiction
Spanish Language Fiction
Biographies & Memoirs
Spanish Language Nonfiction
Dark Star Trilogy
Ramses the Damned
Penguin Classics
Award Winners
The Parenting Book Guide
Books to Read Before Bed
Books for Middle Graders
Trending Series
Magic Tree House
The Last Kids on Earth
Planet Omar
Beloved Characters
The World of Eric Carle
Llama Llama
Junie B. Jones
Peter Rabbit
Board Books
Picture Books
Guided Reading Levels
Middle Grade
Activity Books
Trending This Week
Top Must-Read Romances
Page-Turning Series To Start Now
Books to Cope With Anxiety
Short Reads
Anti-Racist Resources
Staff Picks
Memoir & Fiction
Features & Interviews
Emma Brodie Interview
James Ellroy Interview
Nicola Yoon Interview
Qian Julie Wang Interview
Deepak Chopra Essay
How Can I Get Published?
For Book Clubs
Reese's Book Club
Oprah's Book Club
happy place " data-category="popular" data-location="header">Guide: Happy Place
the last white man " data-category="popular" data-location="header">Guide: The Last White Man
Authors & Events >
Our Authors
Michelle Obama
Zadie Smith
Emily Henry
Cormac McCarthy
Colson Whitehead
In Their Own Words
Qian Julie Wang
Patrick Radden Keefe
Phoebe Robinson
Emma Brodie
Ta-Nehisi Coates
Laura Hankin
Recommendations >
Holiday Cozy Mysteries for the Festive Season
Books With New TV and Movie Adaptations
Wine and Cocktail Books for Holiday Hosting
Historical Fiction With Female Protagonists
Best Thrillers of All Time
Manga and Graphic Novels
happy place " data-category="recommendations" data-location="header">Start Reading Happy Place
How to Make Reading a Habit with James Clear
Why Reading Is Good for Your Health
Vallery Lomas' Blueberry Buckle Recipe
New Releases
Memoirs Read by the Author
Our Most Soothing Narrators
Press Play for Inspiration
Audiobooks You Just Can't Pause
Listen With the Whole Family
Picture Book Biography Series
For almost thirty years, David Adler's Picture Book Biography series has profiled famous people who changed the world. Colorful, kid-friendly illustrations combine with Adler's "expert mixtures of facts and personality" ( Booklist ) to introduce young readers to history through compelling biographies of presidents, heroes, inventors, explorers, and adventurers. These books are ideal for first and second graders interested in history or who need reliable sources for school book reports.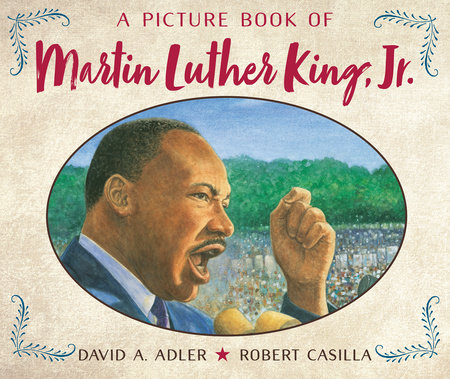 Picture Book Biography Series (29 Titles)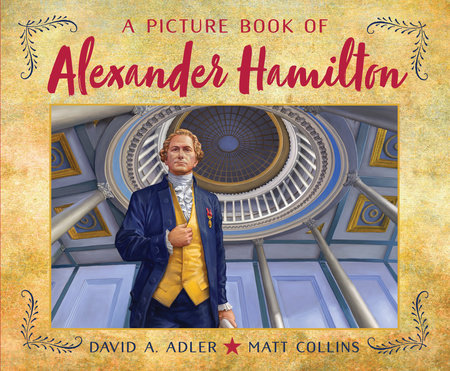 Share on Facebook
Share on Tumblr
Other Series You Might Like
Find other titles in.
Visit other sites in the Penguin Random House Network
Raise kids who love to read
Today's Top Books
Want to know what people are actually reading right now?
An online magazine for today's home cook
Stay in Touch
By clicking "Sign Up", I acknowledge that I have read and agree to Penguin Random House's Privacy Policy and Terms of Use and understand that Penguin Random House collects certain categories of personal information for the purposes listed in that policy, discloses, sells, or shares certain personal information and retains personal information in accordance with the policy . You can opt-out of the sale or sharing of personal information anytime.
Become a Member
Just for joining you'll get personalized recommendations on your dashboard daily and features only for members.
Point Status This is where you'll see your current point status and your earned rewards. To redeem, copy and paste the code during the checkout process. See Account Overview
Trending Post : Books Made Into Movies
75 Best Picture Book Biographies for Kids, 2023
This post may contain affiliate links.
I love introducing kids to ordinary people who did amazing things by reading picture book biographies for kids. Don't you? These biographies for kids are inspirational narrative nonfiction texts that are written like a story, appealing to children with beautiful illustrations.
I chose these books after reading thousands of picture books and understanding what children like because my background isn't only in book reviews but in education. Plus, I'm a parent of two. I update this book list with the best newly published books, with the most recent update in November 2023.
A reading strategy I like to use with children reading nonfiction is connecting to background knowledge. As you read these biographies, both picture books for preschool and elementary ages, as well as biographical story collections for upper elementary and middle school, help your kids connect to what they're reading.
Start with prompts like:
How are you like or not like this person?
Do you know someone who is like this person?
What other biographies or famous people does this person remind you of?
Reading biographies is informative and instructive. We learn more about people which helps us learn more about ourselves– who we are and who we want to be.
The Best Picture Book Biographies for Kids
Table of Contents:
Artists and Musicians
Famous americans.
More Picture Books & Biography Collections
STEM (Scientists, coders, engineers, and mathematicians)
Stand as Tall as the Trees : How an Amazonian Community Protected the Rain Forest written by Patricia Gualinga and Laura Resau, illustrated by Vanessa Jaramillo ACTIVIST Beautifully crafted with emotional resonance, get inspired by this true story of Patricia Gualinga's life. Paty is a Kichwa girl who lives deep in the rain forest of Ecuador; a place alive with "trees towering, vines winding, and frogs singing" and the mystical beings who rule the forest — the Amazanga. Paty moves to the noisy city for her education. But when Paty's forest home is destroyed by a greedy company, she helps her people gather, unite, and protest, making the destructive company leave the forest! Heartfelt writing and luminous illustrations make this a memorable biography (autobiography) that shows how one person can make a difference in the world!
Contenders: Two Native Baseball Players, One World Series by Traci Sorell, illustrated by Arigon Starr Learn about two Native baseball players who loved the game but endured huge racism from everywhere — name calling, derogatory chants, and more. Charles Bender and John Meyers were groundbreaking athletes. You'll read their history and how they got to the 1911 World Series. Interesting and important.
More Picture Book Biographies & Collections
Melissa Taylor, MA, is the creator of Imagination Soup. She's a mother, former teacher & literacy trainer, and freelance education writer. She writes Imagination Soup and freelances for publications online and in print, including Penguin Random House's Brightly website, USA Today Health, Adobe Education, Colorado Parent, and Parenting. She is passionate about matching kids with books that they'll love.
Similar Posts
Gravity Maze: a Marble Logic Game
Capturing Signs of Spring With Cameras
Quiz Yourself – Examples of Divergent and Convergent Thinking
New Books for Beginning Readers, August 2022
Check Out the Latest in Nonfiction Books, Fall 2017
Blast Off! Pretend Play Astronaut
Leave a reply cancel reply.
Your email address will not be published. Required fields are marked *
Wow, just wow. Thank you. I was googling and googling for a specific kind of pb bio, and nothing was coming up. Found 3 of what I was looking for in your list
I'm so happy to hear this list was helpful!
What an amazing list! Thank you so much for sharing!
Glad it's helpful!
My Library Dashboard
My Borrowing
Checked Out
Borrowing History
ILL Requests
My Collections
For Later Shelf
Completed Shelf
In Progress Shelf
My Settings
Picture book biographies from Multcolib My Librarian Kate
Books for Kids: Picture-book biographies are true delights
These books tell children about remarkable real lives, from a Nova Scotia folk artist to the creator of a beloved literary detective.
Postmedia may earn an affiliate commission from purchases made through our links on this page.
Article content
Tell kids a story and they'll likely ask if it really happened. Read them a picture-book biography and you'll be able to say that yes, the story was true. Below are some titles that fit the genre.
Books for Kids: Picture-book biographies are true delights Back to video
A Tulip in Winter By Kathy Stinson Illustrated by Lauren Soloy Greystone Kids
Subtitled A Story About Folk Artist Maud Lewis, Kathy Stinson's new picture book puts the spotlight on a Nova Scotia woman who was small in physical stature but left an enormous legacy that continues to inspire all those who learn her life story. Afflicted with a severe case of rheumatoid arthritis, she was teased by other children for the way she looked, the way she walked and how small she was. She loved music, but became unable to play the piano "as her hands grew more bent / and her fingers more stiff." Her mother suggested she try holding a paintbrush, and that opened a whole new world for Maud. As she grew up, "colour flowed through her days," Stinson tells us. "But as an adult, hardship visited her again and again." Undaunted, Maud moved in with Everett Lewis, a gruff fish peddler, as live-in housekeeper and began covering his dull little house with her cheerful, colourful paintings.
There with you then. Here with you now. As a critical part of the community for over 245 years,The Gazette continues to deliver trusted English-language news and coverage on issues that matter. Subscribe now to receive:
Unlimited online access to our award-winning journalism including thought-provoking columns by Allison Hanes, Josh Freed and Bill Brownstein.
Opportunity to engage with our commenting community and learn from fellow readers in a moderated forum.
Unlimited online access to the Montreal Gazette and National Post, including the New York Times Crossword, and 14 more news sites with one account
Support local journalists and the next generation of journalists.
Montreal Gazette ePaper, an electronic replica of the print edition to view on any device, where you can share and comment..
There with you then. Here with you now. As a critical part of the community for over 245 years,The Gazette continues to deliver trusted English-language news and coverage on issues that matter. Create an account or sign in to continue with your reading experience.
Access articles from across Canada with one account.
Share your thoughts and join the conversation in the comments.
Enjoy additional articles per month.
Get email updates from your favourite authors.
Don't have an account? Create Account
An author's note at the end of the book tells us that Maud died in 1970 and during her lifetime her paintings sold for no more than $10. In 2017, however, one sold for $45,000 and five years later another one sold for $350,000. "Maud never travelled more than an hour from home, but her paintings have been hung in galleries oceans away." An inspiring picture book aimed at ages four to eight, but with a message for all ages.
The Story of the Saxophone By Lesa Cline-Ransome Illustrated by James E. Ransome Holiday House
Music lovers, especially those with an ear for jazz, will appreciate the end papers highlighting more than a dozen musicians like Sonny Rollins, John Coltrane, Branford Marsalis and Ornette Coleman, and the dust-jacket poster that depicts Coleman Hawkins, Lester Young, Charlie Parker, Stan Getz, Dexter Gordon and Cannonball Adderley. But The Story of the Saxophone doesn't begin with them — it begins in 1814, in Belgium, with Adolphe Sax, the only son of an instrument maker. He was often bored and tended to daydream. That led to various accidents; by the time he was 10, Adolphe had "fallen down a flight of stairs, swallowed a needle, been poisoned three times, nearly drowned, been burned by gunpowder, and been knocked into a coma from a loose roof tile."
Get the latest headlines, breaking news and columns.
There was an error, please provide a valid email address.
By signing up you consent to receive the above newsletter from Postmedia Network Inc.
A welcome email is on its way. If you don't see it, please check your junk folder.
The next issue of Headline News will soon be in your inbox.
We encountered an issue signing you up. Please try again
It's something of a miracle that he grew to adulthood and, thanks to his curiosity and inventiveness, managed to create a musical instrument that, although initially scorned by many, eventually was embraced by musicians in New Orleans. The saxophone lived on long after Adolphe himself, who died in 1894. For ages six to nine.
Arthur Who Wrote Sherlock By Linda Bailey Illustrated by Isabelle Follath Tundra Books
The combined talents of Vancouver's Linda Bailey and Zurich's Isabelle Follath have given us an engaging, eye-catching picture-book biography of Arthur Conan Doyle, who gave birth to "the world's most famous man who never was." Arthur learned to read when very young, wrote his first story when he was six, and many years later dreamed up a character who took on a life of its own: Sherlock Holmes, a brilliant and scientific detective who observed things others failed to notice.
Arthur's stories about Sherlock lifted him out of poverty, but eventually became so all-consuming that the author decided to kill him off. "The world goes into a frenzy!" Bailey tells us. But Arthur isn't swayed; he writes what he wants for eight years, until he comes up with an idea that calls for a detective, and The Hound of the Baskervilles brings Sherlock back to life. For ages six to nine, but bound to appeal to anyone who loves Holmes.
Etty Darwin and the Four Pebble Problem Written and illustrated by Lauren Soloy Tundra Books
Sherlock, the brilliant and scientific observer, wasn't real. But Charles Darwin, "one of the greatest thinkers in the history of the world," was. In this unique picture book, we learn that Down House, his home in the U.K., includes an oval thinking path called the Sandwalk, where Darwin could walk and do his thinking — "every day, twice a day." Sometimes Etty, one of his 10 children, joined him. And in this book, she asks him if he believes in fairies. As the two make their way along the oval path four times (counted via the title's four pebbles), they explore the possibility that fairies are real, coming to a mutually acceptable conclusion.
In a note at the end of the book, Lauren Soloy admits she doesn't really know what Charles and Etty discussed on their walks, but adds: "I like to think that fairies might have come up." For ages four to eight.
Unsinkable Lucile By Hugh Brewster Illustrated by Laurie McGaw Firefly Books
Subtitled How a Farm Girl Became the Queen of Fashion and Survived the Titanic, this story of couturière Lucile, Lady Duff Gordon (who was born in London, England, as Lucy Sutherland and spent her early childhood in Ontario) opens in 1869, with Lucy, her younger sister Elinor and their widowed mother living at a farm near Guelph. Five years later, after their mother married a man who took them back to England, the girls spot Lillie Langtry and Lucy draws a sketch of the famous beauty. That sketch inspired a black velvet gown Lucy would make for a ball she attended the year she turned 18. A fascinating account of "the most famous fashionista of the Edwardian age"(as publisher's bumf refers to her) — someone who built a successful design house, held fashion shows with elegantly dressed models and lived a life of luxury and adventure. Lavishly illustrated with original art and archival material. For ages nine to 12.
The Girl Who Built an Ocean By Jess Keating Illustrated by Michelle Mee Nutter Alfred A. Knopf
Subtitled An Artist, an Argonaut, and the True Story of the World's First Aquarium, this tells of another woman who exhibited a flair for creating beautiful dresses. But Jeanne Villepreux traded her life as a seamstress for that of a female scientist in the 19th century, making significant discoveries about aquatic animals with the aid of aquariums she built herself. Ontario's Jess Keating, a zoologist-turned-author, shines a deserved spotlight on a significant historical figure, while Michelle Mee Nutter's art makes Villepreux accessible to even the very young. For ages four to eight.
The Aquanaut By Jill Heinerth Illustrated by Jaime Kim Tundra Books
Ottawa's Jill Heinerth is another woman with a focus on the underwater world but, as she admits in an author's note at the end of this book, she didn't start out that way. "When I was young, I wanted to be an astronaut," she writes. "But instead of going to outer space, I decided to explore dark, cavernous spaces on Earth."
With the help of Jaime Kim's colourful, appealing illustrations, Heinerth describes a girl's childhood goals and experiences, alternating with her adult adventures underwater. It's an effective way to show youngsters that childhood dreams can lead to amazing adult accomplishments. For ages three to seven.
Sign up for our awesome parenting and advice newsletter at   montrealgazette.com/newsletters .
Postmedia is committed to maintaining a lively but civil forum for discussion and encourage all readers to share their views on our articles. Comments may take up to an hour for moderation before appearing on the site. We ask you to keep your comments relevant and respectful. We have enabled email notifications—you will now receive an email if you receive a reply to your comment, there is an update to a comment thread you follow or if a user you follow comments. Visit our Community Guidelines for more information and details on how to adjust your email settings .
Josh Freed: How can you think Montreal is unlivable?
Mcgill university imposes immediate hiring freeze, subscriber only. stu's slapshots: canadiens' jayden struble gets break at rookie dinner, made in ontario: quebec's anglo film and tv producers in a bind, opinion: mcgill is why i came; quebec is why i stayed.
This website uses cookies to personalize your content (including ads), and allows us to analyze our traffic. Read more about cookies here . By continuing to use our site, you agree to our Terms of Service and Privacy Policy .
Looking for Books and Resources >>>
HELPING KIDS RISE
Books that educate, empower, and affirm.
Diverse Books For All Ages
Books that celebrate every story, every voice, every child.
22 Notable Picture Book Biographies Published in 2022
Updated: Sep 15
Disclosure: this post contains affiliate links
Picture book biographies are one the best ways to help readers connect with people they might otherwise feel they have little to nothing in common with. The picture books listed here were all published in 2022 and are great introductions to the people featured in them.
This list is complete with titles, author, illustrators, and links to learn more about the books. Tap on the book cover, then swipe to scroll through these beautiful book covers! Happy reading!
BOOK TITLES AND LINKS
Maya's Song by Renee Watson, illus by Bryan Collier
I Am Ruby Bridges by Ruby Bridges, illus by Nikkolas Smith
Going Places: Victor Green and His Glorious Book by Tonya Bolden, illus by Eric Velasquez
Finding My Dance by Ria Thundercloud, illus by Kalila J. Fuller
Stacey Abrams and the Fight to Vote by Traci N. Todd, illus by Laura Freeman
AOC: The Roots and Rise of Alexandria Ocasio-Cortez by Anika Aldamuy Denise, illus by Loris Lora
On Her Wings: The Story of Toni Morrison by Jerdine Nolen, illus by James E. Ransome
Mama in Congress: Rashida Tlaib's Journey to Washington by Rashida and Adam Tlaib with Miranda Paul, Illus by Olivia Aserr
Ida B. Wells, Voice of Truth: Educator, Feminist, and Anti-Lynching Civil Rights Leader , illus by Laura Freeman
Not Done Yet: Shirley Chisholm and the Fight for Change by Tameka Fryer Brown, illus by Nina Crews
Because of You, John Lewis: The Story of a Remarkable Friendship by Andrea Davis Pinkney, illus by Keith Henry Brown
The Faith of Elijah Cummings: The North Star of Equal Justice by Carole Boston Weatherford, illus by Laura Freeman
Marvelous Mabel by Crystal Hubbard, illus Alleanna Harris
Yes We Will: Asian Americans Who Shaped This Country by Kelly Yang, ilus by multiple artists
Sweet Justice: Georgia Gilmore and the Montgomery Bus Boycott by Mara Rockliff, illus by R. Gregory Christie
Until Someone Listens: A Story about Borders, Family, and One Girl's Mission by Estela Juarez, illus by Teresa Martinez
Call Me Miss Hamilton: One Woman's Case for Equality and Respect by Carole Boston Weatherford, illus by Jeffery Boston Weatherford
Because Claudette by Tracey Baptiste, illus by Tonya Engel
Curve & Flow: The Elegant Vision of L.A. Architect Paul R. Williams by Andrea J Loney, illus by Keith Mallet
Choosing Brave: How Mamie Till-Mobley and Emmet Till Sparked the Civil Rights Movement by Angela Joy, Illus by Janelle Washington
Just Like Jesse Owens by Andrew Young and Paula Young Shelton, illus by Gordon C. James
Shapes, Lines, and Light: My Grandfather's American Journey by Katie Yamasaki
...and just a few more past the twenty-two
Moving Forward from Space-Age Rides to Civil Rights Sit-Ins with Airman Alton Yates by Chris Barton, illus by Steffi Walthall
Ablaze with Color: A Story of Painter Alma Thomas by Jeanne Walker Harvey, illus by Loveis Wise
The Tower of Life: How Yaffa Eliach Rebuilt Her Town in Stories and Photographs by Chana Stiefel, illus by Susan Gal
A Life of Service: The Story of Senator Tammy Duckworth by Christina Soontornvat, illus by Dow Phumiruk
Bessie the Motorcycle Queen by Jr. Charles R Smith, illus by Charlot Kristensen
Find all of these books and more in our bookshop:
VIDEO READ ALONG
Author Chris Barton reads aloud from Moving Forward, an inspiring nonfiction picture book. Meet activist Alton Yates, an Air Force veteran who dedicated his life to propelling America forward—from space travel to the Civil Rights Movement and beyond.
Join our community of BOOK LOVERS for more book recommendations.
Recent Posts
Helping Children Cope with Grief & Loss using Children's Books (+ Video Read Aloud)
50 Notable Children's Books Published in 2022 That Everyone Should Read
10 Delightful Children's Books About Winter (+ Video Read Aloud)
Looking for the Halloween Reading Chart?
Looking for the FREE Christmas Reading Calendar? Click Here !
Everyday Reading
20 fantastic picture book biographies for kids
I love all kinds of picture books, but I particularly love picture book biographies for kids where the life of someone famous is brought to life with spectacular illustrations, interesting and surprising stories, and just enough information.
I've been collecting my favorite picture book biography titles for months and am so happy to share some of them with you today (you better believe there are more coming in the next several months – the list is way too long for one post!).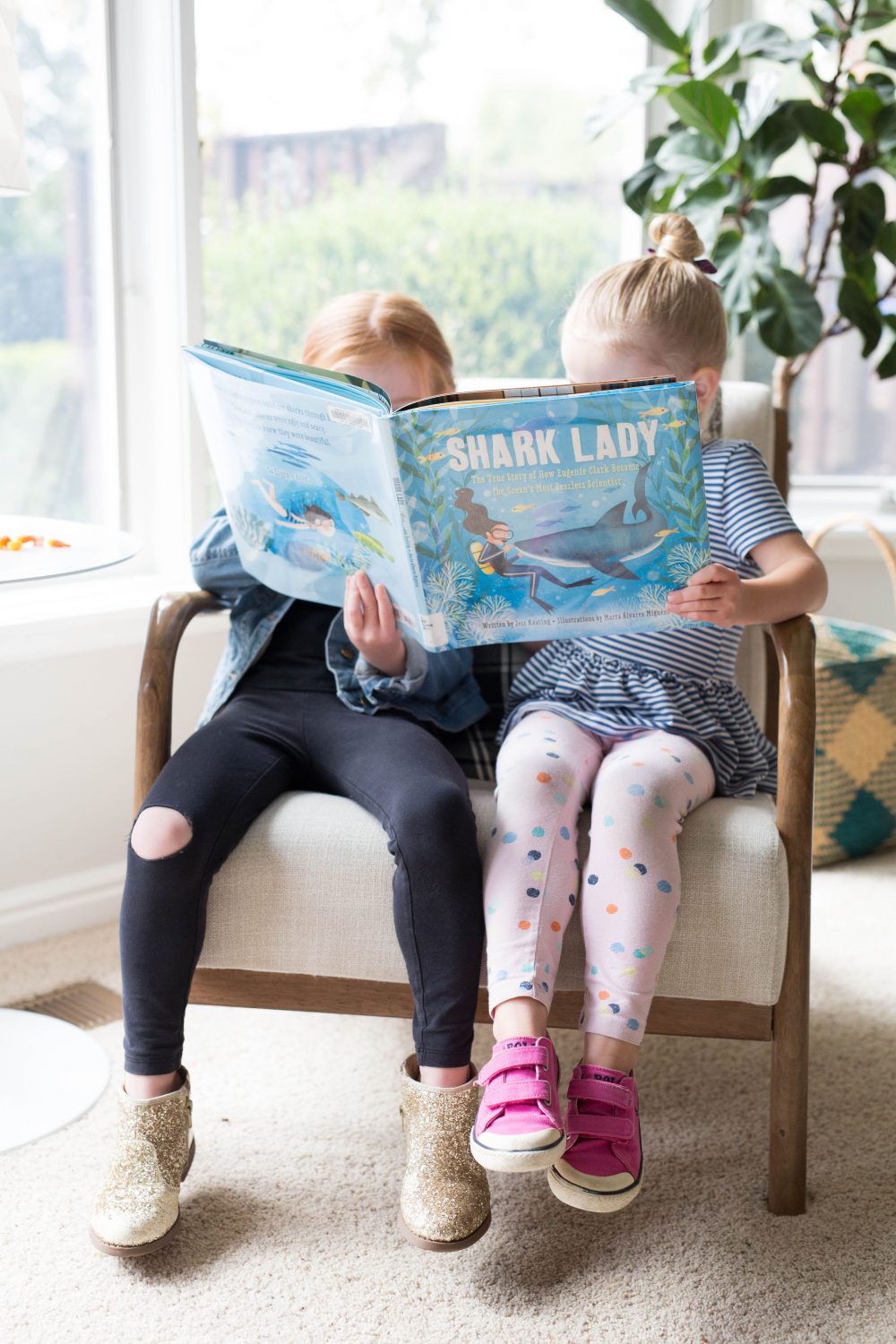 Shark Lady: The True Story of How Eugenie Clark Became the Ocean's Most Fearless Scientist by Jess Keating, illustrated by Marta Alvarez Miguens I'd never heard of Eugenie Clark before this book, but I was immediately fascinated by her story. She fell in love with sharks at an early age when she saw them at an aquarium and wanted to know everything she could about them. But many people thought sharks were ugly, terrifying creatures. Plus, women shouldn't be scientists anyway. Eugenie spent her life proving the naysayers wrong, both abut sharks and female scientists. (Also check out Swimming with Sharks: The Daring Discoveries of Eugenie Clark by Heather Lang, illustrated by Jordi Solano).
John Ronald's Dragons: The Story of J.R.R. Tolkien by Caroline McAlister, illustrated by Eliza Wheeler I'm certainly familiar with the beloved Lord of the Rings series, but I didn't know much about J.R.R. Tolkein (and I REALLY didn't know much about his growing up). So I loved this clever biography about his growing up where he loved dragons, and how much of his young life felt surrounded by dragons, from losing his mother early in his life to fighting in WWI. But until he invented a dragon of his own (which sparked off his Middle Earth writing), he never found one in his actual life.
Ordinary, Extraordinary Jane Austen: The Story of Six Novels, Three Notebooks, a Writing Box, and One Clever Girl by Deborah Hopkinson, illustrated by Qin Leng Before Jane Austen became one of the most famous English writers of all time, she was a quiet girl. And while you might not have noticed her, she probably would have noticed you. And it might have ended up in her writing. This beautiful picture book is a delightful introduction to a woman who disregarded the publishing trends of her time and created a completely new kind of story.
The World is Not a Rectangle: A Portrait of Architect Zaha Hadid by Jeanette Winter I'd never heard of Zaha Hadid before this book, but I instantly loved her story. She grew up in Iraq and wanted to be an architect. But as a Muslim woman, this wasn't going to be an easy dream to chase. Now, decades later, you can see her buildings all over the world!
The Girl Who Thought in Pictures: The Story of Dr. Temple Grandin by Julia Finley Mosca, illustrated by Daniel Rieley Most of us are probably familiar with Dr. Temple Grandin and I love this introduction to her for young children (all the text is told in rhyme). She was diagnosed with autism as a young child and expected never to talk. But she grew up to become a groundbreaking scientist, thanks to her love of animals and her rare ability to connect with animals.
The Noisy Paint Box: The Colors and Sounds of Kandinsky's Abstract Art by Barb Rosenstock, illustrated by Mary GrandPre Vasya Kandinsky was one of the first abstract artists and this is a beautiful retelling of his story. He had a very proper upbringing and his family expected that his art would also be very proper. But his art was anything but – it came to life, swirling with color and even sound, because throughout his life, he experienced colors as sound and vice versa. (By the way, if the illustrations look vaguely familiar, it's likely because you recognize Mary GrandPre's illustrations from the original Harry Potter books).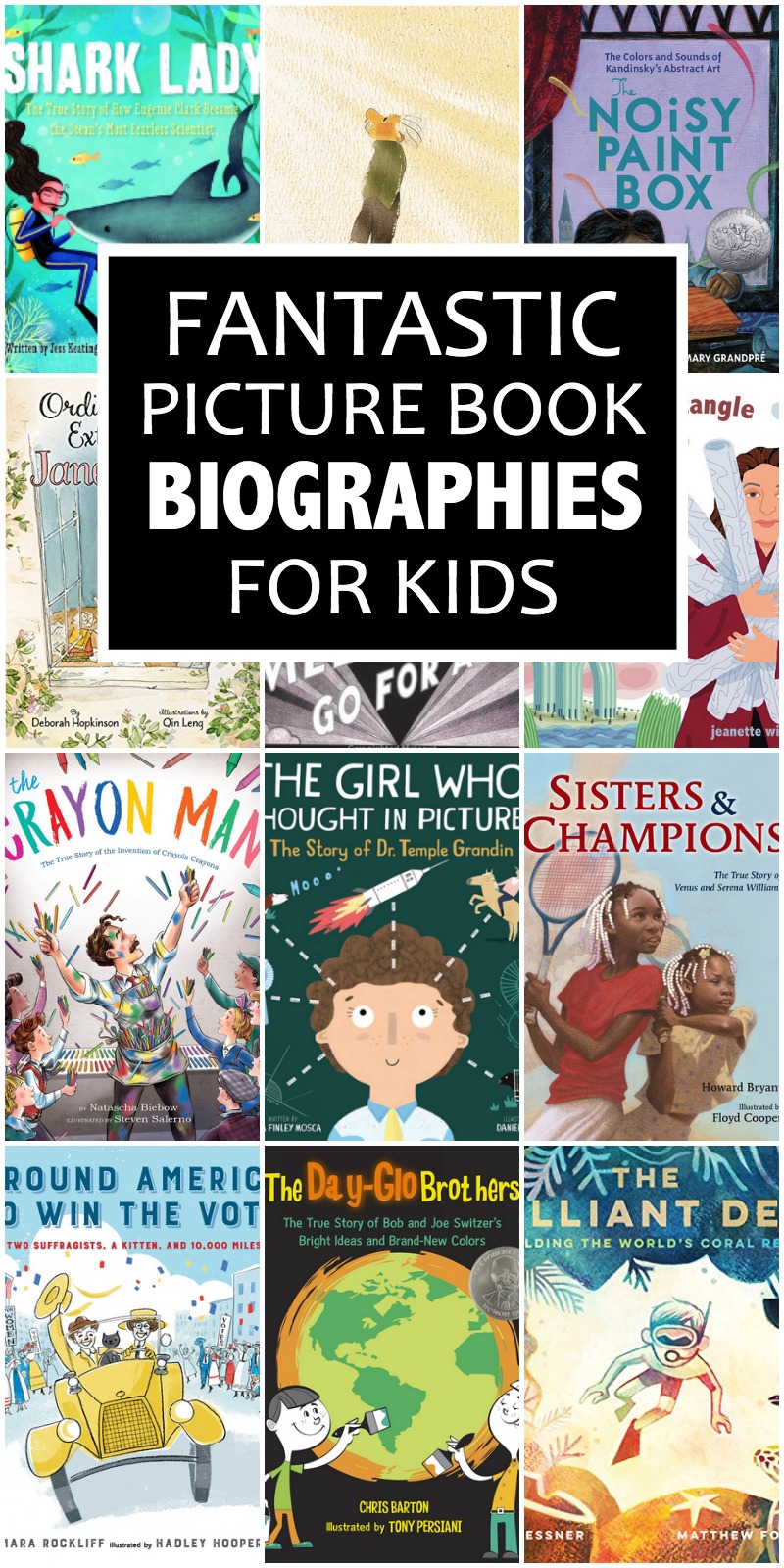 On a Beam of Light: A Story About Albert Einstein by Jennifer Berne, illustrated by Vladimir Radunsky If you'd seen young Albert Einstein riding his bike down the road, you would have probably just seen a boy on a bike, But in his mind, he saw himself traveling at the speed of light. This book is a delightful look into Einstein's lifelong curiosity and discovery, and perfect for every child who loves to imagine the impossible.
The Watcher: Jane Goodall's Life With Chimps by Jeanette Winter This was one of the picture books that really helped me see how AMAZING picture book biographies could be. I love that it begins in her childhood and goesthrough her current work, accompanied by breath-taking illustrations. I also love Me….Jane by Patrick McDonnell as a simpler biography of Jane Goodall.
Amelia and Eleanor Go For a Ride by Pam Munoz Ryan, illustrated by Brian Selznick I have loved Brian Selznick's illustrations since I was a child and his black and white drawings bring this amazing story about Amelia Earhart and First Lady Eleanor Roosevelt to life when, at a White House dinner party, Eleanor and Amelia sneak away to take an evening ride over Washington D.C. in a jet. All while wearing their evening gowns!
The Crayon Man: The True Story of the Invention of Crayola Crayons by Natascha Biebow, illustrated by Steven Salerno I love picture book biographies that bring to life the inventor of a product children love and use daily. This book does exactly that with the man who invented crayola crayons and I loved every page of it – who knew that so much went into those boxes of 50 cent crayons you can now buy at Target?
Balloons Over Broadway: The True Story of the Puppeteer of Macy's Parade  by Melissa Sweet I am legitimately obsessed with this book and I love bringing out my copy every Thanksgiving about the boy who loved puppets and grew up to create the famous balloons that make up the Thanksgiving Day parade. The color and art in this book bring it to life and the end notes and photos and make it even more special.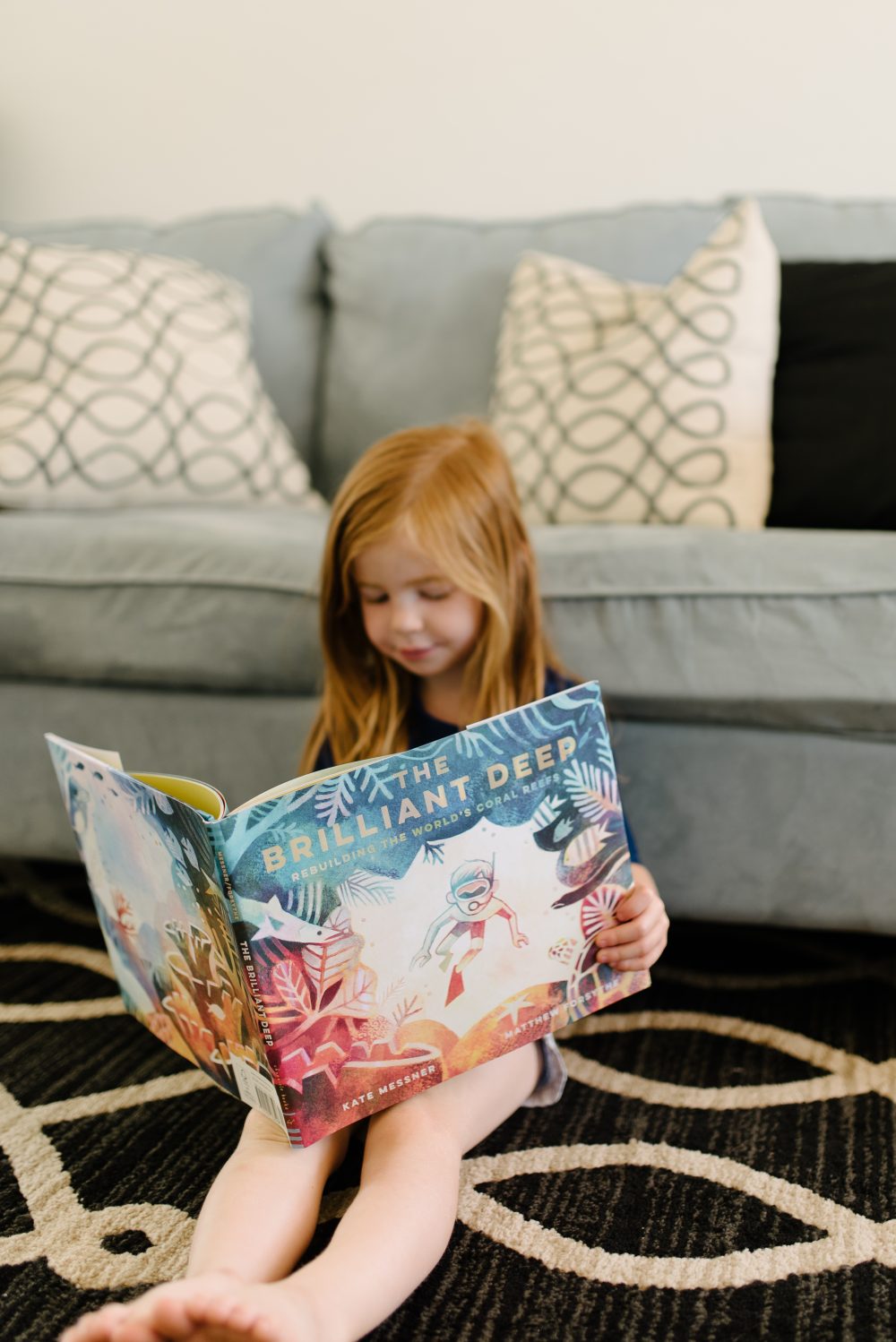 Brilliant Deep: Rebuilding the World's Coral Reefs: The Story of Ken Nedimeyer and the Coral Restoration Foundation by Kate Messner, illustrated Matthew Forsythe Sometimes the changes we want to see in the world seem too big, too overwhelming to tackle. But I love this biography of Ken Nedimyer, founder of the Coral Restoration Foundation, that shows that even one person can make a difference.
Sisters and Champions: The True Story of Venus and Serena Williams by Howard Bryant, illustrated by Floyd Cooper I've never watched a professional tennis match, but I was in tears by the end of this gorgeous picture book about Venus and Serena Williams and hard they work and, even more impressively to me, how much they support each other.
Around America to Win the Vote: Two Suffragists, A Kitten, 10,000 Miles by Mara Rockliff, illustrated by Hadley Hooper Just over a century ago, two friends, Nell Richardson and Alice Burke set out from New York City to spread the word about giving American women the right to vote. Crammed in a little yellow car, with a kitten along for the ride, they drove 10,000 miles in pursuit of their goal.
The Day-Glo Brothers: The True Story of Bob and Joe Switzer's Bright Ideas and Brand New Colors by Chris Barton, illustrated by Tony Persiani Put neon colors on the list of things I've never given a second thought to. Until this book, about two brothers who loved to invent things and discovered neon coloring that's now used all over the world. Who knew? The black pages with bright neon coloring make this book really pop.
Tree Lady: The Story of How One Tree-Loving Woman Changed a City Forever by H. Joseph Hopkins, illustrated by Jill McElmurry When I think San Diego, I don't think dry desert town. But more than 100 years ago, when Katherine Olivia Sessions became the first woman to graduate from the University of California with a degree in science, she moved to San Diego and was horrified by the lack of trees. So she started a movement to transform her new home into the garden oasis we now know it as.
Henry's Freedom Box: A True Story from the Underground Railroad by Ellen Levine, illustrated by Kadir Nelson I've love everything Kadir Nelson touches and this book is no exception, about the lengths one man goes to in order to gain his freedom. After Henry's family is sold, he comes up with a daring and dangerous plan to escape north, by having some friends nail him into a box and mailing him to a free state. Unbelievably it works!
Just Being Audrey by Margaret Cardillo, illustrated by Julia Denos I love this beautiful book about Audrey Hepburn and her life, from her early difficult childhood during WWII under Nazi occupation to her emergence as a style icon and her work with UNICEF. Star, particularly, took a shine to this book and I read it to her dozens of times (we also both loved Just Being Jackie about Jackie Kennedy Onassis).
Mae Among the Stars by Roda Ahmed, illustrated by Stasia Burrington When Mae Jemison was young she longed to be an astronaut. Her teacher suggested she find something more practical, but her parents encouraged her to work hard and achieve her seemingly impossible dreams. And she did, becoming the first African American woman to travel in space. My girls loved this book and as a parent, it was so encouraging to me to let my own children dream big.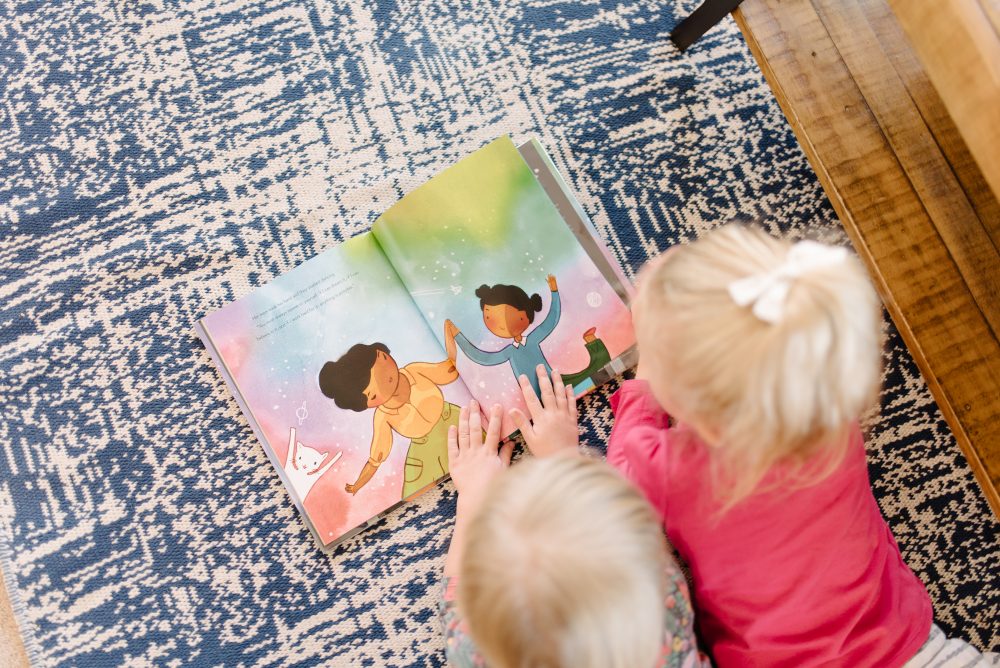 And if you'd like a printable copy of this list that you can take to your library or screenshot on your phone for easy access, just pop in your email address below and it'll come right to your inbox!
If you liked this list of picture book biographies for kids, you might also like these posts:
The Best Picture Books to Read Aloud in a Classroom
10 Children's Books about Death, Loss and Grief
13 Fantastic Easy Reader Chapter Books
Reader Interactions
September 17, 2019 at 11:29 am
This is a great list. I am excited to read as many as I can. Picture books really are the best and you can learn a ton!
September 17, 2019 at 6:28 pm
I love Karlin Gray's picture book biographies! My favorite isThe Girl Who Couldn't Sit Still about Nadia Comaneci. Gymnastics + beautiful book = yessss
September 17, 2019 at 7:16 pm
I love the Noisy Paintbox, too! ☺ Another one I love is The Boy Who Loved Math.
September 17, 2019 at 9:34 pm
Have you ever read any of the Little People Big Dreams series? I am in a different country and these are some of the only biography childrens books I have access to. I am wondering if anyone has experience with them and would recommend them.
September 18, 2019 at 6:19 am
This list is my love language. Thanks!!
September 18, 2019 at 3:36 pm
I just discovered Joan Proctor, Dragon Doctor and my daughter loves it.
September 19, 2019 at 9:54 am
I LOVE these sorts of picture books. I've learned SO MUCH about so many different people and things from reading them to my son! Just added all the ones we haven't already read to our library list! (I am with you on being obsessed with Balloons over Broadway…I really just need to buy that one.)
October 25, 2020 at 11:42 pm
We love Mr. Ferris and His Wheel!
March 11, 2022 at 11:45 am
I learned so much from The Day-Glo Brothers – thanks for recommending it!
[…] 20 fantastic picture book biographies for kids […]
[…] 20 fantastic picture book biographies for kids) […]
Leave a Reply Cancel reply
Your email address will not be published. Required fields are marked *
Save my name, email, and website in this browser for the next time I comment.
Picture Book Biographies About Writers
Picture book biographies are our favorite way to study history with our kids. Don't miss our FREE giant list of picture book biographies across categories and time periods that can coordinate with the rest of your curriculum.
The books below are biographies all about writers.
🎄 Join us for Christmas School