Research Scientist Cover Letter Examples
Use these Research Scientist cover letter examples to help you write a powerful cover letter that will separate you from the competition.

Research scientists conduct research to help improve the understanding of the natural world and to develop new technologies. They work in a variety of settings, including universities, hospitals, and private companies.
In order to land a research scientist position, you need to have a strong cover letter. Use these examples to write a research scientist cover letter that will make hiring managers want to meet you.
Formal/Professional Writing Style Example
I am confident that my solid background in research, combined with my strong analytical and problem-solving skills, make me an ideal candidate for the Research Scientist role within your prestigious company.
Throughout my academic career, I have consistently demonstrated a deep passion for conducting scientific research and seeking innovative solutions. As a recent graduate with a Ph.D. in Molecular Biology, I have completed various research projects that required designing, conducting, and analyzing complex laboratory experiments. My dissertation, which focused on the development of novel therapeutic strategies for cancer, has been published in a respected peer-reviewed journal, and my findings have been presented at an international conference.
In addition to my strong research background, I have gained valuable experience through internships and part-time positions, including a one-year assignment as a research assistant at the XYZ Institute. There, I successfully contributed to the identification of potential drug targets for Alzheimer's disease using advanced molecular biology techniques. This role required in-depth knowledge of lab protocols, close collaboration with other researchers, and the ability to communicate findings to the scientific community.
My strong work ethic, attention to detail, and ability to work both independently and as part of a team further support my qualifications for this position. I am highly motivated to contribute to your organization's continued success, and believe that my unique skill set and enthusiasm for research will greatly benefit your team.
Thank you for considering my application. I look forward to the opportunity to discuss my qualifications further and learn more about your organization's research goals. Please find my attached resume for your review, and feel free to contact me at your earliest convenience.
[Your Full Name]
Entry-Level Writing Style Example
As a recent graduate with a Master of Science in Molecular Biology from XYZ University, I possess the skill set and passion required to contribute positively to your prestigious research team.
During my master's program, I gained hands-on experience in molecular biology techniques such as PCR, gene cloning, and RNA extraction. My thesis work focused on the study of protein-protein interactions in yeast cells, resulting in a publication in a peer-reviewed journal. I also had the opportunity to present my research findings at the 2020 ABC Research Conference, where I received positive feedback for my presentation skills and ability to articulate complex concepts. I am confident my combination of technical expertise and communication skills will allow me to excel as a Research Scientist at your organization.
I am particularly drawn to your company because of its commitment to innovative research in molecular biology and its collaborative work environment. As a dedicated team player, I am eager to work with your diverse team of scientists and contribute to groundbreaking research that will have lasting impacts on the scientific community and beyond.
Thank you for considering my application. I look forward to the opportunity to discuss my qualifications further and demonstrate how my passion for research and commitment to excellence make me an ideal candidate for the Research Scientist position at your esteemed organization.
Yours sincerely,
[Your Name]
Networking/Referral Writing Style Example
I was thrilled to learn about this opportunity through Dr. Jane Smith, a respected colleague and mentor, who encouraged me to apply. Dr. Smith and I have collaborated extensively on several research projects over the past few years and her recommendation not only affirms my passion for research but also highlights my suitability for this role.
As a graduate of XYZ University with a Ph.D. in Molecular Biology and five years of hands-on experience in cellular and molecular research, I believe my background and skillset are well-aligned with the requirements for this position. Having published several research articles in leading scientific journals, I am confident in my ability to contribute to the ongoing success of your research team.
My experience working in interdisciplinary teams has reinforced my skills in effective communication and collaboration, and my dedication to staying current in my field ensures that I am always seeking new ideas and approaches to strengthen the research projects I am involved in. I believe that this, combined with my passion for scientific exploration, makes me fit well within your team.
I am excited by the opportunity to work at your organization and am confident that my knowledge, experience, and enthusiasm will be a valuable addition. Thank you for considering my application. I look forward to the opportunity to further discuss my suitability for the Research Scientist role during an interview.
Enthusiastic/Passionate Writing Style Example
Having followed your company's groundbreaking innovations and advancements in the scientific community for years, I am well aware that this is an incredible opportunity to join a team of talented professionals who share my fervor for discovery and improving the world through research.
As a recent graduate with a Master's degree in Molecular Biology and relevant work experience under my belt, I am excited to bring my knowledge, skills, and dedication to this role. I spent countless hours in the lab during my studies, honing my expertise in various research methodologies and discovering the elation of solving complex problems. This zeal drove me to publish several articles in reputable scientific journals, presenting my findings at conferences, and collaborating with multidisciplinary teams to further our understanding.
Not only am I confident in my theoretical knowledge, but I am also highly proficient in hands-on laboratory work. Familiarity with diverse research techniques, state-of-the-art equipment, and data analysis tools equips me to contribute immediately, making a tangible impact at your esteemed organization. I am eager to continue making strides in scientific research and commit myself fully to this invaluable work.
I see this position as an opportunity to grow and learn from some of the brightest minds in the industry, and I can assure you my unbridled excitement will translate into dedication and hard work on every project I undertake. I am confident that my passion for research, coupled with my technical skills, makes me an ideal candidate for the Research Scientist position at your esteemed organization.
Thank you for considering my application, and I look forward to the opportunity to further discuss my qualifications and demonstrate my passion for research during an interview.
Problem-Solving Writing Style Example
I have closely followed your company's progress and growth in the biotechnology sector and am aware of some of the challenges you face. One such challenge is the urgent need for innovative solutions to complex problems, particularly in the development of novel therapeutics for various diseases. This is where I believe my skills and experience can be of great value to your team.
With a Ph.D. in Molecular Biology and over five years of research experience, I possess strong technical skills and a deep understanding of various biological and biochemical processes. During my academic and professional career, I have demonstrated the ability to design and execute experiments, analyze data, and generate insights that contribute to the advancement of scientific knowledge. My background in both in-vivo and in-vitro studies has equipped me with the requisite skill set to develop and optimize methods to address your organization's needs.
In addition to my research abilities, I am a keen problem solver, adept at identifying potential bottlenecks and proposing suitable solutions. For instance, in my previous role as a Research Associate at XYZ Biotech, my initiatives streamlined the high-throughput screening process and resulted in a 20% increase in productivity, ultimately speeding up the timeline for drug candidates in clinical trials.
Furthermore, I possess excellent communication and presentation skills, allowing me to effectively convey complex scientific concepts to both technical and non-technical audiences. This will facilitate fruitful collaborations with cross-functional teams, ensuring that the outcomes of my research align with the strategic goals of your organization.
I am excited about the opportunity to contribute to your company's pioneering efforts and help drive the advancement of life-changing therapeutics. I am confident that my expertise and proactive problem-solving approach would make me a valuable addition to your team.
Thank you for considering my application. I look forward to the opportunity to discuss my suitability for the role in more detail.
Storytelling/Narrative Writing Style Example
As I stood in the lab, surrounded by test tubes and microscopes, it was the late Dr. Turner's words that echoed in my mind: "The pursuit of scientific discovery is not just an occupation; it's a lifelong passion." This passion is what has led me to apply for the Research Scientist role at your organization, where I believe my skills and experience can contribute to groundbreaking discoveries.
My journey began in my undergraduate years, when I first discovered my love for biochemistry. I eagerly pursued a Ph.D. in the field, spending countless hours in the lab, investigating the complex world of protein structures. My dedication to research was rewarded with a publication in a prestigious journal and an invitation to present my findings at an international conference. This memorable experience reinforced my commitment to a career in scientific research.
In the years that followed, I have honed my skills in various research roles across academia and industry. My experience includes leading a team of researchers in the development of novel drug therapies, as well as collaborating with interdisciplinary teams on the optimization of existing treatment methods. Throughout my career, I have always strived to maintain the highest standards of scientific integrity and have been recognized with several awards for my research.
I am particularly drawn to your organization's innovative approach to research and its commitment to making a tangible difference in the lives of patients. I am confident that my passion for discovery, combined with my technical expertise and experience, would make me a valuable addition to your team.
Thank you for considering my application. I am eager to discuss further how my background and enthusiasm for research can contribute to the success of your organization. I look forward to the opportunity to join your team in the pursuit of scientific discovery.
Maintenance Worker Cover Letter Examples
Accounting supervisor cover letter examples, you may also be interested in..., motion designer cover letter examples & writing tips, architectural designer cover letter examples & writing tips, accounting technician cover letter examples, assistant marketing manager cover letter examples.
Research Scientist Cover Letter Example
A Research Scientist assists in the development and execution of research projects and experiments. Responsibilities include designing and conducting experiments, analyzing data, and providing findings and recommendations. Research Scientists must have strong analytical and problem-solving skills, as well as the ability to design and execute experiments. They must be knowledgeable in their field of research and be able to interpret and analyze data.
Write your perfect Research Scientist Cover Letter using our sample cover letter. We offer professional and expert writing tips to personalize the cover letter. To make things easier, we have designed an easy-to-use cover letter generator to help you accomplish your dreams.
Cover Letters
Manufacturing
A Research Scientist is responsible for researching, designing, and developing solutions to scientific problems. They may work in areas such as engineering, biology, chemistry, physics, and other scientific fields. The duties of a Research Scientist include conducting experiments, analyzing data, preparing reports and presentations, and collaborating with other scientists. They must also keep up with the latest developments in their field and present their findings to management and other interested parties. Additionally, Research Scientists must be able to effectively communicate their findings to colleagues and the public.
What to Include in a Research Scientist Cover Letter?
Roles and responsibilities.
Developing new research methods and techniques.
Writing research papers and reports.
Presenting findings at conferences and seminars.
Developing new theories and hypotheses.
Assisting in the development of new products or services.
Monitoring and evaluating research progress.
Collaborating with other researchers and professionals.
Supervising junior researchers and staff.
Education & Skills
Research scientist skills:.
Strong analytical and problem-solving skills.
Excellent communication and interpersonal skills.
The ability to work independently as well as part of the team.
Strong interest in scientific research.
The ability to work with a variety of data sources.
Proficiency in computer programs and software used for data analysis and visualization.
Knowledge of laboratory safety protocols.
Knowledge of conducting ethical considerations in research.
Research Scientist Education Requirements:
Bachelor's degree in a related field, such as biology, chemistry, physics, or mathematics.
Master's degree or a doctoral degree.
Staying updated with relevant research and technology.
Research Scientist Cover Letter Example (Text Version)
Dear Mr./Ms.
I am writing to apply for the Research Scientist position you advertised on [website name]. With my background in [field], I believe I am an ideal candidate for this opportunity. My research experience, combined with my expertise in [topic], makes me an excellent addition to your team. I am excited to bring my knowledge and enthusiasm to the role.
I have a Ph.D. in [Field] and many years of experience in research, development, and implementation of scientific projects. My accomplishments include –
Developed a novel approach to identify pathways that could lead to the development of new treatments for cancer.
Created a new model for drug delivery that resulted in a 30% increase in drug efficacy • Authored 4 peer-reviewed papers in [Field], resulting in a total of 8 citations.
Developed a new technique to analyze gene expression data that led to the discovery of novel biomarkers.
Developed a novel method to identify novel therapeutic targets for cancer.
Led a team of 10 scientists in the development of a new therapeutic compound that led to a successful clinical trial.
I am confident that my research and development experience, combined with my knowledge of [Field], make me an excellent fit for this position. I am excited to bring my expertise to [Company Name] and am eager to contribute to the success of your team. Thank you for considering my application. I look forward to hearing from you.
Sincerely, [Your Name]
When writing a cover letter for a research scientist role, make sure to showcase your scientific knowledge and research experience, as well as your ability to work independently. Additionally, emphasize your enthusiasm for the specific organization and job. Finally, be sure to highlight any awards, accomplishments, or publications you may have.
Writing a riveting resume is a bit demanding, but with the help of our Research Scientist Resume Sample , it becomes easy for you to draft a compelling resume.
Customize Research Scientist Cover Letter
Get hired faster with our free cover letter template designed to land you the perfect position.
Related Manufacturing Cover Letters
Create a Cover Letter Now
Create a Resume Now
My Documents
Examples of cover letters /
Research Scientist
Research Scientist Cover Letter
You have the skills and we have tricks on how to find amazing jobs. Get cover letters for over 900 professions.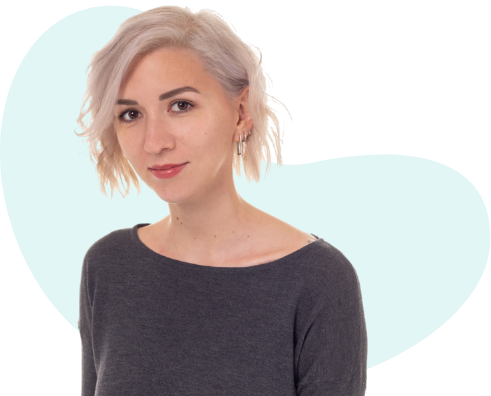 Valeriia Kozarezova - Editor-in-chief, Career Expert
How to create a good cover letter for a research scientist: free tips and tricks
Looking for a research scientist cover letter example? Then our platform is the right place to be. We've created a small list of the do's and don'ts to guide you through the process of creating your presentation. Whether you're an entry-level applicant or a seasoned veteran, our advice will help you avoid unnecessary mistakes and put you in the best position to succeed.
Start strong with highlighting your academic performance. This position requires a good degree combined with postgraduate training. Make sure you include all relevant data about your qualifications into your copy.
On the contrary, going straight to your expectations without mentioning your scientific accomplishments is very likely to leave a bad impression on the employers. Save them for the end of the presentation.
Among the best choices for personal skills would be patience, determination, attention to detail and an analytical mind. Also, you should be able to work as part of a team and have great communication abilities.
Awkward writing paired with grammar and punctuation mistakes is a big no-no for all applicants, but for a scientist, it's pretty much a death sentence. Use an online spell check service to make sure that your document has no technical flaws.
Finish on a high note by showing your genuine love of science. Once you enter the laboratory, curiosity and passion become your best friends. Your enthusiasm is also going to positively affect your colleagues creating the perfect working atmosphere for the entire group.
Don't rely heavily on long scientific terms. Surely, you'd want to elaborate on your specialty, but in the end, you're writing to a recruiter who may not be as knowledgeable in the field you're talking about. On the other hand, being too generic won't help your case either.
Sample cover letter for a research scientist position
The most effective way to digest the tips is to see their practical application. We have used all the important tips of the above units into a single a research scientist cover letter sample to demonstrate a winning document that can be created in GetCoverLetter editor.
Luis Cordoba Research Scientist 36 Milton Avenue 8165-476-937 / [email protected] Kelly James Recruiter "Future Labs"
Dear Kelly, Since I'd heard that you're one of the most highly-regarded research facilities in the country, I immediately started monitoring vacant spots in your company.
In 2011, I received a PhD in cellular microbiology, with stem cells being my specialty. Simultaneously, I was studying technology, namely the latest offerings in implants, which is an extremely fascinating and relevant subject in the 21st century.
I'd like to continue my research in the aforementioned fields, while offering a professional approach and consulting services on any other topic. What I bring to the table is dedication, accuracy, independent views and sharp analytical tools which guarantee positive results. My scientific work speaks for itself, while every team I've ever been a part of have praised my efforts as a leader and efficient communicator. All the necessary documents and approvals can be provided on demand.
Given my thirst for discovery and a vast experience in multiple areas, I believe that I'm going to be a valuable candidate for the role of research scientist.
Sincerely, Luis.
This example is not commercial and has a demonstrative function only. If you need unique Cover Letter please proceed to our editor.
Our constructor is almost like a magic wand! Use it to increase the chances of getting the best job.
How to save time on creating your cover letter for a research scientist
Our Get Cover Letter editor will help you make the process easy and fast. How it works:

Fill in a simple questionnaire to provide the needed information about yourself.

Choose the design of your cover letter.

Print, email, or download your cover letter in PDF format.
Why the Get Cover Letter is the best solution
The GetCoverLetter editor is open to any goals of applicants. Whether it be a presentation of a craft professional with a great list of achievements or even a research scientist without experience. Rest assured, the opportunities are equal for all the candidates.
We keep your document short, sweet and to the point.
We choose the appropriate format and writing style so you can be sure not to see any informal expressions in your ready-made document.
We can compose the copy without information about the previous employers.
Our constructor will launch with one click and the process of creating an ideal self-presentation will begin.
Templates of the best a research scientist cover letter designs
Any example of the document for a research scientist has a precise design per the requirements of the company or the general rules of business correspondence. In any case, the selection of templates in our editor will meet any expectations.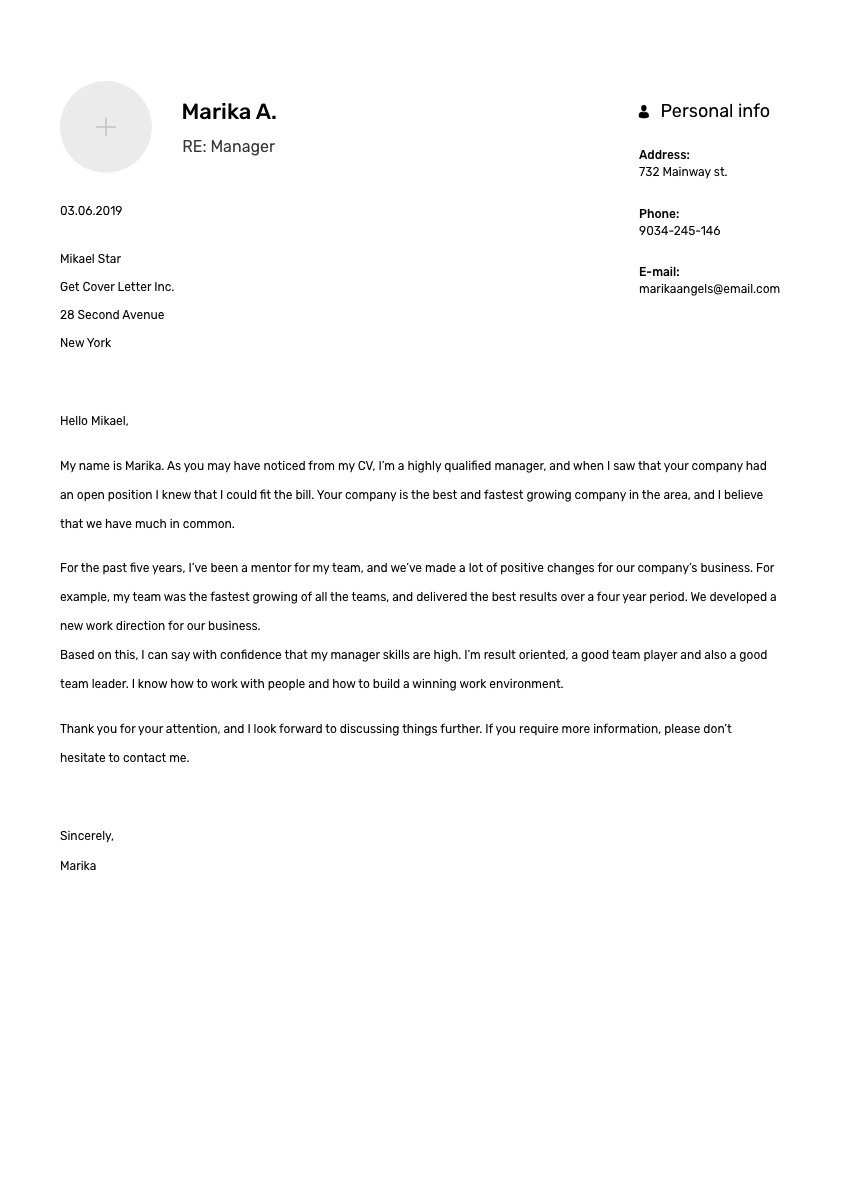 Or choose any other template from our template gallery
Overall rating 4.5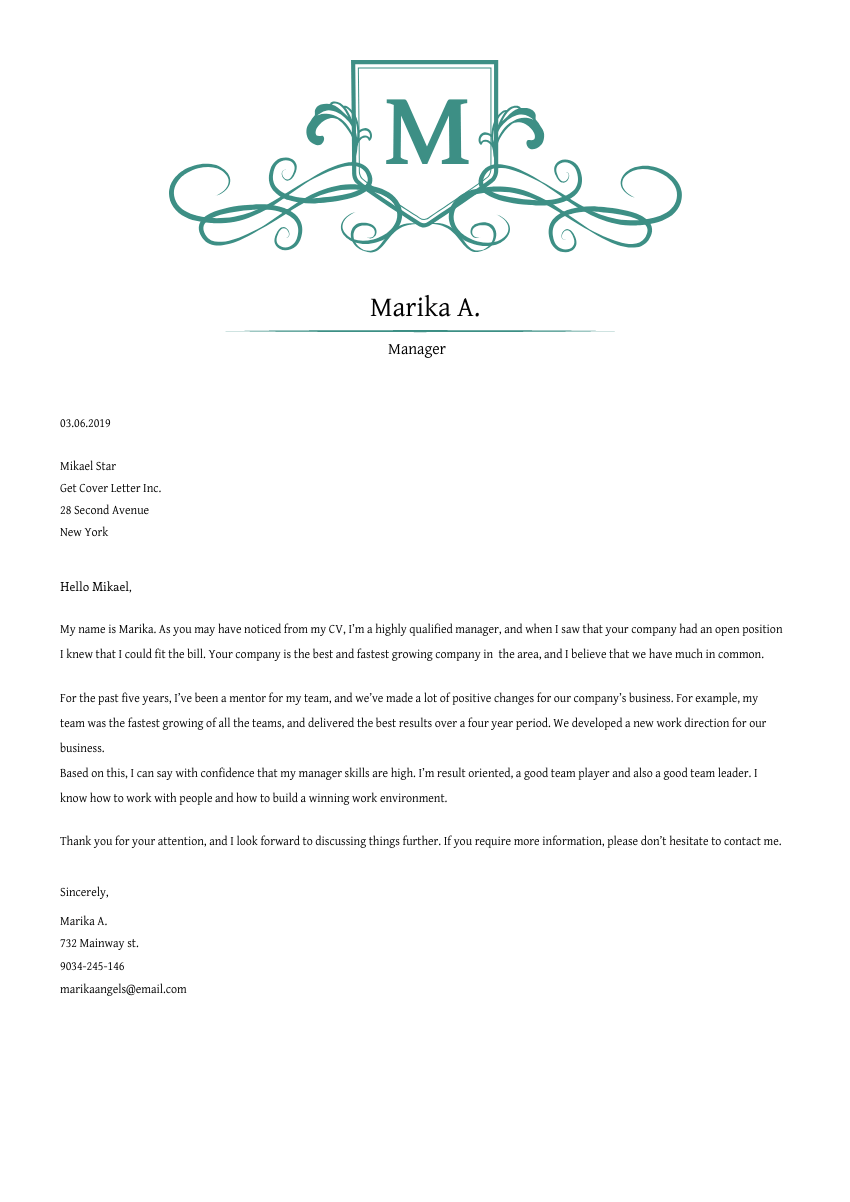 Overall rating 4.3
Get Cover Letter customer's reviews

"Thanks to GetCoverLetter I impressed not one, but three recruiters. All interviews went successfully and now I have the luxury to choose whatever I want."

"I'm not an IT specialist, but I can tell a good thing when I see it. This site does its job extremely well, creating amazing papers to accompany your resume. Give it a go!"

"I recommend this platform to anyone who values their time and money. It's got everything you'd want from this type of online service, from simple descriptions and clean layout to an array of useful options and support from various experts."

Frequently Asked Questions
The more unique the knowledge you get, the more space for new questions. Do not be affraid to miss some aspects of creating your excellent cover letter. Here we took into account the most popular doubts to save your time and arm you with basic information.
What should my a research scientist cover letter contain? The main purpose of a cover letter is to introduce yourself, mention the job you're applying for, show that your skills and experience match the needed skills and experience for the job.
How to properly introduce yourself in a cover letter? Greet the correct person to which your cover is intended for. Introduce yourself with enthusiasm.
How many pages should my cover letter be? Your cover letter should only be a half a page to one full page. Your cover letter should be divided into three or four short paragraphs.
Don't focus on yourself too much
Don't share all the details of every job you've had
Don't write a novel
Spend minimum time and get maximum efficiency with our editor!
Other cover letters from this industry
Now you know the secrets behind a proper document for your profession. Why not try other job suggestions? Follow the links below to find out more about each application.
Research Scientist Cover Letter Examples
A great research scientist cover letter can help you stand out from the competition when applying for a job. Be sure to tailor your letter to the specific requirements listed in the job description, and highlight your most relevant or exceptional qualifications. The following research scientist cover letter example can give you some ideas on how to write your own letter.
Cover Letter Example
Zeniya Stupi
(269) 755-4190
August 16, 2022
Dear Hiring Manager,
I am writing to apply for the position of Research Scientist at Merck. I am a highly qualified and experienced research scientist with a strong track record in the pharmaceutical industry. I have a deep understanding of the scientific process and a passion for discovery. I am excited to bring my skills and experience to Merck, where I can contribute to the development of new and innovative medicines.
I have worked as a Research Scientist at Pfizer for many years. I have made significant contributions to the company, and my work has helped it become one of the leading pharmaceutical companies in the world. My accomplishments include developing new drugs and treatments that have saved countless lives, discovering novel ways to improve drug delivery and efficacy, and improving patient safety through cutting-edge research.
I am a research scientist with experience in conducting and leading scientific research projects. I have strong analytical and problem-solving skills, as well as excellent written and verbal communication skills. I am also experienced in working with teams of scientists and other professionals to achieve project goals.
Thank you for considering me as a Research Scientist at Merck. I am excited to have the opportunity to contribute my skills and knowledge to your company. I believe that my experience in research and development will be a valuable asset to your team. I look forward to working with you and furthering my career at Merck.
Related Cover Letter Examples
Privacy preference center
We care about your privacy
When you visit our website, we will use cookies to make sure you enjoy your stay. We respect your privacy and we'll never share your resumes and cover letters with recruiters or job sites. On the other hand, we're using several third party tools to help us run our website with all its functionality.
But what exactly are cookies? Cookies are small bits of information which get stored on your computer. This information usually isn't enough to directly identify you, but it allows us to deliver a page tailored to your particular needs and preferences.
Because we really care about your right to privacy, we give you a lot of control over which cookies we use in your sessions. Click on the different category headings on the left to find out more, and change our default settings.
However, remember that blocking some types of cookies may impact your experience of our website. Finally, note that we'll need to use a cookie to remember your cookie preferences.
Without these cookies our website wouldn't function and they cannot be switched off. We need them to provide services that you've asked for.
Want an example? We use these cookies when you sign in to Kickresume. We also use them to remember things you've already done, like text you've entered into a registration form so it'll be there when you go back to the page in the same session.
Thanks to these cookies, we can count visits and traffic sources to our pages. This allows us to measure and improve the performance of our website and provide you with content you'll find interesting.
Performance cookies let us see which pages are the most and least popular, and how you and other visitors move around the site.
All information these cookies collect is aggregated (it's a statistic) and therefore completely anonymous. If you don't let us use these cookies, you'll leave us in the dark a bit, as we won't be able to give you the content you may like.
We use these cookies to uniquely identify your browser and internet device. Thanks to them, we and our partners can build a profile of your interests, and target you with discounts to our service and specialized content.
On the other hand, these cookies allow some companies target you with advertising on other sites. This is to provide you with advertising that you might find interesting, rather than with a series of irrelevant ads you don't care about.
Science Research Associate Cover Letter Sample
Level up your cover letter by adapting this Science Research Associate cover letter sample. This cover letter helped someone secure their position at SADC Research Centre. That person let us share their cover letter with you. Make a copy of this cover letter example free of charge or try to redesign it using our HR-approved cover letter builder.
Related resume guides and samples
How to build a professional agricultural science resume
How to craft an optimized chemist resume
Five essential steps to creating a formal scientist resume
Your guide to writing the perfect historian resume
How to write a great humanities scientist resume in 5 steps?
The ultimate guide to writing a medical researcher resume
How to write a compelling natural scientist resume
How to build a professional nature scientist resume
How to write a job-winning social scientist resume
Science Research Associate Cover Letter Sample (Full Text Version)
Thali toledo.
With this letter and attached resume, I would like to express my sincere interest in the vacancy for Field Researchers that was recently advertised. As a candidate with knowledge and skills in various social science fields, I possess a wide range of experience in social science research,  which will allow me to contribute toward the success of your organization. 
I am a dedicated, hardworking, organized, reliable professional who would be able to fulfill your set out responsibilities of the ability to, conduct interviews, collect and analyze qualitative data, and facilitate the focus group discussions effectively and objectively while having the ability to communicate with multiple South African official languages. 
Attached is my resume, which includes more details about my background and relevant work experience, and how they add value to this position. I have worked independently and as a team during my researcher position at the Cape Higher Education Consortium where we successfully produced the report on Trends in Climate Change, Sustainability and Green Economy at CHEC Institutions. Amongst many other research duties at CHEC as was able to take part in the coordination of the project, writing proposals and fulfilling some administration duties.
In support of the substantial knowledge I have in writing, I am experienced in conducting transdisciplinary research and familiar with the methods and approaches used in social science research and teaching settings. The support of my experience in transdisciplinary research can be seen in the forthcoming article I co-authored for the Development Southern Africa Journal Special  Issue on "Universities, Place-making and Development" titled Towards science with society: reflections on transdisciplinary research in Stellenbosch's rector mayor forum. 
I am confident that I would be an asset to the SADC Research Centre team, and I look forward to speaking with you about how I can help your team achieve its goals.
Thank you in advance for your consideration. 
Edit this sample using our resume builder.
Don't struggle with your cover letter. artificial intelligence can write it for you..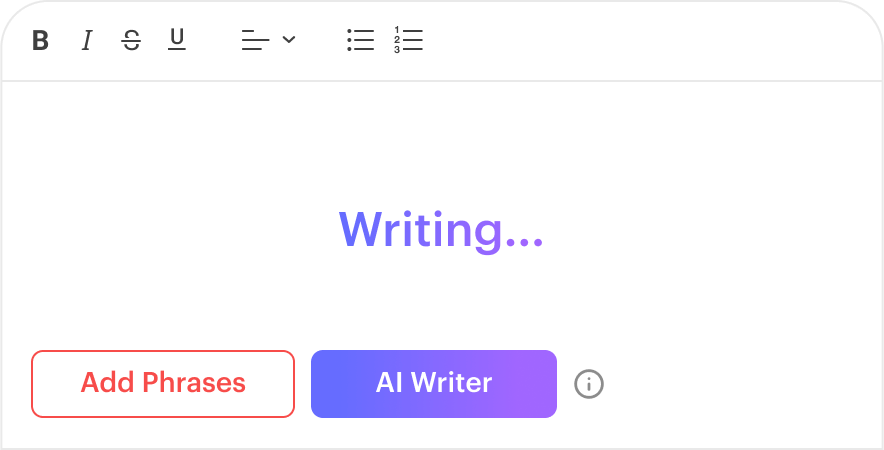 Similar job positions
Medical Researcher / Scientist Natural Scientist Formal Scientist Agricultural Scientist Social Scientist Historian Nature Scientist Humanities Scientist Chemist
Related science resume samples
Related science cover letter samples
Let your resume do the work.
Join 3,600,000 job seekers worldwide and get hired faster with your best resume yet.
Professional Researcher Cover Letter Example for 2023
Read for inspiration or use it as a base to improve your own Researcher cover letter. Just replace personal information, company application data and achievements with your own.

Have a researcher cover letter that tells your story
Would a good cover letter increase your chances of landing an interview? Yes.
Do we have any specific tips for Researcher applications? Yes.
Are cover letters the same as resumes, but longer? Definitely not!
So what are cover letters?
Well, great cover letters give you the opportunity to tell a personal story, while making the right impression and proving you're the best candidate at the same time.
Need more details? Let's dive deep.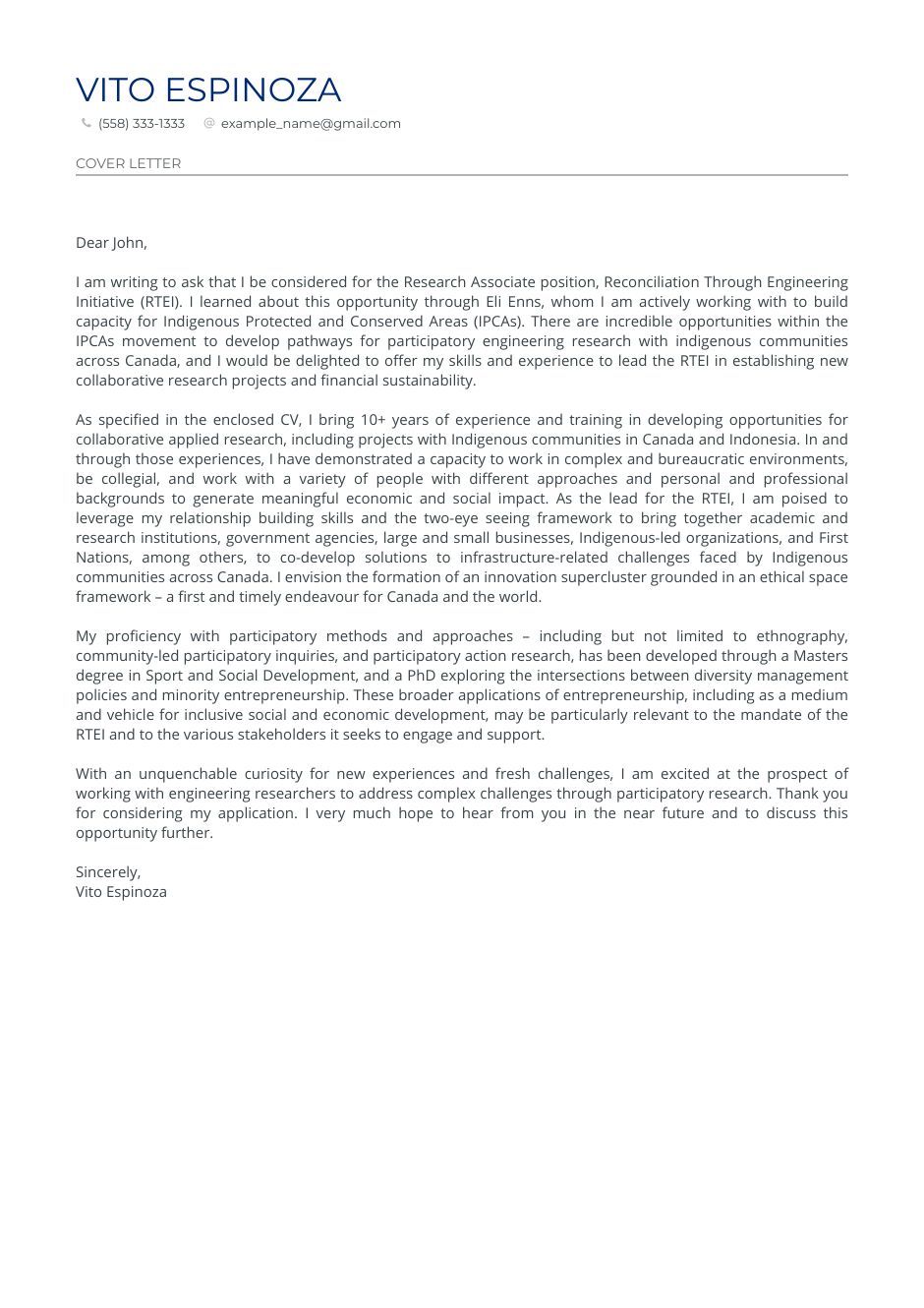 So what's the difference between a cover letter and a resume?
In short – the resume showcases your achievements and skills, while the cover letter focuses more on your personality and motivations.
Of course, you should mention some of your relevant skills in the cover letter as well. But make sure you're not repeating your resume word by word.
Now let's move on to the things that make every cover letter great!
Address your cover letter to the right person and make your introduction strong
Choosing the right salutation for your cover letter is crucial – after all, it's the first thing the hiring manager will read.
For this reason, we've gathered several classic salutations. Note that some of them could be used even if you don't know the hiring manager's name.
Dear [company name] Recruiter
Dear Mr./Ms. Smith
Dear Hiring Manager
To the [team you're applying for] Team
The introduction of your Researcher cover letter is without a doubt crucial for the first impression you'll make as an applicant. But is there a way to make sure your opening line is good enough?
Yes, there is. You can start by sharing your enthusiasm for the job or the field (or why not both!). You could also share your reasons to find the company exciting.
Try to be original. Don't go for phrases like "I want to apply for the position that I saw advertised on platform X". They're outdated and sound like you've got nothing better to say
Emphasize your Researcher soft skills and mention your hard skills
So what skills do you need to include? Well, unfortunately, there's no one answer to this. It all depends on the job description and the skills you've currently got.
According to experts, what recruiters look for in cover letters is how you can link your soft skills to particular achievements and goals. So, try to figure out what has helped you on the way to success.
However, don't forget about hard skills. Even if they're not the focus of your happy story, you need to include at least the ones that were mentioned as part of the requirements section of the job posting. This will help you pass applicant tracking systems (ATS) that screen applicant documents for certain keywords and phrases.
Show that you know the company and its problems well
Proving that you're familiar with the company is a great way to win the recruiter's heart. It shows that you've taken some time for research and that you're attentive to detail.
What's more, it will also help you find out the issues at hand. This way, you can link your own skills and qualifications to some potential challenges the company might have to deal with in the future.
End on a positive note
While the introduction is the best way to make a good impression, using the right words to end your cover letter can help you get a callback.
Our advice is to make sure that your closing line matches the company culture. However, "Looking forward to hearing from you" and other traditional phrases are always a safe choice.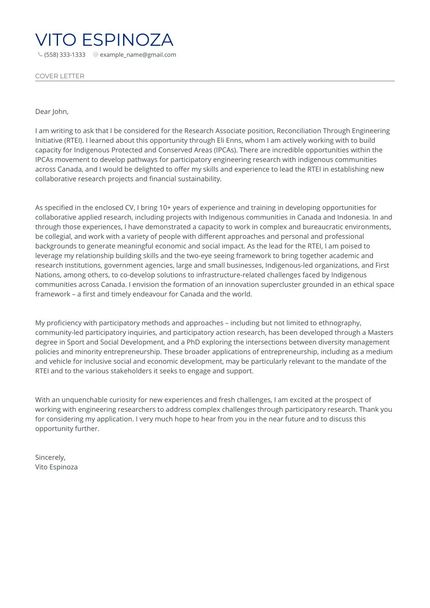 Cover letter examples by industry
Systems Engineer
Civil Engineer
Engineering Intern
Mechanical Engineer
Entry Level Engineering
Engineering
Engineering Manager
Mechanical Design Engineer
Biomedical Engineer
Product Engineer
Chemical Engineer
Manufacturing Engineer
Process Engineer
Entry Level Civil Engineer
Entry Level Mechanical Engineer
Industrial Engineer
Research Assistant
Electrical Engineering
Cover letters helped people get noticed
Updated for today's recruitment standards
Worried your cover letter design is past the expiration date? We'll help you craft a new one that leaves an impression and beats luck.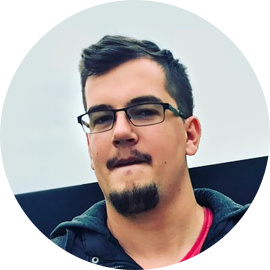 Daniel Pietersen
Senior customer support engineer.
" Enhancv gave me a sense of relief and a feeling of confidence when passing it along to a potential employer. "
Daniel Pietersen on using Enhancv
Check out more winning cover letter examples for inspiration
Learn from people who have succeeded in their job hunt.
Hair Stylist Cover Letter
Dishwasher Cover Letter
Social Media Coordinator Cover Letter
Data Science Intern Cover Letter
Systems Engineer Cover Letter
Security Officer Cover Letter
Social Media Intern Cover Letter
Travel Nurse Cover Letter
Sales Manager Cover Letter
Restaurant Manager Cover Letter
Help Desk Cover Letter
Mba Cover Letter
Become the center of attention with a matching Researcher resume
Pairing your strong cover letter with a great resume can never be a bad idea. In fact, that's one of the best ways to show you're the ideal candidate for the position.
Tell your story with confidence with a job-winning Researcher resume template.
Still not sure what your cover letter should look like? Hire an expert to help you!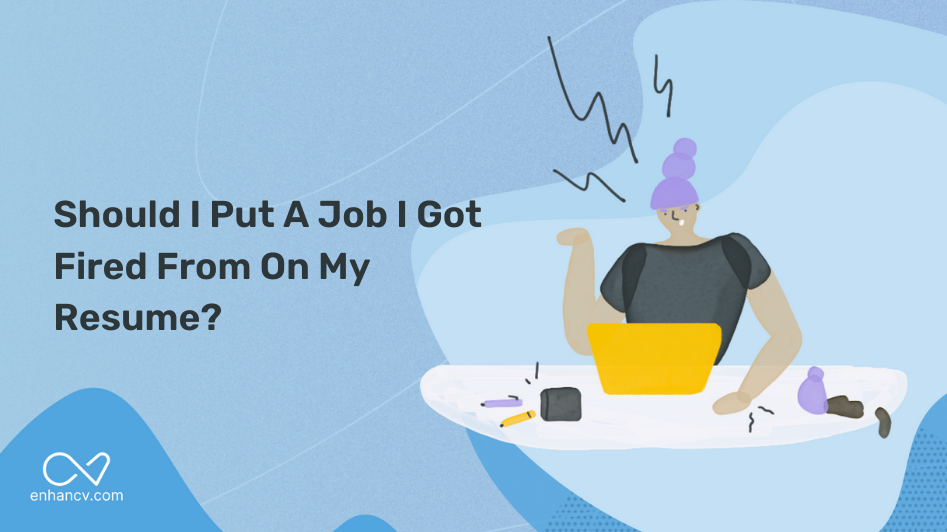 Should I Put A Job I Got Fired From On My Resume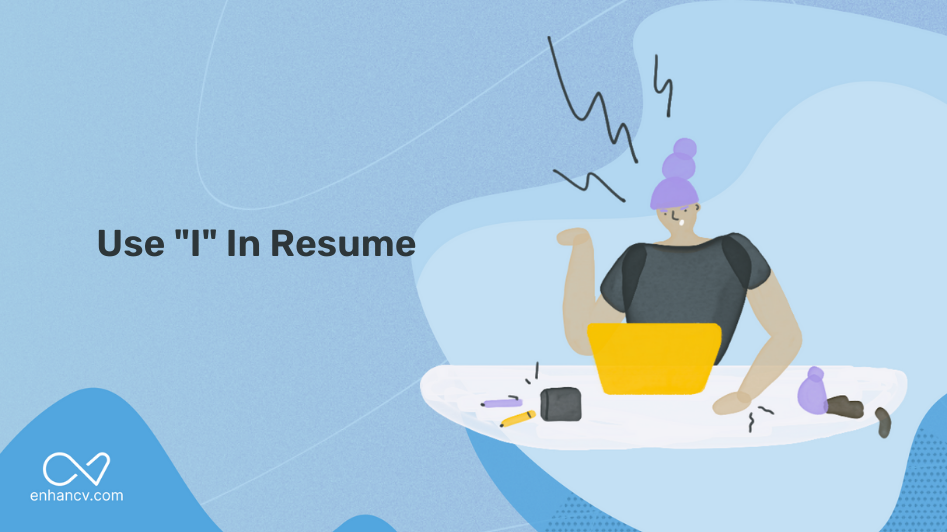 Use "I" In Resume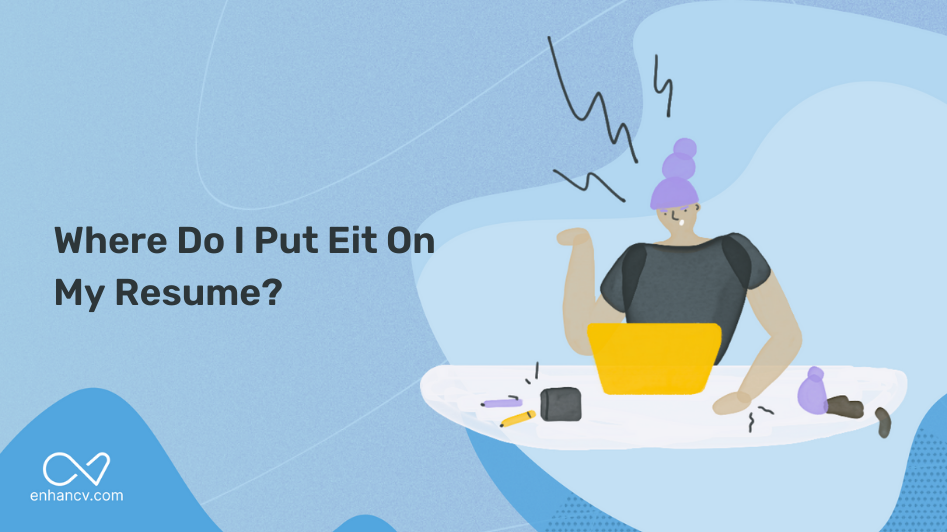 Where Do I Put EIT On My Resume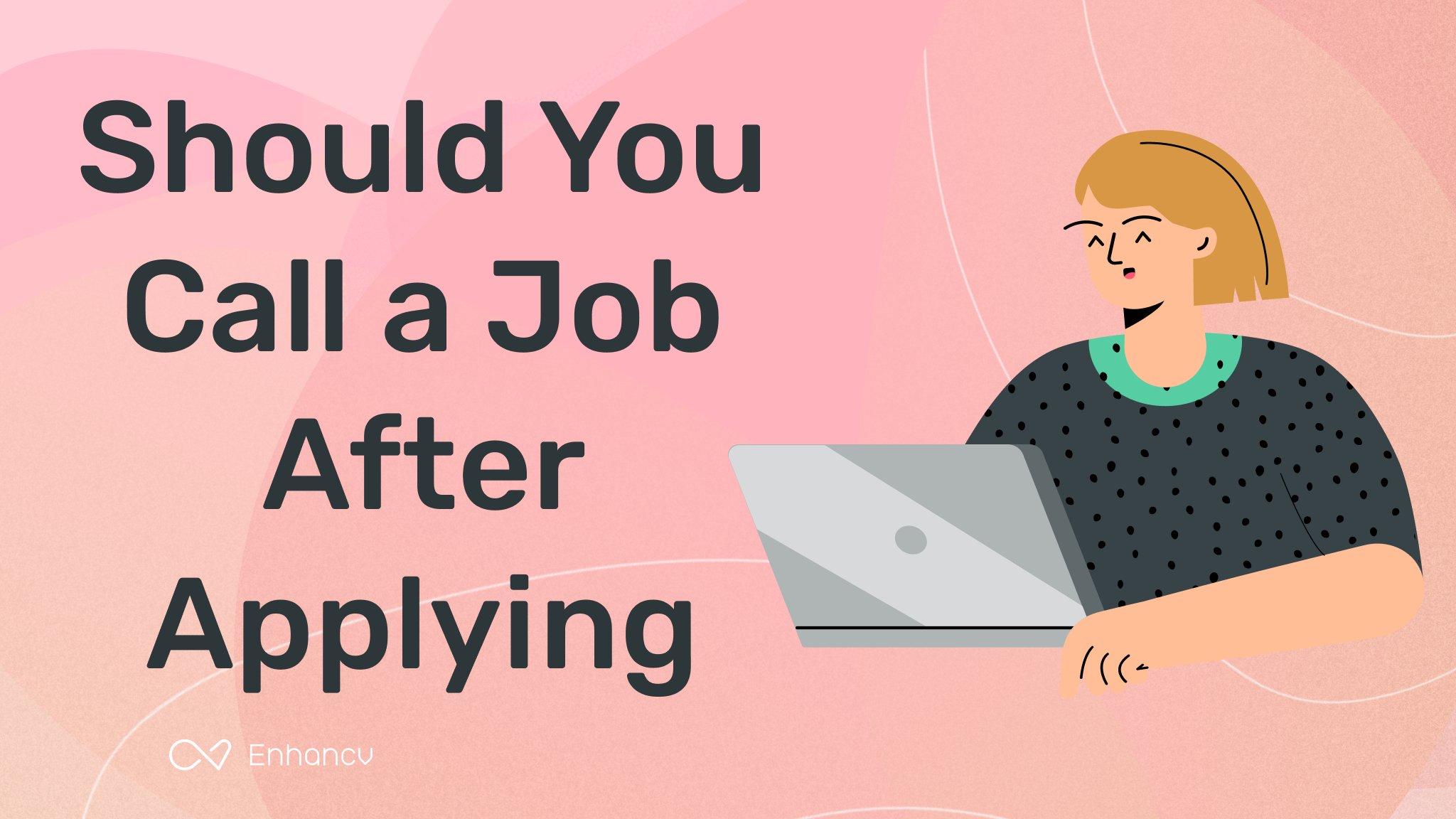 Making the Call: Will Calling After a Job Application Give You a Better Chance?

Matthew, the writer of nearly 500 resumes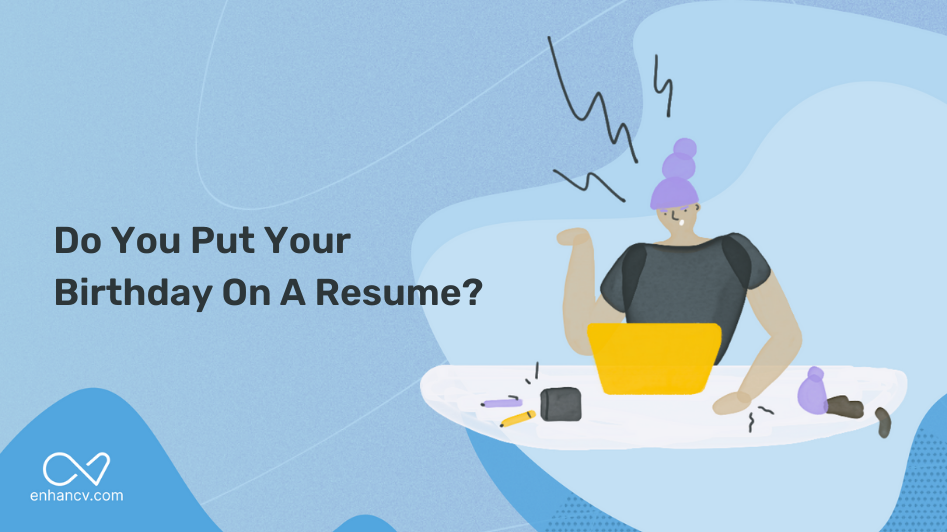 Do You Put Your Birthday On A Resume
Create Resume
Terms of Service
Privacy Policy
HTML Sitemap
Resume Examples
Resume Templates
Resume Formats
Resume Checker
Resume Skills
How to Write a Resume
Modern Resume Templates
Simple Resume Templates
Cover Letter Builder
Cover Letter Examples
Cover Letter Templates
Cover Letter Formats
How to Write a Cover Letter
Resume Guides
Cover Letter Guides
Job Interview Guides
Job Interview Questions
Career Resources
Meet our customers
Career resources
English (UK)
French (FR)
Swedish (SE)
© 2023 . All rights reserved.
Made with love by people who care.