New report on European Data Spaces by Joint Research Centre
Discover new scientific insights into data sharing and utilisation at scale
At the heart of the European Commission's policy agenda for 2019-2024, lies a commitment to fostering fair and trustworthy data sharing, under the priority 'A Europe fit for the digital age' . Part of this priority is the European data strategy and creation of European data spaces to make Europe a role model for a data empowered society.
The European Data Spaces report recently published by the Joint Research Centre aims to offer new scientific insights into large-scale (open) data sharing and utilisation. The European data spaces are conceived as autonomous, reliable, and interoperable data-sharing ecosystems, enabling the fluid exchange of data both within and between sectors, all while upholding European ambitions, regulations, and values.
As the main topic, the European Data Spaces report discerns and consolidates a series of overarching prerequisites for European data spaces, categorising them into functional and non-functional domains. Furthermore, the report states that a community-based approach through co-creation and co-design of common European data spaces, that keeps in mind the domain-specific context, is the only way to make sure that a wide range of people and groups will be interested and supportive of the initiative. Finally, the report concludes that scientific evidence should continue to play a central role in the conceptualisation and operationalisation of the European data spaces.
If you want to delve deeper into data spaces, t he data.europa academy  created a course dedicated to data spaces 'Moving towards data spaces' .  It includes readings, e-learnings and materials from a series of three webinars explaining the concept of data spaces and current state of play of the different data spaces.
For more news and events, follow us on  Twitter ,   Facebook and  LinkedIn , or subscribe to  our newsletter .
Share this page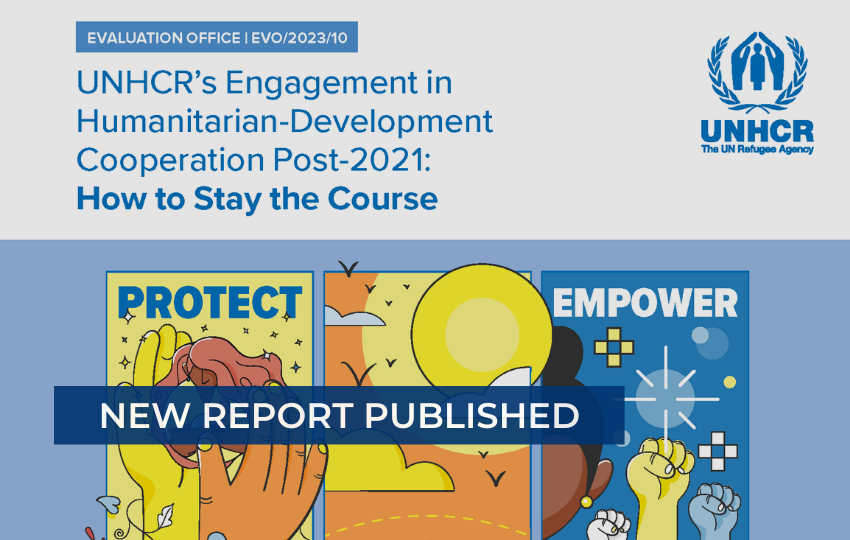 New Joint Report on UNHCR's Humanitarian-Development Cooperation
We are pleased to announce the release of UNHCR's Engagement inHumanitarian-Development Cooperation Post-2021: How to Stay the Course – a report examining the United Nations High Commissioner for Refugees' (UNHCR) engagement in humanitarian-development cooperation. It is a result of the collaborative effort between experts from ISDC, the Global Public Policy Institute (GPPi), and colleagues at UNHCR.
This comprehensive report offers an in-depth analysis of UNHCR's efforts to address the needs of refugees and displaced individuals. It serves as a follow-up to Phase 1 of the project, including a longitudinal evaluation conducted from September 2018 to March 2021. Phase 2, culminating in this report, extended its scope to track UNHCR's progress in implementing Phase 1's recommendations and presenting new evidence on lessons learned, good practices, and the effects of humanitarian-development cooperation on refugees.
The report incorporates insights from 135 staff members working across various UNHCR locations, including headquarters, regional offices, and country operations in Kenya and Mauritania. To better understand the impact of humanitarian-development cooperation, the report includes rigorous statistical analyses of UNHCR datasets covering refugees in Jordan and refugees, stateless persons, and local residents in Kenya. Additionally, it features findings from focus group discussions with refugees in Mauritania.
We thank our partners at UNHCR and GPPi for allowing us to contribute to this report and believe it provides valuable insights to support UNHCR's mission.
Keep up to date
Receive the latest news from ISDC by signing up to our email newsletter
Publication detail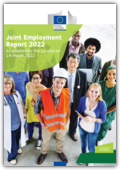 Joint Employment Report 2022
Publication metadata, available languages and formats, english (en).
Publication details
Related publications
Published: 2022
Corporate author(s): Directorate-General for Employment, Social Affairs and Inclusion ( European Commission )
Themes: Labour market — Free movement of workers
Subject: economic and social cohesion , EU employment policy , EU Member State , labour market , poverty , social change , social integration , social security , sustainable development
Released on EU Publications: 2022-07-04
Did you know that you can annotate your document and share your annotations?
Document viewer
Note: The publication cannot be displayed in the document viewer. Open web version You may access it from: Download and languages
Create an account
Create a free IEA account to download our reports or subcribe to a paid service.
IEA-IFC Joint Report Calls for Ramping Up Clean Energy Investments in Emerging and Developing Economies
News 21 June 2023
Annual clean energy investments in emerging and developing economies will need to more than triple from USD 770 billion in 2022 to as much as USD 2.8 trillion by the early 2030s to meet rising energy needs and align with the climate goals set out in the Paris Agreement, according to a new report released today by the International Energy Agency (IEA) and International Finance Corporation (IFC).
The report, Scaling Up Private Finance for Clean Energy in Emerging and Developing Economies , shows that public investments alone would be insufficient to deliver universal access to energy and tackle climate change. Increased public funding can be used most effectively in partnership with private sector capital to reduce project risks – a concept known broadly as blended finance. According to the report, two-thirds of the finance for clean energy projects in emerging and developing economies (outside China) will need to come from the private sector. Today's USD 135 billion in annual private financing for clean energy in these economies will need to rise to as much as USD 1.1 trillion a year within the next decade.
"Today's energy world is moving fast, but there is a major risk of many countries around the world being left behind. Investment is the key to ensuring they can benefit from the new global energy economy that is emerging rapidly," said IEA Executive Director Fatih Birol. "The investment needs go well beyond the capacity of public financing alone, making it urgent to rapidly scale up much greater private financing for clean energy projects in emerging and developing economies. As this reports shows, this offers many advantages and opportunities – including expanded energy access, job creation, growing industries, improved energy security and a sustainable future for all."
The report emphasises the need for greater international technical, regulatory and financial support to unlock the potential for clean energy in emerging and developing economies (EMDEs). By strengthening regulatory frameworks, energy institutions and infrastructure, and improving access to finance, this support can help governments overcome obstacles that deter clean energy investments today, including relatively high upfront costs and a high cost of capital.
"The battle against climate change will be won in emerging and developing economies where the potential for clean energy is strong but the level of investments is far below where it should be. To address the pressing energy demands and emissions reduction goals in EMDEs, we need to mobilise private capital at speed and scale and urgently develop more investable projects," said IFC Managing Director Makhtar Diop. "This report is a call to action and offers a clear roadmap on what is needed to meet both climate and energy goals."
The report also identifies the importance of concessional financing for projects that involve newer technologies that have yet to scale and are not yet cost-competitive in many markets, such as battery storage, offshore wind, renewable-powered desalination or low-emissions hydrogen, or that are in riskier markets. The report estimates that USD 80 billion to USD 100 billion of concessional finance will be needed annually by the early 2030s to attract private investment at the scale required for the energy transition in emerging and developing economies outside China.
Another finding highlights the potential for issuing more green, social, sustainable and sustainability-linked bonds – provided that industry guidelines, harmonised taxonomies and robust third-party certification are developed. It details the opportunity in platforms that aggregate and securitise many investments, which could overcome the asymmetry between the relatively small size of energy transition projects in emerging and developing economies and the relatively large minimum investment size that major institutional investors require.
To expand opportunities for private investors, the report underscores the need for policy reforms in emerging and developing economies. A range of cross-cutting policy issues, such as fossil fuel subsidies, lengthy licensing processes, unclear land use rights, restrictions on private or foreign ownership, and inappropriate pricing policies, create barriers to investment or increase the cost of clean energy projects. Lifting these barriers will help emerging and developing economies benefit more fully from the opportunities of the new global energy economy.
Read the report
A massive scaling up of investment is essential in emerging and developing economies to sustainably meet rising demand for energy, as well as to ensure that climate targets are met. Getting on track for net zero emissions by 2050 will require clean energy spending in emerging and developing economies to more than triple by 2030 – far beyond the capacity of public financing alone and therefore demanding an unprecedented mobilization of private capital.
Scaling Up Private Finance for Clean Energy in Emerging and Developing Economies
Latest news
Iea supports faster industrial decarbonisation through new climate club, oman's fossil fuel expertise could help drive clean energy transitions, new report shows, strong policy progress on energy efficiency seen in 2023, but meeting climate goals means moving faster, new policy and business approaches are needed to support scaling up of ccus to help reach net zero goals, subscription successful.
Thank you for subscribing. You can unsubscribe at any time by clicking the link at the bottom of any IEA newsletter.
We celebrate the International Day of Persons with Disabilities. Diversity is the essence of humanity and a core value of the European Union. As the EU bank, we are committed to promote diversity and inclusion in everything we do.
EU climate bank
EIB at a glance
Our priorities
Our initiatives
Tackling global challenges together
Part of the EU family
Governance and structure
Shareholders
Statutory bodies
Control and evaluation
Organisation structure
Corporate responsibility
Providing finance
Human rights and the EIB
Reporting on sustainability
Our internal commitment
Managing our environment
Transparency, accountability and access to information
Transparency and access to information
EIB Group Complaints Mechanism overview
Project procurement complaints
Investigating fraud and misconduct
Public consultations
EIB Institute
What we offer
Loans for the public sector
Framework loans for the public sector
Loans for the private sector
Intermediated loans for SMEs, mid-caps and other priorities
Microfinance
Venture debt
Investments in infrastructure and environmental funds
Investments in SME and mid-cap funds
Credit enhancement for project finance
Guarantees in support of SMEs, mid-caps and other objectives
Advisory services
Strategic Development
Market Development
Project Development
Mandates and partnerships
European Guarantee Fund
EU Blending facilities
Donor partnerships
Shared management funds and financial instruments
EFSD Guarantee
All mandates and partnerships
Global investment map
Our projects
All projects
Projects to be financed
Financed projects
Our regions of activity
Enlargement countries
European Union
European Free Trade Association
Southern Neighbourhood
Eastern neighbourhood countries
Sub-Saharan Africa, the Caribbean and the Pacific
Asia and Latin America
The EIB in the Americas and the Caribbean
Central Asia
United Kingdom
Our sectors
Agriculture
Digital economy
Health and life science
Urban development
Regional development & cohesion
Education and training
Water and wastewater management
Solid waste management
Project cycle
Media centre
All releases
Press contacts
Stories and essays
All Cartoons
Video library
Public register
EIB surveys
EIB climate survey
Picture library
Infographics
Publications and research
Publications
Our research
Economic analysis
Surveys and data
Assessing EIB impact
Stories - Economics
Economic conferences and research networks
EIB open data
Open learning
Work with us
Diversity and Inclusion
Our recruitment process explained
Internships
Investor Relations
Our funding
Climate Awareness Bonds
Sustainability Awareness Bonds
Recent issues
Outstanding issues
Investor relations news
Investor relations publications
Investor relations newsletters
Civil society and stakeholder engagement
Procurement
Easy-to-read
The EIB at a glance
The EIB and development
The EIB COVID-19 response
The EIB climate action
The EIB and SMEs
The EIB and Ukraine
Find a publication
2021 Joint Report on Multilateral Development Banks' Climate Finance
Publication information
14 Oct 2022
96 Pages (PDF/EN)
Related tags
Climate action and environment
Description
The 11th edition of the Joint Report on Multilateral Development Banks' Climate Finance is an overview of climate finance committed in 2021 by the African Development Bank (AfDB), the Asian Development Bank (ADB), the Asian Infrastructure Investment Bank (AIIB), the European Bank for Reconstruction and Development (EBRD), the European Investment Bank (EIB), the Inter-American Development Bank Group (IDBG), the Islamic Development Bank (IsDB) and the World Bank Group (WBG). This year's report also summarises information on climate finance tracking from the New Development Bank (NDB) and the Council of Europe Development Bank (CEB), presented separately from the joint figures.
Joint methodology for tracking climate change adaptation finance
Multilateral development banks are working together to better track climate adaptation finance and to improve their financing approach. As part of that, they have developed new methodologies for determining the types of activities that can contribute to climate adaption.
Other publications you may like...
EIB Global Strategic Roadmap
EIB Global's approach to a just transition and just resilience
The EIB Group Paris alignment framework - Low carbon: Version 1.1
Our website uses anonymised cookies to give you the best browser experience and to collect aggregated statistics. This does not include online advertising cookies.
Cookies on our Careers Section
Our website uses anonymised cookies to give you the best browser experience and to collect aggregated statistics. If you agree, this website section will also include third-party cookies used in online advertising.
To celebrate the International Day of Persons with Disabilities on 3 December, the EIB organises a full week of events to promote exchanges on disability inclusion with staff and expert guests. Diversity is the essence of humanity and a core value of the European Union. As the EU bank, we are committed to promote diversity and inclusion in everything we do.
About the Commissioner's Office
News & Insights
Publications
News & Insights >
New joint report on modern slavery and financial services
Launch: PREVENTING MODERN SLAVERY AND HUMAN TRAFFICKING - An Agenda for Action across the Financial Services Sector 
The Independent Anti-Slavery Commissioner, Dame Sara Thornton, has today   published a joint report which has found worryingly low levels of awareness of forced labour and exploitation of workers in  the UK's financial sector. 
The study, led by Dame Sara Thornton, the UK Independent Anti-Slavery Commissioner, suggests nearly half of bankers and other finance staff don't know about the nature and scale of the problem - nor how their business is involved in the abuse.
The report, carried out in partnership with Themis and the TRIBE Freedom Foundation, shows how finance is at the heart of labour exploitation - a multi-million-pound industry - and calls on leaders to take a stand against it.
It's estimated that 130,000 people are connected to slavery and exploitation in the UK – but the study found:
45% of senior managers are unaware that modern slavery exists in the UK
30% of financial services employees do not believe modern slavery is something that happens in the UK
36% of financial industry employees think that their organisation has no influence at all in combatting the issue
68% of financial industry employees surveyed did not believe the subject had been raised more than "a few times" by senior management, if at all, in the last 12 months
Many companies see the publishing of a Modern Slavery Statement as nothing but a tick-box exercise
Read the report:  PREVENTING MODERN SLAVERY AND HUMAN TRAFFICKING: An Agenda for Action across the Financial Services Sector 
Dame Sara Thornton, UK Independent Anti-Slavery Commissioner, said:
"I have written to the CEOs of major financial institutions asking them to respond to the worrying findings that this report highlights and let me know what they are going to do to address modern slavery and human trafficking within their organisations."
The financial services industry has a major role to play in combatting forced labour and modern slavery, which generates $150 billion in profits every year.
Across the UK and globally millions of people are exploited in the workplace, on farms, in factories, or as cleaners.
Whether a criminal gang is laundering money through a high street bank or sophisticated criminals are transferring money internationally, whether your pension is investing in a company that uses bonded labour or your savings are invested in abusive garment factories, money is the driving force behind every case of exploitation.
Five years ago, the Modern Slavery Act 2015 came into force - but this study found that the legislation has had a limited impact on protecting the lives of those vulnerable to exploitation.
In reality, many financial institutions appear to treat it as a tick-box exercise, doing only the minimum required by law, and many not even complying with the Act at all.
Too many financial institutions that publish a Modern Slavery Statement focus only on the direct impacts of their business such as cleaning or catering staff, or construction of office buildings, without acknowledging the far larger impact their business has through its investment, lending and client relationships.
For example, assets under management (AUM) at the world's 500 largest asset managers exceeded $100trn (£76.8trn) for the first time last year. This new study asks: what are those assets, and are they linked to exploitation and labour abuse?
The study polled 1001 professionals from the financial services industry.
Key recommendations:
Leaders should set the tone at the top by taking a stand against abusive practices in their supply chains and business activities
Banks and financial services companies should undertake regular due diligence to check for abusive practices in their supply chains and investments
Banks and financial services companies should integrate modern slavery red flags into their existing money laundering control frameworks
Dickon Johnstone, CEO of Themis , says,
"financial institutions need to take a good look at their core business activities, and understand where their money is going and what types of business it is enabling. I challenge any senior manager who says their organisation has no links to modern slavery to prove it. There are 40 million people in slavery in the world, so chances are your institution will have either direct or indirect links to modern slavery and human trafficking somewhere within your operations, your supply chains or in those businesses you lend to or invest in. Don't turn a blind eye - do something about it."
Tom Stancliffe, co-founder of TRIBE Freedom Foundation , maintains,
"I am convinced that the only way we will make a step change is if business leaders set the tone from the top and commit to eradicating all forms of coercive labour practices."
For press/media enquiries to Themis, please contact Hope Sherwin: [email protected] and 07771880387
For press/media enquiries to the Independent Anti-Slavery Commissioner, please contact Katherine Lawson:   [email protected]   and 07769 282696
For general enquiries, please contact   [email protected]   and  07769 282696
Frequently Asked Questions
Privacy Policy
Cookies Policy
Accessibility