Ultimate Guide on How to Write a Report Tips and Sample
Defining a Report
A report is a type of writing that represents information, data, and research findings on a specific topic. The writer is expected to deliver a well-structured, credible, and informative text that dives into the small details of a certain topic, discussing its benefits and challenges.
Reports serve many important purposes. They provide recorded facts and findings. They are used to analyze data and draw insights that can be used for decision-making. Some reports serve as compliance checks to ensure that organizations meet certain standards and requirements. Also, reports are a formal way to communicate valuable information to decision-makers and stakeholders.
A report paper can be academic or about sales, science, business, etc. But unlike other texts, report writing takes much more than getting acquainted with the subject and forming an opinion about it. Report preparation is the most important stage of the writing process. Whether you are assigned to write an academic or a sales paper, before you start writing, you must do thorough research on the topic and ensure that every source of information is trustworthy.
Report writing has its rules. In this article, we will cover everything from how to start a report to how to format one. Below you will find a student research report sample. Check our paper writer service if you want one designed specifically for your requirements.
Student Research Report Sample
Before you read our article on how to write an act essay , see what an informative and well-structured report looks like. Below you will find a sample report that follows the format and tips we suggested in the article.
Explore and learn more about comprehensive but concise reports.
What are the Report Types
As mentioned, there are plenty of different types of report papers. Even though they are very formal, academic reports are only one of many people will come across in their lifetime. Some reports concentrate on the annual performance of a company, some on a project's progress, and others on scientific findings.
Next, we will elaborate more on different sorts of reports, their contents, and their purpose. Don't forget to also check out our report example that you can find below.
Academic Reports
An academic report represents supported data and information about a particular subject. This could be a historical event, a book, or a scientific finding. The credibility of such academic writing is very important as it, in the future, could be used as a backup for dissertations, essays, and other academic work.
Students are often assigned to write reports to test their understanding of a topic. They also provide evidence of the student's ability to critically analyze and synthesize information. It also demonstrates the student's writing skills and ability to simply convey complex findings and ideas.
Remember that the report outline will affect your final grade when writing an academic report. If you want to learn about the correct report writing format, keep reading the article. If you want to save time, you can always buy essays online .
Project Reports
Every project has numerous stakeholders who like to keep an eye on how things are going. This can be challenging if the number of people who need to be kept in the loop is high. One way to ensure everyone is updated and on the same page is periodic project reports.
Project managers are often assigned to make a report for people that affect the project's fate. It is a detailed document that summarizes the work done during the project and the work that needs to be completed. It informs about deadlines and helps form coherent expectations. Previous reports can be used as a reference point as the project progresses.
Sales Reports
Sales reports are excellent ways to keep your team updated on your sales strategies. It provides significant information to stakeholders, including managers, investors, and executives, so they can make informed decisions about the direction of their business.
A sales report usually provides information about a company's sales performance over a precise period. These reports include information about the revenue generated, the total number of units sold, and other metrics that help the company define the success of sales performance.
Sales report preparation is a meticulous job. To communicate information engagingly, you can put together graphs showing various information, including engagement increase, profit margins, and more.
Business Reports
If you were assigned a business report, something tells us you are wondering how to write a report for work. Let us tell you that the strategy is not much different from writing an academic report. A Strong thesis statement, compelling storytelling, credible sources, and correct format are all that matter.
Business reports can take many forms, such as marketing reports, operational reports, market research reports, feasible studies, and more. The purpose of such report writing is to provide analysis and recommendations to support decision-making and help shape a company's future strategy.
Most business reports include charts, graphs, and other visual aids that help illustrate key points and make complex information easy to digest. 
Scientific Reports
Scientific reports present the results of scientific research or investigation to a specific audience. Unlike book reports, a scientific report is always reviewed by other experts in the field for its accuracy, quality, and relevance.
If you are a scientist or a science student, you can't escape writing a lab report. You will need to provide background information on the research topic and explain the study's purpose. A scientific report includes a discussion part where the researcher interprets the results and significance of the study.
Whether you are assigned to write medical reports or make a report about new findings in the field of physics, your writing should always have an introduction, methodology, results, conclusion, and references. These are the foundation of a well-written report.
Annual Reports
An annual report is a comprehensive piece of writing that provides information about a company's performance over a year. In its nature, it might remind us of extended financial reports.
Annual reports represent types of longer reports. They usually include an overview of a company's activities, a financial summary, detailed product and service information, and market conditions. But it's not just a report of the company's performance in the sales market, but also an overview of its social responsibility programs and sustainability activities.
The format of annual report writing depends on the company's specific requirements, the needs of its stakeholder, and the regulation of the country it's based.
Writing Reports Are Not Your Thing?
Our professional writers will get you any report type meeting your requirements in no time
Report Format
As we've seen throughout this article, various types of reports exist. And even though their content differs, they share one essential element: report writing format. Structure, research methods, grammar, and reference lists are equally important to different reports.
Keep in mind that while the general format is the same for every type, you still need to check the requirements of the assigned report before writing one. School reports, lab reports, and financial reports are three different types of the same category.
We are now moving on to discuss the general report format. Let's direct our attention to how to start a report.
Title : You need a comprehensive but concise title to set the right tone and make a good impression. It should be reflective of the general themes in the report.
Table of Contents : Your title page must be followed by a table of contents. We suggest writing an entire report first and creating a table of content later.
Summary : The table of contents should be followed by an executive report summary. To create a comprehensive summary, wait until you have finished writing the full report.
Introduction : A major part of the report structure is an introduction. Make sure you convey the main idea of the report in just a few words. The introduction section must also include a strong thesis statement.
Body : The central part of your work is called the report's body. Here you should present relevant information and provide supported evidence. Make sure every paragraph starts with a topic sentence. Here you can use bullet points, graphs, and other visual aids.
Conclusion : Use this part to summarize your findings and focus on the main elements and what they bring to the table. Do not introduce new ideas. Good report writing means knowing the difference between a summary and a conclusion.
Recommendations : A report is designed to help decision-makers or provide crucial information to the conversation, including a set of goals or steps that should be taken to further advance the progress.
Appendices : As a finishing touch, include a list of source materials on which you based the information and facts. If you want your report to get acknowledged, don't neglect this part of the report format.
How to Write a Report Like a PRO
Mastering the report writing format is only a fraction of the job. Writing an exceptional report takes more than just including a title page and references.
Next, we will offer report-writing tips to help you figure out how to write a report like a PRO. Meanwhile, if you need someone to review your physics homework, our physics helper is ready to take on the job.
Start With a Strong Thesis
A strong thesis is essential to a good paper because it sets the direction for the rest. It should provide a well-defined but short summary of the main points and arguments made in the report.
A strong thesis can help you collect your thoughts and ensure that the report has a course and a coherent structure. It will help you stay focused on key points and tie every paragraph into one entity.
A clear thesis will make your report writing sound more confident and persuasive. It will make finding supporting evidence easier, and you will be able to effectively communicate your ideas to the reader.
Use Simple Wording
Reports are there to gather and distribute as much information to as many people as possible. So, the content of it should be accessible and understandable for everyone, despite their knowledge in the field. We encourage you to use simple words instead of fancy ones when writing reports for large audiences.
Other academic papers might require you to showcase advanced language knowledge and extensive vocabulary. Still, formal reports should present information in a way that does not confuse.
If you are wondering how to make report that is easy to read and digest, try finding simpler alternatives to fancy words. For example, use 'example' instead of 'paradigm'; Use 'relevant' instead of 'pertinent'; 'Exacerbate' is a fancier way to say 'worsen,' and while it makes you look educated, it might cause confusion and make you lose the reader. Choose words that are easier to understand.
Present Only One Concept in Each Phrase
Make your reports easier to understand by presenting only one concept in each paragraph. Simple, short sentences save everyone's time and make complex concepts easier to digest and memorize. 
Report writing is not a single-use material. It will be reread and re-used many times. Someone else might use your sales report to support their financial report. So, to avoid confusion and misinterpretation, start each paragraph with a topic sentence and tie everything else into this main theme.
Only Present Reliable Facts
You might have a strong hunch about future events or outcomes, but a research report is not a place to voice them. Everything you write should be supported by undisputed evidence.
Don't forget that one of the essential report preparation steps is conducting thorough research. Limit yourself to the information which is based on credible information. Only present relevant facts to the topic and add value to your thesis.
One of our report writing tips would be to write a rough draft and eliminate all the information not supported by reliable data. Double-check the credibility of the sources before finalizing the writing process.
Incorporate Bullet Points
When writing a research report, your goal is to make the information as consumable as possible. Don't shy away from using visual aids; this will only help you connect with a wider audience.
Bullet points are a great way to simplify the reading process and draw attention to the main concepts of the report. Use this technique in the body part of the report. If you notice that you are writing related information, use bullet points to point out their relation.
Incorporating bullet points and other visual aids in your report writing format will make a report easy to comprehend and use for further research.
While you are busy coming up with effective visual aids, you may not have enough time to take care of other assignments. Simply say, ' write my argumentative essay ,' and one of our expert writers will answer your prayer.
Review the Text for Accuracy and Inconsistencies
After completing report preparation and writing, ensure you don't skip the final stage. Even the greatest writers are not immune to grammatical mistakes and factual mix-ups.
Reviewing what you wrote is just as important as the research stage. Make sure there are no inconsistencies, and everything smoothly ties into the bigger scheme of events. Look out for spelling mistakes and word count.
If you want to further advance your writing skills, read our article about how to write a cover letter for essay .
Are You Looking for Help with Your Writing?
Our expert writers will provide top-notch assistance with any writing project
Related Articles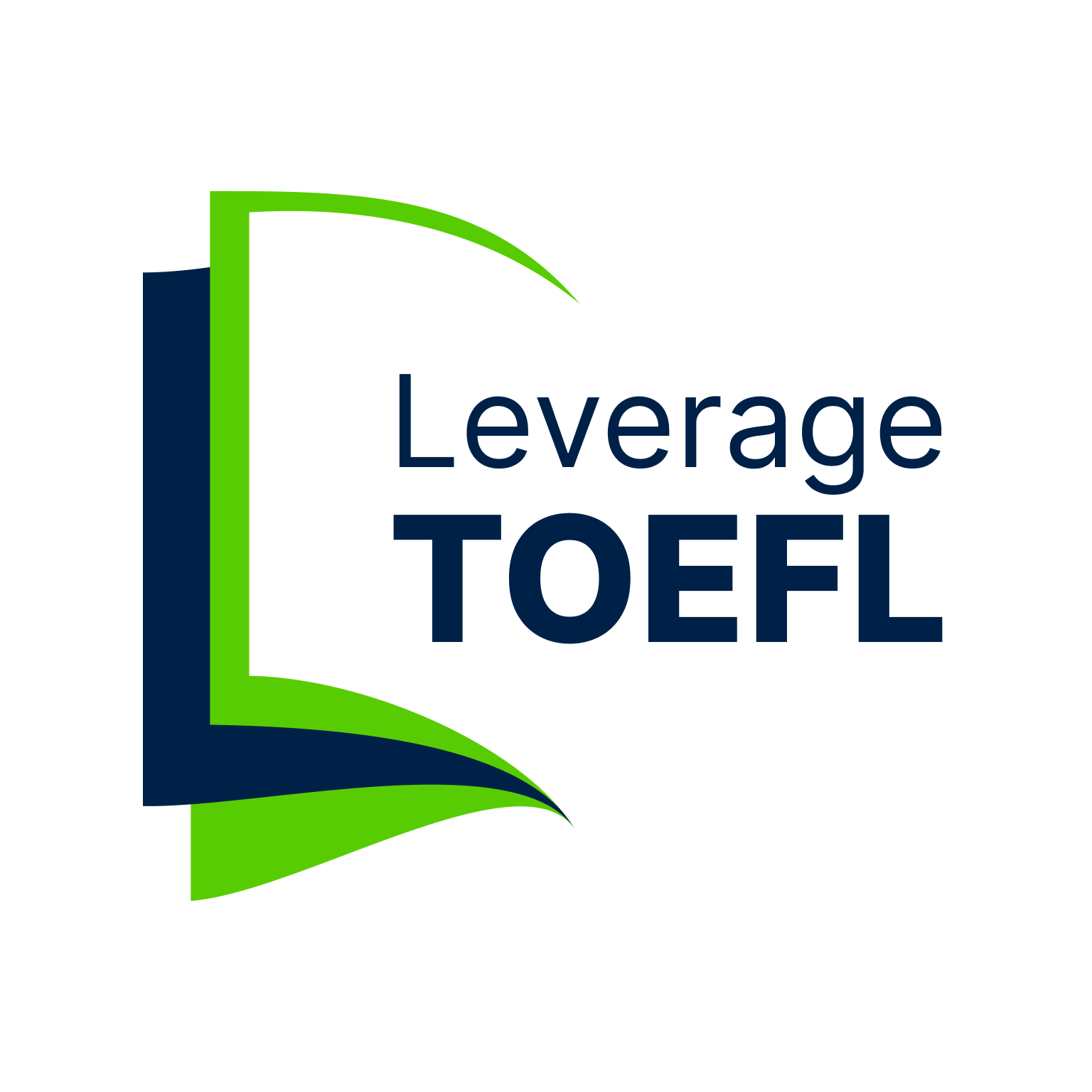 25,000+ students realised their study abroad dream with us. Take the first step today
Here's your new year gift, one app for all your, study abroad needs, start your journey, track your progress, grow with the community and so much more.

Verification Code
An OTP has been sent to your registered mobile no. Please verify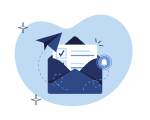 Thanks for your comment !
Our team will review it before it's shown to our readers.

Report Writing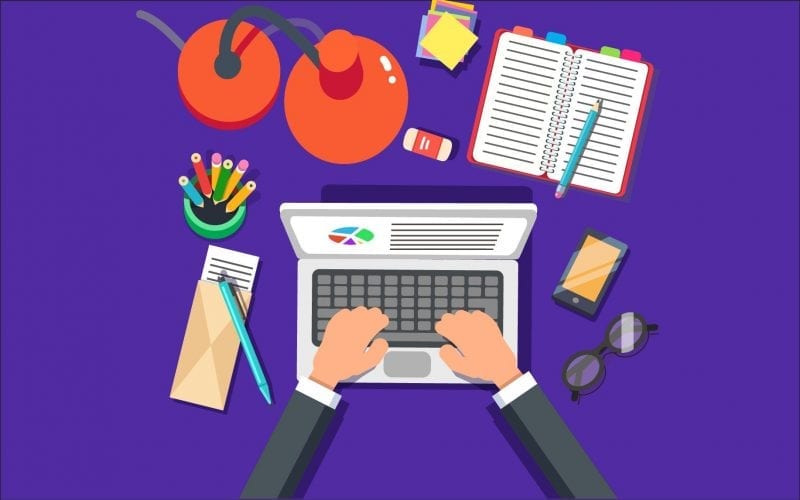 The term "report" refers to a nonfiction work that presents and/or paraphrases the facts on a specific occasion, subject, or problem. The notion is that a good report will contain all the information that someone who is not familiar with the subject needs to know. Reports make it simple to bring someone up to speed on a subject, but actually writing a report is far from simple. This blog will walk you through the fundamentals of report writing, including the structure and practice themes.
This Blog Includes:
What is a report, reporting formats, newspaper or magazine reports, business reports, technical reports, what is report writing, report writing: things to keep in mind, structure of report writing, magazine vs newspaper report writing format, report writing format for class 10th to 12th, report writing example, report writing for school students: practice questions, report writing slideshare.
Report Writing in 7 steps
Also Read: Message Writing
A report is a short document written for a particular purpose or audience. It usually sets out and analyses a problem often recommended for future purposes. Requirements for the precise form of the report depend on the department and organization. Technically, a report is defined as "any account, verbal or written, of the matters pertaining to a given topic." This could be used to describe anything, from a witness's evidence in court to a student's book report.
Actually, when people use the word "report," they usually mean official documents that lay out the details of a subject. These documents are typically written by an authority on the subject or someone who has been tasked with conducting research on it. Although there are other forms of reports, which are discussed in the following section, they primarily fulfil this definition.
What information does reporting contain? All facts are appreciated, but reports, in particular, frequently contain the following kinds of information:
Information about a circumstance or event
The aftereffects or ongoing impact of an incident or occurrence
Analytical or statistical data evaluation
Interpretations based on the report's data
Based on the report's information, make predictions or suggestions
Relationships between the information and other reports or events
Although there are some fundamental differences, producing reports and essays share many similarities. Both rely on facts, but essays also include the author's personal viewpoints and justifications. Reports normally stick to the facts only, however, they could include some of the author's interpretation in the conclusion.
Reports are also quite well ordered, frequently with tables of contents of headers and subheadings. This makes it simpler for readers to quickly scan reports for the data they need. Essays, on the other hand, should be read from beginning to end rather than being perused for particular information.
Depending on the objective and audience for your report, there are a few distinct types of reports. The most typical report types are listed briefly below:
Academic report: Examines a student's knowledge of the subject; examples include book reports, historical event reports, and biographies.
Identifies data from company reports, such as marketing reports, internal memoranda, SWOT analyses, and feasibility reports, that is useful in corporate planning.
Shares research findings in the form of case studies and research articles, usually in scientific publications.
Depending on how they are written, reports can be further categorised. A report, for instance, could be professional or casual, brief or lengthy, and internal or external. A lateral report is for persons on the author's level but in separate departments, whereas a vertical report is for those on the author's level but with different levels of the hierarchy (i.e., people who work above you and below you).
Report formats can be as varied as writing styles, but in this manual, we'll concentrate on academic reports, which are often formal and informational.
Also Read: How to Write a Leave Application?
Major Types of Reports
While the most common type of reports corresponds to the ones we read in newspapers and magazines, there are other kinds of reports that are curated for business or research purposes. Here are the major forms of report writing that you must know about:
The main purpose of newspaper or magazine reports is to cover a particular event or happening. They generally elaborate upon the 4Ws and 1H, i.e. What, Where, When, Why, and How. The key elements of newspaper or magazine report writing are as follows:
Headline (Title)
Report's Name, Place, and Date
Conclusion (Citation of sources)
Here is an example of a news report:
Credit: Pinterest
Business reports aim to analyze a situation or case study by implementing business theories and suggest improvements accordingly. In business report writing, you must adhere to a formal style of writing and these reports are usually lengthier than news reports since they aim to assess a particular issue in detail and provide solutions. The basic structure of business reports includes:
Table of Contents
Executive summary
Findings/Recommendations
The main purpose of the technical report is to provide an empirical explanation of research-based material. Technical report writing is generally carried out by a researcher for scientific journals or product development and presentation, etc. A technical report mainly contains
Introduction
Experimental details
Results and discussions
Body (elaborating upon the findings)
Must Read: IELTS Writing Tips
A report is a written record of what you've seen, heard, done, or looked into. It is a well-organized and methodical presentation of facts and results from an event that has already occurred. Reports are a sort of written assessment that is used to determine what you have learned through your reading, study, or experience, as well as to provide you with hands-on experience with a crucial skill that is often used in the business.
Before writing a report, there are certain things you must know to ensure that you draft a precise and structured report, and these points to remember are listed below:
Write a concise and clear title of the report.
Always use the past tense.
Don't explain the issue in the first person, i.e. 'I' or 'Me'. Always write in the third person.
Put the date, name of the place as well as the reporter's name after the heading.
Structure the report by dividing it into paragraphs.
Stick to the facts and keep it descriptive.
Must Read: IELTS Sample Letters
The format of a report is determined by the kind of report it is and the assignment's requirements. While reports can have their own particular format, the majority use the following general framework:
Executive summary: A stand-alone section that highlights the findings in your report so that readers will know what to expect, much like an abstract in an academic paper. These are more frequently used for official reports than for academic ones.
Introduction: Your introduction introduces the main subject you're going to explore in the report, along with your thesis statement and any previous knowledge that is necessary before you get into your own results.
Body: Using headings and subheadings, the report's body discusses all of your significant findings. The majority of the report is made up of the body; in contrast to the introduction and conclusion, which are each only a few paragraphs long, the body can span many pages.
In the conclusion, you should summarize all the data in your report and offer a clear interpretation or conclusion. Usually, the author inserts their own personal judgments or inferences here.
Report Writing Formats
It is quintessential to follow a proper format in report writing to provide it with a compact structure. Business reports and technical reports don't have a uniform structure and are generally based on the topic or content they are elaborating on. Let's have a look at the proper format of report writing generally for news and magazines and the key elements you must add to a news report:
To Read: How to Learn Spoken English?
The report writing structure for students in grades 10 and 12 is as follows.
Heading : A title that expresses the contents of the report in a descriptive manner.
Byline : The name of the person who is responsible for drafting the report. It's usually included in the query. Remember that you are not allowed to include any personal information in your response.
(introduction) : The '5 Ws,' or WHAT, WHY, WHEN, and WHERE, as well as WHO was invited as the main guest, might be included.
The account of the event in detail : The order in which events occurred, as well as their descriptions. It is the primary paragraph, and if necessary, it can be divided into two smaller paragraphs.
Conclusion : This will give a summary of the event's conclusion. It might include quotes from the Chief Guest's address or a summary of the event's outcome.
Credit: sampletemplates.com
Credit: SlideShare
Now that you are familiar with all the formats of report writing, here are some questions that you can practice to understand the structure and style of writing a report.
You are a student of Delhi Public School Srinagar handling a campus magazine in an editorial role. On the increasing level of global warming, write a report on the event for your school magazine.
On the Jammu-Srinagar highway, a mishap took place, where a driver lost his control and skidded off into a deep gorge. Write a report on it and include all the necessary details and eyewitness accounts.
As a reporter for the Delhi Times, you are assigned to report on the influx of migrants coming from other states of the country. Take an official statement to justify your report.
There is a cultural program in Central Park Rajiv Chowk New Delhi. The home minister of India is supposed to attend the event apart from other delegates. Report the event within the 150-200 word limit.
Write today's trend of COVID-19 cases in India. As per the official statement. include all the necessary details and factual information. Mention the state with a higher number of cases so far.
In Jawaharlal Nehru Stadium in New Delhi, a table tennis tournament was held between Delhi Public School New Delhi and DPS Punjab. Report the event in 250-300 words.
Also Read: Formal Letter Format, Types & Samples
Credits: Slideshare
Report Writ ing in 7 steps
Choose a topic based on the assignment
Conduct research
Write a thesis statement
Prepare an outline
Write a rough draft
Revise and edit your report
Proofread and check for mistakes
Make sure that every piece of information you have supplied is pertinent. Remember to double-check your grammar, spelling, tenses, and the person you are writing in. A final inspection against any structural criteria is also important. You have appropriately and completely referenced academic work. Check to make sure you haven't unintentionally, purposefully, or both duplicated something without giving credit.
Related Articles
Any business professional's toolkit must include business reports. Therefore, how can you create a thorough business report? You must first confirm that you are familiar with the responses to the following three questions.
Every company report starts with an issue that needs to be fixed. This could be something straightforward, like figuring out a better way to organise procuring office supplies, or it could be a more challenging issue, like putting in place a brand-new, multimillion-dollar computer system.
You must therefore compile the data you intend to include in your report. How do you do this? If you've never conducted in-depth research before, it can be quite a daunting task, so discovering the most efficient techniques is a real plus.
Hopefully, this blog has helped you with a comprehensive understanding of report writing and its essential components. Aiming to pursue a degree in Writing? Sign up for an e-meeting with our experts at Leverage Edu and we will help you in selecting the best course and university as well as sorting the admission process to ensure that you get successfully shortlisted.
Ankita Mishra
A writer with more than 10 years of experience, including 5 years in a newsroom, Ankita takes great pleasure in helping students via study abroad news updates about universities and visa policies. When not busy working you can find her creating memes and discussing social issues with her colleagues.
Leave a Reply Cancel reply
Save my name, email, and website in this browser for the next time I comment.
Contact no. *

Leaving already?
8 Universities with higher ROI than IITs and IIMs
Grab this one-time opportunity to download this ebook How would you describe this article ?
Please rate this article
We would like to hear more.
Connect With Us
20,000+ students realised their study abroad dream with us. take the first step today..

Resend OTP in

Need help with?
Study abroad.
UK, Canada, US & More
IELTS, GRE, GMAT & More
Scholarship, Loans & Forex
Country Preference
New Zealand
Which English test are you planning to take?
Which academic test are you planning to take.
Not Sure yet
When are you planning to take the exam?
Already booked my exam slot
Within 2 Months
Want to learn about the test
Which Degree do you wish to pursue?
When do you want to start studying abroad.
September 2023
January 2024
What is your budget to study abroad?
How To Write a Report: A Detailed Guide [+AI Method]
Writers often wonder how to stand out from the crowd when writing a professional report.
Unlike articles or blogs, the informative, formal nature of reports can make them feel stiff and boring. And whether you want a top grade or to make an impact on your audience, another dull report probably won't help.
In my career I've written a range of reports for both internal and external audiences—and regularly read reports from industry leaders, too. Top reports are informative and educational, summarizing key information quickly so it's easy to digest. But the best examples also use high-quality research and concise but compelling language to bring the subject matter to life. 
In this article, I'll focus on general thematic reports, the kind you may be asked to write at college or work. I'll give you the lowdown on how to write an effective report that still packs in the facts.
Types of reports
The term "report" comprises a wide genre of documents. If you're used to other kinds of academic writing, it will help to understand the key qualities that reports share.
What sets reports apart
Reports are similar to other kinds of academic writing in many ways: you'll still need strong research in the background, clear citations, and a formal language style , for example. 
But several details set reports apart from other forms. Reports:
Stick to the facts rather than veering into personal opinion or argument
Save interpretation and recommendations for the end of the piece
Use clear organizational techniques like bullet points, heading and subheadings, and charts or graphics
Use concise, clear language that can be easily skimmed
Common types of reports
Reports are used in a wide range of contexts, so make sure you're writing the right kind of report for your purposes. Here's an overview of some common types.
Pre-writing steps
Before you set pen to paper, it's important to do your research and plan your report carefully. Giving yourself plenty of time for this stage will make the actual writing quicker and less rambling. 
1. Define the audience and purpose of the report
If you haven't already been given a purpose for the report, be sure to define this before you begin. This can help you decide on the type of research you need to do and check if your report is fulfilling its goals while you draft.
Examples of common report aims:
To demonstrate your understanding of an academic topic or text
To improve understanding of the work your department is doing, so other departments in the same organization can build on your success
To raise awareness of a particular problem that your organization can solve
On top of this, ask yourself who your audience is and what is their level of prior knowledge relative to yours. Within a hierarchy, such as a company or school, the audience may be more senior than you (vertical reporting), or at the same level as you (lateral reporting). This can affect what information is relevant to include.
Additionally, note whether it's an internal or external publication and what your audience might do with the information they learn from your report.
Read the full article: Use AI to better define your audience
2. establish goals and objectives.
If you are writing your report for school or university, check the assessment guidelines for the report before you begin. You'll need to include all the required elements. 
If you are writing for professional purposes, however, the goals and objectives may be up to you or your department to define. An objective for your report should ideally be SMART (Specific, Measurable, Achievable, Relevant and Time-Bound).
For example, a lead-generating report can be used for the aim of securing meetings with interested buyers by highlighting a problem that your company can solve, and the impact of your report can be measured by the number of downloads and subsequent meetings within a certain time period. 
An internal report could be used to inform a strategy meeting, and the impact could be measured in how many strategic recommendations are made as a result.
Read the full article: Develop your strategy and goals
3. research and gather information.
A report needs to be based on factual evidence, so the research stage is absolutely key to producing an informative piece. Firstly, you should review the major literature on the topic to make sure you can define and explain key terms and set out any needed context. 
For academic reports, your professor or institution may be able to provide a recommended reading list. Use your college library and make sure you find out which academic journals your institution subscribes to. You can often access these online using sites like JSTOR and Google Scholar . 
You may also want to include primary sources to add originality to your report and make it more appealing to your audience. These could include:
Original research such as interviews
Statistics you've compiled 
Details of experiments, tests, or observations you've made
It's really helpful to keep organized notes during your research. Note any key quotations with page numbers, plus publication and author details for each text you reference or read. This will make it much easier to create your citations and bibliography later on. 
You could do this on paper or using flexible software like Notion or Evernote or specialist software like Mendeley or Zotero .
Read the full article: 8 Must-Have Tools for Researchers in 2023 (Including AI)
4. outline your report structure.
Creating an outline before you begin writing is key to successfully drafting a report. 
Start by noting down a skeleton framework, i.e. the main points you want to cover, which you will then develop as you write. In some cases, if you're clear on what you might include in your report, this step might come before you start researching; alternatively, your main points might change during your research phase.
Although the exact layout of your report will depend on your objectives, a report should include the following sections:
Table of contents
Introduction
Summary of context 
Summary of your main topic or text
Bibliography
Additional sections that you may want to include, depending on context: 
An abstract — used in academic contexts. 
A summary of your findings — useful if you include your own original research (such as interviews or statistics)
Recommendations for further action or research
Read the full article: How to Properly Write an Outline Using AI
5. write the draft of your report.
Your first draft is your chance to develop the ideas you noted down during outlining. You might need to continue researching as you go, especially if you find that certain areas need more evidence or explanation.
Write your title and abstract
The title of your report should clearly and concisely state what it is about. Your audience may need to quickly select it from a list of other publications, so make sure to use keywords to make your work easy to identify. Remember that this is also your audience's first impression of your writing!
You may also need to create an abstract for your work: a short summary of your research and findings, giving a quick statement about the problem and/or potential solution, a concise explanation of what you did to investigate it, and your findings in brief. You will probably want to write your abstract after finishing the rest of the report.
Create a table of contents
The table of contents should direct readers to each section of the report with page numbers. You may want to include hyperlinks to relevant sections if you are presenting your document electronically. 
Prepare your sections
Developing each section in full will form the bulk of your drafting work. Make sure each section is adding value to your report.
‍ Balance analysis with facts
Report writing should be factual. There will be times when you need to draw conclusions and make recommendations. However, this analysis should not overwhelm the factual content of your report. Remember, this is not a persuasive opinion piece. Make sure your analysis is grounded in evidence, and keep your recommendations concise. 
Use clear language
A report should clearly inform the audience about the topic at hand. Keep your language precise and easy to understand. Keep sentences and paragraphs at a sensible length. If you use technical terms your audience might not know, include definitions. Try to avoid emotive language that can make the report sound like a persuasive essay. 
Sometimes it can be difficult to achieve all this while writing the first draft, so feel free to come back to improve on it in later drafts.
Use visuals to keep it interesting
Many reports use visuals like graphs, charts, photographs, or infographics. These can convey information quickly and engage your audience by breaking up the text. 
Simple graphs and charts can usually be made in spreadsheet software, but you may want to call on the skills of a graphic designer if your organization has the resources. Make sure to caption and number your graphics.
Cite your sources
Your institution or organization may stipulate a citation model, so double-check what is required before you begin. In general, quotations or anything else taken from another source should be properly cited, including the author's name, title, and page number, plus other information, depending on format. Citations may be in-text or footnotes. 
It's a good idea to add citations as you write, because going back and putting them in afterwards can be very fiddly and time-consuming. 
At the end of your report you will also need to provide a bibliography, which lists the texts you have cited. Citation software like Zotero or a bibliography generator like MyBib can make this easier.
Follow an appropriate format
Make sure to check the style guidelines provided by your academic institution or work organization. These might determine the page formatting you need to use (e.g. page numbering, page size, use of images, etc.). If no such guidelines exist, look at other reports from your field to determine what will be clear and useful for your audience.
Read the full article: Essay writing guide
6. edit, review and revise.
Reviewing and revising your work is one of the most important parts of the writing process, so make sure you give yourself plenty of time for this part and avoid rushing to meet a deadline. Review your content first, checking that each section has enough evidence and development, before moving on to editing for clarity and technical accuracy.
Using a reading and writing assistant like Wordtune can make editing at the phrase, sentence, or word level quicker and easier. Wordtune not only finds spelling, punctuation, and grammar errors, but it can also suggest changes to your vocabulary and sentence structure that make your work clearer and more compelling. You can even specify whether you want a more formal or casual tone — most reports should be formal in nature. 
Read the full article: The complete editing guide
Writing a report using an ai prompt (chatgpt + wordtune).
You can use this prompt to generate a useful report:
Please generate a comprehensive report on the topic "[Your Specific Topic Here]". Ensure the report adheres to the following structure and guidelines: Title: Craft a concise and descriptive title that encapsulates the essence of the report. Abstract: Provide a succinct summary (100-150 words) that encapsulates the main objectives, methodology, findings, and significance of the report. Table of Contents: List all the sections and relevant sub-sections of the report for easy navigation. Introduction: Introduce the topic, its background, relevance in today's context, and the primary objectives of this report. Body: Dive deep into the topic. This should include: Background/History: A brief history or background of the topic. Current Scenario: Present relevant data, facts, and figures. Analysis/Discussion: Discuss the implications of the data, any patterns observed, and their significance. Conclusion: Summarize the main findings, discuss their implications, and suggest recommendations or potential future research directions. Additionally, ensure that the content is: - Well-researched and cites reputable sources. - Coherent and logically structured. - Free from jargon, unless necessary, and is accessible to a general audience.
Make sure your next report has an impact
Whether your report is for academic or business purposes, you need to make sure it is well-researched, clearly expressed, and conveys the main points quickly and concisely to your audience. Careful planning and organization can make this process much easier, as well as leaving time to review and revise your work, either manually or with the help of software like Wordtune. Following these tips, your first report is sure to make an impact — and the more you write, the easier it will get.
P.S. This article was co-written with Wordtune . Wordtune didn't write the whole piece. Instead, it contributed ideas, suggested rephrasing alternatives, maintained consistency in tone, and of course - made the process much more fun for the writer.
Join our newsletter and get better at writing
Thanks you're in..
How To Tailor Your Writing for Gen Z and Millennials (with Examples)
Learn how to write for Gen Z vs. Millennials with our quick and easy tips and examples.
Grammarly vs. Wordtune: Which is the Best AI Writing Tool?
Discover the key differences between Grammarly and Wordtune. Explore each tools' unique features and capabilities to make an informed decision on which AI writing tool is right for you.
Master Text Posts on TikTok (with Examples + AI Tips)
Our ultimate guide to TikTok's new text-only posts: Learn to create enticing posts and boost audience engagement (with examples and AI tools)
Undergraduate courses
Postgraduate courses
Foundation courses
Apprenticeships
Part-time and short courses
Apply undergraduate
Apply postgraduate
Search for a course
Search by course name, subject, and more
Undergraduate
Postgraduate
(suspended) - Available in Clearing Not available in Clearing location-sign UCAS
Fees and funding
Tuition fees
Scholarships
Funding your studies
Student finance
Cost of living support
Why study at Kent
Student life.
Careers and employability
Student support and wellbeing
Our locations
Placements and internships
Year abroad
Student stories
Schools and colleges
International
International students
Your country
Applicant FAQs
International scholarships
International Foundation Programme
Campus Tours
Applicant Events
Postgraduate events
Maps and directions
Research strengths
Research centres
Research impact
Research institutes
Durrell Institute of Conservation and Ecology
Institute of Cyber Security for Society
Institute of Cultural and Creative Industries
Institute of Health, Social Care and Wellbeing
Research students
Graduate and Researcher College
Research degrees
Find a supervisor
How to apply
Popular searches
Visits and Open Days
Jobs and vacancies
Accommodation
Student guide
Library and IT
Research highlights
Signature themes
Partner with us
Student Guide
Student Help
Health & wellbeing
Student voice
Living at Kent
Careers & volunteering
Diversity at Kent
Finance & funding
Life after graduation
Report structure and tips
The following guide has been created for you by the Student Learning Advisory Service , for more detailed guidance and to speak to one of our advisers, please book an appointment or join one of our online workshops .
Reports are formal documents which can include headings, sub-headings, numbered sections, bullet point text, and graphics such as flow charts, diagrams or graphs. All of these devices may be used to help the reader navigate the report and understand its content.
A report is likely to include some or all of these elements, typically ordered as follows:
Title page: clearly identifying the subject of the report and the author Acknowledgements: naming third parties who have helped create the document Executive summary: an abbreviated, stand-alone overview of the report. Similar to the abstract of a journal article Contents page: allowing the reader to find their way quickly to sections of interest. This may or may not also include a table of figures or tables Introduction: outlining the main context, aims and objectives of the report Background information: anything essential to a full understanding of the report Methodology: describing how the report's objectives were met or how the research was conducted Findings: what the report found Analysis: what these findings mean; their relevance and importance Conclusion: summarising the key things the report learned or established Recommendations: suggestions for action based on the report's findings Bibliography: a full list of sources used to compile the report Appendices: containing supplementary information referred to in the report Glossary: definitions of technical terms used in the report
Common requirements
Different types of report – from technical reports to business reports - can vary widely in length, format and function. However, with every report:
Objectives: should be clearly defined Structure: should be logical and easy to navigate Writing: should be clear, succinct, and easy to understand Evidence: should support all conclusions made
Report writing tips
Often, reports are written about a collaborative project. If this is the case, make sure you know who is doing what and how the report will come together, including timeframes. Make sure to include time to share the report with the rest of the team before it is 'published', and that any requirements from external stakeholders or project partners are clearly outlined and factored in
Before you start writing, clarify the aims, structure and content of your report
Write in the 3rd person (This report will show…) to emphasise your objectivity
Use clear, formal language, avoiding slang, jargon and contractions such as don't or can't
Write sections as and when you are able, not necessarily in order of appearance
Have a system of version control (numbered drafts)
Write freely, whilst allowing time for editing and proof-reading later
Keep the report's title in mind, and stay focussed on fulfilling its objectives
Each finding should have a conclusion; each leading to a recommendation
Report writing in the sciences
Writing in a scientific context This resource offers an introduction to writing in an engineering or scientific context, offering an outline of some of the most common conventions in technical writing .
Structure and content of lab reports This resource offers an introduction to structuring and writing both simple and extended lab reports .
Writing for publication in the biosciences This resource presents guidelines on getting published in Molecular Microbiology .
Student Academic Success
1:1 Consultation 1:1 Consultation
Study better Study better
Build digital capabilities Build digital capabilities
Understand assessments Understand assessments
Excel at writing Excel at writing
Enhance your thinking Enhance your thinking
Present confidently Present confidently
Collaborate with others Collaborate with others
Improve your academic English Improve your academic English
Maintain academic integrity Maintain academic integrity
Advance your graduate studies Advance your graduate studies
Workshops Workshops
Feedback studio Feedback studio
About us About us
Skip to content
Skip to navigation
Writing a report
What is a report?
A report is a well-structured and researched document that informs a specific audience on a particular problem or topic. The purpose of a report is to inform, guide or influence decision making and/or the outcome of a course of action.
Writing reports is common in many workplaces. Thus, you often find this form of writing set as an assessment task at university. It can be either an individual- or team-based assignment.
The purpose and structure of reports can differ between disciplines and audiences. For example, a business report written for a manager will have an introduction which is separate from a literature review, whereas a lab report for your lecturer will often combine the introduction and literature review into one section. What is important is that you pay careful attention to your assessment task instructions and make sure that your key message is clear, well-reasoned and well-supported by relevant research.
Four things you need to know about report writing View
Audience and purpose.
You need to continually consider the target audience of your report. For example, ask yourself such questions as - are you writing for a client? a healthcare professional? your manager? do you have more than one audience (e.g. an imaginary client and your lecturer)?
The answers to these questions will guide your decisions about how the report is structured, the amount of background information you include, what type of information is required, and how best to present the report, including the level of technical language you use.
Differences between a report and an essay
Reports typically follow a clear structure and have common elements, each with a specific purpose. These features differentiate reports from another common form of writing at university - the essay.
You can learn about the key differences from the table below.
Check your understanding View
In the fields below drag and drop each feature to the appropriate written assignment type: Report, Essay, or Both.
Research reports
Some assignment tasks at university involve writing a research report to explain a research project or investigation that you have undertaken. The structure of a typical research report includes the following sections:
Take it further - approaching discipline-specific reports
Take a look at the following resources for information about reports in your faculty or discipline.
BusEco: Report writing
This resource is designed to assist you in completing a business report. It provides a guide to approaching and structuring your report and includes annotated examples with written feedback.
Engineering: Lab report
This resource expands on the general report structure and provides useful tips and examples on how to turn practical work and lab experiments into a written lab report.
Engineering: Technical report
This resource expands on the general report structure and provides useful tips and examples on how to write a report for key stakeholders, using experimental and practical data.
This resource provides information about what reports look like in IT, and how you might consider structuring your IT report. It includes student samples for each possible section of an IT report, along with video and written feedback.
MNHS: Health sciences case report
This resource provides a guide to approaching and structuring a patient-based case report. It includes an annotated example with written feedback.
MNHS: Comparative report
This resource is designed to assist you in completing your Comparative Report [CR] for Integrating Science and Practice [iSAP] assessment tasks. It provides a guide to approaching and structuring your report and includes an annotated example with written feedback.
MNHS: Psychology case report
This resource provides detailed guidance on the structure and content of the psychology case report, with numerous examples from the recommended reading.
Science: Lab report
Your feedback matters.
We want to hear from you! Let us know what you found most useful or share your suggestions for improving this resource.
PRO Courses Guides New Tech Help Pro Expert Videos About wikiHow Pro Upgrade Sign In
EDIT Edit this Article
EXPLORE Tech Help Pro About Us Random Article Quizzes Request a New Article Community Dashboard This Or That Game Popular Categories Arts and Entertainment Artwork Books Movies Computers and Electronics Computers Phone Skills Technology Hacks Health Men's Health Mental Health Women's Health Relationships Dating Love Relationship Issues Hobbies and Crafts Crafts Drawing Games Education & Communication Communication Skills Personal Development Studying Personal Care and Style Fashion Hair Care Personal Hygiene Youth Personal Care School Stuff Dating All Categories Arts and Entertainment Finance and Business Home and Garden Relationship Quizzes Cars & Other Vehicles Food and Entertaining Personal Care and Style Sports and Fitness Computers and Electronics Health Pets and Animals Travel Education & Communication Hobbies and Crafts Philosophy and Religion Work World Family Life Holidays and Traditions Relationships Youth
Browse Articles
Learn Something New
Quizzes Hot
This Or That Game New
Train Your Brain
Explore More
Support wikiHow
About wikiHow
Log in / Sign up
Education and Communications
Official Writing
Report Writing
How to Start Writing a Report
Last Updated: July 7, 2023 Fact Checked
This article was co-authored by Diane Stubbs and by wikiHow staff writer, Janice Tieperman . Diane Stubbs is a Secondary English Teacher with over 22 years of experience teaching all high school grade levels and AP courses. She specializes in secondary education, classroom management, and educational technology. Diane earned a Bachelor of Arts in English from the University of Delaware and a Master of Education from Wesley College. There are 13 references cited in this article, which can be found at the bottom of the page. This article has been fact-checked, ensuring the accuracy of any cited facts and confirming the authority of its sources. This article has been viewed 24,675 times.
Reports are a useful way to relay information back to an audience. However, since this type of writing is so broad, it can be difficult to know how to begin. Before you start writing, set aside some time to choose a great topic that will engage your audience. Next, support your topic with research that comes from credible sources. Once you've chosen a report structure that will convey your information in an efficient and effective way, you're ready to draft your ideas into an outline. With just a little focus, you'll be ready to submit a clear and thought-out report to your teachers, peers, and superiors!
Picking a Topic
For example, a book report or IT report will likely be read by just a professor or teacher, while a business report might be read by several individuals.
Tip: Keep in mind that not all reports will necessarily be assigned. In the event of a car accident or random crime, you might have to report to your insurance company or fill out a police report . For these documents, try to approximate the likely audience of your report, like an officer or insurance agent.
For instance, many reports are written to describe the results of a project or long-term assignment. In a report of those events, you only want to go over the highlights—not each and every detail of the project.
For example, if you're filling out a lab report, you'd want to include an introduction, apparatus, procedure, body, and conclusion section. If you're having difficulty filling out each of these sections in detail, then you might want to re-evaluate your report's content.
For example, if you have to write a book report, choose a book in a genre that interests you.
Finding Good Research Sources
Use Google's "scholar" feature to find credible sources on certain topics.
If you're a student, take advantage of your school's library.
Overall, ".org" just indicates that the source is run by a nonprofit group. While there are many credible nonprofit groups out there, check to make sure that the website is founded in facts and credibility.
If you're having difficulty finding a lot of sources for a certain topic, start with a crowd-sourced site like Wikipedia. While the information itself shouldn't be used or referenced in a report, see if the site credits any reliable sources within the article.
Tip: Try to look for academic sources that are peer-reviewed. [9] X Research source
Additionally, search for any spelling or grammatical errors in the text. You don't want to reference information in your report that's riddled with spelling mistakes.
Determining the Best Structure
Informal is an umbrella term used for a variety of different documents. Short memos, letter reports, and informal lab reports all fall under this category.
For example, a short memo or letter report includes a heading, introductory statement, finding, and recommendation section.
The preliminaries section refers to any content that appears at the beginning of the document. While this varies per assignment, some example preliminaries could include a letter of transmittal, acknowledgments, a table of contents, a title page, and/or a list of figures and tables.
For instance, if you're comparing the current period of time to a previous period, use a compare and contrast type of format to portray the differences between these 2 times. A self-evaluation at a university is a good example of this. [14] X Research source
If you're giving the report to a client, try to avoid using any fancy terminology that wouldn't make sense to the average reader.
In some cases, progress reports are easier to complete as a collaborative effort.
For instance, you might have to fill out a progress report for a class to show how much you've completed in a cumulative project.
Outlining the Report
If you want to save room for the content of your introduction, use the letter "A" to create a sub point where you'd write out your thesis.
These outlines will look very different depending on the structure. For instance, an outline for a scientific report would have separation sections/numerals for key graphs experimental design, as well as data exploration.
If you flesh out more in your outline, then you'll have an easier time later when you're writing the report.
For instance, a sample introductory sentence on an outline could like: "Throughout the summer, a continued study showed that the placebo effect was 60% effective in curing symptoms of motion sickness."
It will be easier to write your introduction after you've done your research and have identified your thesis, since that is going to be your guiding idea.
Work through one point at a time. If it helps, work through your report outline chronologically.
Expert Q&A
When writing academically, look to your rubric to make sure that you're meeting all necessary guidelines of the assignment. Thanks Helpful 0 Not Helpful 0
You Might Also Like
↑ https://owl.purdue.edu/owl/general_writing/common_writing_assignments/research_papers/choosing_a_topic.html
↑ https://www.iup.edu/writingcenter/writing-resources/organization-and-structure/creating-an-outline.html
↑ https://guides.lib.berkeley.edu/finding-databases-and-articles
↑ https://shepard.libguides.nccu.edu/c.php?g=287999&p=1914642
↑ https://www.utep.edu/extendeduniversity/utepconnect/blog/march-2017/4-ways-to-differentiate-a-good-source-from-a-bad-source.html
↑ https://louisville.edu/writingcenter/for-students-1/common-writing-questions-1/i-can2019t-find-good-sources-for-my-research-paper
↑ https://guides.lib.uw.edu/research/faq/reliable
↑ https://owl.purdue.edu/owl/subject_specific_writing/writing_in_engineering/handbook_on_report_formats/reports_and_memos.html
↑ https://www.plymouth.ac.uk/uploads/production/document/path/12/12685/Periodic_Review_SED_outline__UoP___Partner_Stg_2_.pdf
↑ https://www.e-education.psu.edu/styleforstudents/c6_p10.html
↑ https://www.herzing.edu/blog/herzing/5-steps-create-perfect-outline
↑ https://academicguides.waldenu.edu/writingcenter/writingprocess/outlining
↑ https://bacwritingfellows.commons.gc.cuny.edu/using-an-outline/
About This Article
Did this article help you?
Featured Articles
Trending Articles
Watch Articles
Terms of Use
Privacy Policy
Do Not Sell or Share My Info
Not Selling Info
Don't miss out! Sign up for
wikiHow's newsletter
📖 Elevate internal engagement with 200+ templates in The Ultimate Content Kit for Internal Communicators. Access the kit
Piktochart Visual
Video Editor
Infographic Maker
Graph Maker
Poster Maker
Banner Maker
Diagram Maker
Presentation Maker
Brochure Maker
Flyer Maker
Flowchart Maker
Invitation Maker
Pitch Deck Creator
Report Maker
Resume Maker
Social Media Graphic Maker
Timeline Maker
Venn Diagram Maker
Screen Recorder
Social Media Video Maker
Video Cropper
Video to Text Converter
Video Views Calculator
For Communications
For Education
For eLearning
For Financial Services
For Healthcare
For Human Resources
For Marketing
For Nonprofits
Brochure Templates
Flyer Templates
Infographic Templates
Newsletter Templates
Presentation Templates
Resume Templates
Business Infographics
Business Proposals
Education Templates
Health Posters
HR Templates
Sales Presentations
Explore all free templates on Piktochart
Video Tutorials
The Business Storyteller Podcast
User Stories
Need help? Check out our Help Center
Earn money as a Piktochart Affiliate Partner
Compare prices and features across Free, Pro, and Enterprise plans.
For professionals and small teams looking for better brand management.
For organizations seeking enterprise-grade onboarding, support, and SSO.
Discounted plan for students, teachers, and education staff.
Great causes deserve great pricing. Registered nonprofits pay less.
How to Write a Report (2023 Guide & Free Templates)
You have a report due in a few days, but you're still procrastinating like a pro.
Sounds familiar?
If you've been staring at a blank page, wondering how to write a report the best way possible, you're not alone. For many, writing a report, especially for the first time, can feel like rolling a giant boulder uphill.
The good news is that from a first draft to creating reports that people love to read is a skill you can develop and polish over time.
Whether you're a student, a professional, or someone who wants to up their report-writing game, keep reading for a 2023 guide and step-by-step instructions on how to write a report. Plus, learn about the basic report format.
You'll also get access to report templates that you can edit and customize immediately and learn about a tool to make reports online (no need to download software!). You can also jump right into customizing templates by creating a free account .
What is report writing?
Report writing is a way of communicating information, data, insight, or analysis. It's an essential skill that will come in handy in various settings, from academic research or diving into historical events to business meetings.
But creating a report can be a bit intimidating at first.
In its simplest form, report writing starts with researching and gathering all the information, analyzing your findings, and presenting it in a way that's easy for your audience to understand.
Sounds easy enough, right?
Well, there's a bit more to it than that. We'll guide you through every step of the process to write an entire report from a rough draft and data in the next section.
But first, let's get to know the different types of reports.
Types of reports
Reports come in all shapes and sizes, and the type of report you write will depend on your specific goals and audience. Each type of report has its unique purpose, format, and style.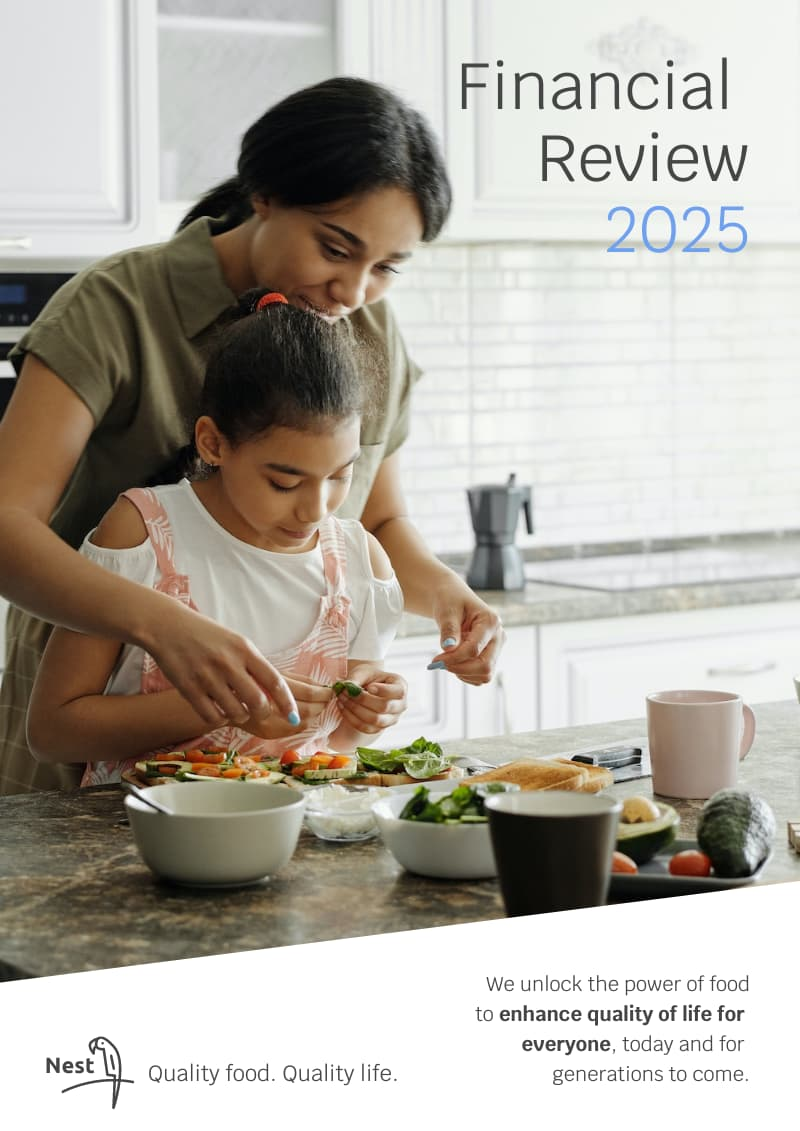 The most common types of reports are:
Academic report – These include school reports, book reports, thesis reports, or analytical reports between two opposing ideas.
Business report – Business reports range from annual reports to SWOT analyses . The goal of business reports is to communicate ideas, information, or insights in a business setting.
Research report – Research reports are often more scientific or methodological in nature. They can take the form of case studies or research papers.
Learn more : 20 Types of Reports and When to Use Them (Plus Templates)
How to write a report without feeling overwhelmed
Breaking down the report writing process into three stages can make it much more manageable for you, especially if it's your first time to create one.
These three stages are:
Pre-writing stage
Writing stage
Post-writing stage
Let's take a look at the steps for each stage and how to write a good report in 2023 that you can be proud of.
Stage 1: Pre-writing
The pre-writing stage is all about preparation. Take some time to gather your thoughts and organize your main idea. Write a summary first.
Here are important steps to help you deal with the overwhelm of creating an insightful report.
Understand the purpose of your report
Knowing your purpose will help you focus and stay on track throughout the process. Dig into the why of your report through these questions:
Who is your intended reader? Are you familiar with your audience's language and how they think?
What are you trying to achieve with your report? Are you trying to inform, persuade, or recommend a course of action to the reader?
Research your topic
It's time to gather as much information as you can about your topic. This might involve reading books, articles, and other reports. You might also need to conduct interviews with subject matter experts.
Pro tip on how to write a report : Pick reputable sources like research papers, recently-published books, and case studies by trustworthy authors.
Make a report outline
An outline is a roadmap for your report. It covers your title, introduction, thesis statement, main points, and conclusion. Organizing your thoughts this way will help you keep focus and ensure you cover all the necessary information.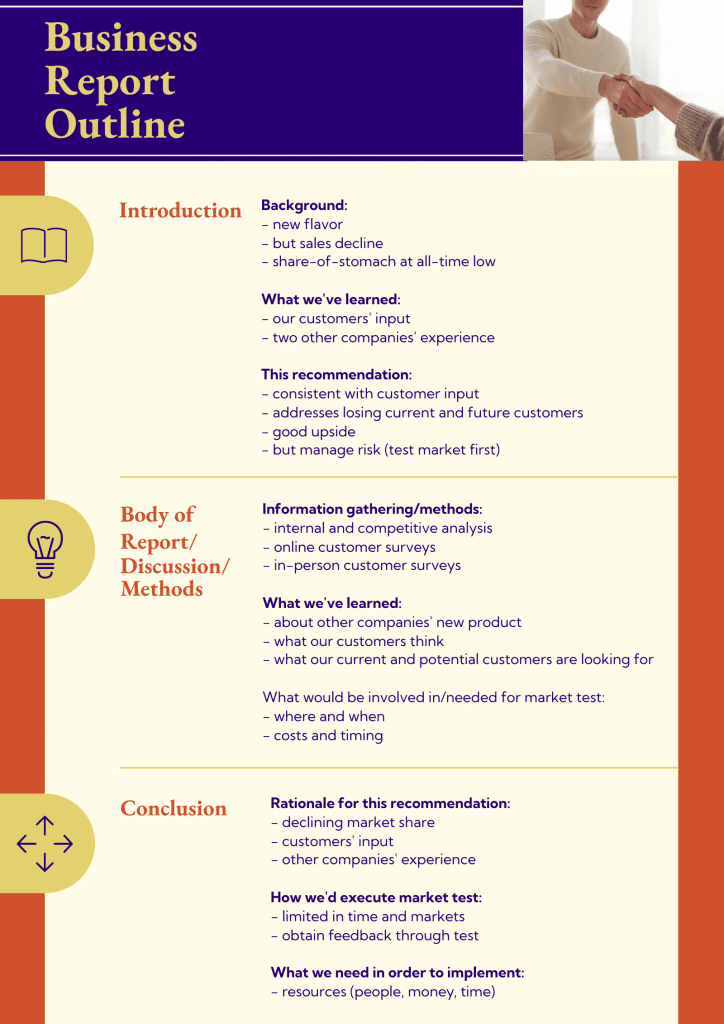 While you can create a report without creating an outline, you could write a better report with an outline. An outline helps you organize your facts and important points on paper.
Stage 2: Writing
Once you have completed the pre-writing stage, it's time to write your report.
Follow the proper report writing format
You will feel a lot of resistance at this point because this is where most of the tedious work of report writing happens. However, the process can be a breeze if you follow a proper structure and report writing format.
The structure of your report can vary depending on the type of report you're creating, but the report writing format below can serve as a guide for anyone.
Title page. This is the first page of your report and should include the report's title, the author's name, the date of presentation or submission, and any other relevant information, such as your name or the organization's name.
Table of Contents (TOC ). This section contains subsections of your report and their corresponding page numbering. A well-written TOC will help readers navigate your report easily and find the information they need.
Brief summary . This part provides an overview of the report's particular purpose, subject, methodology, key findings, and recommendations. This section is often called the executive summary in corporate reports.
Introduction . The introduction should provide background information about the topic and explain why the report was written. It should also state the aims and objectives of your report and give an overview of the methodology used to gather and analyze the data. Make sure you include a powerful topic sentence.
Main body. The main body of the report should be divided into subsections, each dealing with a specific aspect of the topic. These sections should be clearly labeled and organized in a logical order. In most reports, this is also the part where you explain and present your findings, analysis, and recommendations.
Conclusion. Summarize the main points of your report and provide a final summary, thought, or suggestions. Review your thesis statement. The conclusion also includes any limitations of the study and areas for further research or future action.
References . This section should include a list of all the sources cited in the report, like books, journal articles, websites, and any other sources used to gather information on your subject.
Appendices . In the appendices section, you should include any additional information relevant to the report but not in the article's main body. This might consist of raw data, event details, graphs, charts, or tables.
With all these key report elements, your readers can look forward to an informative, well-organized, and easy-to-read report.
Pro tips: Remember to use clear and concise language in your essay. It is also required to follow a specific type of formatting set by your organization or instructor.
Plus, use the active voice when you can because it helps improve clarity. To write a report essay in a passive voice makes it sound less concise.
Reports should usually be written in the third person.
Edit and proofread the article
Once you have completed your first essay draft, take some time to edit and proofread your work. Look for spelling mistakes and grammar errors, as well as any areas where the flow of your article could be improved. Review your topic sentence.
If hiring a professional editor isn't possible, have a colleague or someone else read your rough draft and provide feedback. You can also use tools like Grammarly and the Hemingway App .
Stage 3: Post-writing
You're almost there! This stage is about finalizing your report and ensuring it is ready to be shared.
Format your report
Ensure your report is formatted correctly, with clear and easy-to-read fonts, headings, and subheadings.
Incorporate visuals
Adding visuals to your report article is another great way to help your audience understand complex information more easily.
From charts to illustrations, the right visual can help highlight and explain key points, events, trends, and patterns in your data, making it easier for the reader to interpret the information.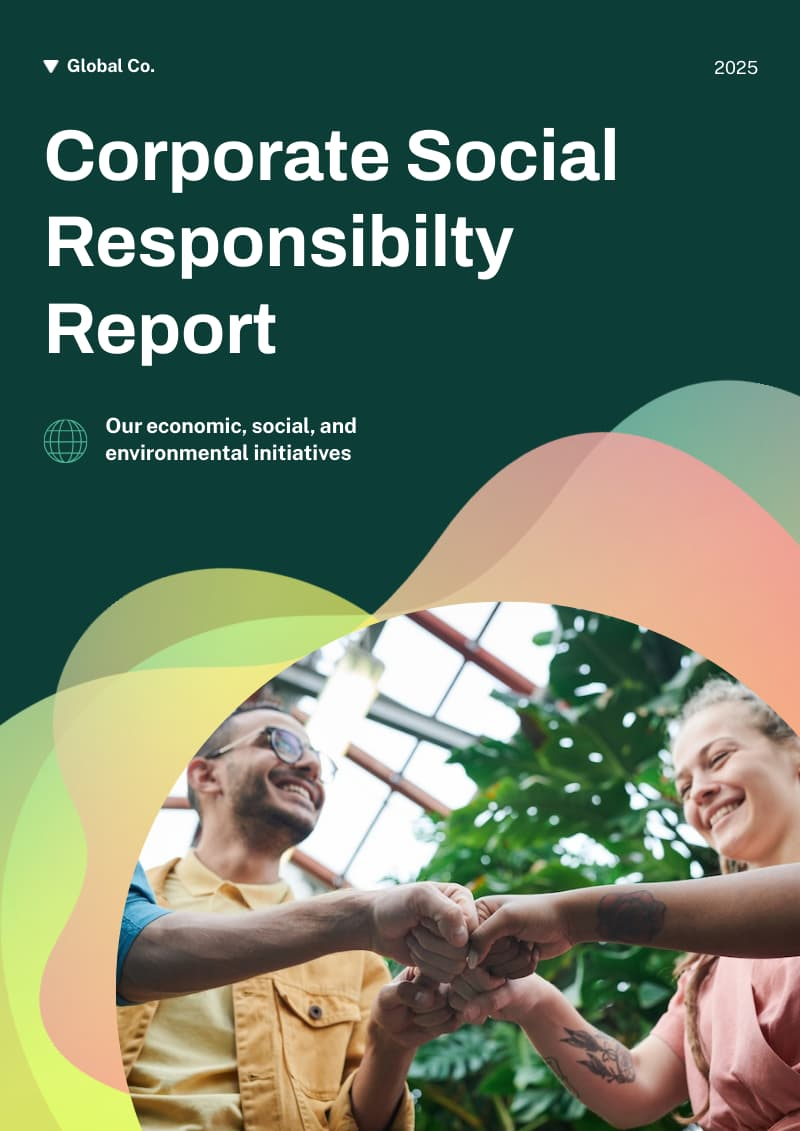 Want to check out more templates? Get access to the template gallery today .
However, it's important to use visuals sparingly and ensure they are relevant and effectively support the texts. You will learn more about effectively incorporating visuals into your report as you scroll down below to the next sections. 
Share your report
Once your report is complete, share it with your audience. This might involve submitting it to your boss, presenting it to a group, or sharing it online.
A final note for this section: Remember to take your time, stay organized, and most importantly, have fun! Writing a report can be a rewarding experience, especially if you get positive feedback when you present.
How to add visuals to your report
Adding visuals to your report is more than just putting a graph or chart for every piece of information.
There are no hard and fast rules but use the pointers below as guidelines:
Each visual in your report should have a purpose. Don't just add a pie chart or bar graph for the sake of adding one. Your visual of choice should offer clarity to readers that's impossible to achieve with words alone. Piktochart's report maker lets you search for free stock images and illustrations to add to any page with drag and drop.
Add captions, legends, or arrows to your visuals when possible. For more technical reports, graphics are either Tables or Figures. Number them in order of appearance (Figure 1, Figure 2, Table 1, etc.) and give each a descriptive title.
Place the visual close to the relevant text on the page.
Document the source of the visual, citing it in both the caption and references section if necessary.
Make the graphic stand out with colors, borders, boxes, spacing, and frames.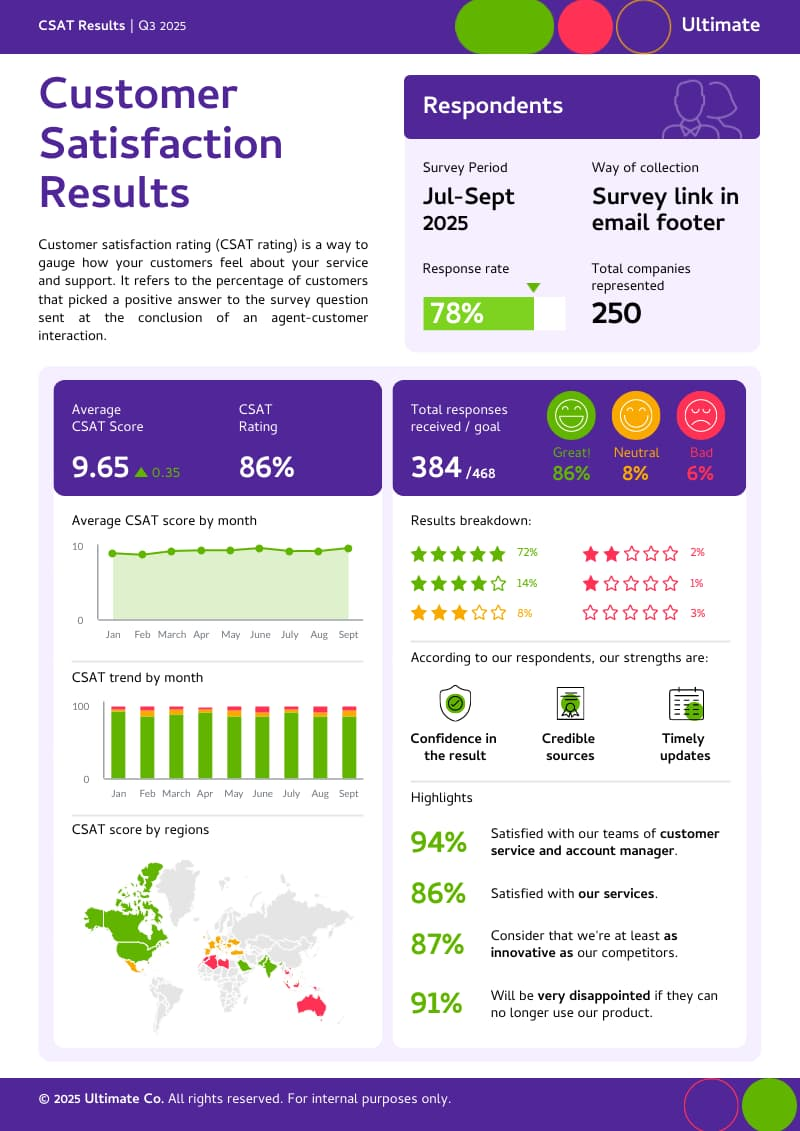 Learn more : How to Improve Your Data Visualization Design in 6 Steps
Write reports like a pro with Piktochart's easy-to-edit report templates
Creating reports from scratch can be time-consuming. The great news is you don't have to make reports from scratch like how it used to be in the 90s and early 2000s. Organizations of all shapes and sizes now understand that you can also create the perfect report with the help of templates.
For example, Piktochart offers a variety of fully customizable templates, allowing you to easily add your branding, colors, and text within the online editor. You can visualize your thesis statement and first draft in less than an hour. It's also possible to start writing directly in the tool, adding graphics page by page.
These templates range from reports for school presentations to sales reports. By editing them, you can create professional-looking reports without the hassle of formatting and design.
Here are some examples of Piktochart's professionally-designed templates. If you can't pick one that matches your report writing format and needs, create a free Piktochart account to get access to more templates.
Survey report template
This survey report template includes clear visualizations, making your report findings easier to understand. From customer surveys to employee satisfaction reports, this template is quite versatile.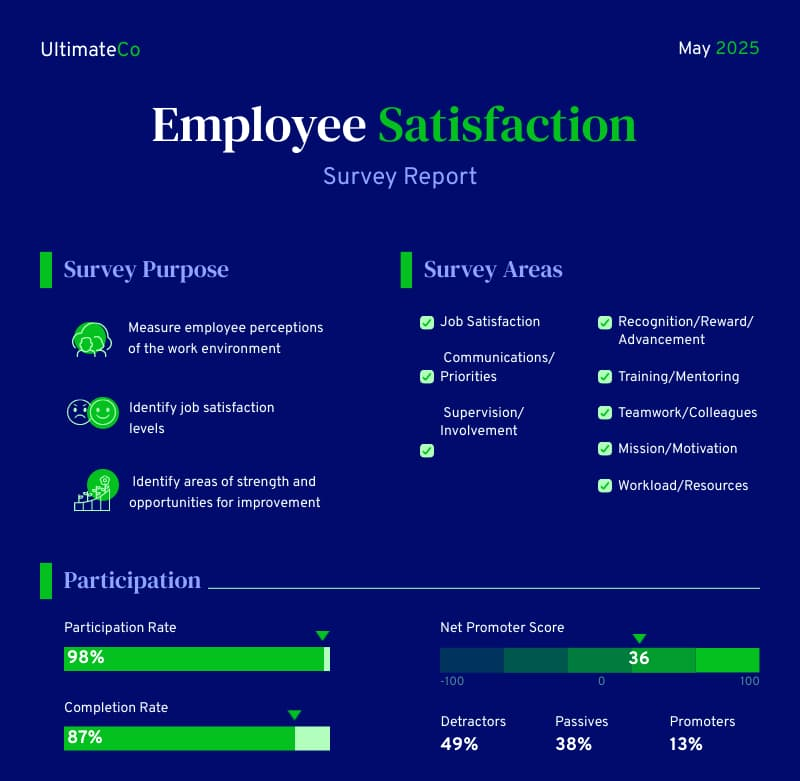 Research report template
This research report template is perfect for anyone looking to create a thorough and professional research report. The template includes all the necessary sections to help you easily organize your research and present your findings in a concise document.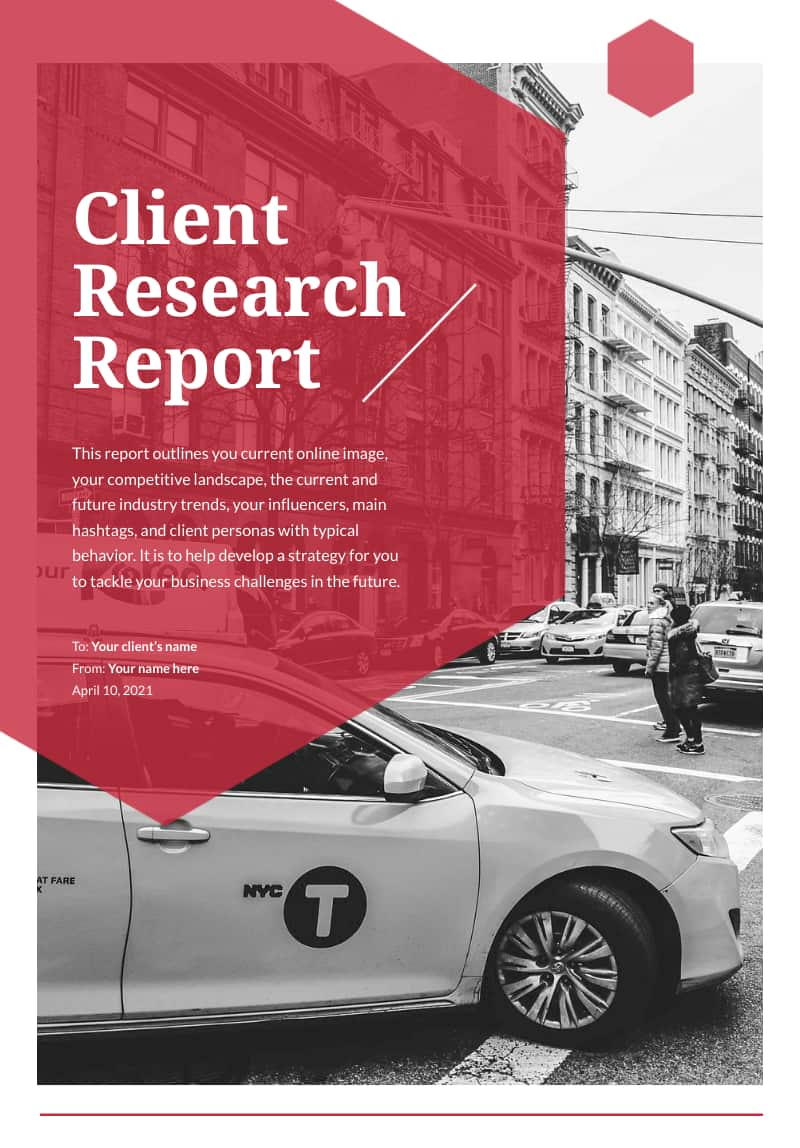 Corporate report template
Looking for a corporate report template example with an editable table of contents and foreword? This template is the perfect fit!
Whether you're presenting to investors or sharing information with your team, this corporate report template will help you create a polished and informative executive summary for any corporate organization.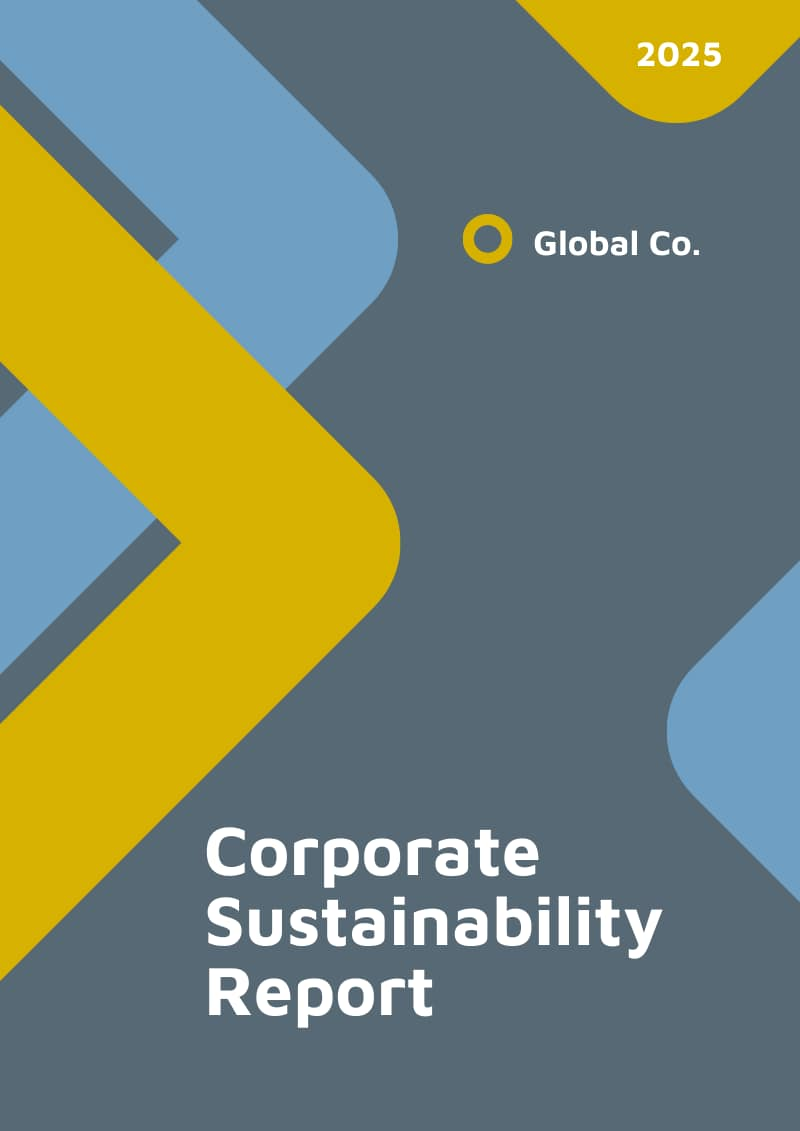 Case study report template
Whether you're conducting a business case study or an academic case study, this case study report template can help you earn your readers' trust. This template is specifically designed with fashion as its main theme, but you can edit the photos and details to make it more on-brand with your niche.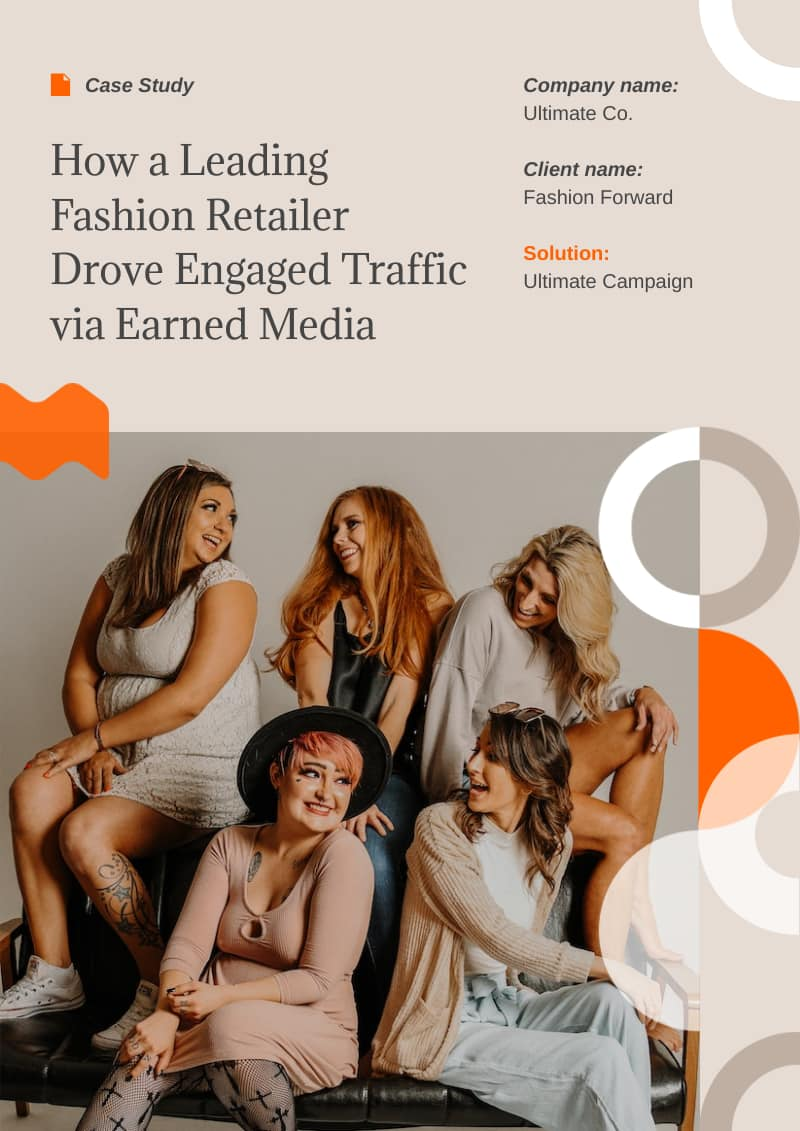 Marketing report template
Use this template to create comprehensive marketing reports. The template includes editable sections for social media, data from search engines, email marketing, and paid ads.
Financial report template
With this customizable finance report template, you don't need to make a financial report from scratch. Once you've written your content, save your report in PDF or PNG formats.
Annual report template
This annual report template is the right template for creating a professional and informative executive summary of your organization's performance over the past year. This template was designed for HR annual reports, but you can also repurpose it for other types of yearly reports.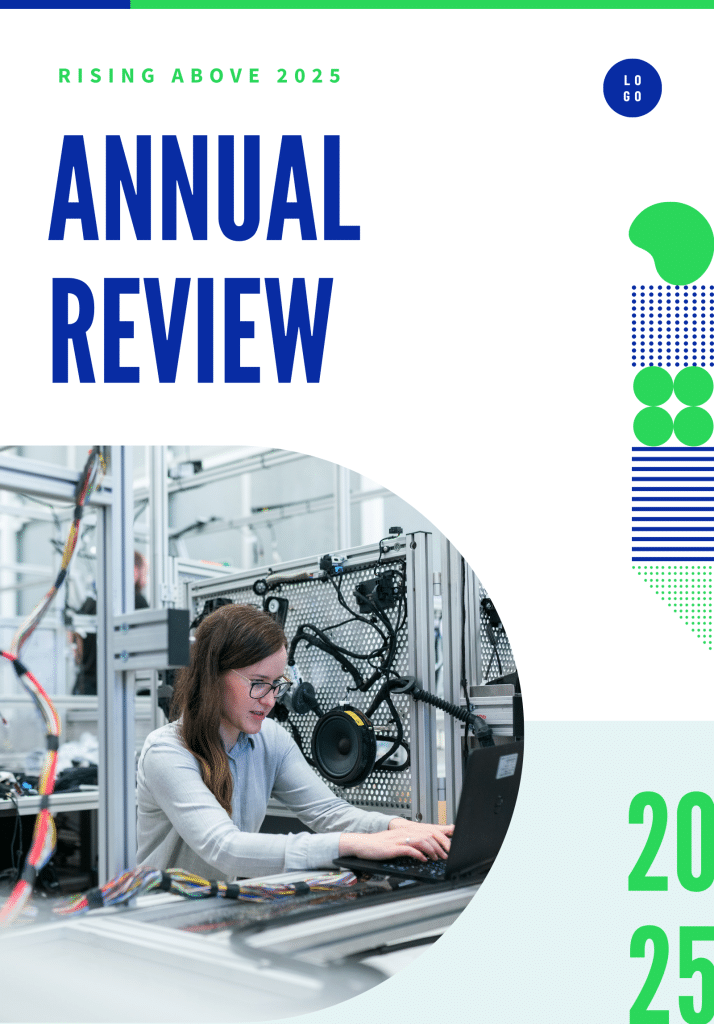 See more report templates by creating a free Piktochart account .
Quick checklist for better report writing
Before you submit or present your report, use the quick checklist below to help ensure that your report is well-structured, accurate, clear, and properly cited. Most of all, you must ensure that your report meets your audience's expectations and has all the information and details they need.
Purpose and audience
Does the report address its purpose and meet the needs of the intended audience?
Structure and organization
Is the material appropriately arranged in sections?
Have irrelevant details been removed?
Accuracy and analysis
Has all the material been checked for accuracy?
Are graphs and tables clearly labeled? Check the page numbers too.
Is the data in graphs or tables analyzed and explained in words?
Does the discussion or conclusion show how the results relate to the objectives mentioned in the introduction?
Have the results been compared with existing research from the literature survey?
Writing style and clarity
Is the report written in a tone that's indicated in the brand style guide (for corporate reports)? Does it avoid colloquialisms or contractions?
Does it follow the organization's specific guidelines for writing style?
Is it jargon-free and clearly written? Have you translated technical terms into simpler words?
Use the active voice when you can because it helps improve clarity. A written report in a passive voice may make it sound less concise.
Acknowledgment and citation
Have all ideas and event data taken from or inspired by someone else's work been acknowledged with a reference?
Have all illustrations and figures taken from someone else's work been cited correctly?
Proofreading
Has the report been carefully proofread for typos, spelling errors, and grammatical mistakes?
Make engaging and effective reports quickly with Piktochart
Writing a report is a must-have skill for anyone looking to communicate more effectively in their personal and professional lives.
With the steps we've provided in this guide, anyone can learn how to write a report that is informative, engaging, and comprehensive.
Plus, the free templates we highlighted are valuable for individuals looking to create reports quickly and efficiently. They can also be used to transform a longer report filled with texts into something more engaging and easy to digest.
Sign up for a free Piktochart account today, and look forward to writing reports with its library of modern, customizable report templates. 
Piktochart offers professionally designed templates for all your visual communication needs. It is your one-stop shop for presentations , posters , logos , email signatures , infographics , and more. Customize all templates according to your brand assets in seconds. Get started for free today.

Kyjean Tomboc is an experienced content marketer for healthcare, design, and SaaS brands. She also manages content (like a digital librarian of sorts). She lives for mountain trips, lap swimming, books, and cats.
Other Posts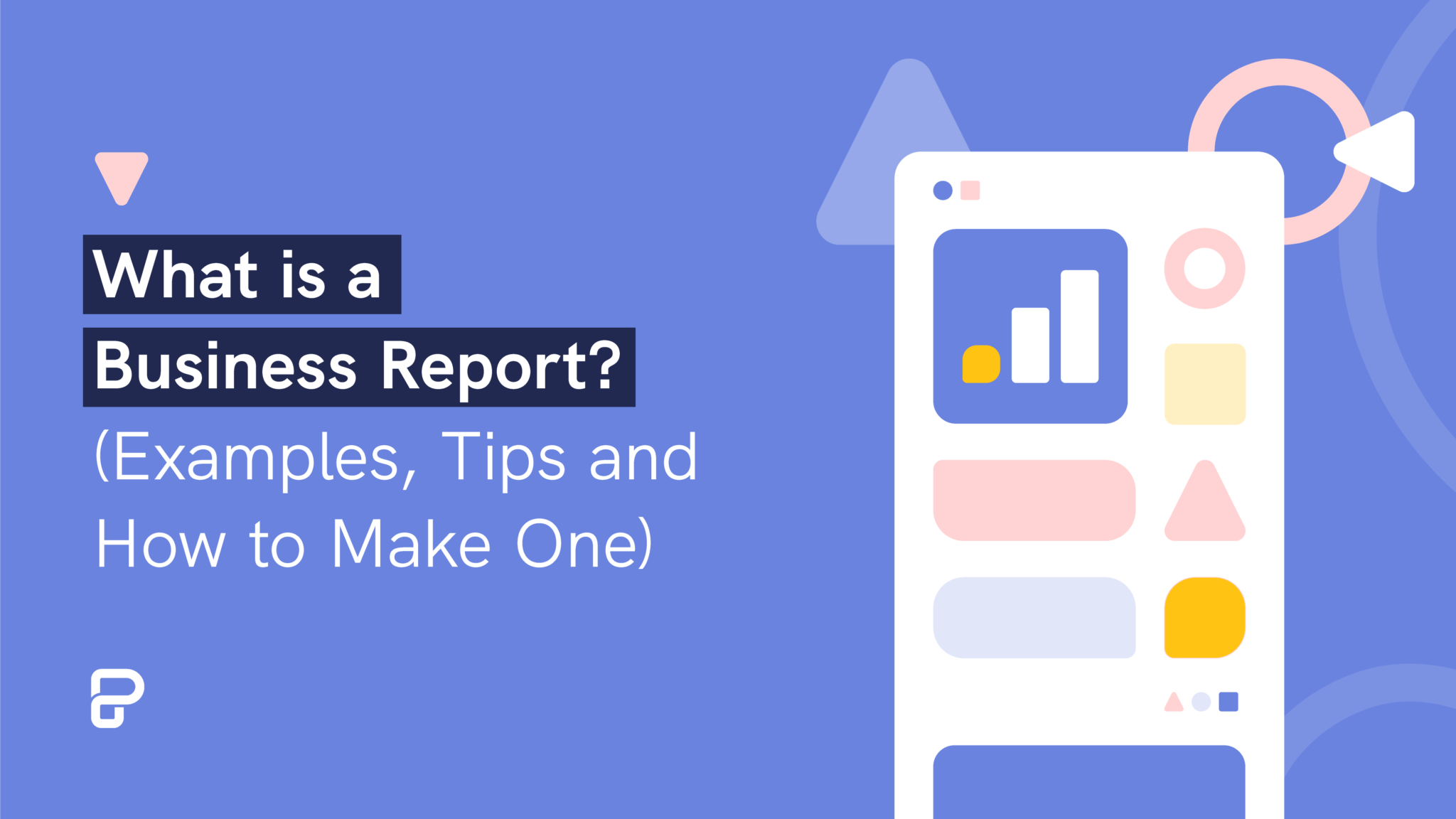 What is a Business Report? (Examples, Tips and How to Make One)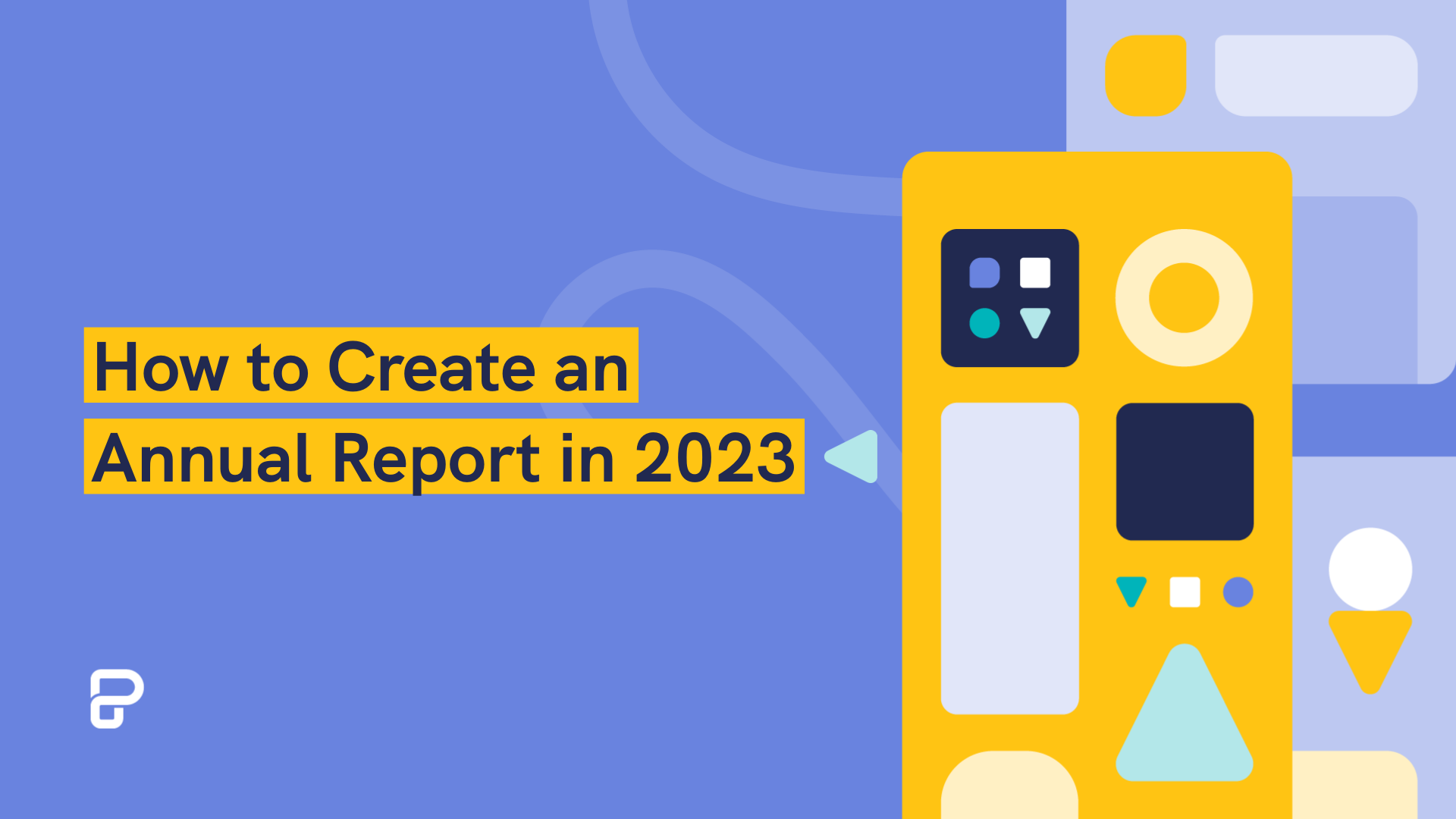 Communications
How to Create an Annual Report in 2023
20 Types of Reports and When to Use Them (Plus Templates)
Do you want to be part of these success stories, join more than 11 million who already use piktochart to craft visual stories that stick..

What is Report Writing: Format, Examples, Types & Process
Many professionals struggle to create effective reports due to a lack of understanding of the essential elements and organization required. This can lead to frustration and a failure to communicate key information to the intended audience.
In this blog, we'll explore what is report writing, the types of reports, essential elements, and tips for creating effective reports to help you communicate your message and achieve your goals.
Definition of report writing? 
According to Mary Munter and Lynn Hamilton, authors of "Guide to Managerial Communication," report writing is "the process of selecting, organizing, interpreting, and communicating information to meet a specific objective."
What is report writing? 
Report writing refers to the process of creating a document that represents information in a clear and concise manner. Reports can be written for various purposes, such as providing updates on a project, analyzing data or presenting findings, or making recommendations.
Effective report writing requires careful planning, research, analysis, and organization of information. A well-structured report should be accurate, and objective, and contain a clear introduction, body, and conclusion. It should also be written in a professional and accessible style, with appropriate use of headings, subheadings, tables, graphs, and other visual aids.
Overall, report writing is an important skill for professionals in many fields, as it helps to communicate information and insights in a clear and concise manner.
What is a report? 
A report is a formal document that is structured and presented in an organized manner, with the aim of conveying information, analyzing data, and providing recommendations. It is often used to communicate findings and outcomes to a specific audience, such as stakeholders, or managers. Reports can vary in length and format, but they usually contain a clear introduction, body, and conclusion.
What are the features of report writing
There are several key features of effective report writing that can help ensure that the information presented is clear, concise, and useful. Some of these features include:
1/ Clarity: Reports should be written in clear and concise language, avoiding jargon or technical terms that may be confusing to the reader. 
2/ Objectivity: A report should be objective, meaning that it should be free from bias or personal opinions. This is particularly important when presenting data or analysis.
3/ Accuracy: Reports should be based on reliable sources and accurate data. Information should be verified and cross-checked to ensure that it is correct and up-to-date.
4/ Structure: A report should be structured in a logical and organized manner, with clear headings, subheadings, and sections. 
5/ Visual aids: A report may include visual aids such as charts, tables, and graphs, which can help to illustrate the key points and make the information easier to understand.
6/ Evidence: Reports should include evidence to support any claims or findings, such as statistics, quotes, or references to relevant literature.
7/ Recommendations: Many reports include recommendations or suggestions for future action based on the findings or analysis presented.
Significance of report writing
Report writing is a critical skill that can have a significant impact on individuals, and organizations. In fact, a report by the National Association of Colleges and Employers found that the ability to communicate effectively, including report writing, was the most important skill sought by employers.
Reports provide decision-makers with the information they need to make informed decisions.
Effective report writing demonstrates professionalism and attention to detail, which can help to build trust and credibility with clients.
Reports can inform planning processes by providing data and insights that can be used to develop strategies and allocate resources.
Reports often include recommendations or suggestions for future action, which can help to improve processes, procedures, or outcomes.
Further Reading: What is the significance of report writing
Types of report writing
By understanding the different types of report writing, individuals can select the appropriate format and structure to effectively communicate information and achieve their objectives. However, the kind of report used will depend on the purpose, audience, and context of the report.
1/ Informational reports: These reports provide information about a topic, such as a product, service, or process.
Further Reading : What is an information report
2/ Analytical reports: These reports present data or information in a structured and organized manner, often with charts, graphs, or tables, to help the reader understand trends, patterns, or relationships.
3/ Formal Reports: These are detailed and structured reports written for a specific audience, often with a specific objective. In comparison with informal reports , formal reports are typically longer and more complex than other types of reports. 
4/ Progress reports: These reports provide updates on a project or initiative, detailing the progress made and any challenges or obstacles encountered. 
5/ Technical reports: These reports provide technical information, such as specifications, designs, or performance data, often aimed at a technical audience.
6/ Research reports: These reports present the findings of research conducted on a particular topic or issue, often including a literature review, data analysis, and conclusions.
7/ Feasibility Report: A feasibility report assesses the likelihood of achieving success for a suggested project or initiative.
8/ Business Reports: These reports are used in a business setting to communicate information about a company's performance, operations, or strategies. Different types of business reports include financial statements, marketing reports, and annual reports.
Structure of report writing 
The structure of a report refers to the overall organization and layout of the report, including the sections and subsections that make up the report, their order, and their relationships to each other. A report can we divided into three parts. 
Preliminary Parts:
Acknowledgments (Preface or Foreword)
List of Tables and Illustrations
Introduction (clear statement of research objectives, background information, hypotheses, methodology, statistical analysis, scope of study, limitations)
Statement of findings and recommendations (summarized findings, non-technical language)
Results (detailed presentation of findings with supporting data in the form of tables and charts, statistical summaries, and reductions of data, presented in a logical sequence)
Implications of the results (clearly stated implications that flow from the results of the study)
Summary (brief summary of the research problem, methodology, major findings, and major conclusions)
End Matter:
Appendices (technical data such as questionnaires, sample information, and mathematical derivations)
Bibliography of sources consulted.
This structure provides a clear and organized framework for presenting a research report, ensuring that all important information is included and presented in a logical and easy-to-follow manner.
Extra Learnings Role of a report structure in report writing  The report structure plays a crucial role in report writing as it provides a clear and organized framework for presenting information in an effective and logical manner. It ensures that the reader can easily understand the purpose and scope of the report, locate and access the relevant information.  The preliminary parts of the report, provide an overview of the report and aid navigation. The main text makes it easier for the reader to comprehend and analyze the information. And The end matter provides additional details and sources for reference. An organized report structure also helps the author to communicate their research and ideas effectively to the intended audience.
What is the report writing format? 
The format of report writing refers to the structure of a formal document that provides information on a particular topic or issue. The format typically includes several components that must be there in the report to provide specific subjects in an organized and structured format. 
8 Essential elements of report writing are: 
1/ Title page: This includes the title of the report, the author's name, the date of submission, and other relevant information.
2/ Table of contents: The table of contents lists the report's primary sections and subsections, together with their corresponding page numbers.
3/ Executive summary: An executive summary gives a concise summary of the report, emphasizing the significant conclusions and recommendations.
4/ Introduction: This provides background information on the topic or issue, explains the purpose and scope of the report, and outlines the methodology used.
5/ Main body: This is where the bulk of the information is presented, usually divided into several sections and sub-sections. The main body may include data, analysis, and discussion of the topic or issue.
6/ Conclusion: This Summarizes the primary discoveries of the report and offers conclusions or recommendations accordingly.
7/ References: This lists the sources cited in the report, following a particular citation style such as APA, MLA, or Chicago.
8/ Appendices: This includes any additional materials such as charts, tables, graphs, or other supporting data.
The specific format and structure of a report may vary depending on the purpose, audience, and type of report.
Report writing examples and samples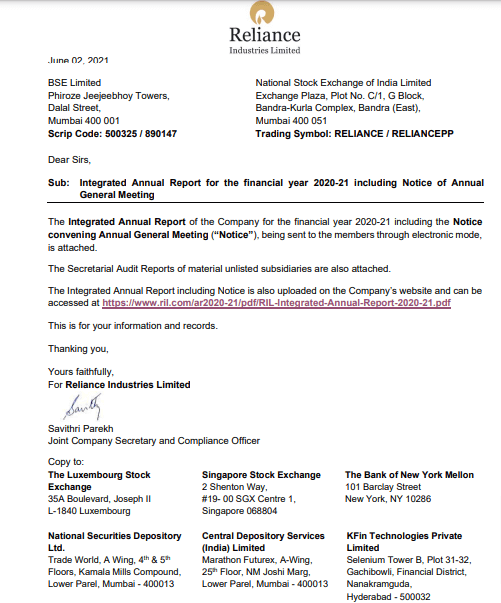 Example of Progress Report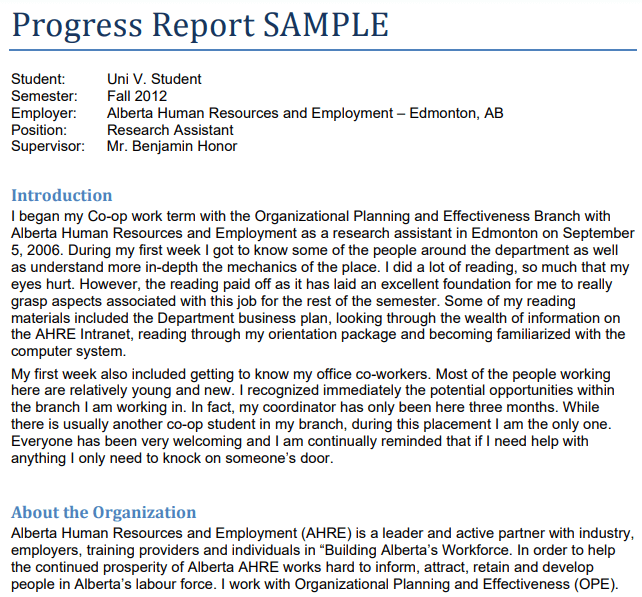 The essential process of report writing
Report writing requires careful planning, organization, and analysis to ensure that the report effectively communicates the intended message to the audience. Here are the general steps involved in the process of report writing:
Plan and prepare:
Identify the purpose of the report, the target audience, and the scope of the report.
Collect and examine data from different sources, including research studies, surveys, or interviews.
Create an outline of the report, including headings and subheadings.
Write the introduction:
Start with a brief summary of the report and its purpose.
Provide background information and context for the report.
Explain the research methodology and approach used.
Write the main body:
Divide the report into logical sections, each with a clear heading.
Present the findings and analysis of the research in a clear and organized manner.
Use appropriate visual aids, such as tables, graphs, or charts to present data and information.
Utilize a language that is both clear and Brief, and avoid using unnecessary jargon or technical terminology.
Cite all sources used in the report according to a specified citation style.
Write the conclusion:
Summarize the main findings and conclusions of the report.
Restate the purpose of the report and how it was achieved.
Provide recommendations or suggestions for further action, if applicable.
Edit and revise:
Review the report for errors in grammar, spelling, and punctuation.
Check that all information is accurate and up-to-date.
Revise and improve the report as necessary.
Format and present:
Use a professional and appropriate format for the report.
Include a title page, table of contents, and list of references or citations.
Incorporate headings, subheadings, and bullet points to enhance the report's readability and facilitate navigation.
Use appropriate fonts and sizes, and ensure that the report is well-structured and visually appealing.
Important Principles of report writing
To write an effective report, it is important to follow some basic principles. These principles ensure that your report is clear, concise, accurate, and informative. In this regard, here are some of the key principles that you should keep in mind when writing a report:
1/ Clarity: The report should be clear and easy to understand. 
2/ Completeness: The report should cover all the relevant information needed to understand the topic
3/ Conciseness: A report should be concise, presenting only the information that is relevant and necessary to the topic. 
4/ Formatting: The report should be properly formatted, with consistent fonts, spacing, and margins
5/ Relevance: The information presented in the report should be relevant to the purpose of the report.
6/ Timeliness: The report should be completed and delivered in a timely manner.
7/ Presentation: The report should be visually appealing and well-presented.
Extra Learnings Styles of report writing When it comes to the style of report writing, it's important to use hard facts and figures, evidence, and justification. Using efficient language is crucial since lengthy reports with too many words are difficult to read. The most effective reports are easy and quick to read since the writer has comprehended the data and formulated practical recommendations. To achieve this, it's important to write as you speak, avoid empty words, use descending order of importance, use an active voice, and keep sentences short. The goal should be to write to express and not to impress the reader.  It's also important to get facts 100% right and to be unbiased and open. By following these tips, one can create a well-written report that is easy to understand and provides valuable insights.
Differences between a report and other forms of writing
Reports are a specific form of writing that serves a distinct purpose and have unique characteristics. Unlike other forms of writing, such as essays or fiction, reports are typically focused on presenting factual information and making recommendations based on that information. Below we have differentiated report writing with various other forms of writing.
Essay vs report writing
Project writing vs report writing, research methodology vs report writing, article writing vs report writing, content writing vs report writing, business plan vs report writing, latest topics for report writing in 2023.
The possibilities for report topics may depend on the goals and scope of the report. The key is to choose a topic that is relevant and interesting to your audience, and that you can conduct thorough research on in order to provide meaningful insights and recommendations.  
A market analysis for a new product or service. 
An evaluation of employee satisfaction in a company. 
A review of the state of cybersecurity in a particular industry. 
A study of the prevalence and consequences of workplace discrimination. 
Analysis of the environmental impact of a particular industry or company. 
An assessment of the impact of new technology or innovations on a particular industry or sector. 
Report writing skills and techniques 
Effective report writing requires a combination of skills and techniques to communicate information and recommendations in a clear, and engaging manner.
From organizing information to tailoring the report to the intended audience, there are many factors to consider when writing a report. By mastering these skills and techniques, you can ensure that your report is well-written, informative, and engaging for your audience. Some of the primary ones are: 
1/ Organization and structure: Structure your report in a logical and organized manner with headings and subheadings.
2/ Use of data and evidence: Present objective data and evidence to support your findings and recommendations.
3/ Audience awareness: Tailor your report to the needs and interests of your intended audience.
4/ Effective visuals: Use graphs, charts, or other visuals to communicate complex information in a clear and engaging way.
5/ Editing and proofreading: Carefully edit and proofread your report to ensure it is error-free and professional.
6/ Tone: Use a professional and objective tone to communicate your findings and recommendations.
7/ Time management: Manage your time effectively to ensure you have enough time to research, write, and revise your report.
Tips for effective report writing
Understand your audience before you start writing. 
Start with an outline and cover all the important points. 
Employ clear and concise language.
Utilize headings and subheadings to organize your report.
Incorporate evidence and examples to support your points.
Thoroughly edit and proofread your report before submission.
Follow formatting guidelines If your report has specific formatting requirements.
Use visuals to enhance understanding.
What is the ethical consideration involved in report writing 
Ethical considerations play a crucial role in report writing. The accuracy of the information presented in the report is of utmost importance, as it forms the basis for any conclusions or recommendations that may be made. In addition, it is essential to avoid plagiarism by giving credit to the original sources of information and ideas. 
Another crucial ethical consideration is confidentiality, particularly when the report contains sensitive or confidential information. It is important to safeguard this information and prevent its disclosure to unauthorized individuals.
Avoiding bias in report writing is also crucial, as it is essential to present information in an objective and unbiased manner. In cases where research or data collection is involved, obtaining informed consent from human subjects is a necessary ethical requirement.
By taking these ethical considerations into account, report writers can ensure that their work is fair, accurate, and respectful to all parties involved.
Common mistakes in report writing 
There are several common mistakes that students and report writers make in report writing. By avoiding these common mistakes, students as well as report writers can create effective and impactful reports that are clear, accurate, and objective.
1/ Writing in the first person: Often, students and report writers commit an error by writing in the first person and utilizing words such as "I" or "me. In reports, it is recommended to write impersonally, using the passive voice instead.
2/ Using the wrong format: Reports should use numbered headings and subheadings to structure the content, while essays should have a clear line of argument in their content.
3/ Failing to introduce the content: The introduction of the report should introduce the content of the report, not the subject for discussion. It is important to explain the scope of the report and what is to follow, rather than explaining what a certain concept is.
4/ Missing relevant sections: Students and report writers, often miss out on including relevant sections that were specified in the assignment instructions, such as a bibliography or certain types of information. This can result in poor interpretation.
5/ Poor proofreading: Finally, not spending enough time proofreading the reported work can create unwanted mistakes. Therefore, It is important to proofread and correct errors multiple times before submitting the final report to avoid any mistakes that could have been easily corrected.
By avoiding these common mistakes, students and report writers can improve the quality of their reports. 
What are some challenges of report writing and how to overcome them
Report writing can be a challenging task for many reasons. Here are some common challenges of report writing and how to overcome them:
1/ Lack of clarity on the purpose of the report: To overcome this challenge, it is important to clearly define the purpose of the report before starting. This can help to focus the content of the report and ensure that it meets the needs of the intended audience.
2/ Difficulty in organizing ideas: Reports often require a significant amount of information to be organized in a logical and coherent manner. To overcome this challenge, it can be helpful to create an outline or flowchart to organize ideas before beginning to write.
3/ Time management: Writing a report can be time-consuming, and it is important to allow sufficient time to complete the task. To overcome this challenge, it can be helpful to create a timeline or schedule for the various stages of the report-writing process.
4/ Writer's block: Sometimes writers may experience writer's block, making it difficult to start or continue writing the report. To overcome this challenge, it can be helpful to take a break, engage in other activities or brainstorming sessions to generate new ideas.
5/ Difficulty in citing sources: It is important to properly cite sources used in the report to avoid plagiarism and maintain credibility. To overcome this challenge, it can be helpful to use citation management tools, such as EndNote or Mendeley, to keep track of sources and ensure accurate referencing.
6/ Review and editing: Reviewing and editing a report can be a challenging task, especially when it is one's own work. To overcome this challenge, it can be helpful to take a break before reviewing the report and seek feedback from others to gain a fresh perspective.
By being aware of these challenges and taking proactive steps to overcome them, report writers can create effective and impactful reports that meet the needs of their intended audience.
Best Software for writing reports 
Report writing software has made it easier for writers to produce professional-looking reports with ease. These software tools offer a range of features and functionalities, including data visualization, collaboration, and customization options. In this section, we will explore some of the best report-writing software available:
1/ Tableau : This tool is great for creating interactive and visually appealing reports, as it allows users to easily create charts, graphs, and other data visualizations. It also supports data blending, which means that you can combine data from multiple sources to create more comprehensive reports.
2/ Zoho reporting : This tool is designed to help users create and share professional-looking reports quickly and easily. It offers a variety of customizable templates, as well as a drag-and-drop interface that makes it easy to add data and create charts and graphs.
3/ Bold Reports by Syncfusion : This tool is designed specifically for creating reports in .NET applications. It offers a wide range of features, including interactive dashboards, real-time data connectivity, and customizable themes and templates.
4/  Fast Reports : This tool is a reporting solution for businesses of all sizes. It allows users to create reports quickly and easily using a drag-and-drop interface and offers a variety of templates and customization options. It also supports a wide range of data sources, including databases, spreadsheets, and web services.
Further Reading : 10+ Best Report Writing Software and Tools in 2023
What is the conclusion of report writing
The conclusion of report writing is the final section of the report that summarizes the main findings, conclusions, and recommendations. It should tie together all the different sections of the report and present a clear and concise summary of the key points. 
THE UNIVERSITY OF NEWCASTLE has given an inverted introduction framework that can use used for writing effective conclusions for reports.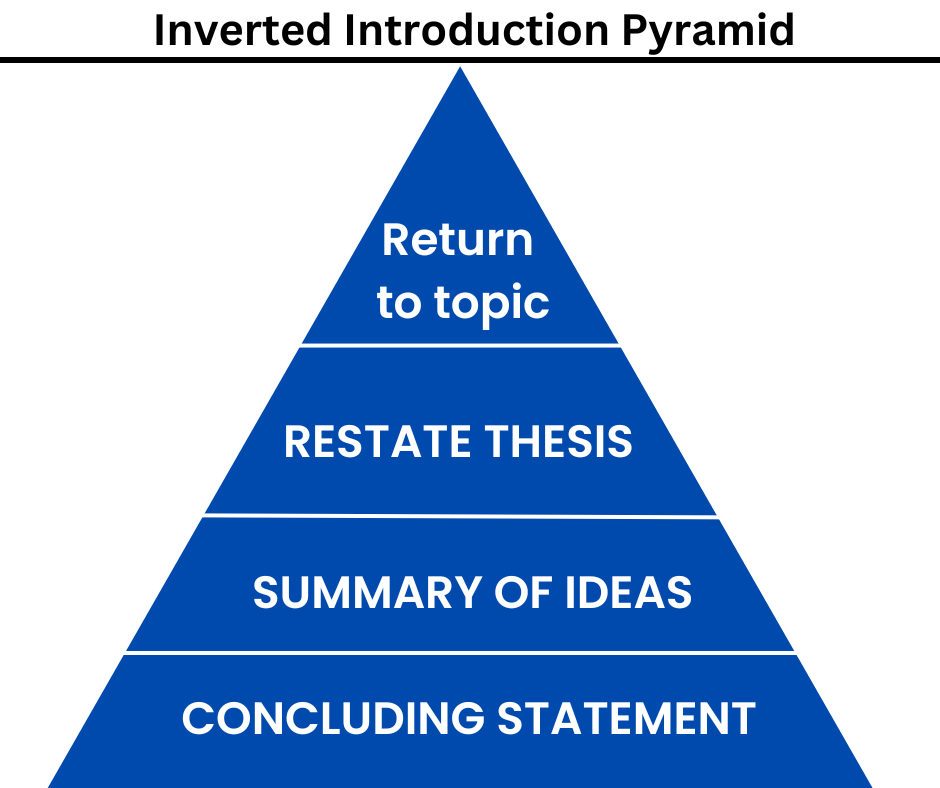 Example of conclusion in report writing:
The implication of the above diagram can be explained with the following example:  
1. RETURN TO TOPIC:
Social media has revolutionized the marketing landscape, providing new opportunities for brands to connect with their target audience.
2. RESTATE THESIS:
However, the complexities and limitations of social media mean that it is unlikely to completely replace traditional marketing methods. The role of the marketing professional remains crucial in ensuring that social media strategies align with the company's overall goals and effectively reach the desired audience.
3. SUMMARY OF IDEAS DISCUSSED:
Automated tools cannot fully account for the nuances of human communication or provide the level of personalization that consumers crave. Therefore, the most effective marketing strategies will likely blend social media tactics with traditional marketing channels.
4. CONCLUDING STATEMENT [restating thesis]:
In conclusion, while social media presents significant opportunities for brands, the expertise of marketing professionals is still essential to creating successful campaigns that achieve desired outcomes.
Frequently Asked Questions
Q1) what is report writing and example.
Ans: Report writing involves preparing a structured document that delivers information to a particular audience in a clear and systematic manner. An example of a report could be a business report analyzing the financial performance of a company and making recommendations for improvement.
Q2) What is report writing and types of reports?
Ans: The act of presenting information in an orderly and structured format is known as report writing. Reports come in different types, such as analytical reports, research reports, financial reports, progress reports, incident reports, feasibility reports, and recommendation reports.
Q3) What are the 5 steps of report writing
The five steps of report writing, are as follows:
Planning: This involves defining the purpose of the report, determining the audience, and conducting research to gather the necessary information.
Structuring: This step involves deciding on the structure of the report, such as the sections and subsections, and creating an outline.
Writing: This is the stage where the actual writing of the report takes place, including drafting and revising the content.
Reviewing: In this step, the report is reviewed for accuracy, coherence, and effectiveness, and any necessary changes are made.
Presenting: This final step involves presenting the report in a clear and professional manner, such as through the use of headings, visuals, and a table of contents.
Q4) What is a report in short answer? 
Share your read share this content.
Aditya Soni
You might also like.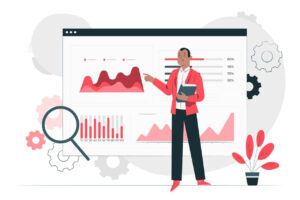 11 Characteristics of a Good Business Report
Advantages And Disadvantages of Business Reports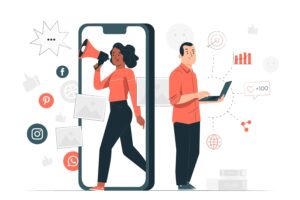 18 Best Network Marketing Success Secret For Beginners
Leave a reply cancel reply.
Save my name, email, and website in this browser for the next time I comment.
Steps in Report Writing: Report Writing Format
Report writing is a formal style of writing elaborately on a topic. The tone of a report and report writing format is always formal. The important section to focus on is the target audience. For example – report writing about a school event, report writing about a business case, etc.
Suggested Videos
Introduction.
All your facts and information presented in the report not only have to be bias-free, but they also have to be a 100% correct. Proof-reading and fact-checking is always what you do as a thumb rule before submitting a report.
One needs to write reports with much analysis. The purpose of report writing is essential to inform the reader about a topic, minus one's opinion on the topic.
It's simply a portrayal of facts, as it is. Even if one gives inferences , solid analysis, charts, tables and data is provided. Mostly, it is specified by the person who's asked for the report whether they would like your take or not if that is the case.
In many cases, you need to be clear about your own suggestions too for a specific case after a factual report. That depends on why are you writing the report and who you are writing it for in the first place. Knowing your audience's motive for asking for that report is very important as it sets the course of the facts focused in your report .
These different kinds of reports are also covered in our previous chapter in reports writing. We recommend you to read our chapter on kinds of reports before diving into the report format. Now that we have some idea about report-writing, let's get straight into our report writing format.
Report Writing Format
Following are the parts of a report format that is most common..
Executive summary – highlights of the main report
Table of Contents – index page
Introduction – origin, essentials of the main subject
Body – main report
Conclusion – inferences, measures taken, projections
Reference – sources of information
Let us understand each one of them in detail.
Executive summary.
You summarize the main points of the report, such as the report topic, the data obtained, the data analysis methods, and recommendations based on the data. The summary could be as short as a paragraph or as long as five pages, depending on the length of the full report.
Usually, the recipient of the report doesn't always have the time to read through the entire report. This summary gives the reader a gist of the important points.
Remember that although attached as the first page, this summary is always putting a perspective for the entire report, meaning that effort-wise, the writer always needs to include it at the end.
Most importantly, the summary should contain:
the purpose of the report
what you did (analysis) and what you found (results)
your recommendations; these recommendations should be short and not go beyond a page
Table of Contents
The report should begin with a table of contents. This explains the audience, author, and basic purpose of the attached report. It should be short and to the point.
This section is the beginning of your report. It highlights the major topics that are covered and provides background information on why the data in the report was collected. It also contains a top view of what's covered in the report.
The body of the report describes the problem, the data that was collected, sometimes in the form of table or charts , and discusses with reasons. The body is usually broken into subsections, with subheadings that highlight the further breakdown of a point. Report writing format is very specific that way about clear and crisp headings and subheadings.
This just structures out readers clarity in understanding and further enhances the logical flow that can get hard to follow. Since a report has no personal bias or opinions, you can imagine that reading through a report can be a bit boring and people may find it hard to follow through. In such a case, it's always best to create pointers and lay out the points in short and simple methods .
Note: Tables and figures must all be labeled
At the end of our main body lies the tying of ends together in the much-awaited conclusion . The conclusion explains how the data described in the body of the document may be interpreted or what conclusions may be drawn. The conclusion often suggests how to use the data to improve some aspect of the business or recommends additional research.
This solution then may be implemented to solve a given problem the report was made for in the first place. Big consultancies or service providers prepare reports in the form of Microsoft Powerpoint or the Keynote in Mac to present to the stakeholders. At the end of which lies the conclusive suggestion section.
If you used other sources of information to help write your report, such as a government database, you would include that in the  references . The references section lists the resources used to research or collect the data for the report. References provide proof for your points. Also, this provides solid reasoning for the readers so that they can review the original data sources themselves. Also, credit must be given where credit is due.
Lastly, comes the appendix. Although this one is not necessary, more like an optional element. This may include additional technical information that is not necessary to the explanation provided in the body and conclusion but further supports the findings, such as tables or charts or pictures, or additional research not cited in the body but relevant to the discussion. Note: Tables and figures must all be labelled.
In case you want to closely look at report writing format example or take a look at the report writing sample, our next chapter will have a clear example of the same. Stay tuned.
Report Writing
Tips and Conventions with Sample Reports
Kinds of Reports
Introduction and Essential Elements of Report Writing
Which class are you in?
Download the App
A Guide To The Top 14 Types Of Reports With Examples Of When To Use Them
Table of Contents
1) What Is The Report Definition?
2) Top 14 Types Of Reports
3) What Does A Report Look Like?
4) What To Look For In A Reporting Tool
Businesses have been producing reports forever. No matter what role or industry you work in, chances are that you have been faced with the task of generating a tedious report to show your progress or performance.
While reporting has been a common practice for many decades, the business world keeps evolving, and with more competitive industries, the need to generate fast and accurate reports becomes critical. This presents a problem for many modern organizations today, as building reports can take from hours to days. In fact, a survey about management reports performed by Deloitte says that 50% of managers are unsatisfied with the speed of delivery and the quality of the reports they receive.
With this issue in mind, several BI tools have been developed to assist businesses in generating interactive reports with just a few clicks, enhancing the way companies make critical decisions and service insights from their most valuable data.
But, with so many types of reports used daily, how can you know when to use them effectively? How can you push yourself ahead of the pack with the power of information? Here, we will explore the 14 most common types of reports in business and provide some examples of when to use them to your brand-boosting advantage. In addition, we will see how online dashboards have overthrown the static nature of classic reports and given way to a much faster, more interactive way of working with data.
Let's get started with a brief report definition.
What Is The Report Definition?
A report is a document that presents relevant business information in an organized and understandable format. Each report is aimed at a specific audience and business purpose, and it summarizes the development of different activities based on goals and objectives.  
That said, there are various types of reports that can be used for different purposes. Whether you want to track the progress of your strategies or stay compliant with financial laws, there is a different report for each task. To help you identify when to use them, we will cover the top 14 most common report formats used for businesses today.
What Are The Different Types Of Reports?
1. Informational Reports
The first in our list of reporting types is informational reports. As their name suggests, this report type aims to give factual insights about a specific topic. This can include performance reports, expense reports, and justification reports, among others. A differentiating characteristic of these reports is their objectivity; they are only meant to inform but not propose solutions or hypotheses. Common informational reports examples are for performance tracking, such as annual, monthly, or weekly reports .
2. Analytical Reports
This report type contains a mix of useful information to facilitate the decision-making process through a mix of qualitative and quantitative insights as well as real-time and historical insights. Unlike informational reports that purely inform users about a topic, this report type also aims to provide recommendations about the next steps and help with problem-solving. With this information in hand, businesses can build strategies based on analytical evidence and not simple intuition. With the use of the right BI reporting tool , businesses can generate various types of analytical reports that include accurate forecasts via predictive analytics technologies. Let's look at it with an analytical report example.
**click to enlarge**
The example above is the perfect representation of how analytical reports can boost a business's performance. By getting detailed information such as sales opportunities, a probability rate, as well as an accurate pipeline value forecast based on historical data, sales teams can prepare their strategies in advance, tackle any inefficiencies, and make informed decisions for increased efficiency.
3. Operational Reports
These reports track every pertinent detail of the company's operational tasks, such as its production processes. They are typically short-term reports as they aim to paint a picture of the present. Businesses use this type of report to spot any issues and define their solutions or to identify improvement opportunities to optimize their operational efficiency. Operational reports are commonly used in manufacturing, logistics, and retail as they help keep track of inventory, production, and costs, among others.
4. Product Reports
As its name suggests, this report type is used to monitor several aspects related to product development. Businesses often use them to track which of their products or subscriptions are selling the most within a given time period, calculate inventories, or see what kind of product the client values the most. Another common use case of these reports is to research the implementation of new products or develop existing ones. Let's see it in more detail with a visual example. 
The image above is a product report that shows valuable insights regarding usage intention, purchase intention, willingness to pay, and more. In this case, the report is based on the answers from a survey that aimed to understand how the target customer would receive a new product. Getting this level of insights through this report type is very useful for businesses as it allows them to make smart investments when it comes to new products as well as set realistic pricing based on their client's willingness to pay.
5. Industry Reports
Next in our list of the most common kinds of reports, we have industry-specific reports. Typically, these reports provide an overview of a particular industry, market, or sector with definitions, key trends, leading companies, and industry size, among others. They are particularly useful for businesses that want to enter a specific industry and want to learn how competitive it is or for companies who are looking to set performance benchmarks based on average industry values. 
6. Department Reports
These reports are specific to each department or business function. They serve as a communication tool between managers and team members who must stay connected and work together for common goals. Whether it is the sales department, customer service, logistics, or finances, this specific report type helps track and optimize strategies on a deeper level. Let's look at it with an example of a team performance report . 
The image above is a department report created with an online data analysis tool , and it tracks the performance of a support team. This insightful report displays relevant metrics such as the top-performing agents, net promoter score, and first contact resolution rate, among others. Having this information in hand not only helps each team member to keep track of their individual progress but also allows managers to understand who needs more training and who is performing at their best. 
7. Progress Reports
From the brunch of informational reports, progress reports provide critical information about the status of a project. These reports can be produced on a daily, weekly, or monthly basis by employees or managers to track performance and fine-tune tasks for the better development of the project. Progress reports are often used as visual materials to support meetings and discussions. A good example is a KPI scorecard .
8. Internal Reports
A type of report that encompasses many others on this list, internal reports refer to any type of report that is used internally in a business. They convey information between team members and departments to keep communication flowing regarding goals and business objectives. 
As mentioned above, internal reports are useful communication tools to keep every relevant person in the organization informed and engaged. This healthcare report aims to do just that. By providing insights into the performance of different departments and areas of a hospital, such as in and outpatients, average waiting times, treatment costs, and more, healthcare managers can allocate resources and plan the schedule accurately, as well as monitor any changes or issues in real-time.
9. External Reports
Although most of the reports types listed here are used for internal purposes, not all reporting is meant to be used behind closed doors. External reports are created to share information with external stakeholders such as clients or investors for budget or progress accountability, as well as to governmental bodies to stay compliant with the law requirements.
The image above is the perfect example of an external client report from an IT project. This insightful report provides a visual overview of every relevant aspect of the project's development. From deadlines, budget usage, completion stage, and task breakdown, clients can be fully informed and involved in the project.
10. Vertical & Lateral Reports
Next, in our rundown of types of reports, we have vertical and lateral reports. This reporting type refers to the direction in which a report travels. A vertical report is meant to go upward or downward the hierarchy, for example, a management report. A lateral report assists in organization and communication between groups that are at the same level of the hierarchy, such as the financial and marketing departments.
11. Research Reports
Without a doubt, one of the most vital reporting types for any modern business is centered on research. Being able to collect, collate, and drill down into insights based on key pockets of your customer base or industry will give you the tools to drive innovation while meeting your audience's needs head-on.
The image above is a market research analytics report example for customer demographics. It serves up a balanced blend of metrics that will empower you to boost engagement as well as retention rates. Here, you can drill down into your audience's behaviors, interests, gender, educational levels, and tech adoption life cycles with a simple glance.
What's particularly striking about this dashboard is the fact that you can explore key trends in brand innovation with ease, gaining a working insight into how your audience perceives your business. This invaluable type of report will help you get under the skin of your consumers, driving growth and loyalty in the process.
12. Strategic Reports
Strategy is a vital component of every business, big or small. Strategic analytics tools are perhaps the broadest and most universal of all the different types of business reports imaginable.
These particular tools exist to help you understand, meet, and exceed your most pressing organizational goals consistently by serving up top-level metrics on a variety of initiatives or functions.
By working with strategic-style tools, you will:
Improve internal motivation and engagement
Refine your plans and strategies for the best possible return on investment (ROI)
Enhance internal communication and optimize the way your various departments run
Create more room for innovation and creative thinking
13. Project Reports
Projects are key to keeping a business moving in the right direction while keeping innovation and evolution at the forefront of every plan, communication, or campaign. But without the right management tools, a potentially groundbreaking project can become a resource-sapping disaster.
A project management report serves as a summary of a particular project's status and its various components. It's a visual tool that you can share with partners, colleagues, clients, and stakeholders to showcase your project's progress at multiple stages. Let's look at our example and dig a little deeper.
To ensure consistent success across the board, the kinds of reports you must work with are based on project management. 
Our example is a project management dashboard equipped with a melting pot of metrics designed to improve the decision-making process while keeping every facet of your company's most important initiatives under control. Here, you can spot pivotal trends based on costs, task statuses, margins, costs, and overall project revenue. With this cohesive visual information at your fingertips, not only can you ensure the smooth end-to-end running of any key project, but you can also drive increased operational efficiency as you move through every significant milestone.
14. Statutory Reports
It may not seem exciting or glamorous, but keeping your business's statutory affairs in order is vital to your ongoing commercial health and success.
When it comes to submitting such vital financial and non-financial information to official bodies, one small error can result in serious repercussions. As such, working with statutory types of report formats is a water-tight way of keeping track of your affairs and records while significantly reducing the risk of human error.
Armed with interactive insights and dynamic visuals, you will keep your records clean and compliant while gaining the ability to nip any potential errors or issues in the bud.
What Does A Report Look Like?
Now that we've covered the most relevant types of reports, we will answer the question: what does a report look like?
As mentioned at the beginning of this insightful guide, static reporting is a thing of the past. With the rise of modern technologies like self-service BI tools , the use of interactive reports in the shape of business dashboards has become more and more popular among companies.
Unlike static reports that take time to be generated and are difficult to understand, modern reporting tools are intuitive. Their visual nature makes them easy to understand for any type of user, and they provide businesses with a central view of their most important performance indicators for an improved decision-making process. Here, we will cover 20 useful dashboard examples from different industries, functions, and platforms to put the value of dashboard reporting into perspective.
1. Financial Report
Keeping finances in check is critical for success. This financial report offers an overview of the most important financial metrics that a business needs to monitor its economic activities and answer vital questions to ensure healthy finances. 
With insights about liquidity, invoicing, budgeting, and general financial stability, managers can extract long and short-term conclusions to reduce inefficiencies, make accurate forecasts about future performance, and keep the overall financial efficiency of the business flowing. For instance, getting a detailed calculation of the business's working capital can allow you to understand how liquid your company is. If it's higher than expected, it means you have the potential to invest and grow—definitely, one of the most valuable types of finance reports.
2. Marketing Report
Our following example is a marketing report that ensures a healthy return on investment from your marketing efforts. This type of report offers a detailed overview of campaign performance over the last 12 weeks. Having access to this information enables you to maximize the value of your promotional actions, keeping your audience engaged by providing a targeted experience.
For instance, you can implement different campaign formats as a test and then compare which one is most successful for your business. This is possible thanks to the monitoring of important marketing metrics such as the click-through rate (CTR), cost per click (CPC), cost per acquisition (CPA), and more.
The visual nature of this report makes it easy to understand important insights at a glance. For example, the four gauge charts at the top show the total spending from all campaigns and how much of the total budget of each campaign has been used. In just seconds, you can see if you are on target to meet your marketing budgets for every single campaign.
3. Sales Report
An intuitive sales dashboard like the one above is the perfect analytical tool to monitor and optimize sales performance. Armed with powerful high-level metrics, this report type is especially interesting for managers, executives, and sales VPs as it provides relevant information to ensure strategic and operational success.
The value of this sales report lies in the fact that it offers a complete and comprehensive overview of relevant insights needed to make smart sales decisions. For instance, at the top of an analysis tool, you get important metrics such as the number of sales, revenue, profit, and costs, all compared to a set target and to the previous time period. The use of historical data is fundamental when building successful sales strategies as they provide a picture of what could happen in the future. Being able to filter the key metrics all in one screen is a key benefit of modern reporting.
4. HR Report
Our next example of a report is about human resources analytics . The HR department needs to track various KPIs for employee performance and effectiveness. But overall, they have to ensure that employees are happy and working in a healthy environment since an unhappy workforce can significantly damage an organization. This is all possible with the help of this intuitive dashboard. 
Providing a comprehensive mix of metrics, this employee-centric report drills down into every major element needed to ensure successful workforce management. For example, the top portion of the dashboard covers absenteeism in 3 different ways: yearly average, absenteeism rate with a target of 3.8%, and absenteeism over the last five years. Tracking absenteeism rates in detail is helpful as it can tell you if your employees are skipping work days. If the rate is over the expected target, then you have to dig deeper into the reasons and find sustainable solutions. 
On the other hand, the second part of the dashboard covers the overall labor effectiveness (OLE). This can be tracked based on specific criteria that HR predefined, and it helps them understand if workers are achieving their targets or if they need extra training or help.
5. Management Report
Managers must monitor big amounts of information to ensure that the business is running smoothly. One of them being investor relationships. This management dashboard focuses on high-level metrics that shareholders need to look at before investing, such as the return on assets, return on equity, debt-equity ratio, and share price, among others. 
By getting an overview of these important metrics, investors can easily extract the needed information to make an informed decision regarding an investment in your business. For instance, the return on assets measures how efficiently are the company's assets being used to generate profit. With this information, investors can understand how effectively your company deploys available resources compared to others in the market. Another great indicator is the share price; the higher the increase in your share price, the more money your shareholders are making from their investment. 
6. IT Report
Just like all the other departments and sections covered in this list, the IT department is one that can especially benefit from these types of reports. With so many technical issues to solve, the need for a visual tool to help IT specialists stay on track with their workload becomes critical.
As seen in the image above, this IT dashboard offers detailed information about different system indicators. For starters, we get a visual overview of the status of each server, followed by a detailed graph displaying the uptime & downtime of each week. This is complemented by the most common downtown issues and some ticket management information. Getting this level of insight helps your IT staff to know what is happening and when it is happening and find proper solutions to prevent these issues from repeating themselves. Keeping constant track of these metrics will ensure robust system performance.
7. Procurement Report
The following example of a report was built with intuitive procurement analytics software , and it gives a general view of various metrics that the procurement department needs to work with regularly.
With the possibility to filter, drill down, and interact with KPIs, this intuitive procurement dashboard offers key information to ensure a healthy supplier relationship. With metrics such as compliance rate, the number of suppliers, or the purchase order cycle time, the procurement team can classify the different suppliers, define the relationship each of them has with the company, and optimize processes to ensure it stays profitable.
8. Customer Service Report
Following our list of examples of reports is one from the support area. Armed with powerful customer service KPIs , this dashboard is a useful tool to monitor performance, spot trends, identify strengths and weaknesses, and improve the overall effectiveness of the customer support department.
Covering aspects such as revenue and costs from customer support as well as customer satisfaction, this complete analysis tool is the perfect tool for managers who have to keep an eye on every little detail from a performance and operational perspective. For example, by monitoring your customer service costs and comparing them to the revenue, you can understand if you are investing the right amount into your support processes. This can be directly related to your agent's average time to solve issues; the longer it takes to solve a support ticket, the more money it will cost and the less revenue it will bring. If you see that your agents are taking too long to solve an issue, you can think of some training instances to help them reduce this number. 
9. Market Research Report
This list of report types examples would not be complete without a market research report . Market research agencies deal with a large amount of information coming from surveys and other research sources. Taking all this into account, the need for reports that can be filtered for deeper interaction becomes more necessary for this industry than any other.
The image above is a brand analytics dashboard that displays the survey results about how the public perceives a brand. This savvy tool contains different charts that make it easy to understand the information visually. For instance, the map chart with the different colors lets you quickly understand in which regions each age range is located. The charts can be filtered further to see the detailed answers from each group for a deeper analysis. 
10. Social Media Report
Last but not least, we have a social media report . This scorecard format dashboard monitors the performance of 4 main social media channels: Facebook, Twitter, Instagram, and YouTube, and it serves as a perfect visual overview to track the performance of different social media efforts and achievements.
Tracking relevant metrics such as followers, impressions, clicks, engagement rates, and conversions, this report type serves as a perfect progress report to show to managers or clients who need to see the status of their social channels. Each metric is shown in its actual value and compared to a set target. The colors green and red from the fourth column let you quickly understand if a metric is over or under its expected target.
11. Logistics Report
Logistics are the cornerstone of an operationally fluent and progressive business. If you deal with large quantities of goods and tangible items, in particular, maintaining a solid logistical strategy is vital to ensuring you maintain your brand reputation while keeping things flowing in the right direction.
A prime example of the types of data reporting tool designed to improve logistical management, our warehouse KPI dashboard is equipped with metrics required to maintain strategic movement while eliminating any unnecessary costs or redundant processes. Here, you can dig into your shipping success rates across regions while accessing warehouse costs and perfect order rates in real-time. If you spot any potential inefficiencies, you can track them here and take the correct course of action to refine your strategy. This is an essential tool for any business with a busy or scaling warehouse.
12. Manufacturing Report
Next, in our essential types of business reports examples, we're looking at tools made to improve your business's various manufacturing processes.
Our clean and concise production tool is a sight to behold and serves up key manufacturing KPIs that improve the decision-making process regarding costs, volume, and machinery.
Here, you can hone in on historical patterns and trends while connecting with priceless real-time insights that will not only help you make the right calls concerning your manufacturing process at the moment but will also help you formulate predictive strategies that will ultimately save money, boost productivity, and result in top-quality products across the board.
13. Retail Report
As a retailer with so many channels to consider and so many important choices to make, working with the right metrics and visuals is absolutely essential. Fortunately, we live in an age where there are different types of reporting designed for this very reason.
Our sales and order example, generated with retail analytics software , is a dream come true for retailers as it offers the visual insights needed to understand your product range in greater detail while keeping a firm grip on your order volumes, perfect order rates, and reasons for returns.
Gaining access to these invaluable insights in one visually presentable space will allow you to track increases or decreases in orders over a set timeframe (and understand whether you're doing the right things to drive engagement) while plowing your promotional resources into the products that are likely to offer the best returns.
Plus, by gaining an accurate overview of why people are returning your products, you can omit problem items or processes from your retail strategy, improving your brand reputation as well as revenue in the process.
14. Digital Media Report
The content and communications you publish are critical to your ongoing success, regardless of your sector, niche, or specialty. Without putting out communications that speak directly to the right segments of your audience at the right times in their journey, your brand will swiftly fade into the background.
To ensure your brand remains inspiring, engaging, and thought-leading across channels, working with media types of a business report is essential. You must ensure your communications cut through the noise and scream 'quality' from start to finish—no ifs, no buts, no exceptions.
Our content quality control tool is designed with a logical hierarchy that will tell you if your content sparks readership, if the language you're using is inclusive and conversational, and how much engagement-specific communications earn. You can also check your most engaged articles with a quick glance to understand what your users value most. Armed with this information, you can keep creating content that your audience loves and ultimately drives true value to the business.
15. Energy Report
In the age of sustainability and in the face of international fuel hikes, managing the energy your business uses effectively is paramount. Here, there is little room for excess or error, and as such, working with the right metrics is the only way to ensure successful energy regulation.
If your company has a big HQ or multiple sites that require power, our energy management analytics tool will help you take the stress out of managing your resources. One of the most striking features of this dashboard is the fact that it empowers you to compare your company's energy usage against those from other sectors and set an accurate benchmark.
Here, you can also get a digestible breakdown of your various production costs regarding energy consumption and the main sources you use to keep your organization running. Regularly consulting these metrics will not only help you save colossal chunks of your budget, but it will also give you the intelligence to become more sustainable as an organization. This, in turn, is good for the planet and your brand reputation—a real win-win-win.
16. FMCG Report
The fast-moving consuming goods (FMCG) industry can highly benefit from a powerful report containing real-time insights. This is because the products handled in this sector which are often food and beverages, don't last very long. Therefore, having a live overview of all the latest developments can help decision-makers optimize the supply chain to ensure everything runs smoothly and no major issues happen.
Our report format example above aims to do just that by providing an overview of critical performance indicators, such as the percentage of products sold within freshness date, the out-of-stock rate, on-time in full deliveries, inventory turnover, and more. What makes this template so valuable is the fact that it provides a range of periods to get a more recent view of events but also a longer yearly view to extract deeper insights.
The FMCG dashboard also offers an overview of the main KPIs to help users understand if they are on the right track to meet their goals. There, we can observe that the OTIF is far from its target of 90%. Therefore, it should be looked at in more detail to optimize it and prevent it from affecting the entire supply chain.
17. Google Analytics Report
Regardless of the industry you are in, if you have a website then you probably require a Google Analytics report. This powerful tool helps you understand how your audience interacts with your website while helping you reach more people through the Google search engine. The issue is that the reports the tool provides are more or less basic and don't give you the dynamic and agile view you need to stay on top of your data and competitors.
For that reason, at datapine, we generated a range of Google Analytics dashboards that take your experience one step further by allowing you to explore your most important KPIs in real-time. That way, you'll be able to spot any potential issues or opportunities to improve as soon as they occur, allowing you to act on them on the spot.
Among some of the most valuable metrics you can find in this sample are the sessions and their daily, weekly, and monthly development, the average session duration, the bounce rate by channel and by top 5 countries, among others.
18. YouTube Report
So far, we've covered examples for various industries and sectors. Now, we will dive a bit deeper into some templates related to popular platforms businesses use in their daily operations. With the rise in video-related content, we could not leave YouTube outside of the list. This popular platform hides some valuable insights that can help you improve your content for your current audience but also reach new audiences that can be interested in your products or services.
This highly visual and dynamic sample offers an interactive view of relevant KPIs to help you understand every aspect of your video performance. The template can be filtered for different videos to help you understand how each type of content performs. For instance, you get an overview of engagement metrics, such as likes, dislikes, comments, and shares, that way, you can understand how your audience interacts with your content.
Additionally, you also get more detailed charts about the number of views, the average watch time per day, and audience retention. These indicators can help you understand if something needs to be changed. For instance, audience retention goes down a lot after one minute and a half. Therefore you either need to make sure you are making the rest of the video a bit more interesting or offering your product or service or any other relevant information in the first minute.
19. LinkedIn Report
Another very important platform that companies use, no matter their size or industry, is LinkedIn. This platform is the place where companies develop and showcase their corporate image, network with other companies, and tell their clients and audience about the different initiatives they are developing to grow and be better. Some organizations also use LinkedIn to showcase their charity or sustainability initiatives.
The truth is LinkedIn has become an increasingly relevant platform, and just like we discussed with YouTube, organizations need to analyze data to ensure their strategies are on the right path to success.
The template above offers a 360-degree view of a company page's performance. With metrics such as the followers gained, engagement rate, impressions vs unique impressions, CTR, and more. Decision-makers can dive deeper into the performance of their content and understand what their audience enjoys the most. For instance, by looking at the CTR of the last 5 company updates, you can start to get a sense of what topics and content format your audience on the platforms interact with the most. That way, you'll avoid wasting time and resources producing content without interaction.
20. Healthcare Report
Moving on from platform-related examples, we have one last monthly report template from a very relevant sector, the healthcare industry. For decades now, hospitals and healthcare professionals have benefited from data to develop new treatments and analyze unknown diseases. But, data can also help to ensure daily patient care is of top quality. 
Our sample above is a healthcare dashboard report that tracks patient satisfaction stats for a clinic named Saint Martins Clinic. The template provides insights into various aspects of patient care that can affect their satisfaction levels to help spot any weak areas.
Just by looking at the report in a bit more detail, we can already see that the average waiting time for arrival to a bed and time to see a doctor are on the higher side. This is something that needs to be looked into immediately, as waiting times are the most important success factors for patients. Additionally, we can see those lab test turnarounds are also above target. This is another aspect that should be optimized to prevent satisfaction levels from going down.
If you feel inspired by this list and want to see some of the best uses for business reports, then we recommend you take a look at our dashboard examples library, where you will find over 80+ templates from different industries, functions, and platforms for extra inspiration!
What You Should Look For In A Reporting Tool
As you learned from our extensive list of examples, different types of reports are widely used across industries and sectors. Now, you might wonder, how do I get my hands on one of these reports? The answer is a professional online reporting tool. With the right software in hand, you can generate stunning reports to extract the maximum potential out of your data and boost business growth in the process.
But, with so many options in the market, how do make sure you choose the best tool for your needs? Below we cover some of the most relevant features and capabilities you should look for to make the most out of the process.
Pre-made reporting templates
To ensure successful operations, a business will most likely need to use many types of reports for its internal and external strategies. Manually generating these reports can become a time-consuming task that burdens the business. That is why professional reporting software should offer pre-made reporting templates. At datapine, we offer an extensive template library that allows users to generate reports in a matter of seconds—allowing them to use their time on actually analyzing the information and extracting powerful insights from it. 
Multiple visualization options
If you look for report templates on Google you might run into multiple posts about written ones. This is not a surprise, as written reports have been the norm for decades. That being said, a modern approach to reporting has developed in the past years where visuals have taken over text. The value of visuals lies in the fact that they make the information easier to understand, especially for users who have no technical knowledge. But most importantly, they make the information easier to explore by telling a compelling story. For that reason, the tool you choose to invest in should provide you with multiple visualization options to have the flexibility to tell your data story in the most successful way possible. 
While pre-made templates are fundamental to generating agile reports, being able to customize them to meet your needs is also of utmost importance. At datapine, we offer our users the possibility to customize their reports to fit their most important KPIs, as well as their logo, business colors, and font. This is an especially valuable feature for external reports that must be shown to clients or other relevant stakeholders, giving your reports a more professional look. Customization can also help from an internal perspective to provide employees who are uncomfortable with data with a familiar environment to work in.
In the fast-paced world we live in today, having static reports is not enough. Businesses need to have real-time access to the latest developments in their data to spot any issues or opportunities as soon as they occur and act on them to ensure their resources are spent smartly and their strategies are running as expected. Doing so will allow for agile and efficient decision-making, giving the company a huge competitive advantage.
Communication and collaboration are the basis of a successful reporting process. Today, team members and departments need to be connected to ensure everyone is on the right path to achieve general company goals. That is why the tool you invest in should offer flexible sharing capabilities to ensure every user can access the reports. For instance, at datapine, we offer our users the possibility to share reports through automated emails or password-protected URLs with viewing or editing rights depending on what data the specific user can see and manipulate. A great way to keep everyone connected and boost collaboration.
Types Of Reporting For Every Business & Purpose
As we've seen throughout our journey, different report formats are used by businesses for diverse purposes in their everyday activities. Whether you're talking about types of reports in research, types of reports in management, or anything in between, these dynamic tools will get you where you need to be (and beyond).
In this post, we covered the top 14 most common ones and explored key examples of how different report types are changing the way businesses are leveraging their most critical insights for internal efficiency and, ultimately, external success.
With modern tools and solutions, reporting doesn't have to be a tedious task. Anyone in your organization can rely on data for their decision-making process without needing technical skills. Rather, you want to keep your team connected or show progress to investors or clients. There is a report type for the job. To keep your mind fresh, here are the top 14 types of data reports covered in this post:
Informational reports
Analytical reports
Operational reports
Product reports
Industry reports
Department reports
Progress reports
Internal reports
External reports
Vertical and lateral reports
Strategic reports
Research reports
Project reports
Statutory reports
Now, over to you. Are you ready? If you want to start building your own types of reports and get ahead of the pack today, then you should try our BI reporting software for 14 days for free !
Advertising
Applications
Assessments
Certificates
Announcement
Invitations
Newsletters
Questionnaires
Food & Beverages
Recruitment
Marketing Examples
Transportation
19+ Report Writing Examples
Selecting Your Topic
Understand the assignment., choose a good topic that you love., pick an original topic., keep in mind that you can change your topic., hypertext adventures: computer-assisted teaching of technical report writing in delft.
Report writing on Comparative Study on the Indian Stock Market
Report Writing: Formal
Formal Report Format
Example of a Written Report
Definition of a Report
Researching Your Topic
Research your topic.  , visit the library and make sure your online sources are reputable., keep track of all of the information you find., sample report writing with framework and some hints.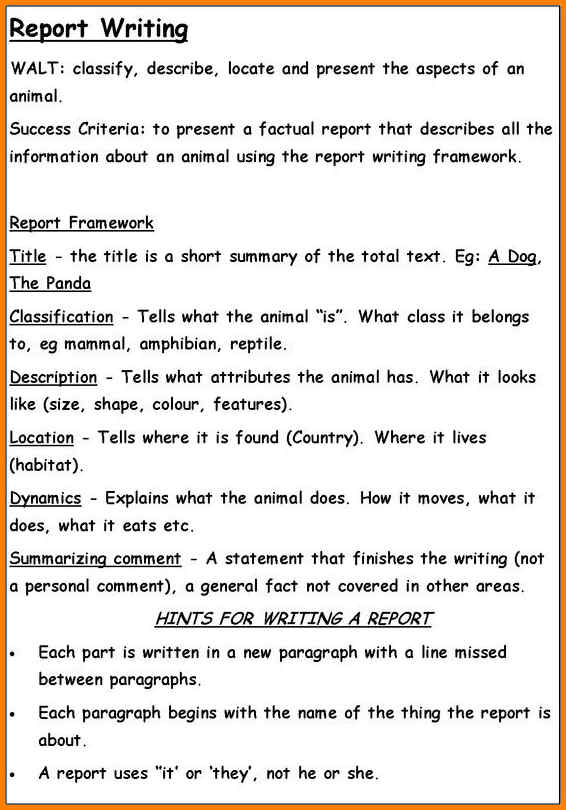 Report on Light Water Nuclear Reactions
Report writing by doug knight.
Reporting all about Elephants Example
Pre-writing for Your Report
Come up with a thesis statement., create an outline., 5 report writing stages.
Structure of a Formal Report Example
Rubric for Writing a Report
What Is a Report? (with definitions)
Parts of a Report
Writing a Report with Some Steps in Doing So
Writing Your Report
Write your introduction., write your body paragraphs..
Example topic sentence for Thesis 1 : At the PPIE, the Court of the Universe was the heart of the exposition and represented the greatest achievements of man, as well as the meeting of the East and the West.
For a report that is about a person, a topic sentence might be something like, "John Doe had a rough childhood that shaped who he became." Obviously you would put in more specific information relevant to the person you are reporting about.
Support your topic sentence.
For the topic sentence listed above about the Court of the Universe, the body paragraph should go on to list the different exhibits found at the exhibit, as well as proving how the Court represented the meeting of the East and West.
For a report about a person, you would provide evidence that proved John Doe had a hard childhood and that his experiences led him to become the famous person he was.
Write your conclusion.
Cite your sources.  , programme outline report example.
Different Kinds of Reports
Minutes of the Formal Meeting Report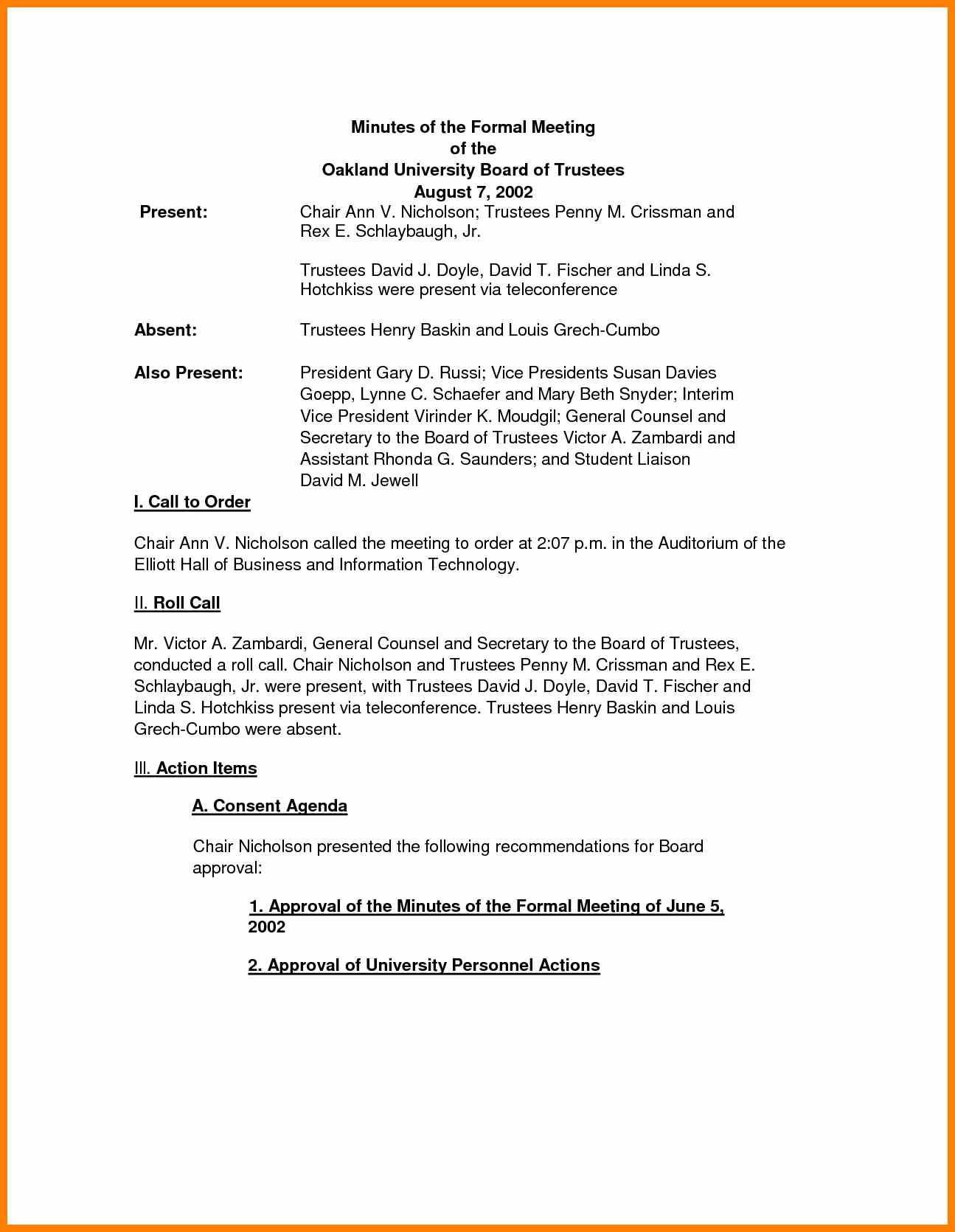 Writing Accident Reports in Manufacturing
Finalizing Your Report
Get someone else to read your report., proofread your report., read your report out loud., more design, 10+ expense report examples & samples, 12+ financial report examples, samples, how to write a progress report, 10+ audit report examples & samples, 7+ activity report examples , samples, 12+ management report examples, samples, how to write a short report, 39+ inspection report examples, 8+ internship report writing examples in pdf, 10+ quality report examples, samples.

Related Articles
id; ?>)" rel="noopener" role="button" tabindex="0" aria-label="postclick">10+ Report Writing Examples - PDF
id; ?>)" rel="noopener" role="button" tabindex="0" aria-label="postclick">50+ Report Examples - PDF
EssayBasics.com
Pay For Essay
Write My Essay
Homework Writing Help
Essay Editing Service
Thesis Writing Help
Write My College Essay
Do My Essay
Term Paper Writing Service
Coursework Writing Service
Write My Research Paper
Assignment Writing Help
Essay Writing Help
Call Now! (USA) Login Order now
EssayBasics.com Call Now! (USA) Order now
Writing Guides
How To Write A Report
Table of contents, content of this article.
How to write a good report
Difference from essay
Tips for good writing
1. How To Write A Good Report
A report is a form of writing that is systematic, organized, and often tries to define or analyze a problem or an event. The problem or event analyzed can also be within a body of literature belonging to either a single document or several documents. The sole purpose of a report is to objectively present readers with all the relevant information in relation to a particular issue. Writers are expected to shelve their personal feelings or shield themselves from issues that might render the report subjective because the use of reports is at times beyond aiming to impress the author's readership. A report has three distinct attributes which help to distinguish it from other forms of writing.
These include:
Pre-defined structure.
The existence of Independent sections.
Reaching impartial and balanced conclusions.
The above makes report writing a different endeavor, but it is still a significant part of academic writing.
A report should always be:
Accurate (be filled with reliable information)
Concise (direct and to the point)
Clear (writers must maintain consistency and avoid being ambiguous)
Well-structured (writers must follow the standard structure)
Straying from the above disqualifies an author's piece or article from being a report.
2. Report vs Essay. What is the difference
A report differs greatly from a conventional essay.
First of all, reports have a specific structure, and writers are always asked to adhere to it while essays follow the conventional introduction, body, and conclusion structure.
Reports also use different sections and these should always have subheadings. These sections serve a certain purpose within a report and cannot be left out.
Essays, on the other hand, do not have sections and while writers may need to have subheadings within their essays, they are not conventional.
The purpose of each form of writing also differs. In reports, writers aim at conveying a particular piece of information to their audience while in essays the main goal is to showcase the writer's comprehension of the teacher's instructions.
The above exquisitely and explicitly show the differences between essays and reports. Understanding these differences is the first step to learning how to write a report.
3. Topic selection for a report
Topic selection separates bad report writers from good report writers as well as from excellent report writers. In many instances, readers are attracted to certain documents because of their topics. Getting the right report topic is of the essence if writers are to maintain their readership. Many writers forget the issue of scope when selecting a topic. The scope is indeed an important consideration that calls for patience and careful consideration of the general subject suggested before settling on a specific report topic. Exceptional report writers understand the significance of scope and thus focus on specific aspects of a subject or topic before they decide on a topic. Writers are often advised to focus on the vitalities of a subject and only present that to their readers.
It is essential for authors to ask themselves the following questions to help in narrowing the scope of a subject:
What are the specific aspects of a topic that appear interesting to the writer?
What do you think will interest your audience/readers?
What information can you find regarding the selected subject?
The above questions are indeed essential and help a writer to find or settle on a topic they are familiar with and also feel strongly about. Knowing what interests the readers is of course of the essence because it gifts the writer with a sense of direction and purpose. Finally, report writing needs to be factual and well cited. It is thus important to ensure the selected topic is adequately referenced for purposes of building a credible and reliable argument .
Below are some good topics for a report:
Global Warming
Nuclear Fusion
The Shift to Solar Energy
Breast Cancer
US-Japan Relations since the 1945 atomic bombing
The Big Bang Theory
The History of Christianity
History of Buddhism
History of Foot Binding in China
The Power Struggle in the East
Causes of the 2007/2009 Recession
History of the Israeli-Palestinian Conflict
4. Typical structure of a report
As already said, a report structure is formal and must be strictly adhered to by all writers. Deviating from this structure only leads to reduced marks or a bored and angry audience.
Below are the elements that form the structure of a report:
Executive Summary/Abstract
An executive summary or an abstract mainly provides a summary of the entire report. While some writers write it immediately after commencing their report, it is always advisable to write it last. This section is of great importance and makes it easier for the readers to quickly understand the main points or the focus of the report.
A table of contents is simply a list of all the sections the writer decided to include in their report. Its sole purpose is to prepare readers for what to expect when reading the report and also to make it easier for them to access some of the sections directly.
Introduction
Like other introductions, a report introduction ushers in the readers by providing them with a brief but accurate summary of the topic or issue under study. From the introduction, readers should be able to understand the writer's focus or perspective.
The body mainly contains the bulk of information which builds on or supports the thesis statement from the introduction. Unlike the body of essays, the body of a report can be divided into sections depending on the topic being reviewed. Some of the sections include a literature review, a methods section, a findings section, and finally a discussion of the findings section.
Conclusion and Recommendations
A report conclusion must be included, and it contains the inferences or the points the writer withdrew from the report. How to conclude a report is indeed essential because it provides writers with the opportunity of restating and insisting on their main point.
Recommendations are always included, and here the writer is expected to include their suggestions of how, for example, the investigation can be improved in the future or how a problem can be averted in the future. If in case the writer's recommendations have financial associations, then he/she must provide estimations or the projected costs of whatever issue they were discussing in their report.
Reference list
Exceptional report writers consult journals and articles which are relevant to their topic. Later, these articles and journals need to be included under the reference list section. A reference list, therefore, contains all the materials the writer used to conduct their research.
While this is not a mandatory inclusion, it adds to one's analysis and should hence be included whenever necessary.
Once the writer has completed the report, it is important first to review it before submitting or printing it. Proofreading the finished report is indeed essential because it helps the writer to identify some of the mistakes they could have made. For example, one could have gotten some statistical facts wrong, and it is only through proofreading that such mistakes can be identified and corrected. Grammatical errors should also be avoided, and while currently there are software varieties that can help with this, the human mind is still miles ahead, and one should identify and correct such mistakes while proofreading. Reading the report to an audience can also help a writer to avoid some mistakes while also maintaining the focus and purpose of the report. Two heads will always be better than one and consulting one's friends or co-workers could help a writer avoid re-writing the entire report in case it is found defective later.
5. Some good tips for a report writing
Report writing tips are readily available on the Internet.
Below are some of those tips:
Avoid ambiguity when writing a report.
The use of simple language is also of great importance.
Clarity and accuracy are also essential.
Avoid guessing or using information that cannot be confirmed.
Use recent material as sources of one's information.
Always start with a report outline and draft.
Like the tips above, report writing help can be readily found on the Internet. However, it is essential to be involved in the entire process lest one gets what they did not ask for.
How to Write a Report? - Tips and Guidelines
Ever tried writing a report on some event you were a part of? What are the kind of details you think should be included in a report? Learn everything about report writing, how to write a report, the various types of reports, and the format and structure of a report in this article.
Table of Contents
What is a report, what to include in a report, types of reports, report writing format and structure, how to write a report, frequently asked questions on report writing.
A report is a document of the summary of an event, issue, or a topic. A report is never a fictional story. Writing a report aims to let the unaware readers know about a particular topic or idea. However, there is no particular definition of a report. Any discourse, written or verbal, covering a particular topic is known as a report. A report can be a courtroom confession or a child's book report. But in general, when people talk about a report, it is more of an official document describing the facts of a topic, which is typically written by experts. The information regarding the event or topic must have enough evidence to support the statement. The data must be factually correct as it reaches various readers. A report must be written in an informative tone rather than opinionated.
A report is a document which covers all the information related to the event or topic and includes all the factual information. Therefore, the one who writes a report must ensure that all the information provided has proper evidence for the same.
The information that can be added to a report include,
The brief details of the event
Consequences and effects of the event
Evaluation of statistical data and analytics
Interpretations from the information
How the information is relevant to other events
There is often a lot of confusion when it comes to report writing and essay writing, although there are clear differences between them. Both essays and reports are written based on factual information; essays include the personal opinion of the author; whereas, reports stick to the facts. However, reports also include the author's interpretation of the topic in the conclusion of the report. The only difference is that these interpretations are objective. A report is a more systematic and organised way of writing which includes headings, subheadings, etc. and makes it easier for the readers to read. Essays, on the other hand, are mostly written in a single flow without subheadings or breaks.
Reports are classified into three main types depending on the purpose or motive behind the report. The common types of reports are
Academic Reports: This report tests the child's comprehension ability. It tests if the student has understood the lesson and is able to comprehend the subject matter, such as books, historical events, biographies, etc.
Business Reports: It can be a marketing report, work report, etc., and the main purpose of writing the business report is to identify different business strategies.
Scientific Reports: Share research findings like case studies and journals.
The structure of a report depends on the type of report and the requirements of the report. The basic format for writing a report is mentioned below.
Executive Summary: Like an abstract in any academic paper, an executive summary is a standalone section of the report that summarises the whole of the report so that the readers know what to expect. These are mostly used in official reports.
Introduction: The introduction of the report plays a crucial role as it includes the main idea of the report. The main argument is discussed in the introduction before you put your points and the evidence is collected.
Body: The body comes after the introduction of the report. It includes all the information regarding the event or the topic. All the facts and evidence collected can be displayed in the body of the report. The body covers the major part of a report.
Conclusion: It is the part of a report where all the information is gathered together, and your personal opinion or judgement is explained in this paragraph.
A report can be written easily if you have adequate information and you know how to categorise your points. You can follow to the tips provided below to write a report.
Finding a suitable topic
Conducting a research
Gathering all the information
Writing a thesis statement
Preparing an outline
Writing the final report
Reviewing and revising
Editing and proofreading
Let us look at each of these in detail.
Finding a Suitable Topic
Before you can start writing your report, it is crucial to find the topic you wish to write on. In most cases, the topic is already given, and if not, you can find a suitable topic for the same. To find the topic, you must keep in mind that you must be interested in the topic and must be able to collect the required information.
Conducting a Research
Whatever the kind of report, academic, business, news, etc., healthy research must be conducted. Research is essential to find adequate information regarding the topic. Since a report includes all the factual data, extensive research is essential. It is essential to find the right evidence to prove your topic.
Gathering all the Information
After you are done with your research, you can jot down all the points at a place and note down all the facts collected. After collecting the information, you can decide on the subheadings and divide them as per their categories.
Writing a Thesis Statement
A thesis statement is written to conceptualise the main theme of the report. Just like the first sentence or the topic of the report, the thesis statement summarises the main points in brief.
Preparing the Outline
Preparing an outline of a report is essential for all the kids who are writing a report because you can categorise your important points and it becomes easy for you to decide on the headings and subheadings. It is essential to prepare the outline so that you do not miss out on the important points.
Writing the Final Report
After you have prepared the rough draft, you can start writing the final report. The final report must be written in simple language and in short sentences. The sentences must be short but convey the message clearly.
Reviewing and Revising
After the final report is written, it is crucial to revise and recheck if all the information has been added and you are not missing out on important information. Make sure to check if all the information has been added under the right heading and subheading.
Editing and Proofreading
After the final revision of the report, you must check the report for any grammar , spelling, and typographical errors. It is common that while writing, you might have overlooked a lot of mistakes. Therefore, final proofreading is essential.
What is a report?
A report can be a discourse containing any information which people are not aware of. A report can be either written or verbal.
What is the purpose of a report?
The purpose of writing reports is to spread information regarding an event, topic, or idea in brief. For example, a news report is written to spread the news among the people.
What is the format of a report?
Executive Summary
Introduction
How to write a report?
Find a suitable topic
Conduct a research
Gather all the information
Write a thesis statement
Prepare an outline
Write the final report
Review and revise
Edit and proofread
Leave a Comment Cancel reply
Your Mobile number and Email id will not be published. Required fields are marked *
Request OTP on Voice Call
Post My Comment

Register with BYJU'S & Download Free PDFs
Register with byju's & watch live videos.
Have a language expert improve your writing
Run a free plagiarism check in 10 minutes, generate accurate citations for free.
Knowledge Base
Academic writing
How to write a lab report
How To Write A Lab Report | Step-by-Step Guide & Examples
Published on May 20, 2021 by Pritha Bhandari . Revised on July 23, 2023.
A lab report conveys the aim, methods, results, and conclusions of a scientific experiment. The main purpose of a lab report is to demonstrate your understanding of the scientific method by performing and evaluating a hands-on lab experiment. This type of assignment is usually shorter than a research paper .
Lab reports are commonly used in science, technology, engineering, and mathematics (STEM) fields. This article focuses on how to structure and write a lab report.
Table of contents
Structuring a lab report, introduction, other interesting articles, frequently asked questions about lab reports.
The sections of a lab report can vary between scientific fields and course requirements, but they usually contain the purpose, methods, and findings of a lab experiment .
Each section of a lab report has its own purpose.
Title: expresses the topic of your study
Abstract : summarizes your research aims, methods, results, and conclusions
Introduction: establishes the context needed to understand the topic
Method: describes the materials and procedures used in the experiment
Results: reports all descriptive and inferential statistical analyses
Discussion: interprets and evaluates results and identifies limitations
Conclusion: sums up the main findings of your experiment
References: list of all sources cited using a specific style (e.g. APA )
Appendices : contains lengthy materials, procedures, tables or figures
Although most lab reports contain these sections, some sections can be omitted or combined with others. For example, some lab reports contain a brief section on research aims instead of an introduction, and a separate conclusion is not always required.
If you're not sure, it's best to check your lab report requirements with your instructor.
A faster, more affordable way to improve your paper
Scribbr's new AI Proofreader checks your document and corrects spelling, grammar, and punctuation mistakes with near-human accuracy and the efficiency of AI!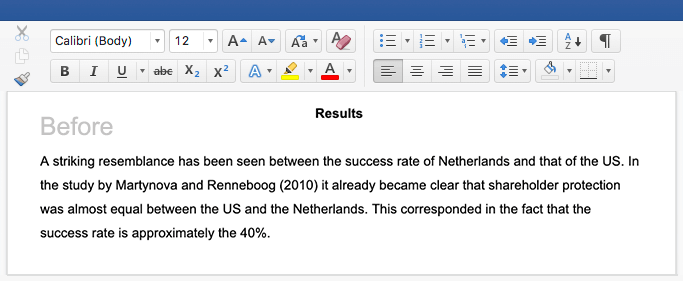 Proofread my paper
Your title provides the first impression of your lab report – effective titles communicate the topic and/or the findings of your study in specific terms.
Create a title that directly conveys the main focus or purpose of your study. It doesn't need to be creative or thought-provoking, but it should be informative.
The effects of varying nitrogen levels on tomato plant height.
Testing the universality of the McGurk effect.
Comparing the viscosity of common liquids found in kitchens.
An abstract condenses a lab report into a brief overview of about 150–300 words. It should provide readers with a compact version of the research aims, the methods and materials used, the main results, and the final conclusion.
Think of it as a way of giving readers a preview of your full lab report. Write the abstract last, in the past tense, after you've drafted all the other sections of your report, so you'll be able to succinctly summarize each section.
To write a lab report abstract, use these guiding questions:
What is the wider context of your study?
What research question were you trying to answer?
How did you perform the experiment?
What did your results show?
How did you interpret your results?
What is the importance of your findings?
Nitrogen is a necessary nutrient for high quality plants. Tomatoes, one of the most consumed fruits worldwide, rely on nitrogen for healthy leaves and stems to grow fruit. This experiment tested whether nitrogen levels affected tomato plant height in a controlled setting. It was expected that higher levels of nitrogen fertilizer would yield taller tomato plants.
Levels of nitrogen fertilizer were varied between three groups of tomato plants. The control group did not receive any nitrogen fertilizer, while one experimental group received low levels of nitrogen fertilizer, and a second experimental group received high levels of nitrogen fertilizer. All plants were grown from seeds, and heights were measured 50 days into the experiment.
The effects of nitrogen levels on plant height were tested between groups using an ANOVA. The plants with the highest level of nitrogen fertilizer were the tallest, while the plants with low levels of nitrogen exceeded the control group plants in height. In line with expectations and previous findings, the effects of nitrogen levels on plant height were statistically significant. This study strengthens the importance of nitrogen for tomato plants.
Your lab report introduction should set the scene for your experiment. One way to write your introduction is with a funnel (an inverted triangle) structure:
Start with the broad, general research topic
Narrow your topic down your specific study focus
End with a clear research question
Begin by providing background information on your research topic and explaining why it's important in a broad real-world or theoretical context. Describe relevant previous research on your topic and note how your study may confirm it or expand it, or fill a gap in the research field.
This lab experiment builds on previous research from Haque, Paul, and Sarker (2011), who demonstrated that tomato plant yield increased at higher levels of nitrogen. However, the present research focuses on plant height as a growth indicator and uses a lab-controlled setting instead.
Next, go into detail on the theoretical basis for your study and describe any directly relevant laws or equations that you'll be using. State your main research aims and expectations by outlining your hypotheses .
Based on the importance of nitrogen for tomato plants, the primary hypothesis was that the plants with the high levels of nitrogen would grow the tallest. The secondary hypothesis was that plants with low levels of nitrogen would grow taller than plants with no nitrogen.
Your introduction doesn't need to be long, but you may need to organize it into a few paragraphs or with subheadings such as "Research Context" or "Research Aims."
Here's why students love Scribbr's proofreading services
Discover proofreading & editing
A lab report Method section details the steps you took to gather and analyze data. Give enough detail so that others can follow or evaluate your procedures. Write this section in the past tense. If you need to include any long lists of procedural steps or materials, place them in the Appendices section but refer to them in the text here.
You should describe your experimental design, your subjects, materials, and specific procedures used for data collection and analysis.
Experimental design
Briefly note whether your experiment is a within-subjects  or between-subjects design, and describe how your sample units were assigned to conditions if relevant.
A between-subjects design with three groups of tomato plants was used. The control group did not receive any nitrogen fertilizer. The first experimental group received a low level of nitrogen fertilizer, while the second experimental group received a high level of nitrogen fertilizer.
Describe human subjects in terms of demographic characteristics, and animal or plant subjects in terms of genetic background. Note the total number of subjects as well as the number of subjects per condition or per group. You should also state how you recruited subjects for your study.
List the equipment or materials you used to gather data and state the model names for any specialized equipment.
List of materials
35 Tomato seeds
15 plant pots (15 cm tall)
Light lamps (50,000 lux)
Nitrogen fertilizer
Measuring tape
Describe your experimental settings and conditions in detail. You can provide labelled diagrams or images of the exact set-up necessary for experimental equipment. State how extraneous variables were controlled through restriction or by fixing them at a certain level (e.g., keeping the lab at room temperature).
Light levels were fixed throughout the experiment, and the plants were exposed to 12 hours of light a day. Temperature was restricted to between 23 and 25℃. The pH and carbon levels of the soil were also held constant throughout the experiment as these variables could influence plant height. The plants were grown in rooms free of insects or other pests, and they were spaced out adequately.
Your experimental procedure should describe the exact steps you took to gather data in chronological order. You'll need to provide enough information so that someone else can replicate your procedure, but you should also be concise. Place detailed information in the appendices where appropriate.
In a lab experiment, you'll often closely follow a lab manual to gather data. Some instructors will allow you to simply reference the manual and state whether you changed any steps based on practical considerations. Other instructors may want you to rewrite the lab manual procedures as complete sentences in coherent paragraphs, while noting any changes to the steps that you applied in practice.
If you're performing extensive data analysis, be sure to state your planned analysis methods as well. This includes the types of tests you'll perform and any programs or software you'll use for calculations (if relevant).
First, tomato seeds were sown in wooden flats containing soil about 2 cm below the surface. Each seed was kept 3-5 cm apart. The flats were covered to keep the soil moist until germination. The seedlings were removed and transplanted to pots 8 days later, with a maximum of 2 plants to a pot. Each pot was watered once a day to keep the soil moist.
The nitrogen fertilizer treatment was applied to the plant pots 12 days after transplantation. The control group received no treatment, while the first experimental group received a low concentration, and the second experimental group received a high concentration. There were 5 pots in each group, and each plant pot was labelled to indicate the group the plants belonged to.
50 days after the start of the experiment, plant height was measured for all plants. A measuring tape was used to record the length of the plant from ground level to the top of the tallest leaf.
In your results section, you should report the results of any statistical analysis procedures that you undertook. You should clearly state how the results of statistical tests support or refute your initial hypotheses.
The main results to report include:
any descriptive statistics
statistical test results
the significance of the test results
estimates of standard error or confidence intervals
The mean heights of the plants in the control group, low nitrogen group, and high nitrogen groups were 20.3, 25.1, and 29.6 cm respectively. A one-way ANOVA was applied to calculate the effect of nitrogen fertilizer level on plant height. The results demonstrated statistically significant ( p = .03) height differences between groups.
Next, post-hoc tests were performed to assess the primary and secondary hypotheses. In support of the primary hypothesis, the high nitrogen group plants were significantly taller than the low nitrogen group and the control group plants. Similarly, the results supported the secondary hypothesis: the low nitrogen plants were taller than the control group plants.
These results can be reported in the text or in tables and figures. Use text for highlighting a few key results, but present large sets of numbers in tables, or show relationships between variables with graphs.
You should also include sample calculations in the Results section for complex experiments. For each sample calculation, provide a brief description of what it does and use clear symbols. Present your raw data in the Appendices section and refer to it to highlight any outliers or trends.
The Discussion section will help demonstrate your understanding of the experimental process and your critical thinking skills.
In this section, you can:
Interpret your results
Compare your findings with your expectations
Identify any sources of experimental error
Explain any unexpected results
Suggest possible improvements for further studies
Interpreting your results involves clarifying how your results help you answer your main research question. Report whether your results support your hypotheses.
Did you measure what you sought out to measure?
Were your analysis procedures appropriate for this type of data?
Compare your findings with other research and explain any key differences in findings.
Are your results in line with those from previous studies or your classmates' results? Why or why not?
An effective Discussion section will also highlight the strengths and limitations of a study.
Did you have high internal validity or reliability?
How did you establish these aspects of your study?
When describing limitations, use specific examples. For example, if random error contributed substantially to the measurements in your study, state the particular sources of error (e.g., imprecise apparatus) and explain ways to improve them.
The results support the hypothesis that nitrogen levels affect plant height, with increasing levels producing taller plants. These statistically significant results are taken together with previous research to support the importance of nitrogen as a nutrient for tomato plant growth.
However, unlike previous studies, this study focused on plant height as an indicator of plant growth in the present experiment. Importantly, plant height may not always reflect plant health or fruit yield, so measuring other indicators would have strengthened the study findings.
Another limitation of the study is the plant height measurement technique, as the measuring tape was not suitable for plants with extreme curvature. Future studies may focus on measuring plant height in different ways.
The main strengths of this study were the controls for extraneous variables, such as pH and carbon levels of the soil. All other factors that could affect plant height were tightly controlled to isolate the effects of nitrogen levels, resulting in high internal validity for this study.
Your conclusion should be the final section of your lab report. Here, you'll summarize the findings of your experiment, with a brief overview of the strengths and limitations, and implications of your study for further research.
Some lab reports may omit a Conclusion section because it overlaps with the Discussion section, but you should check with your instructor before doing so.
If you want to know more about AI for academic writing, AI tools, or fallacies make sure to check out some of our other articles with explanations and examples or go directly to our tools!
Ad hominem fallacy
Post hoc fallacy
Appeal to authority fallacy
False cause fallacy
Sunk cost fallacy
Deep learning
Generative AI
Machine learning
Reinforcement learning
Supervised vs. unsupervised learning
 (AI) Tools
Grammar Checker
Paraphrasing Tool
Text Summarizer
AI Detector
Plagiarism Checker
Citation Generator
A lab report conveys the aim, methods, results, and conclusions of a scientific experiment . Lab reports are commonly assigned in science, technology, engineering, and mathematics (STEM) fields.
The purpose of a lab report is to demonstrate your understanding of the scientific method with a hands-on lab experiment. Course instructors will often provide you with an experimental design and procedure. Your task is to write up how you actually performed the experiment and evaluate the outcome.
In contrast, a research paper requires you to independently develop an original argument. It involves more in-depth research and interpretation of sources and data.
A lab report is usually shorter than a research paper.
The sections of a lab report can vary between scientific fields and course requirements, but it usually contains the following:
Abstract: summarizes your research aims, methods, results, and conclusions
References: list of all sources cited using a specific style (e.g. APA)
Appendices: contains lengthy materials, procedures, tables or figures
The results chapter or section simply and objectively reports what you found, without speculating on why you found these results. The discussion interprets the meaning of the results, puts them in context, and explains why they matter.
In qualitative research , results and discussion are sometimes combined. But in quantitative research , it's considered important to separate the objective results from your interpretation of them.
Cite this Scribbr article
If you want to cite this source, you can copy and paste the citation or click the "Cite this Scribbr article" button to automatically add the citation to our free Citation Generator.
Bhandari, P. (2023, July 23). How To Write A Lab Report | Step-by-Step Guide & Examples. Scribbr. Retrieved November 3, 2023, from https://www.scribbr.com/academic-writing/lab-report/
Is this article helpful?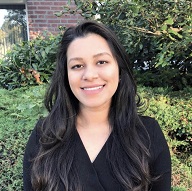 Pritha Bhandari
Other students also liked, guide to experimental design | overview, steps, & examples, how to write an apa methods section, how to write an apa results section, what is your plagiarism score.
Start free trial
Bug Report: Example, Template & Best Practices
Developing software, like any project, is complicated and littered with roadblocks. One of those roadblocks is a bug. A bug is a problem with a feature or the functionality of the software, which needs to be fixed before it can be shipped to customers. A bug relies on a bug report to get that process started.
Before we dive into how to make a bug report, let's go deeper into the definition of a bug report and why it's so important to software development. We'll also explain some best practices, provide an example to better illustrate what a bug report is and let you download a free bug report template to get started.
What Is a Bug Report?
A bug report is a document, log or diagnostic information that identifies a bug or problem with the software and provides a clear, step-by-step description of how to replicate that bug so developers can find and fix it. A software tester will usually create the bug report and pass it on to the development team so they can understand and resolve the problem.
Get your free
Bug Report Template
Use this free Bug Report Template for Excel to manage your projects better.
The bug report not only explains how to reproduce the problem but can also include a screenshot and details of the device and environment in which the bug occurred. The more information, the better for the developer to debug the software so it doesn't happen again.
There are often many bugs when developing software, but a bug report focuses solely on one bug. For each new bug, a new bug report is created. That's why bug reports also have unique IDs to differentiate them from one another and make it easier for developers to find the specific bug and track it throughout the bug's life cycle.
Project management software can help manage the process of identifying and fixing bugs. ProjectManager is award-winning project management software that has customizable kanban boards that can mirror the debugging process so developers can collaborate and managers can track progress. Bugs can be captured on kanban cards, which have unlimited file storage to hold screenshots and documents. Users can set a priority and add tags, descriptions and more. The kanban columns mimic the stages of debugging and cards show the percentage complete. All this is done with our online tool so developers and testers can collaborate wherever they are. Get started with ProjectManager today for free.
Why Is It Important to Use a Bug Report In Software Development?
The main reason a bug report is important is that software developers don't want to send a product to customers that doesn't work. Identifying and fixing bugs ensures greater customer satisfaction, which leads to greater sales and a stronger brand.
The bug report is a powerful tool in this process as it captures and details the bug so developers can replicate it and discover the cause of the problem. It does this by being a thorough container for data surrounding the discovery of the bug, from the environment it sprung up from to the device used when it occurred. All of this can pinpoint the origin of the bug, which is crucial in fixing it.
The identification and repair of bugs will save time and money in software development. Yes, a bug means that there will be more time to go back to fix the bug. But that's preferable to having to release a new version because a bug was sent out with the product and wasn't discovered until it was caught by a customer. It's always better to catch the bug before the software goes into production as it saves time and money.
How to Write a Bug Report
A bug report can be created in many different ways, from paper to digital, but however it's delivered, the data tends to be the same. Here's an outline of the process for testers to capture all the pertinent information that developers will need to remedy the problem.
1. Start With General Information About the Bug
To begin, you're going to need to identify the bug. Remember, there will likely be plenty of bugs so you'll have to make sure you differentiate between them. There's other general information that's going to be important to capture, which is listed below.
Give each bug a unique number, according to whatever system you use to track bugs. You can also add a name, if that's helpful, though there will be space to describe the bug in detail later on in the bug report.
Assigned Developer
The tester is usually the person who discovers the bug, but it's the developer who's responsible for fixing it. Therefore, a developer must be assigned to the bug report to route it to the right person. The developer will take ownership of the bug and be accountable for the process of resolving it.
Submit Date & Due Date
You'll want to capture the date when the bug was discovered and add a due date for the bug to be fixed. Having a deadline is always preferable to keeping the task open-ended.
2. Describe the Bug
At this point, you'll want to describe the bug in detail. If you added a title in the previous section, it should have been short, but now you'll be able to provide all the information about the bug to help the developer replicate and resolve it.
Bug Summary
This is where you write an exhaustive but clearly written description of the bug. You want to make it easy for the developer to understand without neglecting any details that will be important to the developer when replicating and repairing the bug. This can include the URL where the bug occurred and other details.
Expected Results vs. Actual Results
The expected result is what should have happened if the functionality or feature was working as designed. This will help the developer know what's expected. The actual result is the bug or what happened that wasn't supposed to happen. This should be short and clear.
Screenshot or Image
It can be helpful to the developer if the tester is able to add a screenshot of the bug or some image. Writing about the bug is important, but having visual reference is often clearer or at least will add to the clarity of the written documentation and help the developer understand the bug.
Steps to Reproduce
In order for the developer to replicate the bug, the tester should outline the steps they took that led to the discovery of the bug. Again, these steps should be detailed, but clear so as not to be confusing. You don't want to prevent the developer from doing their work or have to prolong the process by reaching out to the tester for more information.
Bug Severity & Priority
Not all bugs are created equal. You want to further define the bug by noting its severity and prioritizing it. Severity is how much it impacts the functionality of the software, from critical to enhancement. The former is of the utmost importance and the latter is minor, such as a typo. Priority is used to tell developers which bugs need their attention first and is ranked from high to low priority.
3. Describe the Bug Environment
Finally, you'll want to describe the environment in which the bug occurred. This goes beyond the URL or screenshot. It helps developers rule out all but the one cause of the bug.
This is the device used when discovering the bug, such as a computer, tablet, phone, etc., and what kind of device: Mac, PC, etc.
Operating System
Not just the device, but the operating system it uses needs to be noted, such as Android, iOS, Windows, etc.
If the bug was found online, then the browser used will have to be identified, whether it's Chrome, Microsoft Edge, Foxfire, etc.
Bug Reporting Best Practices
We've outlined the basics when identifying and reporting on a bug, but there's more that can be done to make sure the process proceeds as efficiently as possible. Here are a few helpful tips.
Use a Standard Bug Report Template Throughout Your Organization
Consistency is important in bug reporting. It creates a more efficient system , which means that bugs are resolved faster. Therefore, using a bug report template or making sure that your bug reporting system is consistent will help you report and resolve bugs. It'll also help when archiving them to use for future reference.
Keep Your Bug Reports Simple but Descriptive Enough
We've already mentioned the importance of a detailed, but clear bug report, but it's worth stressing as it's so critical to the smooth running of a bug reporting system. That's because bugs need to be thoroughly detailed to help developers replicate and repair them, but if they're not simple and straightforward enough, they can prove confusing, which will slow down the process.
Establish Channels of Communication for Testers & Developers
For a bug report to work, there must be a clear communication channel between the tester and the bug developer. In a sense, the bug report is acting as that bridge, but as detailed and clear as a bug report should be, there still might be cause to speak with the tester. Therefore, developers and testers shouldn't be siloed, but work collaboratively.
Bug Report Example
There are endless possibilities when it comes to bug report examples. We've already gone into detail about the reporting process , but we haven't highlighted what the bug that initiated that process might be. Here are a few examples of bugs in software testing.
The login doesn't work
Add to cart button doesn't add the right item
The search box doesn't respond to the user's query
The best way to understand a bug report is to do one. ProjectManager has a free bug report template for Excel that you can download right now to use when testing your software. Our site has dozens of free project management templates for Excel and Word that address every phase of a project. Use our free bug report template to streamline your bug reporting and keep it consistent for greater efficiency.
How ProjectManager Helps With Bug Reporting & Tracking
Our free template is a great tool to capture the details of your bug, but tracking the process of fixing it will require project management software. ProjectManager is award-winning project management software that manages and tracks your bug reporting in real time. Once you've filled out the bug report it can be attached to the software, making it easily accessible for everyone involved who needs to access it.
Plan How to Fix Bugs With Multiple Views
Different teams use different tools. Our software gives everyone the opportunity to work on the project view they're comfortable with. Developers can use our kanban boards to visualize their workflow while testers can add bug reports to their task list as they go through their assignments. Managers can schedule bug reporting with the larger software development on robust Gantt charts, while stakeholders can stay informed on progress with calendar views that show due dates and milestones.
Track Progress and Costs in Real Time
Once you have the right tool to work on your bug report, then you'll need to monitor its progress to make sure it is resolved on schedule. Our software captures real-time data and displays it on easy-to-read graphs and charts that show time, cost, workload and more to help you track your team's work. There's no time-consuming setup required as with lightweight tools. It's ready when you are. Plus, our customizable reports go into greater detail and can be shared to keep stakeholders updated.
Those are just some of the features that can help you identify, manage and track bugs in real time. There are also task management tools to keep teams productive and working at capacity, resource management tools to give them what they need when they need it and risk management tools to stay prepared for the unexpected.
ProjectManager is online project management software that connects teams whether they're working in the same office or different countries. Teams can share files, comment at the task level and more to foster better collaboration. Join teams at Siemens, Avis and Nestle who are using our software to deliver successful projects. Get started with ProjectManager today for free.
Deliver your projects on time and under budget
Start planning your projects.
Advertisement
Supported by
Political Memo
How Trump's Verbal Slips Could Weaken His Attacks on Biden's Age
Donald Trump, 77, has relentlessly attacked President Biden, 80, as too old for office. But the former president himself has had a series of gaffes that go beyond his usual freewheeling style.
By Michael C. Bender and Michael Gold
One of Donald J. Trump's new comedic bits at his rallies features him impersonating the current commander in chief with an over-the-top caricature mocking President Biden's age.
With droopy eyelids and mouth agape, Mr. Trump stammers and mumbles. He squints. His arms flap. He shuffles his feet and wanders laggardly across the stage. A burst of laughter and applause erupts from the crowd as he feigns confusion by turning and pointing to invisible supporters, as if he does not realize his back is to them.
Listen to This Article
Open this article in the New York Times Audio app on iOS.
But his recent campaign events have also featured less deliberate stumbles. Mr. Trump has had a string of unforced gaffes, garble and general disjointedness that go beyond his usual discursive nature, and that his Republican rivals are pointing to as signs of his declining performance.
On Sunday in Sioux City, Iowa, Mr. Trump wrongly thanked supporters of Sioux Falls, a South Dakota town about 75 miles away, correcting himself only after being pulled aside onstage and informed of the error.
It was strikingly similar to a fictional scene that Mr. Trump acted out earlier this month, pretending to be Mr. Biden mistaking Iowa for Idaho and needing an aide to straighten him out.
In recent weeks, Mr. Trump has also told supporters not to vote, and claimed to have defeated President Barack Obama in an election. He has praised the collective intellect of an Iranian-backed militant group that has long been an enemy of both Israel and the United States, and repeatedly mispronounced the name of the armed group that rules Gaza.
"This is a different Donald Trump than 2015 and '16 — lost the zip on his fastball," Gov. Ron DeSantis of Florida told reporters last week while campaigning in New Hampshire.
"In 2016, he was freewheeling, he's out there barnstorming the country," Mr. DeSantis added. "Now, it's just a different guy. And it's sad to see."
It is unclear if Mr. Trump's recent slips are connected to his age. He has long relied on an unorthodox speaking style that has served as one of his chief political assets, establishing him, improbably, among the most effective communicators in American politics.
But as the 2024 race for the White House heats up, Mr. Trump's increased verbal blunders threaten to undermine one of Republicans' most potent avenues of attack, and the entire point of his onstage pantomime: the argument that Mr. Biden is too old to be president.
Mr. Biden, a grandfather of seven , is 80. Mr. Trump, who has 10 grandchildren, is 77.
Even though only a few years separate the two men in their golden years, voters view their vigor differently. Recent polls have found that roughly two out of three voters say Mr. Biden is too old to serve another four-year term, while only about half say the same about Mr. Trump.
If that gap starts to narrow, it's Mr. Trump who has far more to lose in a general-election matchup.
According to a previously unreported finding in an August survey from The Associated Press-NORC Center for Public Affairs Research, 43 percent of U.S. voters said both men were "too old to effectively serve another four-year term as president." Among those voters, 61 percent said they planned to vote for Mr. Biden, compared with 13 percent who said the same about Mr. Trump.
Last week, similar findings emerged in a Franklin & Marshall College poll of registered voters in Pennsylvania, one of the most closely watched 2024 battlegrounds.
According to the poll, 43 percent of Pennsylvanians said both men were "too old to serve another term." An analysis of that data for The New York Times showed that Mr. Biden led Mr. Trump among those voters by 66 percent to 11 percent. Among all voters in the state, the two men were in a statistical tie.
Berwood Yost, the director of the Franklin & Marshall poll, said that Mr. Biden's wide lead among voters who were worried about both candidates' ages could be explained partly by the fact that Democrats are much more likely than Republicans to identify age as a problem for their party's leader.
"The age issue is one that if Trump gets tarred with the same brush as Biden, it really hurts him," Mr. Yost said.
Steven Cheung, a spokesman for the Trump campaign, noted that the former president maintained a commanding lead in Republican primary polls and that in the general election, several recent polls had shown Mr. Trump with slight leads over Mr. Biden.
"None of these false narratives has changed the dynamics of the race at all — President Trump still dominates, because people know he's the strongest candidate," Mr. Cheung said. "The contrast is that Biden is falling onstage, mumbling his way through a speech, being confused on where to walk, and tripping on the steps of Air Force One. There's no correcting that, and that will be seared into voter's minds."
Mr. Trump's rhetorical skills have long relied on a mix of brute force and a seemingly preternatural instinct for the imprecise. That beguiling combination — honed from a lifetime of real estate negotiations, New York tabloid backbiting and prime-time reality TV stardom — often means that voters hear what they want to hear from him.
Trump supporters leave his speeches energized. Undecided voters who are open to his message can find what they're looking for in his pitch. Opponents are riled, and when they furiously accuse him of something they heard but that he didn't quite precisely say, Mr. Trump turns the criticism into a data point that he's unfairly persecuted — and the entire cycle begins anew.
But Mr. Trump's latest missteps aren't easily classified as calculated vagueness.
During a Sept. 15 speech in Washington, a moment after declaring Mr. Biden "cognitively impaired, in no condition to lead," the former president warned that America was on the verge of World War II, which ended in 1945.
In the same speech, he boasted about presidential polls showing him leading Mr. Obama, who is not, in fact, running for an illegal third term in office. He erroneously referred to Mr. Obama again during an anecdote about winning the 2016 presidential race.
"We did it with Obama," Mr. Trump said. "We won an election that everybody said couldn't be won, we beat …" He paused for a beat as he seemed to realize his mistake. "Hillary Clinton."
At a Florida rally on Oct. 11, days after a brutal terrorist attack that killed hundreds of Israelis, Mr. Trump criticized the country for being unprepared, lashing out at its prime minister, Benjamin Netanyahu. Mr. Trump appears to have soured on Mr. Netanyahu, once a close ally, after the Israeli leader congratulated Mr. Biden for winning the 2020 election.
In the same speech, Mr. Trump relied on an inaccurate timeline of events in the Middle East to criticize Mr. Biden's handling of foreign affairs and, in the process, drew headlines for praising Hezbollah, the Iranian-backed militant group.
Last week, while speaking to supporters at a rally in New Hampshire, Mr. Trump praised Viktor Orban, the strongman prime minister of Hungary, but referred to him as "the leader of Turkey," a country hundreds of miles away. He quickly corrected himself.
At another point in the same speech, Mr. Trump jumped into a confusing riff that ended with him telling supporters, "You don't have to vote — don't worry about voting," adding, "We've got plenty of votes."
Mr. Cheung, the Trump campaign spokesman, said the former president was "clearly talking about election integrity and making sure only legal votes are counted."
In a speech on Saturday, Mr. Trump sounded as if he were talking about hummus when he mispronounced Hamas (huh-maas), the Islamist group that governs the Gaza Strip and carried out one of the largest attacks on Israel in decades on Oct. 7.
The former president's pronunciation drew the attention of the Biden campaign, which posted the video clip on social media, noting that Mr. Trump sounded "confused."
But even Republican rivals have sensed an opening on the age issue against Mr. Trump, who has maintained an unshakable hold on the party despite a political record that would in years past have compelled conservatives to consider another standard-bearer. Mr. Trump lost control of Congress as president; was voted out of the White House; failed to help deliver a "red wave" of victories in the midterm elections last year; and, this year, drew 91 felony charges over four criminal cases.
Nikki Haley, the 51-year-old former governor of South Carolina, opened her presidential bid this year by calling for candidates 75 or older to pass mental competency tests, a push she has renewed in recent weeks .
On Saturday, Ms. Haley attacked Mr. Trump over his comments about Mr. Netanyahu and Hezbollah, suggesting in a speech to Jewish donors in Las Vegas that the former president did not have the faculties to return to the White House.
"Let me remind you," she added with a small smile. "With all due respect, I don't get confused."
Jazmine Ulloa contributed reporting.
Audio produced by Jack D'Isidoro .
Michael C. Bender is a political correspondent and the author of "Frankly, We Did Win This Election: The Inside Story of How Trump Lost." More about Michael C. Bender
Michael Gold is a political correspondent for The Times covering the campaigns of Donald J. Trump and other candidates in the 2024 presidential elections. More about Michael Gold
The Run-Up to the 2024 Election
Donald Trump
A lawsuit in Colorado is one of several across the country arguing that the former president is ineligible to hold office under the 14th Amendment of the Constitution. Here is what to know about the case .
Allies of Trump are preparing to populate a new administration with a more aggressive breed of right-wing lawyer  if he reclaims the White House, dispensing with traditional conservatives who they believe stymied his agenda in his first term.
President Biden
A coalition of young voters and people of color is breaking with the president over his support of Israel  in its war with the Palestinians, raising new questions about his strength entering 2024.
Less engaged voters might be the single biggest problem facing Biden in his pursuit of re-election, Nate Cohn writes .
Other Candidates
Ron DeSantis: In an effort to energize his struggling campaign, the Florida governor has sought to exploit anti-vaccine sentiment among the population , while criticizing Trump-era Covid-19 policies.
Nikki Haley: The former South Carolina governor, who has been climbing in Republican presidential polls , met with the casino mogul and G.O.P. megadonor Miriam Adelson  in Las Vegas.
Vivek Ramaswamy: A debate between the G.O.P. candidate and Representative Ro Khanna of California, a Democrat who is not running for president, was largely a showcase for Ramaswamy to try to rescue his flagging campaign .
Doug Burgum: The North Dakota governor knows that many people think he should quit his quixotic bid for the Republican nomination. Here is why he is staying in the race .
Entertainment
Photography
Press Releases
Israel-Hamas War
Russia-Ukraine War
Latin America
Middle East
Asia Pacific
Election 2024
AP Top 25 Poll
Movie reviews
Book reviews
Financial Markets
Business Highlights
Financial wellness
Artificial Intelligence
Social Media
US fighter jets strike Iran-linked sites in Syria in retaliation for attacks on US troops
FILE - The al-Tanf military outpost in southern Syria is seen on Oct. 22, 2018. The Pentagon says the U.S. military launched airstrikes early Oct. 27, 2023, on two locations in eastern Syria linked to Iran's Revolutionary Guard Corps. The strikes come in retaliation for a slew of drone and missile attacks against U.S. bases and personnel in the region. (AP Photo/Lolita Baldor, File)
Pentagon spokesman Air Force Brig. Gen. Patrick Ryder speaks at the Pentagon on Thursday, Oct. 26, 2023 in Washington. The U.S. military launched airstrikes early Friday on two locations in eastern Syria linked to Iran's Revolutionary Guard Corps, the Pentagon said, in retaliation for a slew of drone and missile attacks against U.S. bases and personnel in the region that began early last week. According to the Pentagon, there have been at least 12 attacks on U.S. bases and personnel in Iraq and four in Syria since Oct. 17. (AP Photo/Kevin Wolf)
Defense Secretary Lloyd Austin arrives for a classified briefing for Senators on Israel and Gaza at the Capitol in Washington, Wednesday, Oct. 18, 2023. (AP Photo/Nathan Howard)
WASHINGTON (AP) — U.S. fighter jets launched airstrikes early Friday on two locations in eastern Syria linked to Iran's Revolutionary Guard Corps, the Pentagon said, in retaliation for a slew of drone and missile attacks against U.S. bases and personnel in the region that began early last week.
The strikes reflect the Biden administration's determination to maintain a delicate balance. The U.S. wants to hit Iranian-backed groups suspected of targeting the U.S. as strongly as possible to deter future aggression, possibly fueled by Israel's war against Hamas , while also working to avoid inflaming the region and provoking a wider conflict.
Air Force Brig. Gen. Pat Ryder said Friday that the strikes near Boukamal by F-16 and F-15 fighter aircraft targeted a weapons storage facility and ammunition storage facility used by the IRGC and affiliated groups. "Both facilities were destroyed," he said. "We currently assess there were no casualties in the strikes."
A senior U.S. military official said there had been Iranian-aligned militia and IRGC personnel on the base and no civilians. The official would not say how many munitions were launched by the jets.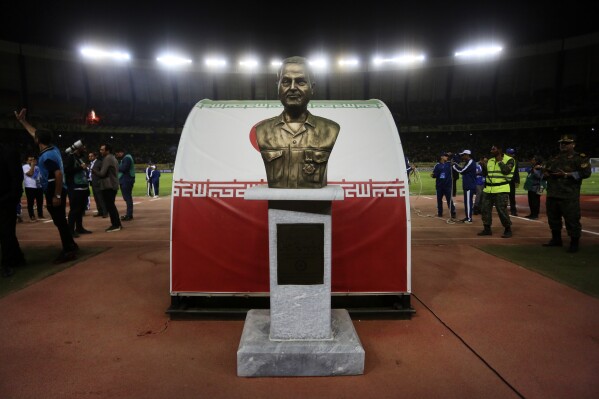 A senior defense official said the sites were chosen because the IRGC stores the types of munitions there that were used in the strikes against U.S. bases and troops. The two officials briefed reporters after the strikes on condition of anonymity to provide details on the mission that had not yet been made public.
Syrian opposition activists confirmed the U.S. strikes in Syria's eastern province of Deir el-Zour. Omar Abu Layla, a Europe-based activist who heads the Deir Ezzor 24 media outlet, said the main target was an area known as "the farms" outside the town of Mayadeen. He said it is an important transit site where weapons from Iran are stored before being shipped to Lebanon.
He said the second strike hit an area known as the "green belt" in the Boukamal area that borders Iraq. According to Abu Layla, some people were evacuated before the strikes because the retaliation was expected. The Britain-based Syrian Observatory for Human Rights, an opposition war monitor, said ambulances were seen rushing to the area but it wasn't clear if there were casualties.
Meanwhile Friday, an Iranian semiofficial news agency, Tasnim, said gunmen in east Syria fired 10 rockets on a base housing American troops in retaliation for the U.S. airstrikes. A U.S. official confirmed the rocket attack and said there were no reported casualties.
And the Islamic Resistance in Iraq, an umbrella group for several Iran-backed groups, said fighters attacked al-Assad airbase in western Iraq with a suicide drone. U.S. officials said it was shot down a few kilometers away and did not hit the base.
According to the Pentagon, as of Friday there had been at least 20 attacks on U.S. bases and personnel in Iraq and Syria since Oct. 17. Ryder said 21 U.S. personnel were injured in two of those assaults when drones targeted al-Assad airbase in Iraq and al-Tanf garrison in Syria.
In a statement, Defense Secretary Lloyd Austin said the "precision self-defense strikes are a response to a series of ongoing and mostly unsuccessful attacks against U.S. personnel in Iraq and Syria by Iranian-backed militia groups that began on October 17."
In a letter sent Friday to congressional leaders, President Joe Biden wrote: "The strikes were intended to establish deterrence and were conducted in a manner to limit the risk of escalation and avoid civilian casualties. I directed the strikes in order to protect and defend our personnel, to degrade and disrupt the ongoing series of attacks against the United States and our partners, and to deter Iran and Iran-backed militia groups from conducting or supporting further attacks on United States personnel and facilities."
The senior defense official told reporters that the airstrikes will have a significant impact on the ability of Iranian proxy groups to continue to attack U.S. forces. Asked what groups were targeted, the official said there are several that can have different names, but the U.S. holds Tehran responsible for funding, arming, equipping and directing the proxies. The official said the airstrikes were not designed to expand the conflict in the region, but to compel Iran to direct the militia groups to cease the attacks on American bases and personnel.
The Biden administration has not accused Iran of having a direct role in the Oct. 7 Hamas attack on Israel and has said it appears so far that Tehran was not aware of it beforehand. But the U.S. has noted that Iran has long supported Hamas and has raised concerns that Iran and its proxies could turn the conflict into a wider war.
Austin said the U.S. does not seek a broader conflict, but if Iranian proxy groups continue, the U.S. won't hesitate to take additional action to protect its forces.
According to the Pentagon, all the U.S. personnel hurt in the militant attacks received minor injuries and all returned to duty. In addition, a contractor suffered a cardiac arrest and died while seeking shelter from a possible drone attack.
The retaliatory strikes came as no surprise. Officials at the Pentagon and the White House have made it clear for the past week that the U.S. would respond, with Ryder saying again Thursday that it would be "at the time and place of our choosing."
The latest spate of strikes by the Iranian-linked groups came in the wake of a deadly explosion at a Gaza hospital, triggering protests in a number of Muslim nations. The Israeli military has relentlessly attacked Gaza in retaliation for the devastating Hamas rampage in southern Israel nearly three weeks ago, but Israel has denied responsibility for the al-Ahli hospital blast and the U.S. has said its intelligence assessment found that Tel Aviv was not to blame.
The U.S., including the Pentagon, has repeatedly said any strike response by America would be directly tied to the attacks on the troops, who are focused on the fight against Islamic State militants in the region. They said the strikes are not connected to the war between Israel and Hamas.
Such retaliation and strikes against Iranian targets in Syria after similar attacks on U.S. bases are routine.
In March, for example, the U.S. struck sites in Syria used by groups affiliated with Iran's Revolutionary Guard after an Iranian-linked attack killed a U.S. contractor and wounded seven other Americans in northeast Syria. American F-15 fighter jets flying out of al-Udeid Air Base in Qatar struck several locations around Deir el-Zour.
U.S. officials have not publicly tied the recent string of attacks in Syria and Iraq to the violence in Gaza, but Iranian officials have openly criticized the U.S. for providing weapons to Israel that have been used to strike Gaza, resulting in civilian death.
Associated Press writer Bassem Mroue contributed from Beirut.