How to Write an Evaluation Essay
Evaluation essay writing guide.
The main purpose of writing an evaluation essay is to present an overall view of the quality of a particular item, service, or business. It is natural for this type of essay to feature some element of the writer's opinion, but when done correctly an it should not come across as opinionated.
When learning how to write this type of paper one of the most important skills to master is producing an evaluation that is unbiased and reasoned. Let's look at some of the steps to complete the task.
Steps for Writing an Evaluation Essay
We've put together a brief outline of some of the most important steps to help with producing a well-structured paper.
Choose your topic. As with any essay, this is one of the first steps . It may be the case that you are allocated a topic by your professor, but if not then we would advise choosing a subject that you are already familiar with. You are going to need to take an in depth look at the subject in order to make a judgement on its value, so it makes sense to choose something you already have some knowledge about.
Write a thesis statement. This is a key element of your essay as it sets out the overall purpose of the evaluation. In the thesis you should state the criteria being used to judge the item and state the value of the item . As with any essay, your statement must be apparent and to the point. You may find that you need to revise it slightly along the way as your essay takes shape.
Determine the criteria used to assess the product. Choose several different benchmarks in order to make your writing interesting. The criteria you choose will vary depending on what you are evaluating. For example, a software program would be judged using very different benchmarks than a clothing brand.
Look for supporting evidence. It is important to remember that an essay is not just your opinion. You will need to look for supporting clues from credible sources for each judgement that you make.
Draft your essay. Produce a first draft of your essay. At this stage the best course of action is to just write. Once you have something down on paper it is much easier to restructure it and flesh out areas that are not as strong as others.
Review, revise & rewrite. Once you have completed a first draft you must read over your work and make any necessary changes. You should be prepared to rewrite your essay a couple of times to get it just right.
A Closer Look at Criteria, Judgements & Evidence
At the core of every evaluation essay there are three important elements – criteria, judgements and evidence. Let's explore these elements in more detail.
Criteria The criteria that you choose should establish what the ideal is for the product, service or brand that you are evaluating. They will help to demonstrate what should be expected as an ideal example of what should be expected. Think about the best possible example of a product of service of the same type. What would be their best characteristics? For example, for a hotel you would expect great accomodations, cleanliness, value for money and excellent service. Once you have those benckmarks in place they can be used to evaluate any hotel.
Judgement The judgement aspect is where you establish whether or not the benchmarks have been met. Sticking with our hotel example, you might start with judging whether or not the hotel meets the benchmark of having great accomodations. Does it meet, or exceed the quality you expect? Or does it fall short? You can then proceed with the other criteria.
Evidence Remember that you must provide clues to advocate your judgements. In our hotel example, if you make the judgement that the quality of food does not meet expectations, then you should be prepared to provide evidence to support why this conclusion has been drawn.
When structuring your essay, it is usual for each paragraph to deal with a different criterion. In that paragraph you should fully explain the criterion, make the relevant judgements and offer supporting proofs.
Evaluation Essay VS Review
One of the most common mistakes that students make with the mentioned type of paper is that they assume an evaluation is the same as writing a review. Although the two types of paper do have some similarities, there are also a number of differences that set them apart. The table below highlights some of those differences.
Tips for Writing a Great Evaluation Essay
Here are a few additional tips that will help you to produce a great evaluation essay that people will enjoy reading:
Give the Right Amount of Detail – Give plenty of detail regarding how you came to the conclusions that you did. Use supporting proofs and relevant examples to illustrate points if appropriate.
Make Sure What You are Evaluating is Precise – An effective introduction should clearly lay out what you are going to be evaluating and the criteria you are using to do so.
Help Readers to Agree with Your Opinion – If your evaluation is not prejudiced, then readers should agree with your conclusions and judgements. Offer enough information and evidence to make this easier for them.
EssayTigers brings you the best in custom paper writing! EssayTigers brings you the best in custom paper writing!
To get started, simply place an order and provide the details!
University of Sussex
Starting at Sussex
Critical thinking
Note-making
Presentations, seminars and group work
Reading and research
Referencing and academic integrity
Revision and exams
Writing and assessments
Time management
Maria introduces this section on writing and assessments
Maria: Welcome to this section on writing and assessments. Writing is a major part of your university life. In these pages, you'll find techniques and strategies to support you in the essay-writing process. You'll also find example essay types and features of academic writing. Additionally, you'll find information on how to make the most of your feedback. Over the academic year, we also run workshops on academic writing, so keep an eye out for those. Remember, we're here to help you.
There are six topics in this section relating to Writing and assessments:
Critical essay writing (this page) | Reflective writing | Reports | Dissertations | Academic writing style, editing and proof-reading | Feedback
A very large part of your time at university will be spent writing, since it is the main method of assessment used at Sussex. While essay-writing is an opportunity to show your tutor how much you have understood of your subject and how widely and deeply you have researched the question, this is not the main purpose of an essay. The most important purpose of an essay is to critically analyse the main ideas of a topic and to decide on your own viewpoint. You then present this viewpoint in the form of an argument, weighing the evidence for and against your proposition. So you need to develop the skills of analysing materials and demonstrating what is correct and incorrect about them, and synthesising materials, i.e. comparing and contrasting the many different sources and texts you come across.
Therefore, it is important to develop your writing skills. As with all academic skills, you are not expected to have perfect academic writing when you arrive ; it is a skill that you will develop as you practise it more and more. In these pages, we show you how to adapt your writing to different written assessments.
Ann Marie talks about her first essay assignment and how to get started
Ann Marie: It's a very scary process. You would just sit to start writing and then completely shut off and you'd be like, 'I don't know what to do.' And then after a lot of times, there was once when I sat down to write it, I took the whole day and I didn't write even two lines. It used to be like, sit down, read certain things, go back again, have a cup of coffee or tea or something like that, come back thinking I'll make it, make two lines. But then it didn't happen. But then again, it's a process of again, going back to it, I guess. The problem is, the more you read, the more ideas you have, and then the more you don't know where to start. And you're so confused. And it was one of my friends, actually, I was probably, I just was so lost. And I probably spoke to one of my friends and he was like, 'You should just know when to stop reading.' And then sometimes, and my housemate, because she did a course at Sussex the year before. So she was really very helpful. So she said, 'Just write, just continue writing. Don't think about the word limit. Don't think about what you're writing. Don't think if there is a structure to it or if it's beautiful and it's what you want to present as final. Just keep writing. Put down your thoughts. Let it all be there on a paper, on a piece of paper.' And when you see it and then when you re-read it, you yourself can formulate it and structure it better. But if you just keep it in your head and not start anywhere, you're not going to get it out. So that was a good piece of advice, I felt. So then that's how I started. I just started writing whatever I wanted to, whatever I thought could be an answer. I didn't think about perfection at that time. Just went with the flow and then took a break, went around, came back, re-read it, reorganised it - it probably looked nothing like how I had started it off with, but then yeah.
What type of academic writing do you need to focus on?
There is a lot to think about and practice when it comes to academic writing. Look in at the six areas below and see which applies to you. You can go directly to the ones you want to focus on:
Have you been asked to write an essay and need help to understand what is involved? If yes , go to Critical essay writing below (this page) for a plethora of information on academic essays.
Have you been set a reflective writing assessment and are wondering what to do? If yes , head to Reflective Writing for more information (takes you to a different page).
Are you writing a report and trying to figure out its components? If yes , the section on Reports will help you out (takes you to a different page).
Do you have a dissertation to write and need some pointers to help start you off? If yes , good Luck! Click over to Dissertations to get the basics plus some encouragement (takes you to a different page).
Do you need some support with writing in correct academic English style or want help with editing and proof-reading? If yes , try looking through the information on Academic writing style, editing and proof-reading to check you are following the guidelines (takes you to a different page).
Would you like to know how best to collect feedback from your assessments and how to benefit from it? If yes , the section on Feedback has useful advice on the best ways to deal with this (takes you to a different page).
Critical essay writing
Georgia talks about her first essay assignment.
Georgia: I think my first assignment was an essay for one of my modules. I found it quite overwhelming because it's just, 'Here's an essay topic - go away and do it.' Although I'd done essays before in A-level and I'd done psychology ones before, it wasn't to the same level, and I didn't have to do anywhere near the same kind of research. Doing research for the essay was probably one of the things that took maybe the most time, especially at the beginning. I used Library Search, which was fantastic, and that's what I still use to find most of my research because it's a great way to see what the university has access to and you can break it down into chunks for keywords for what you need for your assignment, and then it will just pull up everything that has that in it. Obviously, that's not something I knew straight away. And those were skills that I developed. But the first one was a lot of going through the marking criteria, going through research, trying to understand the research, trying to bring it all together and making sure I answered the question, which is quite important and it's very easy actually to derail from. Referencing as well was something that I'd done a bit of previously. I did an EPQ and I'd had to do referencing for that. So I'd had some experience, but figuring out the referencing style and things like that, which I used Skills Hub for. I also used referencing software and that really helped me and took a bit of the stress away from having to figure out how to do references and how to write long references. It put all my research into one place and kept it for me whereas I know lots of people who did research and then couldn't remember where they found that bit of information from. And so that really helped me with my first assignment.
For many students, writing critical essays will form the majority of their assessment at Sussex. Because setting out an argument is such an important part of academic work, learning how to do it well is fundamental for university success.
There are many parts to writing a successful essay. This list is a basic order, but most essays require moving back and forth between stages as you refine your thinking and writing, rather than following a strict linear path.
understanding the essay title or creating your own
planning for the length of your essay
researching the subject
creating a brief essay plan
developing the argument
adding counter-arguments
writing a detailed outline
developing the paragraphs
sticking to academic writing conventions
proof-reading.
In order to get a good grade, your essay must :
prove you understand the topic
answer the question
show that you have read widely
demonstrate you have evaluated the evidence
display critical thinking
have a clear argument
contain relevant information to support your argument
be well structured and organised
conform to academic style
use consistent and accurate referencing
be professionally presented
be grammatically correct
have been proofread for mistakes.
Essay Questions
Feedback from tutors often focuses on students not answering the question. It may be that you know plenty of information about the topic and are keen to show off everything that you have read, but if you do not focus on responding to the question, you will lose marks. Take time to make sure that you have understood exactly what the question means, or composed a question that you can answer with precision.
Sara and Tavian talk understanding essay questions and structure
Sara: So when I get a question, I really have to have a think about that because I know often times it's the case of when you write a perfectly good assignment, but you haven't answered the question. So I think I break down the question. I see what the keyword is. Is it 'evaluate', is it 'discuss', is it 'compare'? I think that is a key thing to look at. And then what they're actually asking of you and what you're answering. So when I'm writing my assignments, I always make sure when I'm done with the paragraph to read that paragraph back and see if it's actually adding to what the question has asked of me. And I think that's very important because you can be so invested in your work and just writing a lot, but then at the end you're not actually answering the question and you're not going to get any marks, no matter how good your writing is. So I think going back, reading it through and keeping the question in mind constantly really helps. Tavian: So the Skills Hub, I was mostly looking at the formatting of an essay because I hadn't really written an essay. As I mentioned, well reports are mostly what we do in the Business School, at least for my course in my modules. So it had been almost since first year since I'd written an essay, and so I just wanted to understand a little bit more, okay, what the difference was. You know, do you use appendices or not? Because reports are very appendix heavy. And so yeah, that was really helpful for me to understand then, okay, what's expected? And then I had to adapt my approach.
Essay questions at Sussex
There are different types of academic essays at university. You may start university with essay questions that ask for description and explanation. As you progress throught your course, there will be more focus on critical writing. See Critical Thinking for more details.
Description
A description is not intended to persuade the reader to agree with a view. You will be asked to give an account of a concept or a process. It should be accurate and factual. The aim of this essay type is to give the reader an informed understanding of what is being described.
Explanation
Similar to a description, the purpose of an explanation is not to convince the reader of a point of view. The aim of this essay type is to give explanations as to why or how something happens and to establish the meaning of a theory or argument. Unlike a description, it also includes causes, purposes and consequences.
Critical argument
The most common type of essay question. The aim of this essay is to state a clear position and present a persuasive line of argument in order to convince the reader of this particular view. An argument should consider alternative perspectives and be supported with evidence throughout.
Decoding your Essay Title
Here are some useful tips to help you understand the question:
highlight words which tell you the approach to take (the directive words)
circle the words which guide you on selecting the subject matter of the essay (the topic words)
underline the words which the question is asking you to focus on (the limiting words)
ask yourself what the essay is really looking for. Can you identify the central question? How many sections are there to it?
find the links between what you have learnt through reading or lectures and the title.
Cottrell, S. (2013)
Let's look more at directive, topic and limiting words:
directive words tell you what you need to do
topic words show you what content you must discuss
limiting words provide boundaries for your essay.
Look at the example question below. Can you identify the directive, topic and limiting words?
Discuss critically how semantics and pragmatics both have a role in the understanding of meaning
Now look below to reveal the three parts that are indicated:
Directive = Discuss, critically, both
Topic = Semantics, pragmatics, the understanding of meaning
Limiting = have a role in
Now, practise by breaking down the following question into the three types of question words:
Review the evidence for links between cholesterol levels and heart disease, and evaluate the usefulness of cholesterol screening programmes in preventing heart disease.
Directive words
Making sure you understand the directive word helps to stay on task and answer the question.
Activity: Directive words
Use the Dialog cards below to reveal the meaning of some of the most common directive words (seven) used in essay questions (there is a text only version below the activity):
1. Compare = Identify the similarities of two or more things.
2. Criticise = Identify weaknesses and disadvantages. You should also point out favourable aspects, so it should be a balanced view.
3. Evaluate = Assess how important or useful something is.
4. Critically Evaluate = similar to evaluate / weigh up the arguments for and against / assess the strength of the evidence on both sides.
5. Analyse = Break an idea into parts and consider how they relate to each other – investigate.
6. Assess = weigh up how important something is – similar to evaluate.
7. Contrast = similar to compare / looks at the differences.
Devising your own Essay Question
As you progress through university, there will be opportunities to devise your own essay titles. While this may seem to be a luxury at first, it soon becomes clear that it is harder than you think!
Here are some key points to consider when creating your essay title:
check the marking criteria first. You'll need to come up with a question that enables you to meet the criteria
consider the right kind of directive word for the topic. If there are two main competing theories in the literature, a compare and contrast essay might be suitable. If you want to explore an innovative approach, you might like to critically evaluate the evidence in support of and against it
some words are not suitable as directive words. Describe, for example, leads to purely descriptive writing. Analyse or Evaluate would be better alternatives
keep the title concise, and stick to just one question
you may choose to use a short quotation in your title, but make sure that it links to the academic debate you want to focus on. The quote may provide the topic and limiting words, but you might need to follow it with a typical essay question to focus your essay. For example:
' There is not a brick in the city but what is cemented with the blood of a slave .' (Bristol Annalist, early 18th century)
Critically evaluate this assessment of the impact of the slave trade on Bristol.
essay titles do not always use directive words – it's up to you whether to use them. This title does not contain a directive word
'In what respects was the debate over slavery fundamental to later history of the British Empire?'
ask a friend or family member to read your title to make sure it can be understood.
check that you can find research evidence relevant to the topic.
Planning and Structuring your Essay
Saira and amelia talk about planning their essay structure.
Saira: For me, what I do is I first start with a plan, so I'll just have a general idea of what's my argument. Because for some modules or some degrees, I guess you might need to have a bit of a balanced argument, but I know for Law you need to be quite persuasive and you need to understand what it is that you're trying to argue and set that out in the beginning. A lot of people tend to think that you have to wait till the end to say what you want to say. But that's probably the worst way to go about it, because you're going to be lost while you're writing. So I usually just have a bullet-point plan with headings. What's my introduction, what are my middle paragraphs and what's my conclusion? And then I have a separate section where I think about what are my academic sources I'm going to use. How am I going to compare them? Do they show different points of views? And then I just make sure that I have all my referencing and things sorted out. And then I usually do about two drafts. So the first draft, I just write things in my own words. And then the second draft I go through and make it more formal and put in, you know, proper referencing and then make it look nice: 1.5 line spacing, edge to edge, Times New Roman size 12. And then, yeah, that's pretty much how I go through essays. Amelia: The biggest thing for me coming from high school into uni was analysis. In high school, a lot of the analysis was like, what was my personal analysis? And then I came to uni and they're like, no, no, no. Like, you can have an opinion, but it has to always be backed up by academic research. And so changing my analysis from a personal analysis to an academic analysis was hard and still is really hard. And like, it's not, 'What is your opinion?' It's, 'What is your opinion on the research?'
The planning and structuring of your essay goes hand in hand with reading and researching it. Usually, they both happen at the same time: as you read more and develop your knowledge and opinions on the subject, you start to picture the shape of the essay in your mind. And as the structure of the essay begins to become clear, you will know which sources of information you need to investigate more, and which you can leave behind.
Basic Structure of Critical Essays
Critical essays have three sections: an introduction, a main body, and a conclusion (or a discussion for science-based essays) .
You can imagine an essay like an hourglass, with the introduction and the conclusion/discussion as the wide top and bottom parts, where the general context of the essay is discussed. The main body is the very narrow part of the hourglass, where the focus is on very specific aspects of the topic .
Read the lists below of which features are found in the three main parts:
Introduction
the hook - a strong statement or surprising fact about the topic which engages the reader
background information - some background information about the topic. For example, a brief history or an explanation of the context
a thesis statement – what your argument and position is. This is the most important part of your essay and what the essay can be reduced down to. All the other parts of your essay act as extra details to your thesis statement.
signposting - tell your reader what you will cover.
topic sentences – the sentence in each paragraph which outlines its main idea.
use of sources, explanations, examples and data to support your topic sentence idea. Most essays, and all science-based ones, need multiple sources per paragraph.
critical analysis of the evidence and sources. (In science-based essays, rgis comes in the discussion )
concluding sentences – final sentences in each paragraph which sum up the idea and may link back to the next question or to the next point.
Conclusion (for non-science-based essays)
a brief restatement of your argument
a summary of your main points
a strong closing statement - perhaps a prediction or a recommendation.
Discussion (for science-based essays)
a brief summary of your argument
critical analysis of the evidence and sources
a strong closing statement - perhaps the implications of your argument on other parts of the discipline, or a recommendation for more research.
Remember! Stating that ' more research is needed ' is not a very useful recommendation. Be specific about what the research should be on and what it should attempt to find out.
There is more information on each of these sections below.
Planning for length
Planning starts with understanding your task, how much time you have, the number of words you have to write and what direction you're going to take.
Before you embark on research, give yourself realistic goals for the amount of material you need by sketching out a plan for length. This helps to breakdown the task into manageable sections, and to focus your reading.
Access this YouTube video talking about ' Planning for length '
Writing an essay outline
Elena talks about the structure of her science essay.
Elena: Once we have the essay topic - I found it also at the beginning very hard to just start writing. So what I do is I just write down thoughts or some bullet points of what I think I want my essay to go into. What I want to discuss, what the topics I want to include are, maybe some details, some of my thoughts. So I write that down first and then I actually don't have a structure I don't start with the introduction or I don't start with the conclusion. I usually start with what I feel most comfortable. So I take one of those bullet points that I jotted down. I do further research into it. Well, this is because it's also scientific, so it's a bit different. So I do research into it. I write notes, and I continue writing notes on what I find, and I just put that all into the document. Then once I have that, I begin to structure it. So I do the structuring later so that I have all the information that I want to include already in the document. So I structure it. And then what we have in scientific essays that's really important is the abstract or something that resembles an abstract, where in the introduction you have to include a summary of what the essay is about and the conclusions also. So then I work on that so that I have something that clearly defines what my essay will be about. So I work on that, and then I go into the body and then into the conclusions. And as a scientific essay or scientific topic, we always appreciate further research - like a little section of further research. So I develop that into the conclusion. And yeah, slowly, slowly it takes time. Editing, re-editing, maybe even proofreading. Having someone to proofread your essay is also very important. And yeah, like a student mentor. In first year, I would always go to student mentors to discuss my essay, how I can Improve it, how like critical opinions are always appreciated and what I did good as well, both negative and positive feedback.
After you have planned for length, you can start your research .
Before you plan the content of your essay, you need to decide a clear position on the question (e.g. you disagree with the question's statement, or you have identified the main reason for the phenomenon mentioned in the question) and think about a line of argument (i.e. how are you going to persuade the reader that you are correct?) You should identify evidence to support your argument, and find at least one counter-argument.
Next comes the writing! But starting an essay can be daunting, because you may not know exactly what to write about and in what order. So, an easier step is to create a outline. It will also help you to stay on track throughout the process.
An essay outline is like the skeleton of your essay. You include the essential information, and can play around with the order until you are happy with it. This is the experimental phase of your writing. Don't worry about writing full sentences or including every reference. Correct spelling and grammar aren't important in this phase. It's only after the essay outline is complete that you can start writing full sentences. You won't need to worry about wondering what each paragraph will be about or where to add a particular reference - you've already decided all this in your essay outline.
Your essay outline can be more or less detailed depending on what helps you. Some things you could include in your outline are:
a word count for each section
your thesis statement (main overall argument) in the introduction
topic sentences describing the main idea of each main body paragraph
concluding sentences for each main body paragraph
citations and references.
Experiment with how much detail works for you in your plan. It is almost impossible to write well without planning something beforehand, but it is also easy to overplan as an excuse not to get writing!
Access this blank PDF Essay plan template: Structure of an essay.
Access this YouTube video talking about ' Planning for content'
Developing your argument
Imagine that you want to change the brand of coffee that you buy for you and your flatmates. By reading and researching, you have investigated the different options, and with critical thinking, chosen the one you want to switch to. You now decide to gather your flatmates together and persuade them that the coffee you want to get is better than the coffee you all currently drink.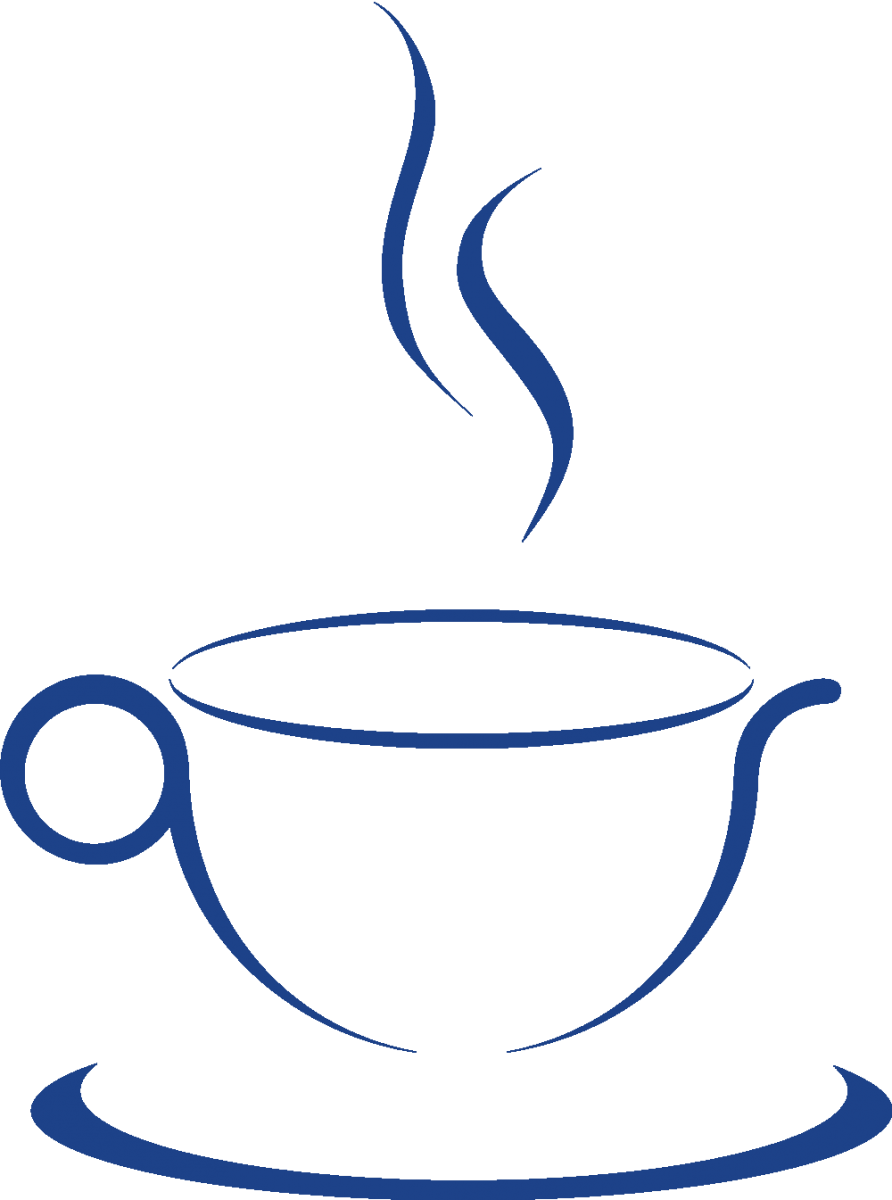 " Stylised coffee mug " by freesvg.org is licensed under CC0 .
Just like for a critical essay, in order to win them over you'll need to develop your argument. It might be best to write down all of your the reasons for changing and deciding which ones are most likely to be persuasive:
there are both caffeinated and decaf varieties
the company has a carbon-offsetting scheme
I really like the flavour
it's cheaper than the current choice
it reminds me of my holiday in Italy
it's fair-trade.
You can probably cut out the personal reasons to persuade your flatmates because there isn't any objective evidence for them. You are left with:
tthe company has a carbon-offsetting scheme
Next, how are you going to group these points? Carbon-offsetting and fair-trade are both about sustainability, so your argument will be clearer if these two points are kept together.
the company has a carbon-offsetting scheme and the coffee is fair-trade
it's cheaper than the current choice.
Now think about the order they should be in. Which one of your reasons packs the biggest punch? All of your flatmates want to save money, so this is probably the best reason to put first. Decaf coffee isn't drunk very often in your flat, so this one can go last.
there are both caffeinated and decaf varieties.
Your flatmates are going to want proof of what you say, so make sure you include evidence to back up each of your reasons for wanting to change coffee.
it's cheaper than the current choice. Show them a receipt
the company has a carbon-offsetting scheme and the coffee is fair-trade. Open up the company website
there are both caffeinated and decaf varieties. Bring them some examples!
You've also found a counter-argument to swapping brands: Your coffee is only available in two shops in town. Let's bring this up last of all since it isn't really related to price, sustainability or varieties of coffee. To make sure your flatmates don't agree with the counter-argument, you need to explain why it isn't such a big problem. Put the counter argument at the end.
the brand is only available in two shops in town. However, one shop is on the bus route back from campus and you are happy to pick some up when needed.
Of course, you'll start and end explaining that you want to change coffee brands.
You might not succeed in convincing your flatmates to switch what they put in their lattes, but you have succeeded in developing an argument. The process is the same for developing an argument in an essay, but with a bigger word count and more complex topics!
Complete the checklist to make sure you have done everything you can to develop the best argument possible.
I've decided on my position
I have a number of reasons for my position
I've selected the reasons that are most persuasive and I have evidence for
I've put the reasons into groups that are connected in some way
I've ordered the reasons/groups of reasons, putting the strongest ones first
I've attached my evidence to each reason
I've thought of some counter-arguments to my position and I have included their weaknesses in my essay.
Access this excellent YouTube video on ' How do I develop an argument? '
For extra resources, look at Making an Argument .
Main Body Paragraphs
If your essay is a sandwich, and the introduction and conclusion are the slices of bread at the top and the bottom, then your main body paragraphs are the filling. This is where you will put the main flavour to your essay – the arguments, the details, the evidence, the examples etc. Get this right and the rest of your essay becomes much easier to write.
Remember that for each main idea, you need a new paragraph, for example one effect of a situation; one reason why you agree with the question; one event in a timeline. Putting all the reasons why you agree with the question in one paragraph is too confusing for the reader, and will probably be a very long paragraph. Likewise, splitting paragraphs by the different sources that you have found (e.g. Paragraph 1: source 1 says this...., Paragraph 2: source 2 says this....) is also not a good idea if both sources are talking about the same concepts. It's better to put each of the concepts that they both discuss in individual paragraphs, showing the reader that you have synthesised their opinions.
The structure of a paragraph
Paragraphs tend to follow a general structure. You can adapt it to your needs but always keep in mind the main shape:
start with a topic sentence, which tells the reader the main idea of the paragraph. This main idea should of course fit with your argument
next, you can give more detail on the main point. What does it mean? What are the ins and outs? What are the reasons for it? What are its implications? Why is it important? What examples are there?
you need to include sources (usually more than one) to back up your main point, or the details of the main point.
a good way to include sources - especially in science-based essays - is to use the fact:citation sentence pattern. This is a paraphrased fact, followed by the citation of the source. Keeping to this sentence pattern makes it easy for the reader to follow your argument and not get distracted by your referencing.
avoid starting or ending paragraphs with a reference.
to round off, write a concluding sentence which summarises the paragraph or links to the question or the next paragraph.
You may also find this structure called the PEEL model of paragraph writing.
Let's look at an example of a paragraph:
Using Evidence
The quality of evidence you have in your essay depends on how well you've done your reading and note-making. How well you present the evidence depends on the quality of your plan. In each main body paragraph, you have a main point, and further details you want to address. Select relevant evidence from your notes during the planning stage so that you know which evidence belongs to which point, and weave it into the paragraph to support your argument. It can be very tempting to include material that isn't relevant because you've worked hard to collect it and it's interesting. However, if it doesn't fit with your argument, leave it out.
Synthesising evidence
In order to develop an argument, you have to consult and refer to a variety of different views. This shows the reader that you have read widely, and you have presented a balanced, non-biased argument. It's very likely that you'll need to use more than one source per paragraph in order for your argument to develop. Putting these different sources together, or synthesising them, is an important academic skill. It can show that there are multiple people with the same view on a topic, or can help highlight the nuances between different schools of thought.
Read this example of a main body paragraph using synthesis of two sources:
The first topic sentence tells us that the paragraph will look at fabrication being a part of psychotic behaviour, and the second sentence gives more detail on this. The third and fourth sentences synthesise what Elphick and Mitchell write, since both have similar opinions. Note the synthesising language:
and this viewpoint is also found in
both Elphick and Mitchell see fabrication as
albeit to varying degrees (This phrase acknowledges that there are some differences between Elphick's and Mitchell's work).
There are many more phrases that can be used to synthesise different sources! Keep an eye out for them when you are reading and note down useful ones.
Refuting Counter-arguments
Including counter-arguments in your essay shows that you have considered views that contradict ones which you have presented but have decided that they are not strong enough to sway your opinion. Using the synthesis table above, include a main idea that does not agree with your thesis and find some sources for it. Using your critical thinking skills, make sure to demonstrate why these main ideas are incorrect or refute them
Some counter-arguments may disagree with a small detail of a paragraph. In this case, it is fine to include them as one or two sentences towards the end of a paragraph. Other counter-arguments may disagree with a main point, or an entire section of your essay. If so, they deserve a paragraph or more dedicated to them. Read this example of a paragraph addressing and then refuting a main counter-argument.
This section of the essay is in support of Kernohan's theories, but it would lose marks if the student did not mention some opponents of Kernohan. The topic sentence makes clear that this paragraph will introduce some counter-arguments, with more details in the second half of the sentence. Bayliss' position is summarised, and then the rest of the paragraph explores the weaknesses of Bayliss' argument.
Note the specifical language for refutation:
however, Bayliss's research did not take into account
while it is true that (This is a concession that Kernohan's work is not perfect, but the student then shows why this is not a big problem).
Like synthesis, there are many more phrases that can be used to refute counter-arguments, and you can collect them while you are reading. Look at this Academic Phrasebank for some great examples.
Writing Introductions, Conclusions and Discussions
While you are reading, pay attention to how the introductions and conclusions/discussions that you come across are written. Are the introductions similar to each other? Does each conclusion/discussion have a comparable structure?
Introductions should:
introduce your topic, giving some background information such as a brief history or the current context
explain how you have understood the question, in particular any terms that may have multiple interpretations
include your position - your thesis statement. For example, do you agree or disagree with the essay title topic?
list the issues you are going to discuss. Why are these the important ones? List them in the same order they appear in your essay
be roughly 10% of your word count.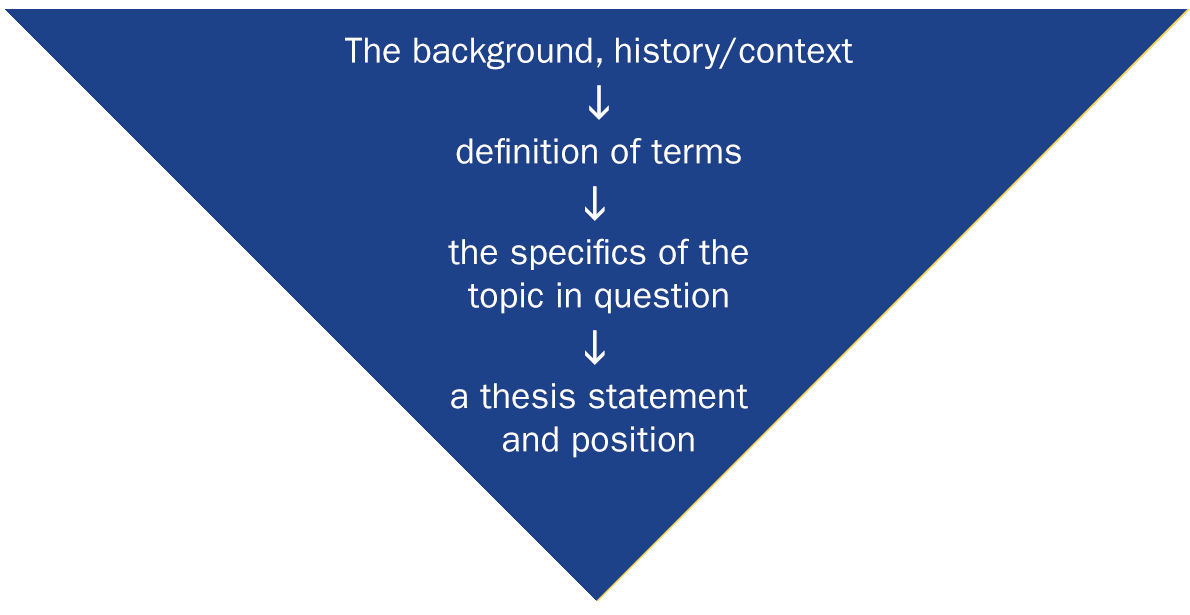 A triangle is overlaid in text going down the triangle to signify the scope, starting wide at the top and becoming narrower at the bottom, we have:
1) the background, history/context
2) definition of terms
3) the specifics of the topic in question
4) a thesis statement and position
Conclusions/Discussions should:
restate your position
summarise your main points
make it clear why your conclusions are important or significant
include a strong closing statement. This could be a prediction for the future, reference to further research, or a suggestion for a way forward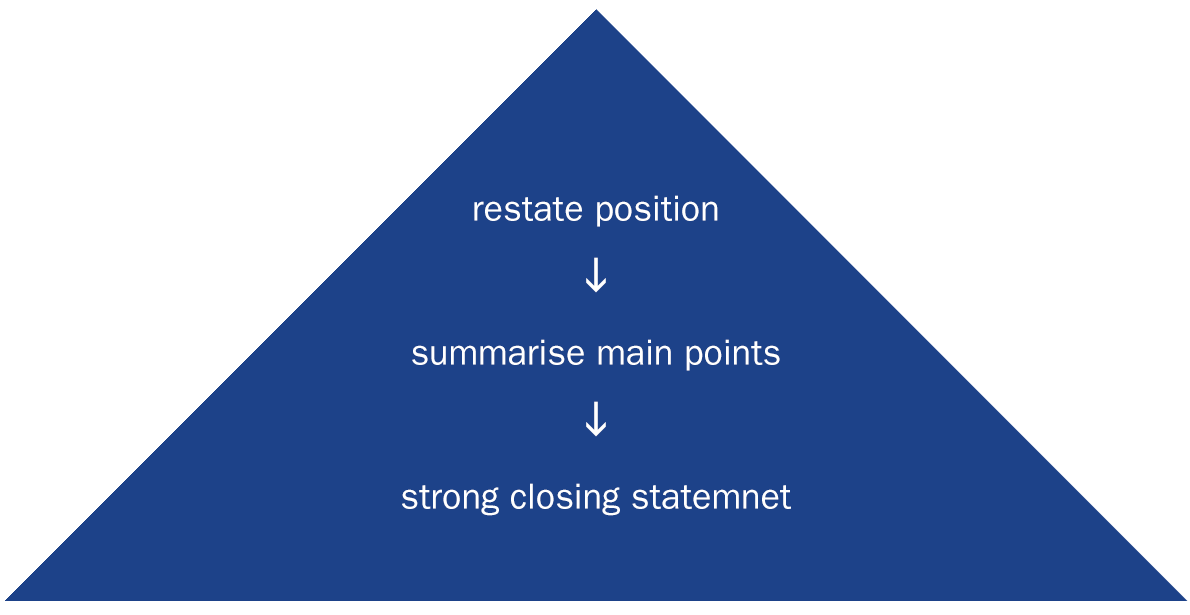 A triangle is overlaid in text going down the triangle to signify the scope, starting at the pointed top and becoming wider at the bottom, we have:
1) restate position
2) summarise main points
3) strong closing statemnet
Other topics in this section relating to Writing and assessments:
7 Steps for How to Write an Evaluation Essay (Example & Template)
In this ultimate guide, I will explain to you exactly how to write an evaluation essay.
1. What is an Evaluation Essay?
An evaluation essay should provide a critical analysis of something.
You're literally 'evaluating' the thing you're looking up.
Here's a couple of quick definitions of what we mean by 'evaluate':
Merriam-Webster defines evaluation as: "to determine the significance, worth, or condition of usually by careful appraisal and study"
Collins Dictionary says: "If you evaluate something or someone, you consider them in order to make a judgment about them, for example about how good or bad they are."
Here's some synonyms for 'evaluate':
So, we could say that an evaluation essay should carefully examine the 'thing' and provide an overall judgement of it.
Here's some common things you may be asked to write an evaluation essay on:
This is by no means an exhaustive list. Really, you can evaluate just about anything!
Get a Pdf of this article for class
Enjoy subscriber-only access to this article's pdf
2. How to write an Evaluation Essay
There are two secrets to writing a strong evaluation essay. The first is to aim for objective analysis before forming an opinion. The second is to use an evaluation criteria.
Aim to Appear Objective before giving an Evaluation Argument
Your evaluation will eventually need an argument.
The evaluation argument will show your reader what you have decided is the final value of the 'thing' you're evaluating.
But in order to convince your reader that your evaluative argument is sound, you need to do some leg work.
The aim will be to show that you have provided a balanced and fair assessment before coming to your conclusion.
In order to appear balanced you should:
Discuss both the pros and cons of the thing
Discuss both the strengths and weaknesses of the thing
Look at the thing from multiple different perspectives
Be both positive and critical. Don't make it look like you're biased towards one perspective.
In other words, give every perspective a fair hearing.
You don't want to sound like a propagandist. You want to be seen as a fair and balanced adjudicator.
Use an Evaluation Criteria
One way to appear balanced is to use an evaluation criteria.
An evaluation criteria helps to show that you have assessed the 'thing' based on an objective measure.
Here's some examples of evaluation criteria:
Strength under pressure
Longevity (ability to survive for a long time)
Ease of use
Ability to get the job done
Friendliness
Punctuality
Ability to predict my needs
Calmness under pressure
Attentiveness
A Bed and Breakfast
Breakfast options
Taste of food
Comfort of bed
Local attractions
Service from owner
Cleanliness
We can use evaluation criteria to frame out ability to conduct the analysis fairly.
This is especially true for if you have to evaluate multiple different 'things'. For example, if you're evaluating three novels, you want to be able to show that you applied the same 'test' on all three books!
This will show that you gave each 'thing' a fair chance and looked at the same elements for each.
3. How to come up with an Evaluation Argument
After you have:
Looked at both good and bad elements of the 'thing', and
Used an evaluation criteria
You'll then need to develop an evaluative argument. This argument shows your own overall perspective on the 'thing'.
Remember, you will need to show your final evaluative argument is backed by objective analysis. You need to do it in order!
Analyze first. Evaluate second.
Here's an example.
Let's say you're evaluating the quality of a meal.
You might say:
A strength of the meal was its presentation. It was well presented and looked enticing to eat.
A weakness of the meal was that it was overcooked. This decreased its flavor.
The meal was given a low rating on 'cost' because it was more expensive than the other comparative meals on the menu.
The meal was given a high rating on 'creativity'. It was a meal that involved a thoughtful and inventive mix of ingredients.
Now that you've looked at some pros and cons and measured the meal based on a few criteria points (like cost and creativity), you'll be able to come up with a final argument:
Overall, the meal was good enough for a middle-tier restaurant but would not be considered a high-class meal. There is a lot of room for improvement if the chef wants to win any local cooking awards.
Evaluative terms that you might want to use for this final evaluation argument might include:
All things considered
With all key points in mind
4. Evaluation Essay Outline (with Examples)
Okay, so now you know what to do, let's have a go at creating an outline for your evaluation essay!
Here's what I recommend:
4.1 How to Write your Introduction
In the introduction, feel free to use my 5-Step INTRO method . It'll be an introduction just like any other essay introduction .
And yes, feel free to explain what the final evaluation will be.
So, here it is laid out nice and simple.
Write one sentence for each point to make a 5-sentence introduction:
Interest: Make a statement about the 'thing' you're evaluating that you think will be of interest to the reader. Make it a catchy, engaging point that draws the reader in!
Notify: Notify the reader of any background info on the thing you're evaluating. This is your chance to show your depth of knowledge. What is a historical fact about the 'thing'?
Translate: Re-state the essay question. For an evaluative essay, you can re-state it something like: "This essay evaluates the book/ product/ article/ etc. by looking at its strengths and weaknesses and compares it against a marking criteria".
Report: Say what your final evaluation will be. For example you can say "While there are some weaknesses in this book, overall this evaluative essay will show that it helps progress knowledge about Dinosaurs."
Outline: Simply give a clear overview of what will be discussed. For example, you can say: "Firstly, the essay will evaluate the product based on an objective criteria. This criteria will include its value for money, fit for purpose and ease of use. Next, the essay will show the main strengths and weaknesses of the product. Lastly, the essay will provide a final evaluative statement about the product's overall value and worth."
If you want more depth on how to use the INTRO method, you'll need to go and check out our blog post on writing quality introductions.
4.2 Example Introduction
This example introduction is for the essay question: Write an Evaluation Essay on Facebook's Impact on Society.
"Facebook is the third most visited website in the world. It was founded in 2004 by Mark Zuckerberg in his college dorm. This essay evaluates the impact of Facebook on society and makes an objective judgement on its value. The essay will argue that Facebook has changed the world both for the better and worse. Firstly, it will give an overview of what Facebook is and its history. Then, it will examine Facebook on the criteria of: impact on social interactions, impact on the media landscape, and impact on politics."
You'll notice that each sentence in this introduction follows my 5-Step INTRO formula to create a clear, coherent 5-Step introduction.
4.3 How to Write your Body Paragraphs
The first body paragraph should give an overview of the 'thing' being evaluated.
Then, you should evaluate the pros and cons of the 'thing' being evaluated based upon the criteria you have developed for evaluating it.
Let's take a look below.
4.4 First Body Paragraph: Overview of your Subject
This first paragraph should provide objective overview of your subject's properties and history. You should not be doing any evaluating just yet.
The goal for this first paragraph is to ensure your reader knows what it is you're evaluating. Secondarily, it should show your marker that you have developed some good knowledge about it.
If you need to use more than one paragraph to give an overview of the subject, that's fine.
Similarly, if your essay word length needs to be quite long, feel free to spend several paragraphs exploring the subject's background and objective details to show off your depth of knowledge for the marker.
4.5 First Body Paragraph Example
Sticking with the essay question: Write an Evaluation Essay on Facebook's Impact on Society , this might be your paragraph:
"Facebook has been one of the most successful websites of all time. It is the website that dominated the 'Web 2.0' revolution, which was characterized by user two-way interaction with the web. Facebook allowed users to create their own personal profiles and invite their friends to follow along. Since 2004, Facebook has attracted more than one billion people to create profiles in order to share their opinions and keep in touch with their friends."
Notice here that I haven't yet made any evaluations of Facebook's merits?
This first paragraph (or, if need be, several of them) should be all about showing the reader exactly what your subject is – no more, no less.
4.6 Evaluation Paragraphs: Second, Third, Forth and Fifth Body Paragraphs
Once you're confident your reader will know what the subject that you're evaluating is, you'll need to move on to the actual evaluation.
For this step, you'll need to dig up that evaluation criteria we talked about in Point 2.
For example, let's say you're evaluating a President of the United States.
Your evaluation criteria might be:
Impact on world history
Ability to pass legislation
Popularity with voters
Morals and ethics
Ability to change lives for the better
Really, you could make up any evaluation criteria you want!
Once you've made up the evaluation criteria, you've got your evaluation paragraph ideas!
Simply turn each point in your evaluation criteria into a full paragraph.
How do you do this?
Well, start with a topic sentence.
For the criteria point 'Impact on world history' you can say something like: "Barack Obama's impact on world history is mixed."
This topic sentence will show that you'll evaluate both pros and cons of Obama's impact on world history in the paragraph.
Then, follow it up with explanations.
"While Obama campaigned to withdraw troops from Iraq and Afghanistan, he was unable to completely achieve this objective. This is an obvious negative for his impact on the world. However, as the first black man to lead the most powerful nation on earth, he will forever be remembered as a living milestone for civil rights and progress."
Keep going, turning each evaluation criteria into a full paragraph.
4.7 Evaluation Paragraph Example
Let's go back to our essay question: Write an Evaluation Essay on Facebook's Impact on Society .
I've decided to use the evaluation criteria below:
impact on social interactions;
impact on the media landscape;
impact on politics
Naturally, I'm going to write one paragraph for each point.
If you're expected to write a longer piece, you could write two paragraphs on each point (one for pros and one for cons).
Here's what my first evaluation paragraph might look like:
"Facebook has had a profound impact on social interactions. It has helped people to stay in touch with one another from long distances and after they have left school and college. This is obviously a great positive. However, it can also be seen as having a negative impact. For example, people may be less likely to interact face-to-face because they are 'hanging out' online instead. This can have negative impact on genuine one-to-one relationships."
You might notice that this paragraph has a topic sentence, explanations and examples. It follows my perfect paragraph formula which you're more than welcome to check out!
4.8 How to write your Conclusion
To conclude, you'll need to come up with one final evaluative argument.
This evaluation argument provides an overall assessment. You can start with "Overall, Facebook has been…" and continue by saying that (all things considered) he was a good or bad president!
Remember, you can only come up with an overall evaluation after you've looked at the subject's pros and cons based upon your evaluation criteria.
In the example below, I'm going to use my 5 C's conclusion paragraph method . This will make sure my conclusion covers all the things a good conclusion should cover!
Like the INTRO method, the 5 C's conclusion method should have one sentence for each point to create a 5 sentence conclusion paragraph.
The 5 C's conclusion method is:
Close the loop: Return to a statement you made in the introduction.
Conclude: Show what your final position is.
Clarify: Clarify how your final position is relevant to the Essay Question.
Concern: Explain who should be concerned by your findings.
Consequences: End by noting in one final, engaging sentence why this topic is of such importance. The 'concern' and 'consequences' sentences can be combined
4.9 Concluding Argument Example Paragraph
Here's a possible concluding argument for our essay question: Write an Evaluation Essay on Facebook's Impact on Society .
"The introduction of this essay highlighted that Facebook has had a profound impact on society. This evaluation essay has shown that this impact has been both positive and negative. Thus, it is too soon to say whether Facebook has been an overall positive or negative for society. However, people should pay close attention to this issue because it is possible that Facebook is contributing to the undermining of truth in media and positive interpersonal relationships."
Note here that I've followed the 5 C's conclusion method for my concluding evaluative argument paragraph.
5. Evaluation Essay Example Template
Below is a template you can use for your evaluation essay , based upon the advice I gave in Section 4:
6. 23+ Good Evaluation Essay Topics
Okay now that you know how to write an evaluation essay, let's look at a few examples.
For each example I'm going to give you an evaluation essay title idea, plus a list of criteria you might want to use in your evaluation essay.
6.1 Evaluation of Impact
Evaluate the impact of global warming on the great barrier reef. Recommended evaluation criteria: Level of bleaching; Impact on tourism; Economic impact; Impact on lifestyles; Impact on sealife
Evaluate the impact of the Global Financial Crisis on poverty. Recommended evaluation criteria: Impact on jobs; Impact on childhood poverty; Impact on mental health rates; Impact on economic growth; Impact on the wealthy; Global impact
Evaluate the impact of having children on your lifestyle. Recommended evaluation criteria: Impact on spare time; Impact on finances; Impact on happiness; Impact on sense of wellbeing
Evaluate the impact of the internet on the world. Recommended evaluation criteria: Impact on connectedness; Impact on dating; Impact on business integration; Impact on globalization; Impact on media
Evaluate the impact of public transportation on cities. Recommended evaluation criteria: Impact on cost of living; Impact on congestion; Impact on quality of life; Impact on health; Impact on economy
Evaluate the impact of universal healthcare on quality of life. Recommended evaluation criteria: Impact on reducing disease rates; Impact on the poorest in society; Impact on life expectancy; Impact on happiness
Evaluate the impact of getting a college degree on a person's life. Recommended evaluation criteria: Impact on debt levels; Impact on career prospects; Impact on life perspectives; Impact on relationships
6.2 Evaluation of a Scholarly Text or Theory
Evaluate a Textbook. Recommended evaluation criteria: clarity of explanations; relevance to a course; value for money; practical advice; depth and detail; breadth of information
Evaluate a Lecture Series, Podcast or Guest Lecture. Recommended evaluation criteria: clarity of speaker; engagement of attendees; appropriateness of content; value for monet
Evaluate a journal article. Recommended evaluation criteria: length; clarity; quality of methodology; quality of literature review ; relevance of findings for real life
Evaluate a Famous Scientists. Recommended evaluation criteria: contribution to scientific knowledge; impact on health and prosperity of humankind; controversies and disagreements with other scientists.
Evaluate a Theory. Recommended evaluation criteria: contribution to knowledge; reliability or accuracy; impact on the lives of ordinary people; controversies and contradictions with other theories.
6.3 Evaluation of Art and Literature
Evaluate a Novel. Recommended evaluation criteria: plot complexity; moral or social value of the message; character development; relevance to modern life
Evaluate a Play. Recommended evaluation criteria: plot complexity; quality of acting; moral or social value of the message; character development; relevance to modern life
Evaluate a Film. Recommended evaluation criteria: plot complexity; quality of acting; moral or social value of the message; character development; relevance to modern life
Evaluate an Artwork. Recommended evaluation criteria: impact on art theory; moral or social message; complexity or quality of composition
6.4 Evaluation of a Product or Service
Evaluate a Hotel or Bed and Breakfast. Recommended evaluation criteria: quality of service; flexibility of check-in and check-out times; cleanliness; location; value for money; wi-fi strength; noise levels at night; quality of meals; value for money
Evaluate a Restaurant. Recommended evaluation criteria: quality of service; menu choices; cleanliness; atmosphere; taste; value for money.
Evaluate a Car. Recommended evaluation criteria: fuel efficiency; value for money; build quality; likelihood to break down; comfort.
Evaluate a House. Recommended evaluation criteria: value for money; build quality; roominess; location; access to public transport; quality of neighbourhood
Evaluate a Doctor. Recommended evaluation criteria: Quality of service; knowledge; quality of equipment; reputation; value for money.
Evaluate a Course. Recommended evaluation criteria: value for money; practical advice; quality of teaching; quality of resources provided.
7. Concluding Advice
Evaluation essays are common in high school, college and university.
The trick for getting good marks in an evaluation essay is to show you have looked at both the pros and cons before making a final evaluation analysis statement.
You don't want to look biased.
That's why it's a good idea to use an objective evaluation criteria, and to be generous in looking at both positives and negatives of your subject.
Read Also: 39 Better Ways to Write 'In Conclusion' in an Essay
I recommend you use the evaluation template provided in this post to write your evaluation essay. However, if your teacher has given you a template, of course use theirs instead! You always want to follow your teacher's advice because they're the person who will be marking your work.
Good luck with your evaluation essay!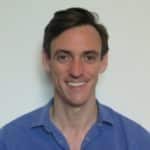 Chris Drew (PhD)
Dr. Chris Drew is the founder of the Helpful Professor. He holds a PhD in education and has published over 20 articles in scholarly journals. He is the former editor of the Journal of Learning Development in Higher Education. [Image Descriptor: Photo of Chris]
Chris Drew (PhD) https://helpfulprofessor.com/author/admin/ 10 Critical Theory Examples
Chris Drew (PhD) https://helpfulprofessor.com/author/admin/ 13 Social Institutions Examples (According to Sociology)
Chris Drew (PhD) https://helpfulprofessor.com/author/admin/ 71 Best Education Dissertation Topic Ideas
Chris Drew (PhD) https://helpfulprofessor.com/author/admin/ 11 Primary Data Examples
2 thoughts on "7 Steps for How to Write an Evaluation Essay (Example & Template)"
What an amazing article. I am returning to studying after several years and was struggling with how to present an evaluative essay. This article has simplified the process and provided me with the confidence to tackle my subject (theoretical approaches to development and management of teams).
I just wanted to ask whether the evaluation criteria has to be supported by evidence or can it just be a list of criteria that you think of yourself to objectively measure?
Many many thanks for writing this!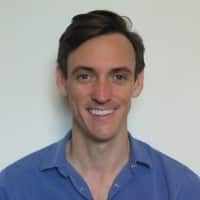 Usually we would want to see evidence, but ask your teacher for what they're looking for as they may allow you, depending on the situation.
Leave a Comment Cancel Reply
Your email address will not be published. Required fields are marked *

About Assessment
Assessment Methods
EL in Action
Publish Your Work
HKU Grade Descriptors
Useful Links & Projects

Self & Peer Assessment
Large Class Assessment
Group Assessment
Assessment Tools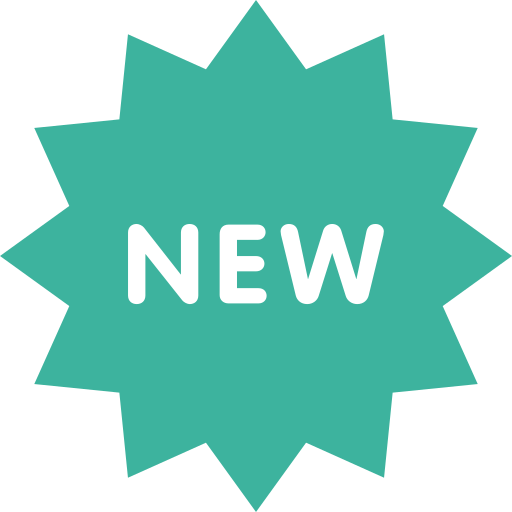 Types of Assessment Methods
What is an Essay?
Structure of Essay
Advantages of Essay
Disadvantages of Essay
How to design a good Essay Assessment?
Marking Rubrics
Web References and Resources
What is an Essay? An Essay is an assessment question that requires an answer in a sentence, paragraph, or short composition. Essay assessments are usually classified as subjective assessments as there are normally a variety of responses.
According to Trigwell, there are 3 standard forms of essays:
Role Play Essays Students respond to the essay as if he/she is performing a specific role in the essay. For example: Write a letter to the local county council, explaining the environmental issues in the area, and requesting them to produce some measures; giving evidences and social arguments from government reports. This type of essays allows the students to become involved and see the relevance of the task.
Structured Essays Structured Essays are essays which have specific questions or topics that require answers. For example: In Shakespeare's play ' Hamlet, discuss and compare some of the soliloquies in terms of its style, syntax and imagery. This type of essays is useful if the assessors wish to test specific knowledge and techniques, it is also easier to mark as the assessors know what type of answers to expect.
Interpretation of Data Evidence Essays Students are asked to write an essay based on data from a report/experiment they produced or from an external source. For example: Using the measurements found in the laboratory, explain and discuss the chemical reactions between the two main elements found. This type of essays is greatly pragmatic, using data the students collected, allowing students to reflect and analyze.
An essay (depending on the types of essays) is usually expected to consist of an
Introduction/Aims/Objectives
Major points and ideas explained and summarized
Results/Related points/Issues/or others depending on the topic
Conclusion ' future work
Essays have the ability to assess all levels of learning objectives.
It encourages original and creative thinking.
Due to the subjective nature of essay assessments, grading is very unreliable even for the same assessor at different periods.
Grading may be influenced by other factors such as handwriting and length of response.
As essays are very time-consuming to answer and to correct, they are not recommended if only low-level of learning outcomes are assessed which can be assessed by multiple choices or short answer questions.
Although guessing is not possible in essay assessments, but 'bluffing' is.
It is also not advisable to give the topic of the essay to the students at an early date. This may give rise to superficial learning where students concentrate all their efforts in completing the essay only.
Let students know the assessment criteria and marking scheme, including grammar, spellings and other issues.
Try to reduce ambiguity in the essay questions, clearly define the expected response such as compare, evaluate, summarize, critique etc.
Do not use essays to measure knowledge or understanding that can be assessed using less time consuming assessment methods.
Marking Rubrics There are two general grading approaches ' holistic and analytic grading. Holistic approach is grading the essay as a whole. Analytic approach grades the important components of the essay and assigns marks to each component.
Presentation Assessment
Using Assessed Presentations, Learning and Teaching Hub, University of Bath https://teachinghub.bath.ac.uk/the-bath-blend/essentials/assessed-presentations/
Tips for Students Presenting
Presentation for Assessment - A Guide, Learning and Teaching Centre, Macquarie University https://ishare.mq.edu.au/prod/file/e754584d-7fef-4b11-aaec-cca4468e0843/1/A415_019StudentPresentations.pdf
Copy and paste the text below: Chan C.(2008) Assessment: Essay , Assessment Resources@HKU, University of Hong Kong [http://ar.talic.hku.hk]: Available: Accessed: DATE
Discover the Fastest, Most Effective Way to Teach Students Organized Multi-Paragraph Essay Writing… Guaranteed!

Essay Writing Review and Writing Assessment Testing Tips
by Pattern Based Writing: Quick & Easy Essay | How to Teach Essay Writing , Writing Assessments and Writing Standards
Do you have an elementary or middle school state or district writing assessment coming up? Or perhaps you simply want your students to write excellent essays? If so, read on! And if you teach beginning essay writers or struggling essay writers, be sure to check out Pattern Based Writing: Quick & Easy Essay ! It's sure to revolutionize the way your students understand writing!
Writing Assessment Rubrics: Hit a Bulls-Eye!
On district and state writing assessments, students are usually graded using a rubric. Writing rubrics can have harsh consequences even for excellent writing. Be warned—sometimes fantastic writing misses the mark when it comes to a writing rubric. As such, we will examine how to improve writing skills, and also how to hit a bulls-eye on the writing rubric. Most writing rubrics contain most of the topics found below.
Addressing the Writing Prompt
Students must address the writing prompt and stay on target. Consider these questions:
•    What is being asked for in the prompt? How on target is the writing?
•    Do the titles of your students' essays contain any keywords from the writing prompt that show that the students have addressed the writing prompt?
•    Did students use keywords from the writing prompt throughout the essay?
•    Think about it: Can the writing be on target if students don't use any keywords from the writing prompt in either the title or the essay ?
Essay Outlines
Students must have an understanding of "The Big Picture" essay structure in their essays. Their essays need to demonstrate a clear beginning, middle, and ending. Students need to have an understanding of how paragraphs flow throughout an essay. Here are a few outlines for an entire essay. Each outline shows between four and six paragraphs:
•    Introduction – Idea 1 – Idea 2 – Idea 3 – Conclusion   (a basic five-paragraph essay)
•    Introduction – First – Then – Finally – Conclusion       (a basic narrative essay)
•   Introduction – Cause – Effect – Conclusion
•   Introduction – Cause/Effect #1 – Cause/Effect #2 – Conclusion
•    Introduction – Cause #1 – Effect #1 – Cause #2 – Effect #2 – Conclusion
•    Introduction – Problem – Solution – Conclusion
•   Introduction – Similarities – Differences – Conclusion
•    Once Upon a Time – Rising Action – Rising Action – Climax – and They Lived Happily Ever After
Prewrite, Write, and Revise
Prewrite, Write, and Revise – Students must allow at least a little time for each of these. Teachers need to address the matter of how to break up and monitor the time allowed. Here is one possible way to break up the time: Prewrite 15% – Write 70% – Revise 15%. If students don't spend at least a little time in each area, it's unlikely their writing will be as good as it can be.
Sentence Variety
Sentence Varity – An easy way to bring about sentence variety is to focus on how sentences start. It's amazing how quickly these simple and interesting sentence-starting patterns can transform student writing. And kids like them! They bring rhythm, flow, and beauty to language—without a lot of rules.
Nine Interesting Ways to Start and Vary Sentences
1.   -ly Beginnings   –  Surprisingly , my parents liked the fort I had built in our backyard.
2.   Prepositional Phrase Beginnings   –  Beyond the moon , the rocket soared.
3.   Two Adverb Beginnings – Fast and furious , the little mouse scurried towards the cake.
4.    Two Adjective Beginnings – Beautiful and elegant , the princess bride descended the stairs.
5.    -ing Beginnings – Falling down the garbage chute, Billy began to wonder if he had made a wise choice.
6.    -ing in the Middle – I brought $100 to the fair, hoping no one would stop me from spending every last cent of it.
7.    Balanced Sentence Structure (Includes both Items in a Series and Parallel Structure) – Eating ice-cream, watching TV, and wrestling tigers may be fun, but they are not healthy activities.
8.    Appositives (Insert information or explanation) – Shark Cove, the small bay where sharks gather to eat seals , is not a place I like to go swimming.
9.    Dependent Clauses – After the storm ended , the sun began to break through the cloudy gloom.
Don't Mix First Person and Third Person
Please note that this illustration does not represent an absolute rule, but more of a wise guideline. This topic is actually a bit more complicated.
Don't Mix First Person and Third Person – The way students begin their writing is the way they should finish their writing. It's best if students make a conscious choice right at the beginning of their essay. However, this doesn't always happen.  The first step in solving this problem is to have students understand if the writing prompt is asking for expository writing, descriptive writing, argument writing, or narrative writing. Students should maintain the same Point-of-View and tone throughout.
Take a look at the following. It illustrates how a writer began with an expository third person POV and tone but switched to a casual first person.
Student begins with a formal expository third person:
•    Society has become concerned with protecting the environment.
•    The government has started to enforce stricter environmental laws.
Student then switches to casual first person:
•    I feel it is a person's duty to help protect the environment.
•    Everyone in my family recycles.
Better: Student should have continued with the third person or at least removed the casual first person feel:
•    It is a person's duty to help protect the environment.
•    Studies show that more and more families are recycling.
Sixteen More Random Essay Writing Tips:
1.    Students should make sure that the introduction contains a clear thesis statement. A thesis statement is a clear, explicit statement that defines the purpose of an essay.
2.    Along with a clear thesis statement, the introduction should contain a clear attention grabbing "hook." (Examples: use curiosity, ask a question, pose a challenge, state a problem, or make a startling statement.)
3.    Use specific and varied transitions between paragraphs. Students can also use a variety of common transition packages (first, next, finally etc.)
4.  Students should demonstrate that they know who their target audience is. Language, vocabulary, and tone all reveal who the author is talking to.
5.    Students should demonstrate purpose. While using the words "persuade" and "inform" are a bit obvious, they are also effective. Have students use other important keywords to communicate purpose: convince, facts, reasons, information, data, report, statistics etc.
6.   Give relevant supporting details. What's relevant? Give value with every detail. Eliminate everything that does not give value.
7.    Details support, prove, clarify, explain, and give information about the topic sentences. If all else fails, simply focus on " proving it ." For centuries kids have said " prove it ." Having to prove something makes sense to them. "I had fun at the park." Prove it. "Okay. I went with my best friend. We played soccer. My mom made a great picnic. I REST MY CASE."
8.    Do not make the details sound like a list of details.
9.    Have the conclusion readdress the prompt and reemphasize or repeat the thesis statement.
10.    Uses Standard English grammar, mechanics, and sentence structure. Use formal language. Students are not talking to their buddy out on the playground.
11.    Don't repeat ideas and sentences. Each sentence communicates a unique idea. On the other hand, many rhetorical techniques are based on repetition—but for effect.
12.    Don't generalize. Compare these two sentences, one general and one specific: "Peace would be good." vs. "The elimination of war, hatred, and intolerance would be incredible."
13.    Make sure paragraphs end with a conclusion sentence or some form of connecting sentence. Beginning, middle ending… beginning, middle, ending!
14.    Don't add new information in the conclusion. Don't open boxes you can't close.
15.    Every sentence should either be "simple and concise" or "a work of art." Alternate between these two types of sentences.
16.    Write neatly! Neatness matters! People have a built-in natural bias against messy writing.
Pattern Based Writing: Quick & Easy Essay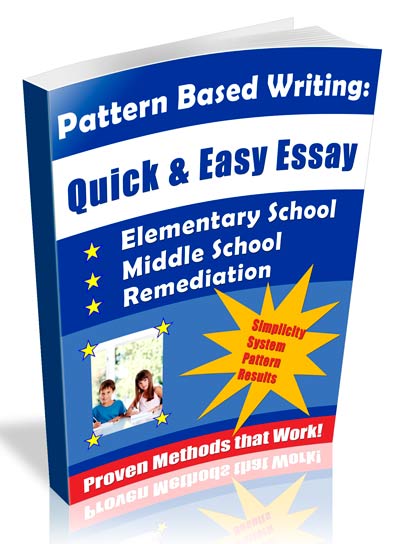 Evaluating Student Writing (5)
Genres (12)
Grammar / Spelling Ideas & Tips (16)
How to Teach Essay Writing (10)
How to Teach Paragraph and Multi-Paragraph Writing (11)
How to Teach Writing (9)
Ideas for Parents (1)
Journals & Quick Writes (4)
Narrative Writing (8)
Prewriting, Oranization, and Structure (5)
Reading Instruction (3)
Remedial Writing Instruction (4)
Research on Teaching Writing (13)
Rubrics and Checklists (6)
Seasonal and Holiday Writing Ideas (8)
Six Traits of Writing (3)
Teaching Children Poetry (4)
Teaching Elementary Writing (7)
Teaching Middle School Writing (6)
Teaching Report Writing (2)
Teaching Sentences (1)
Teaching Writing Across the Curriculum (6)
Tips for Teaching Writing (19)
Understanding Writing and Types of Writing (2)
Vocabulary Development and Word Lists (16)
Writer's Workshop (3)
Writing Assessments and Writing Standards (17)
Writing Prompts and Assignments (11)
Help for Writing Teachers!

Pin It on Pinterest
Campus Maps
Faculties & Schools
Now searching for:
Home
Courses
Subjects
Design standards
Methods
Exams
Online exams
Interactive oral assessment
Report
Case study analysis or scenario-based questions
Essay
Newspaper article/editorial
Literature review
Student presentations
Posters/infographics
Portfolio
Reflection
Annotated bibliography
OSCE/Online Practical Exam
Viva voce
Marking criteria and rubrics
Review checklist
Alterations
Moderation
Feedback
Teaching
Learning technology
Professional learning
Framework and policy
Strategic projects
About and contacts
Help and resources
Essay assessments ask students to demonstrate a point of view supported by evidence. They allow students to demonstrate what they've learned and build their writing skills.
An essay question prompts a written response, which may vary from a few paragraphs to a number of pages.
Essay questions are generally open-ended. They differ from short answer questions in that they:
require more time
are less structured
require students to integrate information and interpretation.
When to use an essay
Essays can be used to test students' higher order thinking.
Advantages and limitations
Limitations
Test analysis, reasoning, synthesis and evaluation skills.
Are open ended. This allows students to answer the question in a variety of ways and demonstrate depth and creativity.
Allow for deep learning and connections.
Allow students to draw on research and reasoning to provide justification and show integration.
Opportunity to assess a student's writing ability.
Can be quicker to prepare than other item/assessment types.
Can be structured in different ways.
Can limit the range of assessable content and the number of assessment items that can be used.
Favour students with good writing skills.
not too open ended
align with content and learning outcomes.
Can allow for plagiarism.
Can be difficult to moderate.
Time consuming to assess.
Markers need to identify knowledge and understanding, despite levels of expression, i.e. elegant language can mask superficial thinking, while clumsy language can disguise understanding of ideas.
Guidelines for developing essay assessments
Essay question.
Effective essay questions provide students with a focus (types of thinking and content) to use in their response.
Make sure your essay question:
is aligned with the intended learning outcome
is an appropriate length
contains a clear task or a specific problem situation
is worded and structured in such a way that it will be clear to the students what they are expected to do
is not indeterminate, vague or open to numerous and/or subjective interpretations
contains verbs that match the intended learning outcomes (if you use verbs like discuss or explain , indicate which points should be discussed/explained)
defines the scope of the task to avoid students going off on an unrelated tangent
allows for answers at different levels, i.e. a basic, satisfactory response and an extended, high level response
includes differentiating aspects in the way the question is written.
Review the question and improve using the following questions:
Does the question align with the learning outcome?
Is the focus clear?
Is the scope specific and clear enough?
Is there enough direction to guide the student to the expected response?
Alignment to learning outcomes
To ensure the assessment item aligns with learning outcomes:
prepare a model answer or an outline of major points that should be included in the answer
critically review the essay item for clarity
check the question is aligned with the intended learning outcome and model answer.
Student preparation
Make sure your students are prepared by:
teaching them how to approach essays
scaffold learning so there are opportunities to guide and practise essay writing
ensuring students know the recommended time for completing their answer
ensuring students know the weighting of the essay.
Examples of essay question verbs
In the table below you will find lists of verbs that are commonly used in essay questions. These words:
relate to learning outcomes
can be thought of as aligning with critical essay questions or descriptive essay questions
can be used as starting points for the development of essay questions.