Saturday, March 16, 2013
How to make a quiet book: a guide to making one of your own.
I started making a quiet book for each of my boys back in September 2012. They were intended to be Christmas presents, but, frankly, I was just too excited to wait until Christmas.
I have also made a mini quiet book as a Christmas gift for a friend's son, but that one was a lot less detailed and was easier to make overall.
So when I posted pictures of the quiet books on my personal Facebook page, the responses were overwhelming. Soon I had friends asking me, "How do I make a quiet book?"
Well, here are my tips, tricks, and suggestions for how to make a quiet book , including lots of quiet book ideas to inspire you!
There's also a free printable quiet book planner that you can grab a copy of to help you plan out the pages you want to make.
How to Make a Quiet Book Tip #1: Look for Inspiration Quiet Book Ideas
The first thing that I did was to browse the internet for some ideas.
You can start by browsing my quiet book pages or my ABC quiet book pages .
30 Easy No Sew Printable Patterns
10 Easy No Sew Christmas Themed Printable Patterns
Dress Up Minion Page with Free Printable Pattern
Owl Puzzle Page
Counting Shapes Page
Dump Truck Page
Dinosaur Taggy Page
Guitar Page
Ribbon Pulling Page
Piano Page with Free Printable Pattern
Letter G Page
Letter F Page
Letter E Page
Letter D Page
Letter C Page
Letter B Page
Letter A Page
ABC & Spelling Pages
Pirate Pages
Little Town Pages
Telephone Pages
Jingle Music Note Page
Apple and Worm Page
Flower Puzzle Page
Dress Up Penguin Page
Lion Taggy Page
Build a Caterpillar Page
Fractions Page
Xylophone Page
Number Train Pages
Then follow my quiet book board on Pinterest where I pin lots of amazing quiet book ideas.
Some of the best quiet book pages though, in my opinion, are on Imagine Our Life . She hand sews her quiet book pages, which is more hardcore than I would ever attempt to be. Regardless, they are some of the most beautiful pages I have come across. And she includes a pattern and instructions for most (if not all) of her quiet book pages.
Another blog that has some quiet book page templates is Serving Pink Lemonade . Her pages are a lot more simple than the ones on Imagine our Life, but they are still pretty nice.
How to Make a Quiet Book Tip #2: Play Into Your Child's Interests
Think about your child's interests and think about how you can incorporate those interests into a quiet book page. For instance, J enjoyed playing with letters and spelling words. So I made two quiet book pages that had individual letters of the alphabet on velcro and a pocket filled with three letters words for him to practice spelling. Another example would be the number train I had made for the mini quiet book. The little boy it was made for loved trains, so it just made sense to include a train page.
How to Make a Quiet Book Tip #3: Consider Your Child's Age
Depending on the age of your child, you may want to consider the following:
Exclude small pieces that might present a choking hazard
Design pages that practice developmentally appropriate skills (e.g., buttoning buttons, zipping zippers, etc.)
Make pages that can grow with the child
Make the size of the finished quiet book appropriate for the age of your child (e.g., smaller book for smaller toddlers like the mini quiet books I made for Garrett or Emma ) or for its intended purpose (e.g., smaller book for use in the car or at doctor's office)
Design pages that represent real life activities and skills (e.g., brushing teeth, setting the table, brushing hair)
Include pieces that crinkle or rattle or jingle
How to Make a Quiet Book Tip #4: Plan Out Your Quiet Book Pages Before You Sew
Sketch out the pages that you want to make, marking what colors the pieces will be or what supplies you will need for each page. Or print off any templates that you may find on the internet.
I was terrible at this step. I am more of a spontaneous crafter so there were times when I didn't have the supplies on hand and had to put the page on hold until I got the necessary piece. Or I decided to make pages that were completely different than the ones that I had sketched.
Other considerations while planning your book:
Your budget for the project (if you have one)
How big do you want the book to be?
How many pages do you want to make?
What fabrics do you want to use?
How do you want to make them? Sewn by hand? Sewn with a machine? Hot glue? Or a combination?
How to Make a Quiet Book Tip #5: Collect the Needed Supplies
After you have sketched out your pages, you will have a better idea of how many zippers you need or how much velcro you need, etc. You'll also know what colors of fabric you need. Purchase what you don't have so that you can have everything ready. Here are some suggestions for supplies that you may need:
Felt sheets
Sewing machine
Hot glue gun (for the no sew route!)
How to Make a Quiet Book Tip #6: How to Assemble the Quiet Book Pages
I found it helpful to cut out the pieces and organize them onto the page. This step allows you to see how it will look when it is sewn together. It also allows you the flexibility to make changes to the design before anything is actually sewn.
How to Make a Quiet Book Tip #7: Be Prepared. Making a Quiet Book is Time Consuming...and Addicting!
Perhaps one of the most surprising things about making a quiet book was how time consuming it actually was. I spent the better half of 2.5-3 months cutting, sewing, assembling, and even dreaming of quiet book pages! So don't say I didn't warn you!
Also, I found that designing and sewing new quiet book pages became somewhat addicting. I just wanted to make more, more, more. Like I said, I started to dream about new quiet book pages.
My Final Suggestions for Making a Quiet Book
Here is my final list of tips and suggestions:
Use binder rings to put your book together. Doing so allows you to swap pages in and out or from book to book. It also allows you to add to the book in case you want to make the quiet book bigger.
If you are making quiet books for more than one child in the same house, make duplicates of pages that you think might be ones they fight over. I should have made an alphabet page for K's book since he always wants to play with the one in J's book. It causes fights and tears almost every single time.
Put a handle on the spine. Both of the boys love being able to carry their own book around.
Make a velcro or magnetic closure for the book so that it closes up nicely. K loves to play with the closure over and over.
Put your child's name on the front cover if you are making quiet books for more than one child. That way they know whose is whose.
Plan out the order for the pages in the book, especially if sewing pages back to back.
You don't have to be an amazing sewer. My sewing was rushed and sub-par in many places, but that did not detract in any way from the enjoyment those pages still brought to my children. They don't care if you can't sew straight or that you used thread that didn't match the fabric. I have also seen quiet book pages made entirely using a glue gun!
Finally, have fun! They are a lot of work, but totally worth it. They make an amazing keepsake for little ones and will keep them busy for many hours.
Get Your Copy of the Free Quiet Book Planning Guide Below
Planning out a quiet book doesn't have to be complicated or overwhelming! Use the free quiet book planning guide to make things easier!
To get a copy of this printable guide, click the link below:
>> Click here to download the free printable guide
Need one-on-one support? I can help!
Quick links, get connected, where i write.
SUBSCRIBE now for access to my FREE Resource Library!
Learn how to make a Quiet Book
Small children are supposed to be busy, inquisitive and observing, that is how they learn.
BUT sometimes...just sometimes, you so wish they could just sit still...just 5 minutes and keep themselves occupied!
I know, I know...I'm a grandma and have all the sympathy in the world! And that is why I want to show you, one way, to curb the attention deficit...
With a quiet or busy book!
WHat is a Quiet Book?
A Quiet Book is normally a felt or fabric book, with pages filled with educational activities - an interactive scrapbook. The main aim (apart from quiet time), is developmental and sensory stimulation.
Some of the referrals may contain affiliate links. If you make a purchase as a result thereof, I will be compensated at no extra cost to you.
Quiet Books consist of:
A Front and Back Page (which can be personalised with your child's name on it) - the cover;
Pages, each with an own theme or an extension of the overall theme;
Pages are neatly bias-binded whilst others are cut with pinking shears . Some books can be quilt-like, whilst others are just plain but useful.
The concept of Quiet Books , are sometimes extended to:
Developing Cubes (fabric blocks);
Burger Books ;
Fishing Game ;
Doll House;
Doll House Handbag
Quiet Tablets ;
Developing Rug ;
Activity Pillow ;
Car Play Mat
LEARN How to make Quiet Books
Find a book lay-out that suits your creative skill;
Decide on the fabric/felt/flannel/pellon you want to use;
How many pages are you going to include in the book?
Which shape and size book will you be making?
Choose a theme;
Get a pattern or dimensions and templates and start creating the awesomeness!
Arrange the sequence of the pages before you assemble the final book.
For more Ideas, click through to my Pinterest Board :-
Quiet book pages.
You can make your pages as follows:
Standard 9" x 12" (or any size you want) felt sheets / 6.7" x 6.7" Square pages (or any size you want).
Other popular sizes: 8.5" x 11"; 8" x 8".
Mini quiet book pages are 4" x 4".
Sew two/three button holes on one side of page, and then use shoelaces for the loops, or
Add 2 ribbon or bias loops to string pages together, or
Make pages with eyelets - to file the pages in a binder, or
Stitch an insert on the side of the page with holes to string the pages together, or
Stitch an insert on the side and stitch the inserts to the pages.
Make an old fashioned fabric book, all pages stitched together.
Opt for no-sew Quiet Book
THIS IS THE BEST TUTORIAL YOU'LL EVER NEED TO MAKE A QUIET BOOK - from embroidery librar y .
Don't shy away if you are not embroidering, it is a picture tutorial and trust me, the best one, I have come across!
Alternatives:
How to make the ultimate Quiet Book by Freshly Messy
N o Sew Busy Book by Indulgy
MORE INSPIRATION
Round-edged pages with a flap to string it, by BUBABUM on Etsy .
Awesomeness by Tom Toy.
Image property of Tom Toy
Square pages with small loops by Kuku And Bubu.
Image property of Kuka and Bubu
Square pages with eyelets by Do Small Things With Love.
Image property of Do Small Things With Love
Pages strung together with cover by Do Small Things With Love.
Fabric Binder Quiet Book Cover By The Stillers .
Image property of The Stillers
12 Free Quiet Book page patterns and Cover Pattern by Thread Riding Hood .
Image by Thread Riding Hood
Baby Boy Textured Book by Lella Boutique .
Image property of Leila Boutique
Powerful Mothering shares a No-Sew Quiet Book Tutorial - watch the video below:
A post shared by РАЗВИВАЮЩИЕ КНИЖКИ «Оlizbook» (@olizbook) on Mar 22, 2018 at 11:10pm PDT
IN CONCLUSION
Quiet Books can be made using:
It's best to pick a theme, or to have the different pages related to each other.
Standard 9" x 12" (or any size you want) felt sheets / 6.7" x 6.7" Square pages (or any size you want)
Other popular sizes: 8.5" x 11"; 8" x 8"
Mini quiet book pages are 4" x 4"
Also very different:
Sophisticated bias binding edges
Rough edges
Straight or rounded
Easy binder style
All sewn together in a neat book
Making quiet books are just another form of art - as you can see from the stunning pages!
If you make a ordinary fabric book, it's fine - it's what you have time for and maybe it is all you can afford.
Give yourself some credit and JUST MAKE IT!
MORE QUIET BOOK POSTS ON THe BLOG
Free Quiet Book Themes and Ideas
Crochet quiet books
Mini quiet book pattern
How to machine embroider quiet books with ITH designs
Similar Posts
Free Mini Quiet Book Pattern for you to Make the Perfect Gift
How to Create Quiet Books with Awesome In-The-Hoop Designs
How to crochet quiet books
101+ Free Quiet Book Theme Ideas and Templates List
Leave a reply cancel reply.
This site uses Akismet to reduce spam. Learn how your comment data is processed .
Quiet Book Mastery
Your Step-by-Step Guide to Creating Beautiful and Engaging Quiet Books
Join countless creative caregivers who have transformed their love for arts and crafts into a cherished gift for their children.
A Comprehensive Step-by-Step Guide: "Quiet Book Mastery" takes you on a creative adventure, providing clear and detailed instructions from start to finish.
Say goodbye to confusion and hesitation; you'll have all the guidance you need to craft a beautiful quiet book.
"Thank you so much for your tips. They are really helpful and I'll follow them for my next quiet book. I've already finished one, by getting ideas from the web, and I think it would have been easier and faster with your tips.." -Lorena-
Are you tired of the endless pursuit of ideas on Pinterest and countless hours spent watching YouTube videos about quiet books?
I understand that you may be hesitant to start, despite your existing sewing, crocheting, knitting, or quilting skills. The complexity of this project can be overwhelming, causing you to lose track of how to even begin.
With scattered pieces of information scattered across the internet, it's no wonder you feel like you're missing important puzzle pieces. But guess what? It is time to change that!
Imagine ...
... having the tools and confidence to create a stunning quiet book from scratch. No more saving Pins that you'll never revisit.
... being able to make a toy that truly resonates with your child's imagination and creativity, fostering their development and joy.
... creating engaging activities for your child that promote learning and valuable skills, without relying on electronics.
... feeling inspired and motivated to complete this project, just in time for your child's next birthday or special occasion.
Introducing Quiet Book Mastery: Your Step-by-Step Guide to Creating Beautiful and Engaging Quiet Books
📚 7-step process: you'll discover straightforward instructions that demystify the entire quiet book-making journey. The process is broken down for each stage into bite-size.chunks, making it doable even for beginners.
🎨 6 Complete Sewing Patterns: Ready-to-use patterns with clear steps will make it a breeze to create engaging activity pages that will captivate and entertain your child.
📘 Fabric Book Composition: Learn how to craft fabric pages and assemble them into ring binder covers, all made from fabric.
🏆 A Truly Personalized Experience: By crafting your quiet book from scratch, you'll have the opportunity to infuse it with your unique style and heartfelt touches.
📚 A Treasure Trove of Ideas: Explore a variety of themes, colours, and techniques to design activity pages that reflect your child's interests and development stage.
💻 Instant Access: Get started on your quiet book project right away. "Quiet Book Mastery" is a digital guide available in PDF format, accessible on any device.
"You are amazing! I'm soooooooooo happy to read all this useful information in one place <3. Thank you so much." -Alaa-
6 printable patterns
lacing football ball
button off wheels on a school bus
brushing teeth cow
4 piece puzzle car
horse or unicorn braiding activity
zipper whale activity
ADDED BONUS IF YOU ORDER NOW!
You will get printable alphabet letter appliqués for making "My quiet book" title or custom cover page with your child's name!
Trusted Expertise
With over 8 years of dedicated experience crafting beautiful quiet books, creating numerous designs and recently published book on the same topic.
Beginner-Friendly
No matter your skill level, "Quiet Book Mastery" ensures that you'll feel confident and supported throughout the entire process.
GET YOUR GUIDE NOW!
Save Time and Money
Skip the trial and error phase and dive straight into making your quiet book with the provided sewing patterns. No need to search for ideas or spend on expensive craft materials.
"I have been searching Pinterest for ideas for a quiet book to make for my 15 month old granddaughter (my first!). I love the idea of having this information all in one place, because it quickly got overwhelming. I was especially pleased to see the worksheet because it suddenly seemed do-able! I am a hand stitcher, and love to do hand embroidery and crochet. I'm hoping I can apply my hand stitching skills to creating a special gift for the little one." -Anne-
🎁 Special Limited-Time Offer
Don't miss out on this exclusive offer!
Grab your copy of "Quiet Book Mastery" now for $25.99 instead of the full price of $29.99 and embark on a heartwarming journey of crafting memories.
"I made 2, for my niece and nephew. He will be four and she just turned one. I really enjoyed making these, had so many ideas too." -Ida-
You've got questions… I've got answers!
How do I get my copy of Quiet Book Mastery? Immediately after your purchase, an email will be sent to you containing two downloadable files: a detailed step-by-step PDF guide and a PDF file featuring the sewing patterns . This allows you to start your creative journey without delay! How long does it take to make a quiet book? Depends on how much time you can set aside, but in general about a week to two if you are consistent. 
What sewing techniques will I need to know? Very basic sewing techniques and sewing machines are enough to finish this project. What materials will I need to make a quiet book? You will need fabric or felt for quiet book pages and covers. For activities on pages, you can use felt or fabric scraps, ribbons, velcro, buttons, etc… If you are already doing some sewing or craft projects then mainly you already have everything. But you don't have to worry, each activity from the guide has listed materials you need to gather before you start.
Can I find this information on the internet? I don't feel it is necessary to spend money on something I feel I can get info on for free.
You could probably find similar information on the internet if you are dedicated to spending time searching. This guide is created for your convenience, with all step by step instructions for making pages, covers, and patterns designed by me personally. Instead of researching, you can start your quiet book right now with this guide.
But, I have many projects to finish first. That's not a problem. Once you purchase the guide you have unlimited lifetime access to download your copy. Besides, instructions from the guide are broken up into small chunks and I added a time frame necessary for each step so you can fit it into your schedule. What is the size of this quiet book? If you follow the guide instructions, size of activity pages are 9x9 inches and with covers finished book measures approximately 10x10 inches. Have more questions?
 Not a problem! Send me an email (lily[at]craftlearnandplay.com) and I'll be glad to help.
100% Satisfaction Guarantee:
I'm confident that "Quiet Book Mastery" will exceed your expectations. If, for any reason, you're not completely satisfied with your purchase, contact me within 30 days for a full refund, no questions asked.
About Author
Hi! I'm Lily, a creative mom of two young kids and I truly believe that regardless of your level of creativity or crafting skills, you have the ability to create amazing and engaging activities for children.
My mission is to support women like yourself in incorporating more creative play into their busy lives, designing enriching learning activities, and making cherished memories while navigating the journey of raising creative and open-minded children.
With 8 years of experience in bookmaking and sewing pattern design, my passion lies in crafting quiet books that facilitate learning through play. Some of my quiet books are used as part of ABA therapy (Applied Behavior Analysis) with kids with psychological disorders. Through my expertise, I have developed user-friendly steps that enable more children to enjoy this beautiful handmade toy.
In 2022, I proudly published the book "Sewing Quiet Books for Children," which features a collection of learning activities specifically tailored for babies and young kids. This book serves as a valuable resource for parents and caregivers seeking to create meaningful experiences through hands-on play.
Donec id elit non mi porta gravida at eget metus.
Save your date!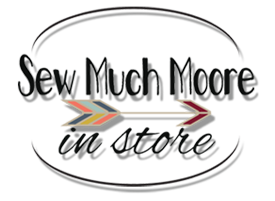 Make the Perfect Quiet Book
Quiet books are perfect for those squirmy little ones that need to sit still and be quiet.  Quiet Books are WAAAAAY better than a cell phone or a tablet because they offer imaginative play.  A Quiet Book is made of fabric (typically felt). Each page is usually focused on a different skill or interaction. They are colorful, provide a new platform for learning, and inspire independent play and creativity. These books are great for travel or moments when you might need to keep your child occupied and quiet/focused.  Here are a few more reasons to love Quiet Books:
✅playing with books helps to develop fine-motor skills and finger-type grabbing; ✅practice memory, logic and mental agility; ✅practice attention, sound, tactile and visual perception; ✅pages and removable elements are soft and pleasant; ✅different texture of materials.
There are tons of offers for patterns and materials out there.  After doing some research, I have rounded up some really great options for you to consider when making a Quiet Play book.  Let me show you all about it!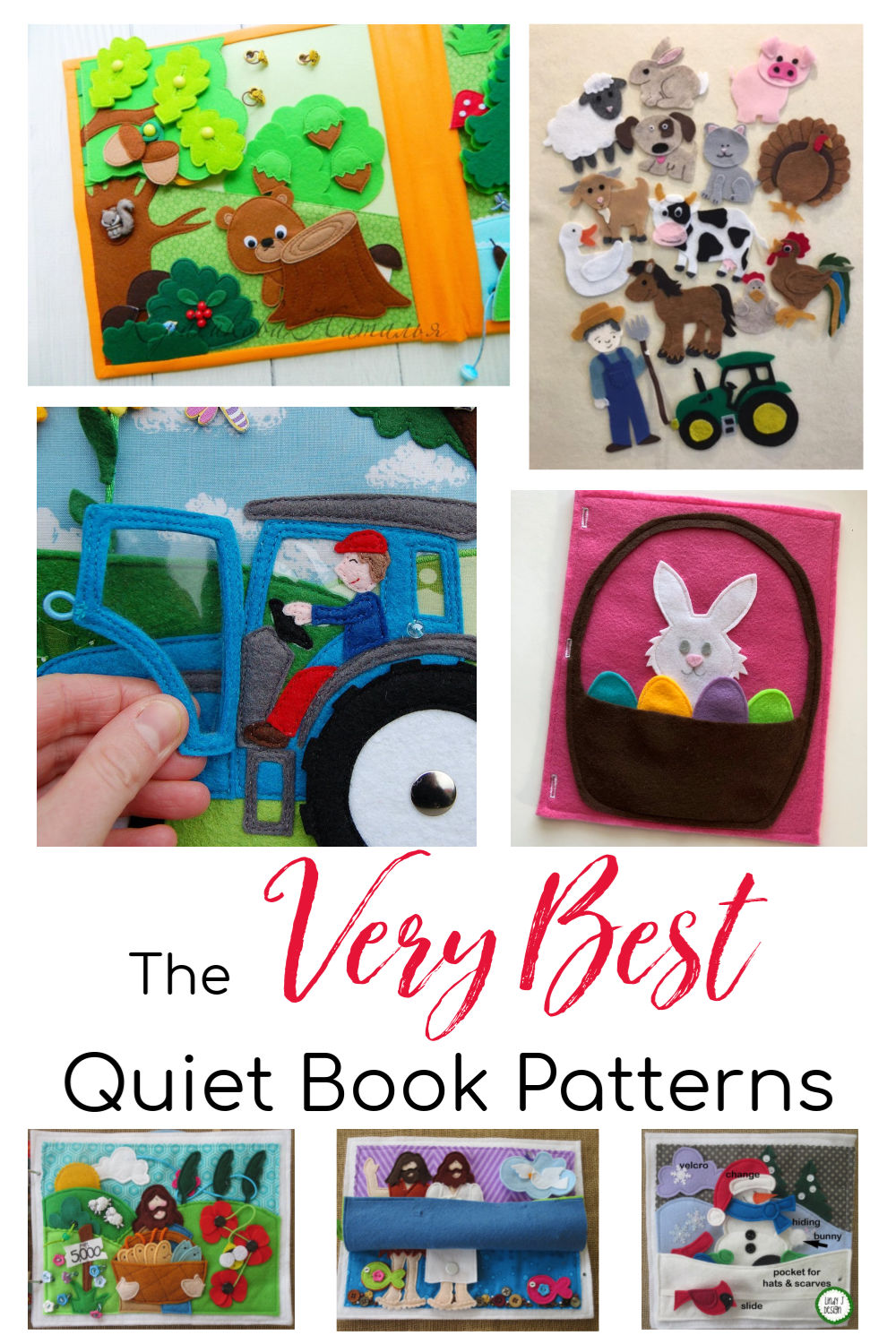 This post contains affiliate links for your convenience. ? Read my full disclosure policy here .
Quiet Book Materials to consider
Wool felt sheets will be your primary material when creating your Quiet Book.  There are tons of colors available!  It's a good idea to have a nice assortment.  These books look really great with bright and vibrant color!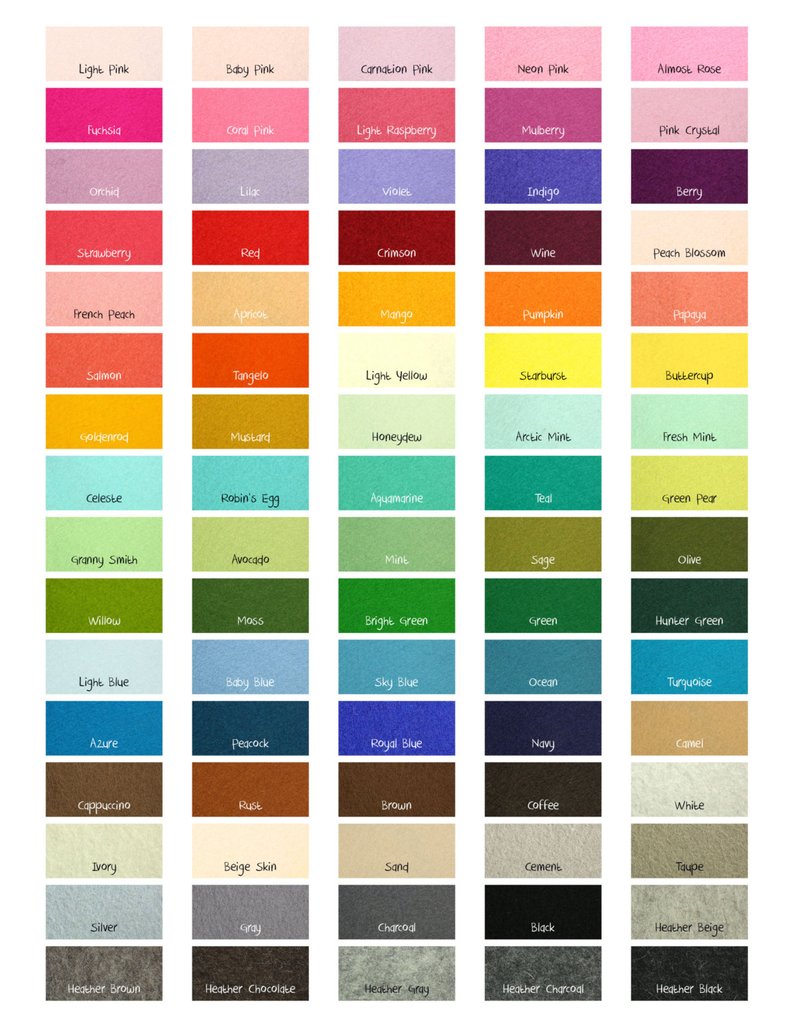 You can even get stiffened felt sheets that are perfect for making your own Quiet Book!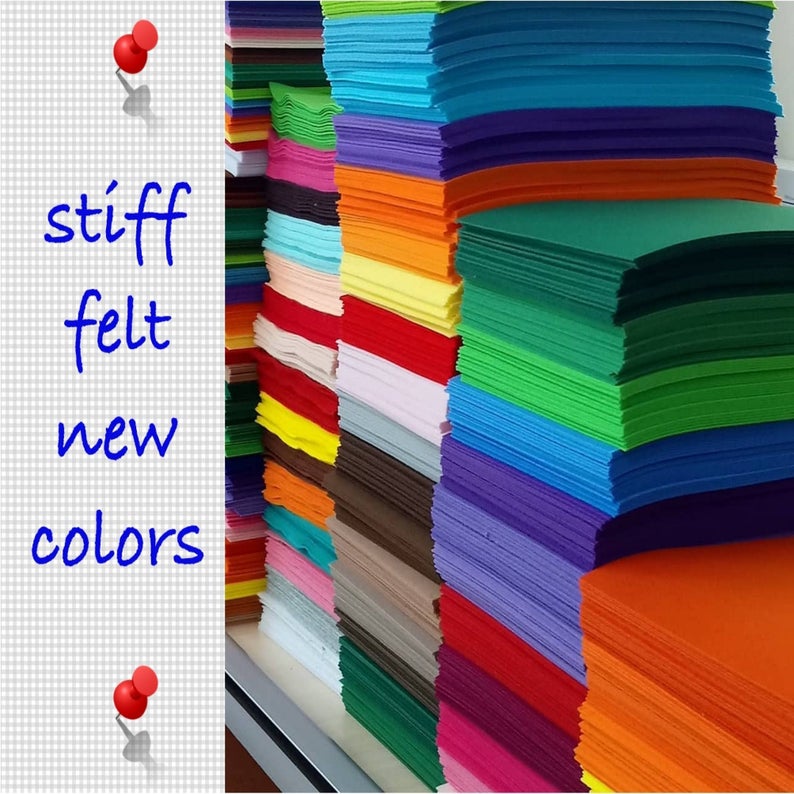 Don't forget to get your eyelets and tool for preparing to put your pages together!
Quiet Book PDF Patterns
Making your own Quiet Book is very affordable.  There are lots of patterns out there and the ideas are truly endless!  Here are a few of my favorite patterns!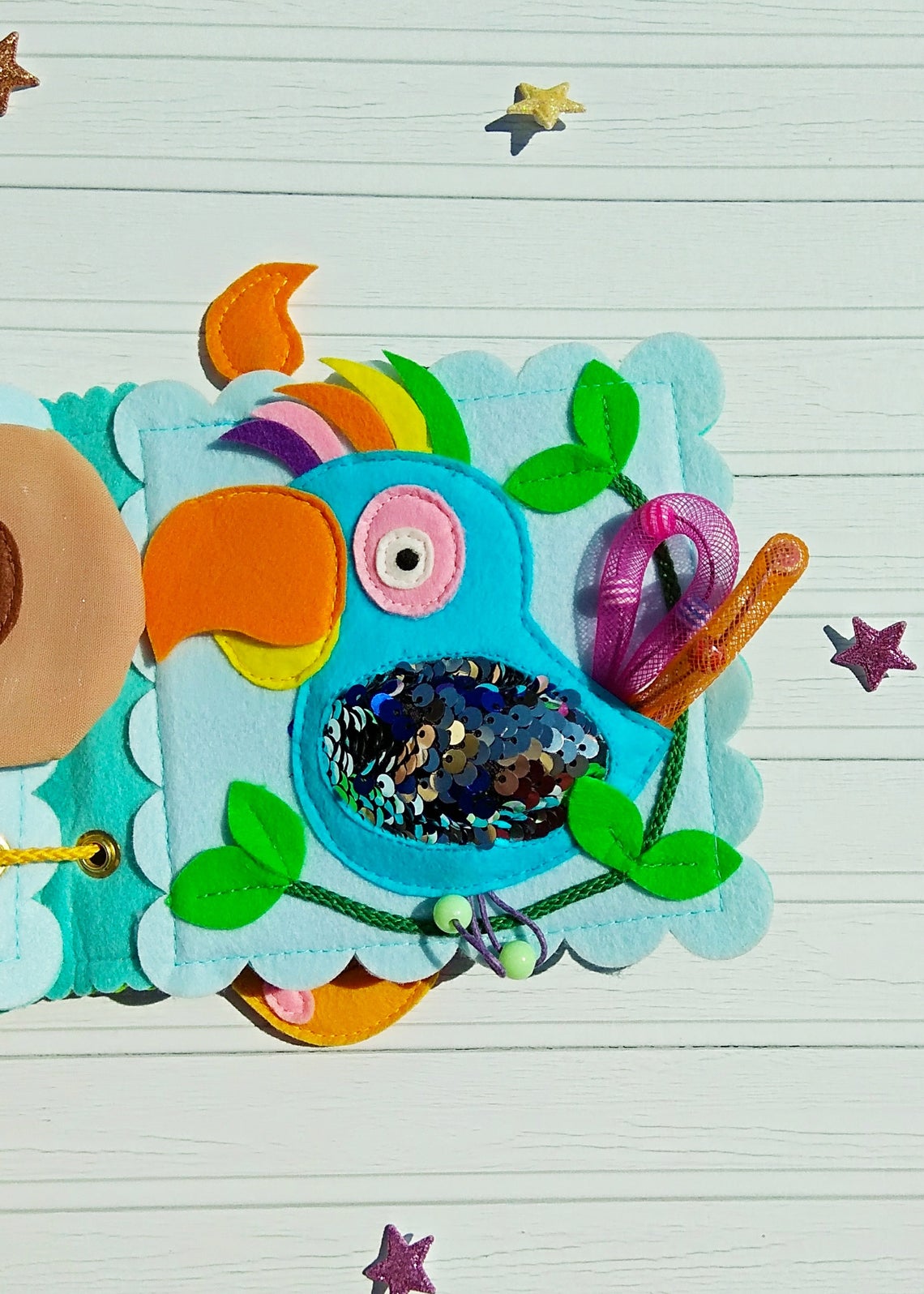 Quiet Book Kits
Quiet Book kits are a great way to leave the cutting to someone else!  There are tons of options out there and I have rounded up the most darling right here!  Remember, you will still need to assemble your book, but the kits give you a head start!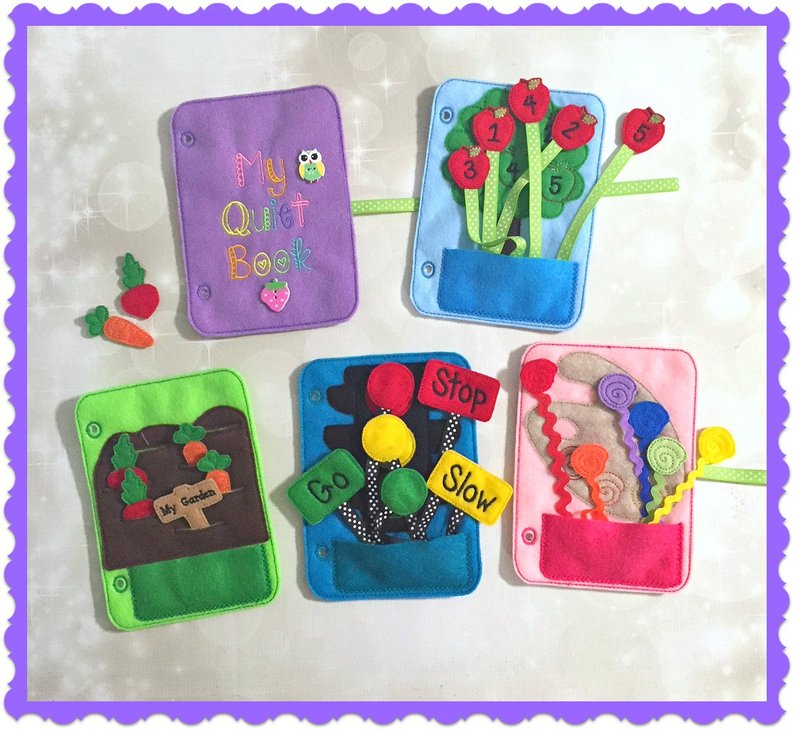 Quiet Book – Felt additions
There is also an option to simply create your own pages by creating your own scenes.  These patterns help your little tell their own story!  These patterns are fun and simple.  I would imagine that you could even assemble some of them with little dabs of glue!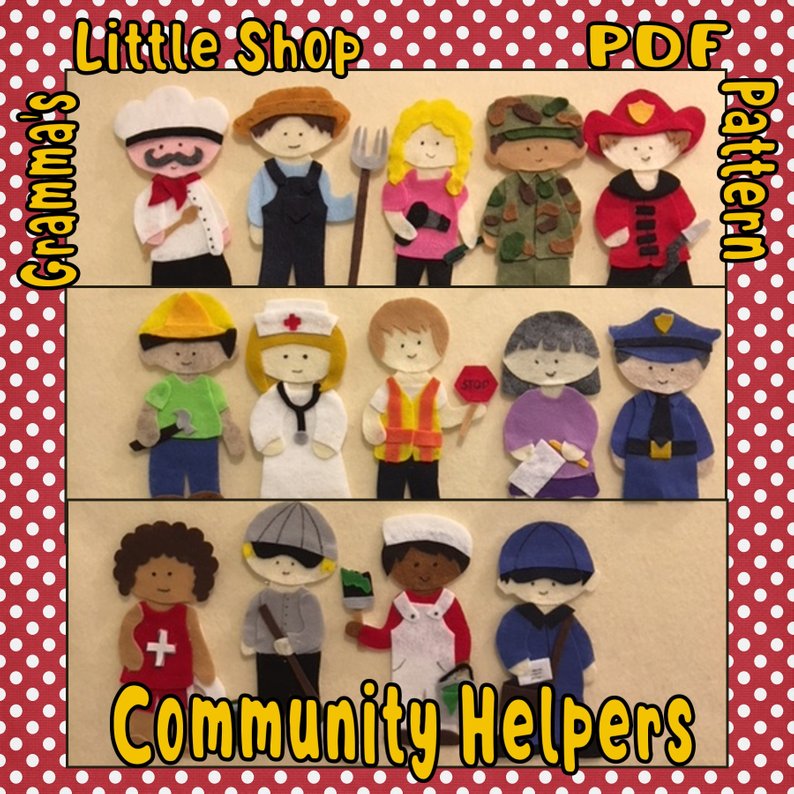 Quiet Play Book Monthly Subscription option
The Quiet Book Queen has a great program laid out for Quiet Books!  She has Page Kits that come with the template, instructions, and ALL supplies you will need to make TWO Quiet Book pages!   Buy individually to insert into your current Quiet Book or purchase the subscription to collect them all to make your own Calendar Themed Quiet Book.
The page kit subscriptions always SHIP FREE!  No code required.
Children will learn the months of the year, while also practicing fine motor skills (snapping, zipping, tying bows, weaving), colors, shapes, letter and number recognition, and counting.  There is also plenty of opportunity for imaginative and creative play!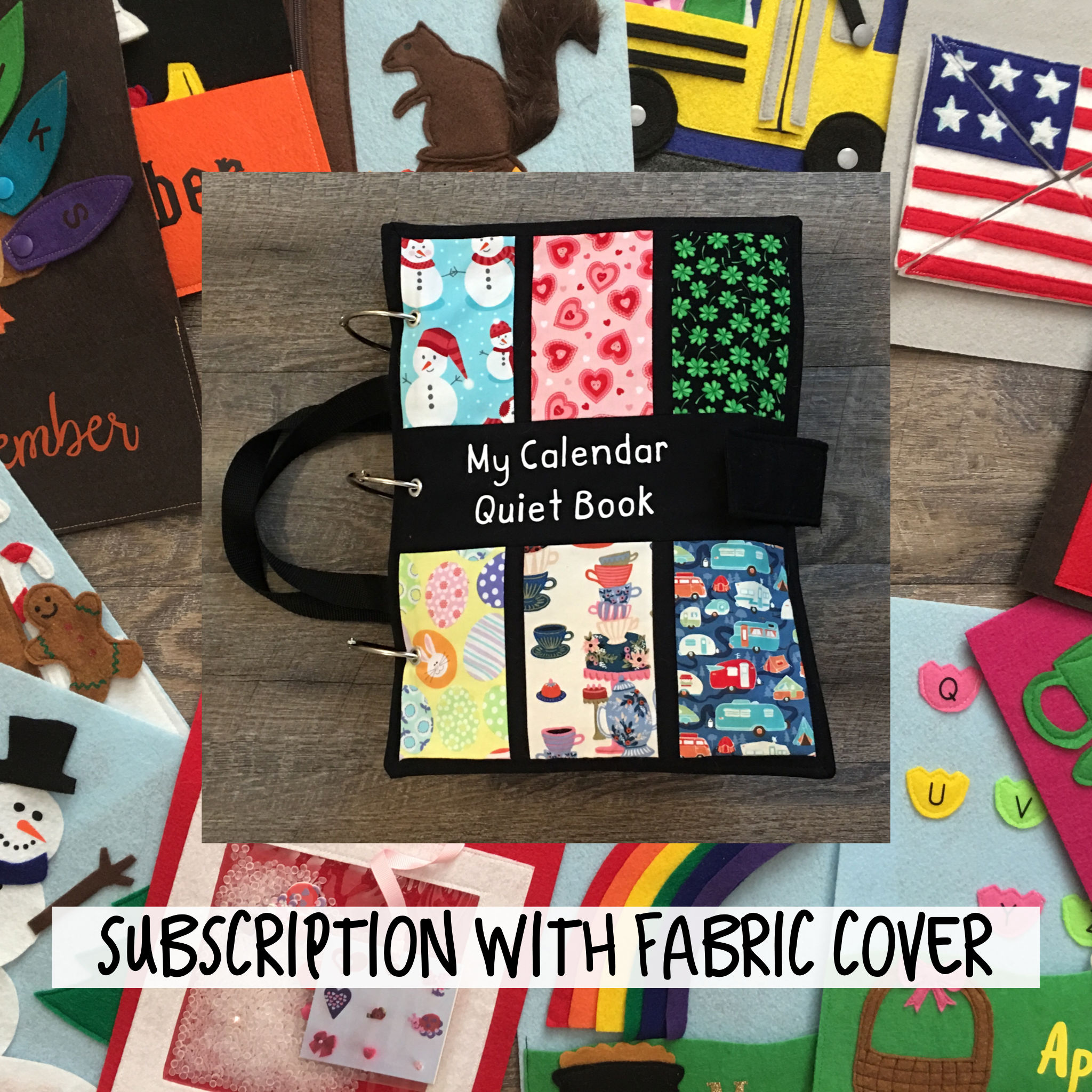 Quiet play Book – ready to purchase
Sometimes, we don't have the time to make these for ourselves.  Luckily, these can be purchased from Handmade Artisans!  This is certainly not the most economical choice and these are usually made outside of the US – but sometimes you just need to get things ordered and done!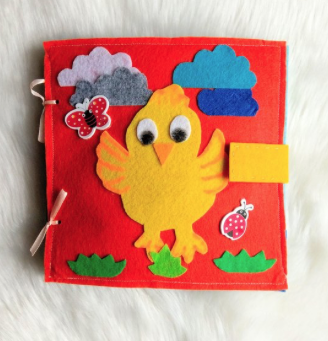 You can also do a search for Completed Quiet Books on Etsy.  The selection is amazing, but I'm afraid this will not save you any time.  They are typically made to order. ✂️✂️✂️
So, pat yourself on the back for considering to make (or buy) a Quiet Book for someone special!  This will be a project that will be rewarding for you and the little person that gets to use it!
Happy Sewing!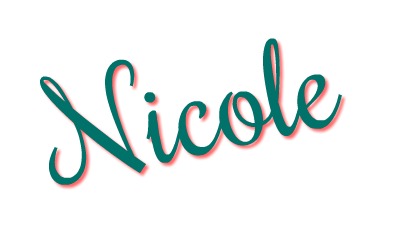 Love this idea! My 2 year old grandson would love one of these!
Love the subscription idea! I could start now and have a partial book done by Christmas. I figure that additional pages would be nice things to send my granddaughter in the mail.
I love your quiet books. My mother suffers from dementia and destroys all books including board books. I'm going to try quiet books. They can be hand washed and can't be ripped. Thank you for the idea. This will keep her happy with simple activities.
I love your idea to make one for your Mom. You can also do a search on "busy books" or "Fidget Quilts". Those are very popular and can give you more ideas for your Mom. Happy Sewing!
Leave a Reply Cancel reply
Your email address will not be published. Required fields are marked *
DIY Quiet Book
Quiet books are great projects to make for your own little ones or to give as gifts. Learn how to make your own DIY quiet book with felt pages complete with eyelet holes to easily secure all of the pages together- Ashley Hough shows you how.
For this DIY quiet book all you need are sheets of craft felt, eyelets and an eyelet insertion tool. Ashley begins by first explaining how big to make your pages depending on what you are putting on your quiet book pages. If using words, like the DIY quiet book in this tutorial, you will want to find your longest word and base your page size off of it. Once you know how big to make your pages, cut out all of your felt pages and felt words or shapes to be appliqued in place. Ashley shows how she stitched all of her letters in place using a blanket stitch and gives tips on how to go around outer and inner curves as well as how to pivot around corners and sharp points.
Once the pages of the DIY quiet book have been sewn, eyelets can be added to the upper edge or side to allow you a way to secure all of the pages together. Ashley demonstrates how to use an eyelet insertion tool which makes inserting eyelets quick and easy. She shows how to use the tool to first cut the appropriate size hole in the fabric and then how to use the same tool to secure the two sides of the eyelet in place. Some eyelet insertion tools work with several sizes of eyelets while others only insert one size- so ensure the size of eyelet you choose to use works with your tool. Once you've made one or more DIY quiet books, learn how to make a padded book bag to carry all your books and see more project ideas .
Related videos and articles: How to Make Bias Tape for Baby Bibs 5 Gift Ideas to Sew for Babies Create an Easy Baby Blanket Easy Serger Project: How to Sew Baby Leggings Sew Your Own Designer Baby Pacifier Clips How to Make a Ring Sling to Carry a Baby How to Make Baby Taggies How to Sew a Cute Baby Washcloth How to Sew a Felt Puzzle What Can I Sew for My Grandson?
Premium Membership
Unlock exclusive member content from our industry experts.
24/7 Access to Premium Sewing Videos, Projects, and Tips
Step-by-Step Instructional Demos, Patterns, and Tutorials
50% Off Video Downloads Purchased in the National Sewing Circle Shop
Access to Ask the Expert Program
2 Full-Length Video Downloads to Watch Offline
Gold Membership
$ 362 value.
Get everything included in Premium plus exclusive Gold Membership benefits.
8 Full-Length Video Downloads to Watch Offline
3 Full-Length Quilting Classes to Keep for Life
6 Printable Sewing Guides and Patterns
Discounts on Purchase-to-Own Content in the National Quilters Circle Shop:
Exclusive GOLD LIVE Streaming Events
Username or email *
Remember me
Lost your password?
Privacy Policy
Enter in your email and password to create a FREE account
Email address *
No products in the cart.
Trending Post : Blanket Hoodie Free Pattern
10 Adorable Free Quiet Book Patterns and Templates
If there's one thing that little ones are suuuper good at, it's being noisy. Normally, these sweet sounds are music to a parents ear (to a certain degree, let's be reasonable here), but there are times (most of the time?) when "shhhh"ing just doesn't do the trick. If you're a parent, you know the value in some quiet distraction, and know that the busier those little fingers can be, the happier (and often quieter!) the toddler can be :). Quiet books are the perfect tool to keep little ones happy, practice their motor skills, and of course,  quiet! Today I'm sharing some of the cutest and most original free quiet book patterns I've found online – and each of them has a printable template! Pick your favorites and get sewing!
This one is a little different but I wanted to include it cause it's such a fun idea for older kids especially! A DIY Dry Erase Book from All For The Boys …
There you have it, the cutest free quiet book patterns found online! Which one would you make first?!
Share this:
Click to share on Facebook (Opens in new window)
Click to share on Twitter (Opens in new window)
Click to share on Pinterest (Opens in new window)
Similar Posts
DIY Toddler Backpack with the Cricut Maker
Schoolboy Vest Pattern Tester Photos
Gathered Car Seat Canopy Tutorial
Knee Patch Baby Pants Free Pattern with the Cricut Maker
Easy DIY Table Runner Tutorial
2017 Christmas Dresses
I am trying to get these patterns but am not having any luck HELP
Hi Dotty, each pattern is available separately on the websites that created them if you click the links near the photos. Each site will have a different process to obtain the pattern so be sure to read the instructions :).
Oh no. Mr. Potato Head has been deleted. 😔
Leave a Reply Cancel reply
Your email address will not be published. Required fields are marked *
Save my name, email, and website in this browser for the next time I comment.
The Essential Guide to Quiet Books
Is Quiet Book a Montessori Toy?
To Buy or Make a Quiet Book
To Sew or No-Sew Quiet Book
Everything About Quiet Book Materials
How to Make a Quiet Book – General Process
How to Choose The Right Quiet Book Activities
Quiet Book Binding
13 Quiet Book Tips to Save Time, Nerves and Money
What's Next?
What's Next?
The most comprehensive resource to learn why quiet books are perfect toys for children, and how to make or buy them, to best fit your child.
The Essential Guide to Quiet Books is full of insights and tips for parents, grandparents, preschool teachers, and anyone else looking to understand how quiet books help a child to develop, and to learn how to make or buy one that is ideal for your children.
Don't spend days researching about quiet books as I did and read this guide to avoid the false starts and missteps that come with creating or even buying a quiet book for your child.
What is a Quiet Book?
A Quiet book is a book for kids made of fabric or felt. Usually, it's handmade. It contains different page activities that engage a child's mind. Quiet books are suitable for different child's ages, from one to six years or more.
But the best part…
They are excellent for independent play, fun interacting play with parents, and as a smartphone or a tablet replacement for keeping your child busy and quiet when necessary.
Quiet books also go by different names such as a busy book, soft book, silent book, felt book, or activity book.
Children love to play with them because they offer lots of challenges and problem-solving activities, and it's so much fun to play with them. Parents also fancy quiet books because they encourage a child's imagination and creativity. But the best part is, they help to develop different skills.
And what makes a quiet book so special?
Let's take a look.
What Are the Benefits of a Quiet Book?
Giving an ideal quiet book to your child will not only help them in multiple ways, but will also benefit you as a parent:
It will increase their focus, persistence, and attention span so
You won't feel like you're needed every minute and will have some time for yourself.
It will encourage a child's creativity, imagination, problem-solving, and fine motor skills and
You will have a great resource to spend quality time with your child when playing with them.
So basically, it's the best educational toy for your child…
Here's how you can make it even better:
Learn the Basics and Provide The Ideal Quiet Book to Your Child
The truth is, if you understand the basic principles of quiet books, you will know how to buy or make an ideal quiet book for your child. Such a book will be interesting for your child for a long time.
Quiet books should be all about knowing your child's development stages and interests.
At Biniboo, my objective is to give you the knowledge required to choose or create a quiet book that will suit perfectly to your child. Without spending days to figure everything out and being overwhelmed in this process like I was.
But don't get frightened…
I want to show you how you can create a beautiful quiet book even if you are not the most creative person and even if you don't know how to sew.
As you'll see in this guide, the first two sections will be critical for your understanding of quiet books as educational toys. Then, i n chapter 3 , I'll help you decide whether you want to buy or create one – and if so, what are the benefits of sewing vs. gluing it.
Furthermore, I'll give you a step-by-step tutorial of all the core stages in the process of making a quiet book. I'll cover each of these stages in depth in chapters 6-8 of this Essential Guide to Quiet books.
And finally, a bonus chapter with some tips and tricks to make a quiet book creation easier.
About the Essential Guide to Quiet Books
Quiet books are one of the best known educational toys for toddlers, preschoolers, and grade-schoolers.
It's not rocket science how to make them. Or how to make the right decision which one to buy. If you know your child's interests and the development milestones ahead, you can successfully recognize the ideal activities which should be in a quiet book for your child.
The Essential Guide to Quiet Books covers:
basic understandings about quiet books as toys.
the most important factors to consider when buying or making a quiet book for a child.
the general process of making a quiet book, so you will always know what the next step is.
Want To Read the Quiet Book Guide Later?
No problem! Just enter your best email and I'll send you the PDF version.
What You'll Learn
In this Essential guide, I will cover three main areas of quiet books:
The Reason: understanding why quiet books are essential educational toys for children. It's about main child development domains you should be aware of when buying or creating a quiet book.
The Methods: the processes you'll use to create your plan and then execute it and buy or create an ideal quiet book for your child. All the details, tips, and wide picture for you, to make the book quickly and without frustrations.
The Lingo: the terminology so that you can communicate (and create) without misinterpretations.
I organized this Ultimate Guide in a logical progression. Of course, you are most welcome to read only the chapters you are interested in.
Anyhow…
If you would like to get the whole picture of quiet books, I recommend you read through the chapters in order.
Take your time. If you want to make your own quiet book, read and study one chapter, and apply what you learn. Then move on to the next section.
You'll be surprised at how quickly you can create a quiet book, which one will be exactly as you imagined it. Step-by-step, with no overwhelming feeling, enjoying the process.
Ready to start?
Quiet Book Benefits: Why Should My Child Have A Quiet Book?
A quiet book is not just a toy for your child to pass some time. It's an educational toy, which has, like other educational toys, a "hidden" purpose.
But unlike other educational toys, quiet books can be tailor-made to your child's needs and can cover all areas of child development.
It's like a bundle of educational toys in one.
Knowing a little bit about child development areas and stages will give you a better understanding of what kind of quiet book your child needs.
If you do it right, you can really impact your child's growth.
Learn the basics of overall child development to understand all the benefits that quiet books offer .
A lot of parents like Montessori education and are wondering if a quiet book can count as a Montessori toy (or as they say it, material) or is Montessori aligned?
I'll break down what are Montessori materials, what does it takes for a toy to be Montessori aligned, and is a Quiet book either of those.
If you like Montessori education and also quiet books, check out this article to see how you can make something like a quiet book Montessori aligned toy.
To Buy or to Make a Quiet Book?
A quiet book is an exceptional educational toy, and for your child to have it, there are only two options, really.
Either you buy it or create one yourself (unless you get it as a present).
What are some pros and cons of both options? What does it take to make it? What to consider when buying it? Those are just a few of the questions I'll try to answer in this article.
If you think you're not a "creative" type and believe you can't do it, I'll do my best to give you a morale boost and tell you simple ways anyone can make a quiet book .
To Sew or No-Sew a Quiet Book?
Should you create a quiet book with a quick and easy no-sewing method, or take some time and sew everything?
There are many benefits to using a no-sew method, but also quite a few warnings if you decide not to sew.
I always encourage sewing, as it makes a quiet book durable, and you generally don't have to worry about something falling apart. But a no-sew quiet book can also be a reasonable and quick solution. Better to create one than not at all.
I wrote this article to help you decide on what technique to choose.
Quiet Book Materials: Everything You Need to Create a Quiet Book
There are so many different types of quiet books you can make, and thus you can use many combinations of materials.
Quiet book materials research can be time-consuming and frustrating, especially if you have something exact in mind as I did.
I combined different methods and came up with a quiet book that looks nice, feels soft and natural, but is also firm and durable.
I lay down everything you need to know about quiet book materials and tools you need to create one in this article.
How To Make a Quiet Book – General Process
No matter what kind of quiet book you're making, there will always be general creation phases you'll go through:
choosing the page base material and prepping it, creating activity on that page, and binding the pages together,
I'll go through each phase to give you some guidelines to follow regardless of what type of quiet book you want to create.
You'll find different links to step-by-step tutorials on how to make a quiet book for each phase that'll help you create a quiet book for your child.
Quiet Book Ideas: How Do I Choose the Right Quiet Book Activities
If you want to make your selection of quiet book activities easier, you should read these guidelines to help you understand what is important to think about when in the selection process.
A quiet book can be a very nice toy for your child.
But if you put in just a little extra effort in choosing the right activities it can be great and helpful educational toy.
See how to combine your child's age, development needs and interest into activities to get the best quiet book ideas and create a great educational toy for your child
Quiet Book Binding for Connecting All the Pages Together
13 quiet book tips for saving time, nerves, and money.
Creating your 10th quiet book is a lot easier than your first one.
Every process has it's learning curve, and even if you follow step-by-step tutorials there will always be something you'll need to figure out by yourself.
This whole guide is designed to help you make your first quiet book as you would your tenth.
Here you'll find out what were the things I had to figure out by myself and are not already described in other parts of the quiet book guide.
Have a look at 13 additional quiet book tips to speed up your learning curve.
What's Next?
You've learned a lot in this Essential Guide to Quiet Books , and should have all the essential information about creating quiet books.
But now it's time to put the theory into practice and start the hard work.
Here's your next step…
Almost there...
Fill out this form to get the quiet book guide pdf.
The Yellow Birdhouse
Helping you live your best crafty life
45 Free Quiet Book Templates & Pages
July 29, 2020 by Laura 4 Comments
Last Updated on May 4, 2023
What I learned researching this post? People have some really clever and creative ideas for crafting quiet books! Seriously. To help you with your own book design, I've rounded up 45 free quiet book templates and pages for you. These are all templates for making felt quiet books.
This post contains affiliate links. Read more .
Quiet books are a fantastic (and quiet!) way for little ones to do some tactile play and learning. Excellent for helping to develop fine motor skills, colour and number recognition and just plain fun.
You can mix and match the pages from these various patterns to create your own unique quiet book design.
Many of these link to tutorials for a multi-page book. I just couldn't include pics of every single template or this post would have been a mile long. Just make sure you click through to see the complete offering!
Sources of Materials for Quiet Books
As well as these free quiet book templates, you'll need a variety of crafting materials too. Here are a few things you might need with links to where you can purchase them:
Wool felt Heat n bond – for fusing felt shapes to backgrounds (you'll need it for 'no-sew' templates) Zippers Velcro Freezer paper – for printing out patterns
You can also check out this page where I list all my favourite tools for crafting with felt.
Free Quiet Book Templates
1. free quiet book pattern (6 pages).
An awesome tutorial for 6 pages of quiet book templates. The unicorn braid is so cute!
2. No Sew Cricut Templates (2 Pages)
A couple of cute pages for practicing colours.
3. Easy Free Quiet Book Pattern (6 Pages)
I designed this free quiet book for a friend a few years ago and finally got around to sharing the patterns in a blog post. Those chubby 3 year old's hands now belong to my big 6 year old!
(Check out more of my felt sewing patterns here . I just designed an embroidered moth that I'm really excited about!)
4. Classic Quiet Book (10 Pages)
There are downloads for 10 awesome pages of quiet book. I love the Mr. Potato head page the best!
5. Piggy Bank Page Template (1 Page)
Excellent for teaching some basic math and money counting!
6. Cupcake Counting Page (1 Page)
I'll just be over here counting the sprinkles on some real cupcakes….
7. Pirate Tic Tac Toe (1 Page)
Arrr! That's the cutest tic tac toe I've ever seen! Also this site has a TON more quiet book page ideas, you'll have fun just sifting through them!
8. Sandcastle (2 Pages)
9. Butterfly Quiet Book (4 Pages)
This one has a page for each stage of butterfly life.
10. Circus Puzzle Page (1 Page)
This is a simple puzzle page.
11. Star Wars Zoo Book (8 Pages)
I'll be honest, I don't know what these animals are. But if you love Star Wars then this one's for you!
12. Rocket Ship (1 Page)
I can't handle how clever this rocket ship page is, and I love the little star sequins!
13. Whale i-spy Page (1 Page)
This is a fun way to use up any nautical themed bits and beads you have in your craft supplies.
There are so many free quiet book templates here for you to choose from to make the most awesomest book your kiddo has ever seen!
Happy Crafting,
Reader Interactions
April 23, 2022 at 9:23 am
I would love to make quiet time books for my baby nieces and nephew, but really need lots of help with ideas as I don't even know how to get started!
February 23, 2022 at 12:25 pm
I am a beginner. These quiet books are adorable. I'm going to try and make one for my New Grandson.
November 14, 2021 at 1:23 am
PLEASE!!!! Make and sell these!!! I am 66 years old and keep my 1 and 3 year old grands. I need to buy these. My hands don't allow me to craft these. Thank you so much.
[…] If you're looking for more free quiet book patterns and ideas, I rounded up 45 templates and pages in this post. […]
Leave a Reply Cancel reply
Your email address will not be published. Required fields are marked *
Privacy Overview
Skip to primary navigation
Skip to main content
Skip to primary sidebar

Crochet Patterns
Sewing Patterns
DIY Projects
Pallet Projects
Home & Garden
Home Organization
Kids Crafts
Fashion & Beauty
DIY Cat Projects
DIY Dog Projects
DIY Wedding Projects
Jewelry Making Ideas
Inspiration
Parenting Tips
20 Easy DIY Quiet Book Patterns | How to Make a Quiet Book
As much as we love our kids to be all chirpy and happy, there are times when we all want some calm and quiet around the house. Well, at least for a while. Now that we have entered a digital world and smartphones and tabs have taken over. Still, nothing can replace the importance of a book. If you are a book reading person, then inducing a book-loving gene in your kids must be your point of concern. We have gathered up the 20 sweetest and fun DIY quiet book patterns for your little ones. The idea is to keep the little hands happy productively while enhancing their imaginations!
These DIY quiet book patterns can bring calm and quiet to your house too. In the meanwhile, when your kid is busy exploring through these quiet stories. You can have a nice and quiet. Me time! Our collection of these DIY quiet book patterns is versatile enough with both sew and no-sew ideas as well. You can craft some fascinating and catchy quiet book patterns for amusing your kids.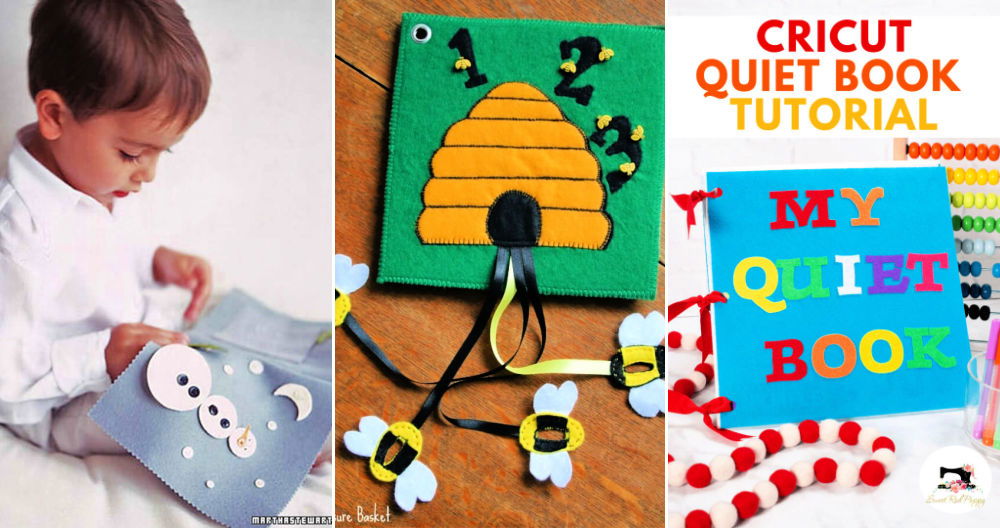 Gather around your creativity, your craft supplies , a sewing kit, and let's get started. You are going to love the versatility of these free quiet book patterns .
1. DIY Under the Sea Quiet Book
This exciting under the sea themed DIY quiet book can get your little fellow a real-time ride under the sea! All you need for the magic is some basic sewing skills and a lot of imagination. Get full details in the tutorial. petitboutdech
2. Felt Mermaid Quiet Book
Mermaids are everyone's favorite! The greatest mystical and beautiful creatures that have taken over the human imagination for a long time. With this tutorial, you can craft this cutest wool felt mermaids. Hit the tutorial now for full details. sweetredpoppy
3. Cricut Maker Quiet Book
How to make a quiet book? Make this uber adorable and exceptionally easy to make no-sew DIY Cricut maker quiet book ! You can add some basic learning techniques and colors or numbers for your little to learn while in the pre-school phase. See the full details in the tutorial. sweetredpoppy
4. Make Your Own Quiet Book
Keep the little minds busy by ensuring the little voices down! This fun and craft My quiet book tutorial is going to be your kid's all-time favorite read! Some million pieces of felt joined together can do just the magic. Get details in the tutorial. shescraftyyy
5. No-Sew Jesus Quiet Book for Church
One best way to introduce your kids to your faith by keeping the interest factor in check is to make a beautiful quiet book for their first church visit. Or you can keep introducing them to gospel stories using this DIY no-sew church quiet book pattern! thediylighthouse
6. Simple DIY Quiet Book for Children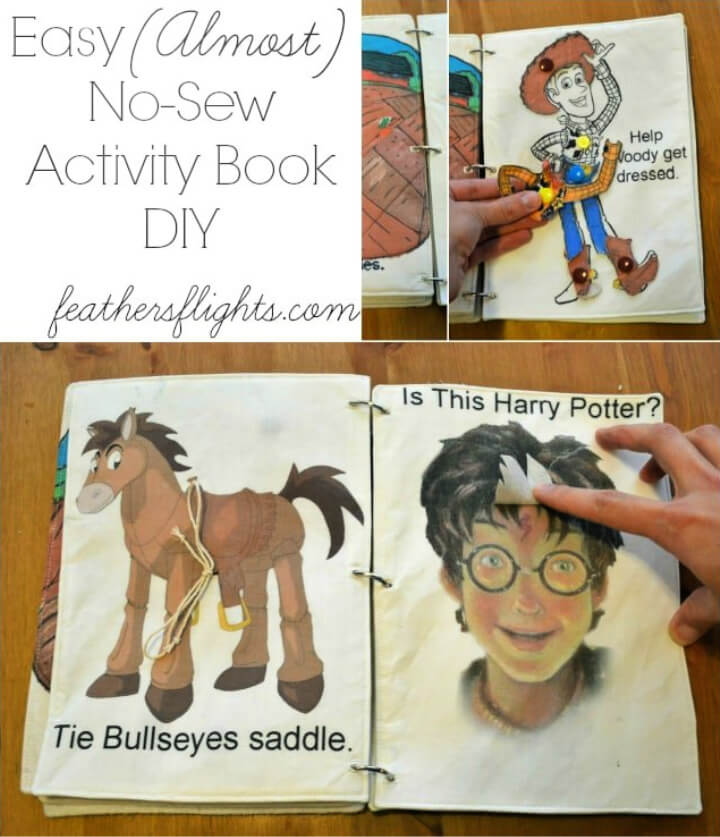 If you are not a person who loves sewing, this will be your favorite DIY quiet book pattern . Because it involves absolutely no sewing and a lot of easy and fun ideas to keep your kid productively occupied . Check details in the tutorial. heatherhand
7. Quiet Book for a Toddler
For your happy go, lucky toddler, in the most exploring phase of his life. This DIY quiet book pattern for a toddler is going to seem like a gift from his fairy Godmother! Use felt paper, buttons, googly eyes, pom poms, zipper, etc.. Get full details in the tutorial. lakatwalk
8. Gabbaland Quiet Book
Make this funky, Gabbaland quiet book for your little ones! The tutorial is not just equipped with the step by step guide for this DIY quiet book pattern, but it also comes with a FREE character's guide. Check now in the tutorial. whistleandivy
9. No Sew Quiet Book
Who says a quit book has to be sewed for a more fun experience?! This tutorial is going to prove that wrong big time! Learning with fun is a major step up game with quiet books. Make this full of learning and thrilling quiet book for your little one! allfortheboys
10. How to Sew a Quiet Book
If you are an idealist or a perfectionist who loves giving the full-fledged experience. With this tutorial, you can become a pro at sewing a DIY quiet book pattern. You can enhance the feel of a quiet book way more with a sewing kit. Details in the tutorial. threadriding
11. Free Quiet Book Pattern
These exciting and full of some basic learning quiet book patterns are going to keep your kids positively inquisitive, active, and knowledgeable. With these exciting activities, you can enhance their sensory and motor skills. See details in the tutorial. sewmuchado
12. DIY Dry Erase Book
Don't let your kids get all sad and lazy during sick days when they are bound to rest on a bed or a couch. This DIY dry erase book will keep your little fellow happily occupied and connected with the family at the same time. Get details in the tutorial. allfortheboys
13. Pirate Island Tic-Tac-Toe Quiet Book Page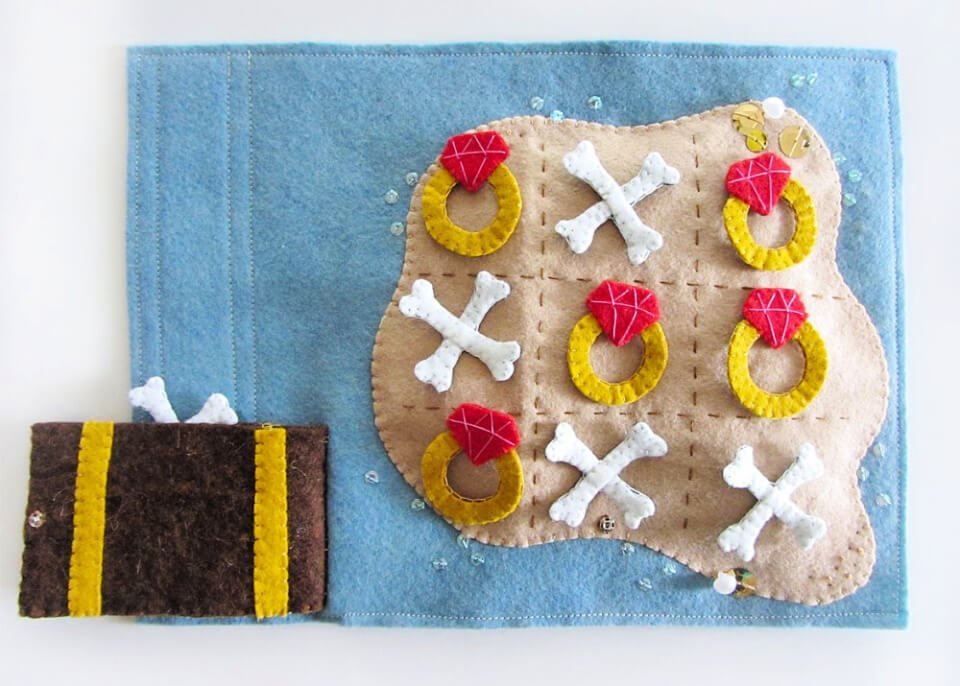 Tic tac toe has been everyone's favorite game regardless of age from the beginning of time, perhaps. This cool and fun challenging game can be your next DIY quiet book pattern to keep your kids amused. Check details in the tutorial. imagineourlife
14. Honey Bee Felt Busy Book
This honey bee quiet book pattern will keep your little monster happily occupied at all times. It is one great learning and activity-filled book that will be one exciting play companion for your kids. Head over to the tutorial now for details. marcstreasure
15. Barn and Farm Animals Finger Puppets Quiet Book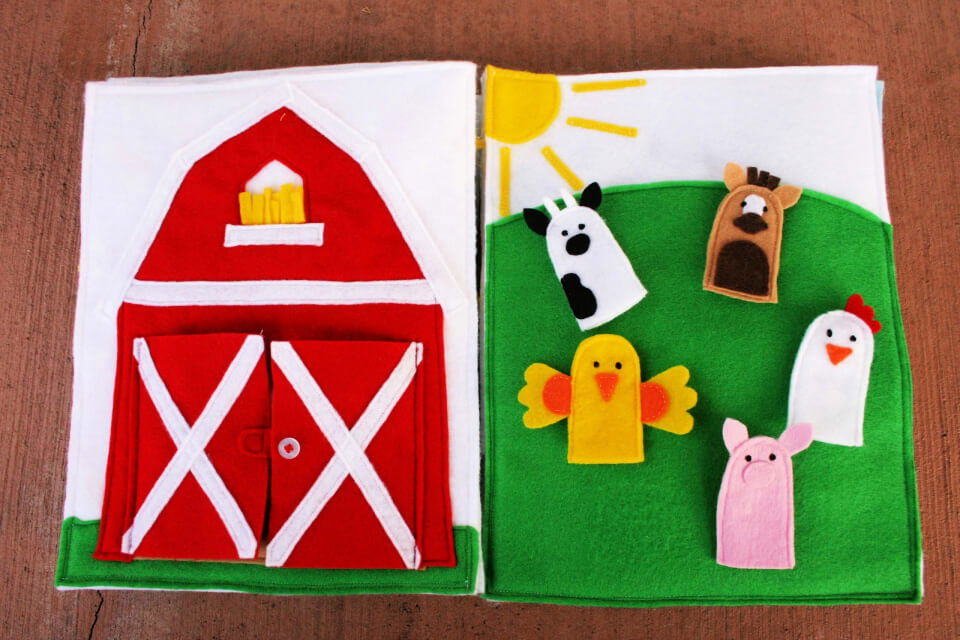 Teach your kids with fun! This DIY quiet book pattern about barn and yarn animals with the added fun of finger puppets is going to be an exciting learning game for your little fellows. Teach them about different animals and their lifestyles with fun! jocelynandjason
16. How to Make Alphabet Quiet Book
With the growing age and in the pre-school phase, every kid needs to be familiarized with the basics of learning. Like alphabets, counting, colors, animals, etc., This DIY quiet book pattern can aid you in making learning fun and easy for your kids! thecraftpatch
17. Paw Patrol Finger Puppets Quiet Book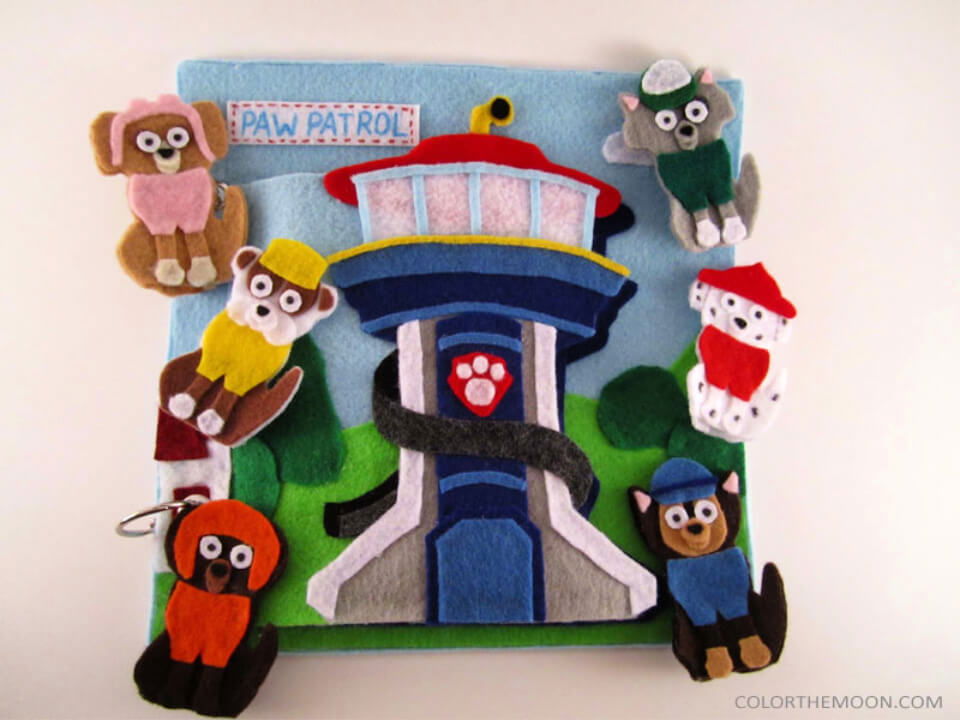 This funky paw petrol finger puppet quiet book will keep your kids positively occupied and induce loving nature and care towards pets and animals, in general. See more in the tutorial that how can you craft this dun book at home! colorthemoon
18. Cinderella Lacing Quiet Book
Each girl's teeny-tiny dream in her childhood is to be this beautiful and enchanting princess like Cinderella. You can make this popular dream transform into reality with very minimal sewing by playing around with this cute Cinderella stuff! girllovesglam
19. Make a No Sew Quiet Book
With this, no-sew quiet book, teach your kid about some basic items like shapes, colors, different fruits. Fun puzzles, introductions to pictures, and what they are called! The best part is this book is going to be a major hit around the house! And you don't even have to sew a thing! owlipop
20. Easy to Make a Quiet Book
For family dinners, traveling, or weddings, keeps your kids happy and productively occupied with this learning-perfect quiet book pattern! Teach them about each season with its different significance, like snowflakes, fallen leaves, flowers, sun, etc., marthastewart
Make your kids fond of learning new things by keeping their inquisitive nature in check! These 20 simple DIY quiet book patterns can be a major parenting guide around the house for you. While you can have some #MeTime easily too!
Quiet Book - How to Construct Pages and Cover + 10 Page Inspiration
Introduction: Quiet Book - How to Construct Pages and Cover + 10 Page Inspiration
Quiet Book (QB) is a toy which helps development of children's fine motor skills. And what's also interesting for the parents is the fact that the name fits the effect of the toy perfectly. The child is entertained with the activities in the book and plays quietly for a while.
I decided to make this QB for Mina's 2nd birthday as I made a similar toy for her older sister at this age. Also I find 2-3 years to be the age when kids most enjoy this type of toys. And let me just say - it was the perfect idea. Mina screamed of joy when she opened her present and started discovering all the tricks. And it works! She can actually sit down for 10 minutes and play with it without climbing the shelves or drawing on the walls!
This tutorial is actually 3 in 1. First I will tell you how to construct a QB page, then I will show you the activities in Mina's book and the last part is a detailed tutorial on the QB cover. Don't be scared of the number of steps, each page and it's activities are in a separate step but that's mostly photos.
This book is 30 x 30 cm (11.8 x 11.8 in), the pages are made from firm felt sheets and the fabric decorations are also from felt. The book cover is made from cotton canvas reinforced with fusible fleece. There are two bookbinding rings attached to the center of the cover and each page has 2 grommets through which the pages are attached to the rings. The tutorial for the book cover is here . And I have plenty of tutorials for kid's activities as well as other things right here .
Step 1: Constructing a Page
First, let me explain to you briefly how to construct the felt sheet page. Use 30 x 30 cm (11.8 x 11.8 in) felt sheets which you don't need to reinforce with fusible fleece.
After you have attached all the activities to the page, measure where the grommets will be (red dots in the picture above). Both grommets should be placed at the same distance from the edges of the page and also from the center. Then punch holes in the two places and place the grommet. (picture 1)
Put two pages wrong side together and stitch all 4 sides together about 0,5 cm / 0.2 in from the edges.(picture 2)
When the pages are stitched together, hem all 4 sides with bias tape. Your page is done. (picture 3)
Step 2: Page Inspiration - Video
Creating the activities for a Quiet Book is definitely the most fun part of the process.You can find so much inspiration online and I made a short video presenting the activities in Mina's book, so check it out and get inspired!
Step 3: Photos With Description - Front
And now you've watched the video let me tell you a bit more about the activities.
The front bears the letter A embroidered with the technique Amish stumpwork for which you can find an instructable here .
The flowers are made from buttons and one sew-on applique and the leaves are embroidered with straight horizontal and vertical lines that go over and under each other alternatively.
The flamenco dancer is stitched only on a part of her back, so she can be moved a little as if she was dancing.
Step 4: Collecting Fruit
The fruit is attached to the page with hook-and-loop fastener (velcro) and can be collected into the basket. The sun is made from a mirror and it's rays are made from different materials.
Step 5: Who Lives There?
The roof tiles move when you stroke them with your hand. The door has a tiny keyhole for the key that hands next to the door. Behind the door and the windows there are photos of the children, parents and grandparents sewn into a transparent foil.
Step 6: Dressing Up
The washing machine is a spy bag – foil filled with beads that hide several tiny objects which the kids can find moving the beads away. Above the washing machine there is a cord with laundry and tiny wooden pins. The clothes can be placed on the boy to dress him.
Step 7: It's Raining!
It's raining colorful zippers from the cloud into the pond. The fish in the pond can be moved on the string. The butterflies can be moved, too, as they are stitched to the page only on the top.
Step 8: In the Garden
There's a ladybug living in the garden. Her spots are hidden behind the zipper and can be attached to the ladybug with snap fasteners. A spider and a snail are hiding in the grass. The flowers can be unbuttoned. The pod with a golden closing is is the home of three mischievous peas.
Step 9: Mouse in the Cheese
The mouse on a leather string moves through the holes in the Emmenthaler.
Step 10: On the Farm
The animals live behind a fence in a barn and they are finger puppets. The vegetables can be harvested in the box.
Step 11: Notes
There's a treble staff and a bass staff. Some magnets are hidden under the staffs and some more attached to the backside of the notes, rests, flat, sharp and natural.
Step 12: Doing the Hair
The redhead's hair can be done with the elastic bands in her pocket and hairclips. The young lady is wearing beaded necklace matching her t-shirt.
Step 13: Clip
6 straps are attached to this page, each one with a backpack clip.
Step 14: Cover - Material Needed
You will need:
From cotton canvas:
- 2 rectagles: WIDTH: 2x page width + 10 cm / 3.9 in (spine) + 1 cm / 0.4 in; HEIGHT: page height + 1 cm / 0.4 in In my case: 71 x 31 cm / 28 x 12.2 in
From fusible fleece:
- 2 rectangles: WIDTH: page width; HEIGHT: page height In my case: 30 x 30 cm / 11.8 x 11.8 in
- 2 rectangles (spine): WIDTH: 9 cm / 3.5 in; HEIGHT: page height In my case: 9 x 30 cm / 3.5 x 11.8 in
- 2 bookbinding rings with diameter of 5 cm / 1.97 in - 4 grommets or a thread to finish the holes with stitching - 1,5 cm / 0.6 in bias tape to cover the circumference the whole cover plus a few cm/in - in my case: 210 cm / 82.7 in - 2 stripes of the same bias tape, length 50 cm / 19.7 in
Step 15: Inner Cover
Measure a stripe 10 cm / 3.9 in wide in the center of one canvas rectangle – inner side of the cover (black lines). Then place one of the fusible fleece rectangles for spine in the center of the measured stripe so that there is 0,5 cm / 0.2 in left between the edge of the fusible fleece and the edge of the stripe. Iron the spine to the canvas so it sticks in place.
Then measure the holes for the grommets. They should be in the same height as the grommets on the pages – check out measuring the grommets placement here). First mark the center of the fusible fleece lengthwise (red line) and then take the height in which the grommets should be placed (in my case 10 cm / 3.9 in) and measure 1 cm / 0.39 on each side (green dots). (picture 1)
Punch holes where you've marked the dots and insert grommets (picture 2) or finish the holes with stitching (pictures 3 and 4).
Insert the rings into the holes and leave the opening on the right side. (picture 5)
If you want a pocket on the inner side of the cover, now is the time to stitch it (I forgot to do that and attached it later, that's why you won't see it in the following pictures). (picture 6)
Step 16: Outer Cover
Now take the other canvas rectangle – outer cover – and decorate it. (picture 1)
Then take the other piece of fusible fleece for the spine and iron it in the same place like you did the first one. Then take the two bigger fusible fleece rectangles, align them with the spine piece so that there's 0,5 cm / 0.2 in between the fusible fleece and the edges of the canvas. Iron all the fusible fleece pieces. (pictures 2 and 3)
Step 17: Assembling the Cover
Place the inner cover and outer cover wrong sides together and stitch them. (picture 1)
Then hem them with the bias tape. (pictures 2 and 3)
At both sides of the spine there should be a 0,5 cm / 0.2 in wide stripe without any fusible fleece. Stitch through both stripes. (picture 4)
Take those 2 stripes of bias tape, fold them lengthwise and stitch. Stitch each stripe to the edge of the front and back cover to make laces to close the book with. (picture 5)
Open the rings and insert the pages. (pictures 6 and 7)
That's it! I really hope I inspired you to create your own Quiet Book and if you have any questions, don't hesitate to ask and comment!
Participated in the Homemade Gifts Contest 2017
Participated in the Design For Kids Challenge
Be the First to Share
Did you make this project? Share it with us!
Recommendations
Woodworking Contest
Project-Based Learning Contest
Halloween Contest
1 year ago on Step 16
Thanks for the great ideas…especially the garden
5 years ago
As a father, I should say: your quiet book is great!
Thanks for sharing.
Gluesticks Blog
April 13, 2012 By Brandy 31 Comments
Home » Craft Tutorials » Kids Crafts
Our Quiet Book: 12 Layout Ideas
Filed Under: Kids Crafts , Sewing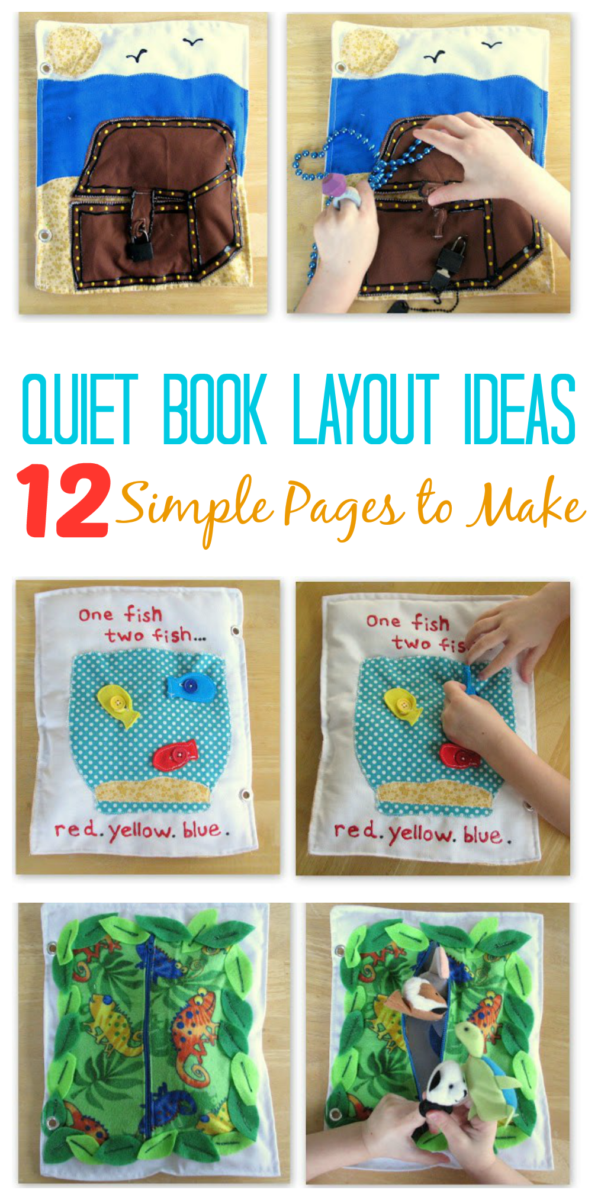 Some things that I would recommend for making a quiet book:
You might like…
Card Stock Busy Book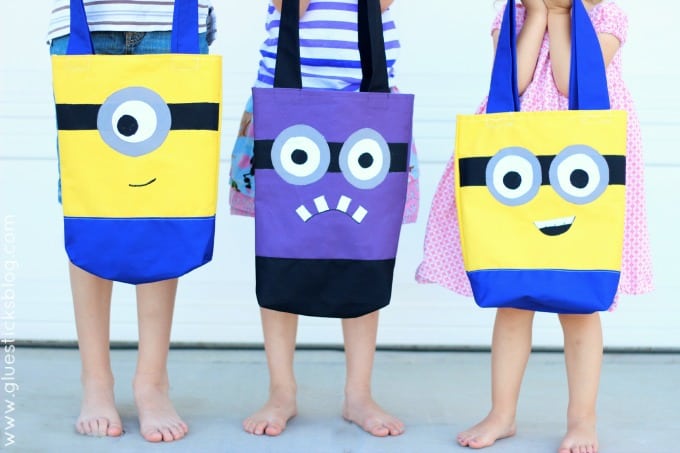 Minion Summer Tote Tutorial
Here are some fun sensory and creative activities for kids that you might want to check out!

Welcome! I'm Brandy, mother to 5 darling kiddos and a cute black lab named Toby. My husband is in the Coast Guard so we've lived all over the place, turning each house into a home. I love baking, sewing, making cute things with my kids, and sharing what I've learned with all of you!
Brandy https://gluesticksblog.com/author/brandy/ Quick Apple Danish Braid (+ Video)
Brandy https://gluesticksblog.com/author/brandy/ Homemade Hawaiian Rolls (+ Video)
Brandy https://gluesticksblog.com/author/brandy/ Halloween Sock Gnomes (No Sew + Video Tutorial)
Brandy https://gluesticksblog.com/author/brandy/ How To Make Boiled Cider (Apple Cider Syrup) + Video
More Posts Like This
About Brandy
Disclaimer: I am a participant in the Amazon Services LLC Associates Program, an affiliate advertising program designed to provide a means for me to earn fees by linking to Amazon.com without any additional cost to you. As an Amazon Associate, I earn from qualifying purchases.
Reader Interactions
April 13, 2012 at 1:31 pm
You have a great quiet book! I love the camping page. I especially like how you used non-fabric things throughout; especially on the barn page. I made a similar barn in my recent quiet book but I think I like yours better! http://gratefullygrowingingrace.blogspot.com/2011/07/quiet-book-last-one.html
April 13, 2012 at 4:21 pm
Oh this is wonderful! My kids would have loved to have one of these when they were little. I love all of the little details.
April 13, 2012 at 5:16 pm
This is a brilliant creation! Imaginative and creative and yes I love that you could add on new ideas as needed.
April 14, 2012 at 1:07 am
Just saw this on TT&J–LOVE it!!! I've been wanting to make a quiet book for a while now also, but haven't done one! Thanks for some inspiration!!
April 14, 2012 at 1:10 am
Wow! That looks awesome! Super creative and I love all the details.
April 14, 2012 at 3:12 am
Wow, certainly worth the wait! It's adorable! Time to pin!
April 14, 2012 at 4:23 am
You did an amazing job! I have always wanted to make one of these, but it seemed so daunting. Now my girls are way too big for it, but maybe I can make one as a gift! Thanks for the inspiration. ~Michelle
April 14, 2012 at 7:34 am
I love your book! Lot of work, I think, but the result is great!! Liz
April 14, 2012 at 1:21 pm
Superlove this! Been wanting to make one for a while – thanks for sharing your awesome pages!
April 18, 2012 at 12:33 pm
Oh wow, those are SUPER adorable!! I would love for you to share this (and any other creations) at "Pin It and Win It Wednesday" @ http://www.cheapcraftymama.com !
April 19, 2012 at 5:07 am
This is such a great post!! Thanks for sharing all these wonderful ideas for a quiet book! I've been wanting to make one of these for my children. Thanks so much! I pinned this!
April 20, 2012 at 5:45 am
sigh…this makes me wish i knew how to sew! love this book!
April 23, 2012 at 3:05 pm
This is a great project! I could totally use some of these quiet books around my house. Would you consider linking it up to my Pinworthy Projects Linky Party over at Just Us Four ?
April 24, 2012 at 1:51 pm
This is a great project! Very ingenious!
May 4, 2012 at 12:51 pm
That is the cutest quiet book I have ever seen!
May 30, 2012 at 8:03 pm
so beautifful ! I admire your book:) also feel invited to my page http://marta-mojepasje.blogspot.com/2012/03/quiet-book-3.html?utm_source=BP_recent
June 3, 2012 at 5:37 am
What a beautiful and creative book! I love it!
June 11, 2012 at 6:36 pm
My son is 18 months so queit books have really been on my mind lately! I love this post! I blog over at http://www.2cratfy4myskirt.blogspot.com Every Friday I feature a fellow crafter. I would LOVE to feature you and this project in an upcoming Friday. If you are interested please let me know! Alese Stewart [email protected]
May 18, 2013 at 12:17 am
These are so great! I'm pinning so I can get inspired sometime. Thanks!
Kristin http://Www.exploringdomesticity.blogspot.com
May 18, 2013 at 4:36 am
I have been wanting to do some busy bags and quiet books for my kids. These are really cute ideas!
May 18, 2013 at 5:22 pm
i am ALWAYS looking for new quiet book ideas. totally pinning:)
August 11, 2013 at 6:22 am
the book is beautiful !!!
August 13, 2013 at 10:22 pm
that has to be the cutest baby book i have seen in years… thanks for all the work that went into to it, including the tutorial… i will be making this…
August 13, 2013 at 11:28 pm
Thank you Carol! It was a lot of work, but definitely worth it!
August 21, 2013 at 3:13 pm
I love how you don't use felt real heavily. Most people it seems make the entire book out of felt, and I'm just not convinced it will hold up…Beautiful job!
August 21, 2013 at 3:20 pm
Thank you Lisa! I've noticed with other projects that felt tends to pill too and look ratty over time so even though it was a little more work, zig sagging the cotton seemed to work well and it's held up great so far! Thank you for taking the time to leave a comment!
March 23, 2014 at 7:08 am
Absolutely awesome! Thank you! 🙂
November 2, 2015 at 6:48 am
Could you please tell me how to attached the small eyelets or gourmetts to each page. I am to that part in making a quiet book, but I am haveing a lot of trouble the tools I need to finish it. Thank you so much.
November 2, 2015 at 7:50 am
Sure thing! The grommets I used game with a tool that I used. I used scissors to make a tiny hold, then set the grommet/eyelet front and back around that (sandwiching the fabric between) then used the tool with a hammer to set it correctly. Let me see if I can find a link that shows what I used: http://www.amazon.com/gp/product/B000YQMEUO?keywords=dritz%20grommet%20kit&qid=1446479319&ref_=sr_1_1&sr=8-1 I used smaller grommets, but this was the type of kit I bought. I has a small tool inside to help them snap together when hammered. Hope that helps!
[…] Glue Sticks Blog […]
[…]  you are feeling a bit more adventurous, you can check out our other Quiet Book that took a bit longer to make, but the kids love just as […]
Leave a Reply Cancel reply
Your email address will not be published. Required fields are marked *
Notify me of new posts by email.
This site uses Akismet to reduce spam. Learn how your comment data is processed .

Terms and Privacy Policy
Kids Sewing Projects
All Sewing Projects
Kids Crafts
Paper Crafts
Free Printables
Patriotic Holidays
St. Patrick's Day
Valentine's Day
Teacher Gifts
All Gift Ideas
Home Decor Projects
Cleaning & Organizing
Kids in the Kitchen
Appetizer Recipes
Bread Recipes
Cake Recipes
Cookie Recipes
All Dessert
Main Dish Recipes
Slow Cooker
Sides & Salads
Holiday Recipes
All Recipes
Trending Now:
›
How to Make a Magnetic Quiet Book
Updated: June 1, 2022 by MomsWhoThink Staff
My inner nerd might just be coming out, but I have been very excited about this little project. I've been wanting to making a magnetic version of a quiet book that's a little bit more fun than the quiet book I made earlier, but I've been tossing around a few different ways to do it. I'm super happy about how it turned out. Here's how I made my magnetic quiet book:
No-Sew Magnetic Quiet Book
I knew I was taking chances in attempting to send galvanized sheet metal through my laminator, but I went ahead and took one for the team! Thankfully, no laminators were harmed in the making of this project 🙂 I cut a letter sized sheet out of my metal, rounded the corners so they weren't rough or sharp, and then sent it through! It worked great but next time I might even adhere some cute scrapbook paper to the metal to make it look prettier!
I then hot glued the metal to a storage clipboard . The reason I chose a storage clipboard was so that I can store all the pages and magnets inside and make it interchangeable.
If you're wanting this to take on more of a "Book" look, you can easily make pages by covering letter-size (or smaller) sheets of metal in felt, and binding it the same way you would a cloth quiet book. Or you could turn it into a book using the same method as my felt book tutorial . I will probably do another project using both of those versions and show you a more in-depth tutorial later.
The fun thing about this project is that you can buy "Make a Scene" sticker sheets at Oriental Trading for super cheap, and then laminate them! I used their Safari Scene and their Noah's Ark scene for this tutorial. Apply velcro to both the metal and the laminated scene, and they are now interchangeable. You'll also want to laminate the stickers (so they are durable and last forever) and then adhere magnets to the back of them (I just used adhesive magnetic sheets and cut my magnets to the size needed).
Here is the Safari version:
Host a Quiet Book Party
Here's where it gets fun! These sticker scenes come in a pack of 12 for between $3-5. So if you get together with a group of other moms and make them together, you could each pay $5 for the scenes and go home with 12 different scenes! They have soooo many fun scenes to choose from! They have an adorable beach scene , design-your-own-ranch scene , camping scene , farm scene , castle scene , and so many more! Just make sure you pay attention when you are picking yours out, because they also have sticker scenes in smaller sizes than the standard paper size. To save on shipping, it would be a good idea to have everyone pay one mom make the order for all of the sticker scenes. If you are already making an order, you can also get your adhesive magnet s at Oriental Trading.
Other Creative Ways of Making a No-Sew Quiet Book:
I'm a huge fan of all the cute ideas floating around for the cloth made quiet books, but from what I've read they seem to be too costly and time-consuming to make right now. If you are looking for some no-sew options, check out my printable quiet book , flash card books , and No-sew Quiet book posts!
Now Who's Going to Make One?
If you host a magnetic quiet book party with other moms, I'd love to hear about it and see pictures of all the fun! I hope to be able to host one after little fetus makes her arrival!
*mothersniche.com uses Amazon affiliate links. When you do your shopping through the Amazon links on this page, you support my blog and my time in making these tutorials. You pay no additional cost shopping Amazon through my links and it's much appreciated!